Star Wars: The Force Awakens: New Trailer, New Excitement!
Can you feel it? The buzz is building! We're just about two months away from the official release of Star Wars: The Force Awakens, and Disney and Lucasfilm celebrated by premiering a brand-new trailer during this week's Monday Night Football game on ESPN. Just in case you couldn't tune in, check out the trailer—linked above—post haste!
Need a bit more amazing news to satisfy that ever-growing Star Wars hunger? (Don't worry, we totally get it.) Well, here it is: Tickets for the film just went on sale, for showings across the globe! Get 'em while they're hot! And if that isn't galactic enough, many theaters in the U.S. and Canada are holding all-day Star Wars marathons on December 17, leading up to The Force Awakens' premiere at midnight on December 18. Find out where Droids and Jedis alike can watch all seven Star Wars episodes by rocketing over to visit our friends at StarWars.com.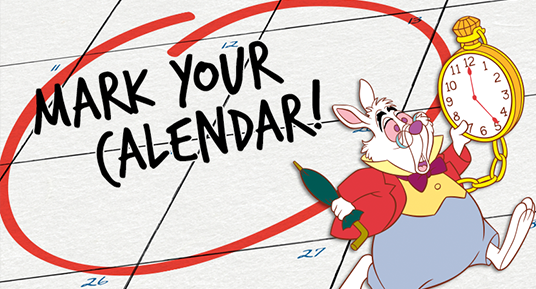 Save the Date!
Be sure to mark these upcoming Disney events on your calendar:
D23 and Walt Disney Archives


Fall 2015


D23 Member VIP Nights at The Lion King


October 25


Haunted Gingerbread House Building Workshop


November 6


VIP Studio Experience with Disney Legend Andreas Deja


November 7


D23 Day at the Walt Disney Studios and Archives


November 14


Pinocchio: 75 Years of a Disney Classic


November 14


Mickey's of Glendale Orlando Shopping Event


December 4


Light Up the Season with D23


December 13


Holiday Gingerbread House Building Workshop


Studios




November 25


The Good Dinosaur opens in theaters.


December 18


Star Wars: The Force Awakens opens in theaters.


January 29


The Finest Hours opens in theaters.


March 4


Zootopia opens in theaters.


April 15


The Jungle Book opens in theaters.

Parks


September 15, 18, 20, 22, 25, 27; October 1, 2, 4, 6, 8, 9, 12, 13, 15, 16, 18, 20, 22, 23, 25, 27, 29, 31; and November 1


Mickey's Not-So-Scary Halloween Party at Magic Kingdom Park


September 25, 28, 30; October 2, 5, 7, 9, 12, 14, 16, 19, 22, 23, 25, 27, 29, 31


Mickey's Halloween Party 2015 at Disneyland


September 25-November 16




Epcot International Food & Wine Festival




November 8, 10, 12, 13, 15, 17, 19, 20, 29; and December 1, 3, 4, 6, 8, 10, 11, 13, 15, 17, 18


Mickey's Very Merry Christmas Party at Magic Kingdom Park


Television




November 30


It's Your 50th Christmas, Charlie Brown airs at 9 p.m. ET/PT on ABC.
Celebrating Friendship with The Good Dinosaur
Woody and Buzz… Joy and Sadness… Carl and Russell… Disney•Pixar has brought us some truly iconic friendships over the last 20 years. And there's a new duo on the horizon: Arlo the Apatosaurus and his human BFF, Spot, from The Good Dinosaur.
Disney•Pixar celebrates two decades of animated allies with this new The Good Dinosaur featurette, above. It's a friendship born of an intriguing idea: What if an asteroid never hit Earth, and dinosaurs never became extinct? We'll see more of Arlo and Spot's life-changing friendship when The Good Dinosaur hits theaters this Thanksgiving.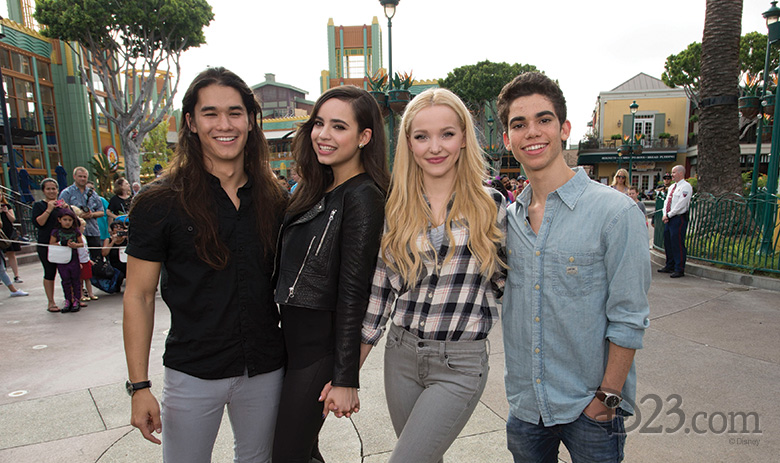 Disney's Descendants Meet & Greet Fans at Disneyland Resort
Hot on the heels of the announcement that Disney's Descendants sequel is in the pipeline, much of the cast—as well as director Kenny Ortega—took Downtown Disney at Disneyland Resort by good-versus-evil storm for a colorful fan celebration on Saturday, October 17.
Disney's Descendants stars Dove Cameron, Cameron Boyce, Booboo Stewart, and Sofia Carson joined Kenny at the Downtown Disney stage for Q&As and several dance-and-sing-alongs (including a tutorial for the film's popular pop single, "Rotten to the Core"). Fans were asked to dress up in their Isle of the Lost or Auradon-inspired best, and several Descendants devotees were even invited up on stage for photos with the cast.
Look for the sequel to Disney's Descendants on Disney Channel in 2017!
Catch a First Look at The Lion Guard: Return of the Roar
"It is time!" Ready to meet brave (and adorable) Kion? The second son of Simba and Nala, and his mighty crew of animal pals, star in this brand-new trailer (above) for The Lion Guard: Return of the Roar—a television movie event premiering Sunday, November 22 at 7 p.m. on Disney Channel.
Join Kion as he takes on the leadership of the Lion Guard and assembles the best and the brightest—who happen to be his closest friends—to help maintain the Pride Lands and keep the "Circle of Life" intact. But Kion himself must learn the power of his roar before a genuine and lasting peace can unfold…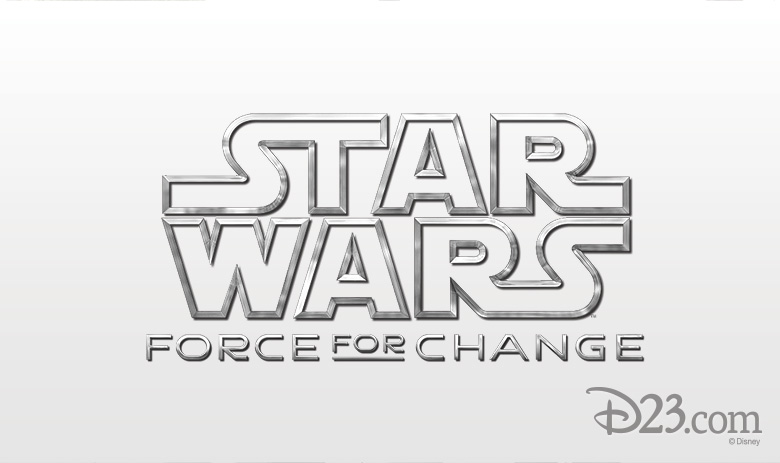 Star Wars: Force for Change Joins Forces with Target
Star Wars: Force For Change is the global charitable initiative that harnesses the strength of Star Wars and its fandom to make a positive impact around the world. And there's big news in the initiative's universe: Next year, Target will join Disney and Star Wars: Force for Change to recruit more schools for the UNICEF Kid Power program, which promotes activity through fun competition. Cool fitness bands sync with the free Kid Power companion app—and by going on missions through the app, users learn about new cultures and earn points for completing challenges. The best part? Those points unlock food packets that UNICEF delivers to severely malnourished children around the globe.
As part of the partnership with Target, schools will receive Kid Power bands for their students, classroom tablets for syncing and tracking progress, and standards-based curriculum and content on malnutrition and global citizenship for keeping students engaged and inspired! Ultimately, the program hopes to save lives abroad while also encouraging American kids to become more active.
Want one of your own? Target is now the exclusive retailer of the Kid Power bands, and they'll be available for pre-order at Target.com on November 29. "Do good, you can!"
Sanjay's Super Team: First Clip
A new Disney•Pixar film means a new Pixar Animation Studios short! (It's double the fun, right?) In Sanjay's Super Team, artist Sanjay Patel uses his own experience to tell the story of a young, first-generation Indian-American boy whose love for western pop culture comes into conflict with his father's traditions. Sanjay is transfixed by the world of cartoons and comics, while his father tries to draw him into the traditions of his Hindu practice. Boredom (and reluctance) quickly turns into an awe-inspiring adventure as Sanjay embarks on a journey he never imagined.
Get a sneak peek into Sanjay's world with this debut clip, above. And look for Sanjay and all his epic exploits when Sanjay's Super Team debuts with The Good Dinosaur on November 25.
Spider-Man Arrives at Disneyland Park This November
Our spidey sense is positively a-tingle with the news that Spider-Man will be making his Disneyland Resort debut at a heroic new character greeting location inside Super Hero HQ—the West Coast home base of some of the greatest heroes in the universe! Located in the Tomorrowland Expo Center at Disneyland Park, Super Hero HQ is the place to go to meet your favorite super heroes… and maybe discover the super hero in yourself. You can tour Treasures of Asgard; virtually suit up as Iron Man and check out the Hall of Armor at Iron Man Tech (presented by Stark Industries, of course); play some of the latest games in the Game Center; and even pick up some Super Hero gear to take with you on your journey home.
Meet Your Friendly Neighborhood Spider-Man when Super Hero HQ opens on November 16!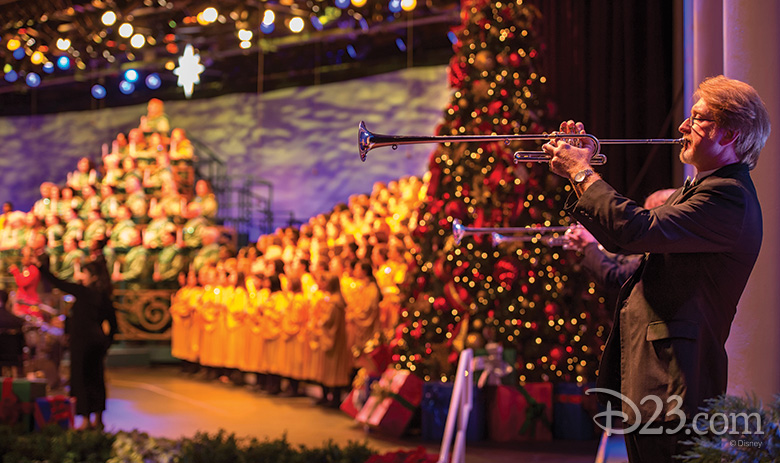 New Narrators Bring Holiday Sparkle to 2015 Candlelight Processional
Walt Disney World's Candlelight Processional, held every holiday season at Epcot, is a fan favorite; part of the park's Holidays Around the World celebration, stars from stage and screen join the Walt Disney World Orchestra and an amazing massed choir to present a dramatic re-telling of the Christmas story. This year's event runs from November 27 through December 30—and Epcot just announced the full roster of narrators for 2015.
Joining previously announced luminaries like Whoopi Goldberg and Neil Patrick Harris (both repeat Candlelight participants) are Grey's Anatomy star Chandra Wilson, former The View cohost Meredith Vieira, Lost alum Daniel Dae Kim, Saturday Night Live alum Ana Gasteyer, and recording artist Amy Grant.
For more info on Holidays Around the World at Epcot, and the Candlelight Processional (including how to make reservations for a delightful Processional dinner package), head over to DisneyWorld.com/holidays.