Meet Mal and Evie:
Mal (left) is played by Dove Cameron (Disney Channel's Liv and Maddie) and is the daughter of Maleficent, played by Kristin Chenoweth (Glee, Broadway's Wicked). Evie (right) is played by newcomer Sofia Carson and is the daughter of the Evil Queen, played by Kathy Najimy (Hocus Pocus, Sister Act).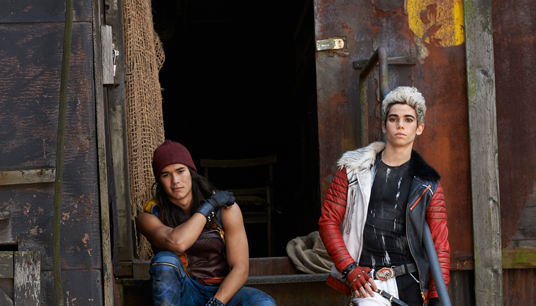 Meet Jay and Carlos:
Jay (left) is played by Booboo Stewart (X-Men Days of Future Past, Twilight) and is the son of Jafar, played by Maz Jobrani (The Interpreter). Carlos (right) is played by Cameron Boyce (Disney Channel's Jessie) and is the son of Cruella de Vil, played by Wendy Raquel Robinson (The Game).
Disney's iconic characters are living out their happy endings in Auradon, a present day idyllic kingdom. All defeated villains have been exiled to the Isle of the Lost, a remote island where they must spend their remaining days isolated from Auradon's modern-day luxuries. Time passes, and the teenage son of King Beast and Queen Belle is poised to take the throne. His first proclamation: offer a chance at redemption to the trouble-making descendants of the villains stuck on the Isle of the Lost. The teenaged kids of Maleficent, the Evil Queen, Jafar and Cruella de Vil are allowed into the kingdom to attend prep school alongside the teenage progeny of iconic Disney heroes. The villainous parents see this as an opportunity to use their children to carry out an evil plan that will finally free them all from the Isle of the Lost. Will these evil teens follow in the footsteps of their wicked parents?
Disney's Descendants is a contemporary live-action adventure comedy that introduces the teenage progeny of Disney's iconic characters—most notably its evil villains. The Disney Channel Original Movie will premiere on the Disney Channel in 2015.