It's Beginning to Look a Lot Like Christmas at Disney Parks!
November is here and that means one thing—at least for Disney fans—the holiday season is about to get underway at Disney Parks and Resorts!
Guests at Walt Disney World Resort get to kick off their holidays starting tomorrow, November 5, at the Magic Kingdom, when Frozen's Queen Elsa "lets it go" and transforms Cinderella Castle into a glistening ice palace for the holidays. "Jingle Cruises" set sail in Adventureland beginning November 7, which is also the first night for the separate-ticket event, Mickey's Very Merry Christmas Party. We're also looking forward to grabbing a cup of hot cocoa at Disney's Hollywood Studios, singing along to Frozen songs with our favorite Arendelle royal family members, and checking out The Osborne Family Spectacle of Dancing Lights (from November 7, 2014–January 4, 2015). And it just isn't Christmas at Walt Disney World without Candlelight Processional. The Little Mermaid herself, Jodi Benson, is the first celebrity narrator when the event makes its seasonal debut on November 28.
---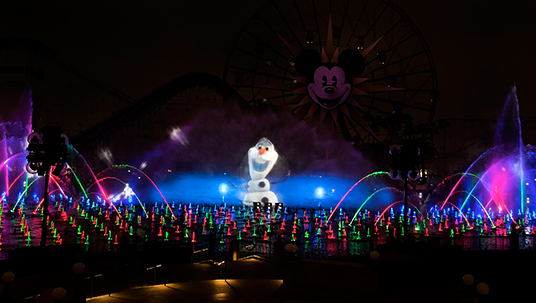 Over at Disneyland Resort, World of Color—Winter Dreams returns to Disney California Adventure on November 13, 2014 (and concludes January 6, 2015). Our favorite snowman, Olaf, serves as narrator—and we're hoping he brings along some of his Frozen friends! And just across the Esplanade, at the Merriest Place on Earth, Disneyland, we're excited for the return of it's a small world Holiday, Haunted Mansion Holiday, and, of course, A Christmas Fantasy Parade. We're already dreaming of gingerbread Mickey cookies.
---

Save the Date!
Be sure to mark these upcoming Disney events on your calendar:
D23 and Walt Disney Archives




November 5


ASIFA and D23 Celebrate 30 Years of Disney Television Animation


November 8


Walt Disney Studios and Archives Tour


November 11


The Hunchback of Notre Dame VIP Experience


November 15


An Afternoon Under the Sea: Celebrating 25 Years of The Little Mermaid


November 22-23


Destination D: Attraction Rewind at Disney's Contemporary Resort in Walt Disney World


Fall 2014-2015


D23 Member Nights at Newsies—On Tour


Through January 4, 2015


Treasures of the Walt Disney Archives, presented by D23: The Official Disney Fan Club at the Museum of Science and Industry, Chicago


August 14-16, 2015


D23 Expo 2015 returns to Anaheim, California
Television


November 9


Pants on Fire premieres on Disney XD (7 p.m. ET/PT)


December 1–25




ABC Family's "25 Days of Christmas"

Parks


November 7, 10, 13, 14, 16, 20, 21, and 30; and December 2, 4, 5, 7, 9, 11, 12, 14, 16, 18, and 19


Mickey's Very Merry Christmas Parties at Magic Kingdom Park


Studios




November 7


Big Hero 6 opens in theaters.


December 25


Into the Woods opens in theaters.


February 20, 2015


MacFarland, USA opens in theaters.


March 13, 2015


Cinderella opens in theaters.


May 22, 2015


Tomorrowland opens in theaters.


June 19, 2015


Inside Out opens in theaters (along with the short Lava).
---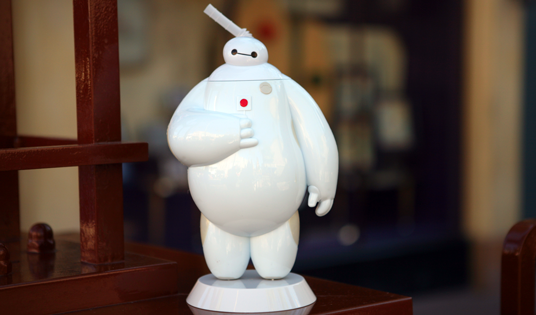 Baymax Sipper Comes to Disneyland Resort
If you love Baymax, get your drink in the Baymax souvenir sipper at Tangaroa Terrace, Tomorrowland Terrace, Tomorrowland Lemonade Cart, and Award Wieners at the Disneyland Resort. The sipper and other tasty items will only be around for a limited time, starting on Friday, November 7, when Disney's Big Hero 6 hits theaters. Inspired by the streets of San Fransokyo, try the teriyaki street dog at Award Wieners in Disney California Adventure park. This teriyaki-glazed all-beef hot dog is served on a garlic chive roll, topped with wasabi mayonnaise, and ginger, carrot and cucumber slaw. There's also a deliciously refreshing coconut milk tea, served cold with coconut and lychee flavors. These limited-time offerings are as unique as they are tasty.
---
New Trailer for McFarland, USA, Disney's Latest Sports Film
Walt Disney Studios has released a trailer for McFarland, USA, which, like all our favorite Disney movies, looks like it's going to have us laughing and crying from start to finish. Inspired by the 1987 true story, McFarland, USA follows novice runners from McFarland, an economically challenged town in California, as they give their all to build a cross-country team under the direction of Coach Jim White (Kevin Costner), a newcomer to their predominantly Latino high school, with whom they ultimately bond to build not only a championship cross-country team but an enduring legacy as well. The trailer above will have you running to your nearest theater when the film opens February 20, 2015.
---
Clip of Marvel's Avengers: Age of Ultron Cast Just Hanging Out
Ever wonder what the Avengers do when they're off-duty and just hanging out? We love seeing that even super heroes can get competitive with one another, but we're pretty sure that Iron Man, Captain America, Thor, The Incredible Hulk, Black Widow, and Hawkeye will come together and battle to save the planet from destruction at the hands of the villainous Ultron.Catch Marvel's Avengers: Age of Ultron in theaters on May 1, 2015. We can't wait!
---

Peggy Carter Returns to Marvel's Agents of S.H.I.E.L.D.
We're beyond excited about the 2015 premiere of Marvel's Agent Carter. Lucky for us, the November 18 episode of Marvel's Agents of S.H.I.E.L.D. will feature a return guest appearance from Peggy Carter (Hayley Atwell), to tide us over. In the episode, titled "The Things We Bury," Coulson and his team find themselves in an epic face-off against Hydra to uncover an ancient secret, while Ward kidnaps his brother, Senator Christian Ward, for a violent trip down memory lane. Marvel's Agents of S.H.I.E.L.D. airs Tuesdays at 9 p.m. ET on the ABC Television Network.
---

New Big Hero 6 Games Let You Fight Bots and Explore San Fransokyo
Big Hero 6 opens on the big screen this Friday, November 7, but we've already started exploring the world of San Fransokyo on our small screens with Disney Big Hero 6: Battle in the Bay, a side-scrolling action and platforming experience for Nintendo 3DS and Nintendo DS handheld systems. The game, which comes from Disney Interactive and GameMill Entertainment, features four playable characters—robotics whiz kid Hiro Hamada and his friends, GoGo Tomago, Wasabi, and Fred—with fellow squad mates Baymax and Honey Lemon appearing along the way for support. And on our smartphones and other mobile devices, we've been playing Disney Interactive's other new release, Big Hero 6 Bot Fight. The game, which was co-developed with Gumi, continues the journey of Baymax, Hiro, and the rest of the Big Hero 6 team in an epic match-three puzzle adventure.
---
The Stories Behind the Costumes From a Galaxy Far, Far Away
The original Star Wars Trilogy features so many iconic characters, moments, and of course, costumes. Princess Leia's white dress… Han Solo's vest… Darth Vader's cape. These costumes have spawned many a Disney fan's Halloween attire, but now they've also inspired a book. Brandon Alinger's Star Wars Costumes: The Original Trilogy takes you behind the scenes of the original Star Wars Trilogy and gives you an insider's look at some of the most famous outfits of all time.
---
PANDORA Makes the Holiday Season Magical with Launch of Disney Jewelry Collection
Looking for a special holiday gift for your favorite fellow Disney fan? We're going to be checking our stockings for one of the new sterling silver and 14K gold charms from PANDORA Jewelry, which has unveiled a beautifully designed assortment inspired by some of Disney's most beloved characters. Many of the new pieces are inspired by iconic images of Mickey Mouse and Minnie Mouse, including Mickey and Minnie dangles, sterling silver character clips, and an openwork charm featuring Mickey Mouse's unmistakable silhouette. To discover the new Disney collection from PANDORA, visit PANDORA.net. Items will be available at PANDORA concept stores starting in November 2014, as well as select Walt Disney Parks and Resorts merchandise locations.
---

Classic Lucasfilm Games Re-Released
Some of our favorite classic Star Wars and Indiana Jones-themed games are finally available in a new way! Disney Interactive has partnered with DRM-free digital distributor GOG.com to make more than 20 classic Lucasfilm titles available digitally. The six games kicking off the collaboration are Star Wars: X-Wing Special Edition, Star Wars: TIE Fighter Special Edition, Sam & Max Hit the Road, The Secret of Monkey Island: Special Edition, Indiana Jones and the Fate of Atlantis, and Star Wars: Knights of the Old Republic. Visit GOG.com to see the entire collection.
---

Disney Movies Anywhere Now Available on Google Play
We love being able to take Disney movies along, wherever we go, thanks to Disney Movies Anywhere. And now, thanks to Disney's partnership with Google Play, it's even easier for us to watch our favorite movies on the go. Just download the Disney Movies Anywhere app, connect it to your Google account, and you're able to access your entire collection of Disney, Pixar, and Marvel movies. Best of all, for a limited time, DMA users who connect a new participating retailer account will receive a free digital copy of Wreck-It Ralph. And we'd be remiss if we didn't mention that Maleficent and Planes: Fire & Rescue have just become available on digital and Blu-ray. Happy Movie Night!