A brand-new television movie is roaring to life on Disney Channel this November, and the voice cast has just been announced. When The Lion Guard: Return of the Roar makes its primetime debut, it will feature James Earl Jones and Ernie Sabella reprising their roles from The Lion King as Mufasa and Pumbaa, respectively, alongside Rob Lowe (The Grinder) as Simba and Gabrielle Union (Being Mary Jane) as Nala. Max Charles (The Strain) stars as Kion. The voice cast also includes Joshua Rush (The Adventures of Puss in Boots) as Kion's best friend Bunga, a fearless honey badger; Atticus Shaffer (The Middle) as Ono, an intellectual egret; Diamond White (Sofia the First) as Fuli, a confident cheetah; and Dusan Brown (Blaze and the Monster Machines) as Beshte, a friendly and good-spirited hippo.
Set in the African Savanna, The Lion Guard: Return of the Roar follows Kion as he assembles the members of the Lion Guard. While traditionally the Lion Guard has been comprised of lions known to be the fiercest, bravest, fastest, strongest, and keenest of sight in the Pride Lands, Kion breaks tradition by instead calling upon some of his friends who he believes best exemplify these heroic qualities. Throughout the movie and the series, the diverse team of young animals will learn how to utilize each of their unique abilities to solve problems and accomplish tasks to maintain balance within the Circle of Life, while also introducing young viewers to the vast array of animals that populate the prodigious African landscape.
A television series, The Lion Guard, will premiere in early 2016 on Disney Channels and Disney Junior channels around the world.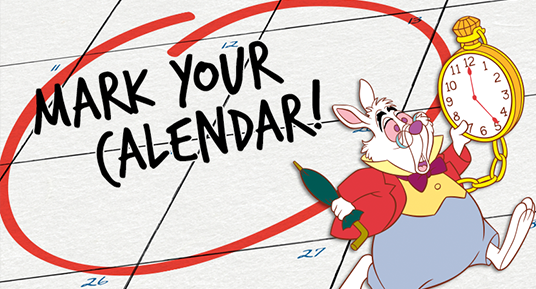 Save the Date!
Be sure to mark these upcoming Disney events on your calendar:
D23 and Walt Disney Archives


August 14-16


D23 Expo 2015 returns to Anaheim, California


Fall 2015


D23 Member VIP Nights at The Lion King


September 26


The Art of Disney—Featuring 75 Years of Pinocchio


October 3


D23's Sip & Stroll


November 7


D23 Day at the Walt Disney Studios and Archives


Studios




November 25


The Good Dinosaur opens in theaters.


December 18


Star Wars: The Force Awakens opens in theaters.


January 29


The Finest Hours opens in theaters.


March 4


Zootopia opens in theaters.

Parks


September 15, 18, 20, 22, 25, 27; October 1, 2, 4, 6, 8, 9, 12, 13, 15, 16, 18, 20, 22, 23, 25, 27, 29, 31; and November 1


Mickey's Not-So-Scary Halloween Party at Magic Kingdom Park


September 25, 28, 30; October 2, 5, 7, 9, 12, 14, 16, 19, 22, 23, 25, 27, 29, 31


Mickey's Halloween Party 2015 at Disneyland


September 25-November 16




Epcot International Food & Wine Festival




November 8, 10, 12, 13, 15, 17, 19, 20, 29; and December 1, 3, 4, 6, 8, 10, 11, 13, 15, 17, 18


Mickey's Very Merry Christmas Party at Magic Kingdom Park


Television




September 22


The Muppets premieres at 8 p.m. ET/PT on ABC.


September 26


Marvel's Guardians of the Galaxy premieres at 9:30 p.m. ET/PT on Disney XD.


November 30


It's Your 50th Christmas, Charlie Brown airs at 9 p.m. ET/PT on ABC.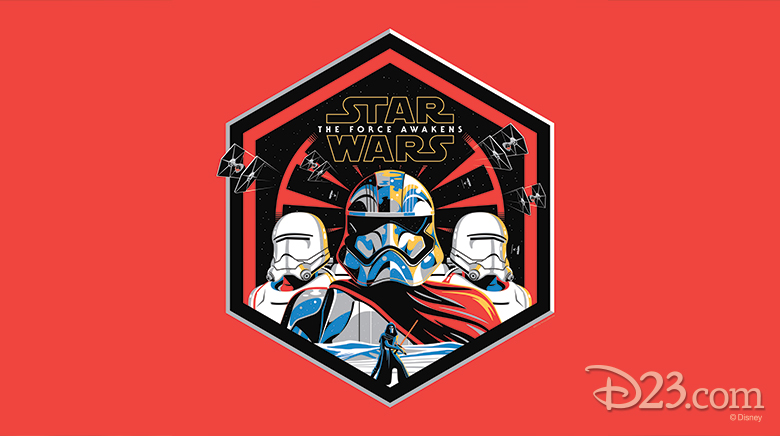 Attention Amateur Artists: Before The Force Awakens… "Art Awakens"
Star Wars fans throughout the galaxy are eagerly awaiting a piece of cinematic art known as Star Wars: The Force Awakens. And, in celebration of the movie we already know we're going to love, Lucasfilm and HP have announced "Art Awakens," a new program that's designed to revitalize creativity by "Bending the Rules" of the Force, themed around that galaxy far, far away. The program kicked off yesterday, and for the next two months, amateur artists can submit their Star Wars: The Force Awakens-inspired art on ArtAwakens.com for a chance to be showcased in an upcoming professional art exhibit later this year. And this November in Los Angeles, Gallery 1988 will host a three-day Star Wars: The Force Awakens art exhibit that features top professional and emerging contemporary artists, where new original pieces will be auctioned off in the name of Star Wars: Force for Change to benefit UNICEF Kid Power, which gives kids the power to save lives. Visit StarWars.com for more details.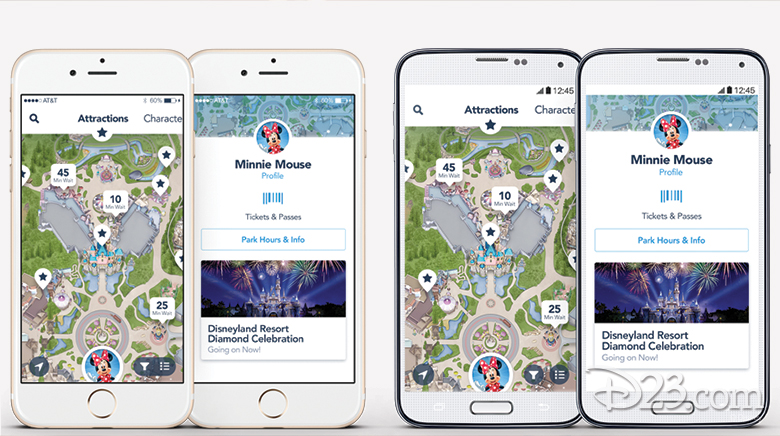 Disneyland—There's an (Official) App for That!
Disneyland has always been the Happiest Place on Earth, but thanks to the new, official Disneyland App—available for download now from the App Store and on Google Play—navigating the park has just gotten even easier. The app includes maps of attractions, restaurants, and shops, along with attraction wait times, character appearance schedules, and entertainment show times. If you need to purchase park tickets, the app now lets you do so right from your phone or mobile device: Just show the barcode at the gate for admission when you arrive! To download the app, visit disneyland.com/magic now.
No Rest For the Wicked—Hooray!
If you enjoyed Disney's Descendants, mark your calendar for Friday, September 18, when Descendants Wicked World, an animated short-form series set in Auradon and Isle of the Lost, makes its debut on Disney Channel and its digital platforms, including WATCH Disney Channel. Your favorite characters from the film will be back, with Dove Cameron, Sofia Carson, Cameron Boyce, Booboo Stewart, and more of the cast returning to provide their voices; and the series will introduce new characters, too. Four songs that were included as bonus tracks on the hit soundtrack for Descendants will be featured in the short-form series, including "Rotten to the Core", performed by Sofia Carson, and "Good Is the New Bad," performed by Dove Cameron, Sofia Caron, and China Anne McClain.
Beachbot Draws a Line—and Walt Disney!—in the Sand
This week, the Disney Parks Blog spotlighted Beachbot, the robot built by Disney Research Zurich and a group of undergraduate students from Swiss engineering school, and showed off Beachbot's latest artistic creation: a sand portrait of none other than Walt Disney. Watch the video above to see Beachbot in action—the little robot is handier in the sand than most of us are with a pencil and paper!
The Great Race… Between Turtles!
Remember the classic race between the tortoise and the hare? Well, last week Disney Vacation Club Members and guests at Disney's Vero Beach Resort witnessed the kickoff to an exciting race between two turtles. For the eight annual "Tour de Turtles," researchers from Disney's Animal Programs and the Sea Turtle Conservancy attached satellite transmitters to two loggerhead sea turtles, Tinker Bell and Marina, each of which is swimming to raise awareness for a specific threat to sea turtle populations. Tinker Bell is raising awareness about light pollution on sea turtle nesting beaches, while Marina is drawing attention to the plight of plastic debris in the world's oceans. To learn more, visit the Disney Parks Blog, and enjoy seeing Tinker Bell and Marina in action in the video above.
VIPGs—Very Important Parks Guests
Are you enjoying your summer vacation? Does it involve a trip to one of the fabulous Walt Disney Parks and Resorts around the world? Aulani, a Disney Resort & Spa hosted the new host of America's Funniest Home Videos, Alfonso Ribiero, and his family, who, naturally, made time for a picture with Mickey Mouse. And at Walt Disney World in Orlando, Idina Menzel—the voice of Elsa—visited the set of For the First Time in Forever: A Frozen Sing-Along Celebration at Disney's Hollywood Studios, where she posed for a photo with Anna, Elsa, and Olaf, in summer! That's a vacation photo worth melting for.
Avengers Assemble, LEGO-style!
You can get your copy of LEGO Marvel's Avengers on January 26, 2016, but in the meantime, you can enjoy a first look at some of Marvel's fan-favorite super heroes. Marvel.com shared images of Ms. Marvel, Thor, Squirrel Girl, Bruce Banner, Hulk, and Speed this week, and we're already excited about the adventures we can create for Earth's Mightiest Heroes!