By Courtney Potter
See the latest trailers from around the worlds of Disney, and mark your calendars for a cool new Beatles documentary from director Peter Jackson… Read more, along with other news from around Disney, in this week's news briefs!
Magical New Soul Trailer Takes Us to the "Great Before"
Arriving in theaters later this summer, Disney and Pixar's Soul whet our proverbial appetites with a brand-new trailer that just premiered this week on ABC's Good Morning America… take a look at the hilarious, heartfelt clip, above.
Soul follows Joe Gardner (voice of Jamie Foxx), a middle-school band teacher who gets the chance of a lifetime to play at the best jazz club in town. But one small misstep takes him from the streets of New York City to The Great Before—a fantastical place where new souls get their personalities, quirks, and interests before going to Earth. Determined to return to his life, Joe teams up with a precocious soul, 22 (voice of Tina Fey), who has never understood the appeal of the human experience… As Joe desperately tries to show 22 what's great about living, he may just discover the answers to some of life's most important questions.
Also featuring the voices of Phylicia Rashad, Angela Bassett, Ahmir Questlove Thompson, and Daveed Diggs, Soul is directed by Academy Award® winner Pete Docter, co-directed by Kemp Powers, and produced by Oscar® nominee Dana Murray. Grammy®-nominated musician Jon Batiste will be writing original jazz music for the film, while Oscar winners Trent Reznor and Atticus Ross, from Nine Inch Nails, wrote an original score that drifts between the real and soul worlds…
Look for Soul in U.S. theaters beginning June 19.
Save the Date!
Be sure to mark these upcoming Disney events on your calendar:
D23 and Walt Disney Archives


April 2020


A Goofy Movie 25th—On the Open Roadshow


August 9, 2020


Adventures by Disney Rhine River Cruise Presented by D23
Parks
February 28—April 21, 2020
Disney California Adventure Food & Wine Festival returns to Disneyland Resort


March 4

—

June 1, 2020
Epcot International Flower & Garden Festival at Walt Disney World Resort
Summer 2020
Avengers Campus opening at Disney California Adventure



Studios




March 27, 2020


Mulan opens in U.S. theaters


May 1, 2020


Marvel Studios' Black Widow opens in U.S. theaters


May 29, 2020


Artemis Fowl

opens in U.S. theaters




Television


March 20, 2020
Mira, Royal Detective premieres on Disney Channel (11 a.m. EDT/PDT) and on Disney Junior (7 p.m. EDT/PDT)
Disney+
March 13, 2020
Stargirl

premieres


March 27, 2020
Be Our Chef premieres

The Excitement is Palpable in New Black Widow Trailer
Speaking of incredible new trailers, this week was an embarrassment of riches: We were also gifted with a final early look at Marvel Studios' Black Widow before the film's debut in less than two months. If you haven't already reveled in the adventure, take a peek above.
In this action-packed blockbuster, Natasha Romanoff (aka Black Widow) confronts the darker parts of her ledger when a dangerous conspiracy with ties to her past arises. Pursued by a force that will stop at nothing to bring her down, Natasha must face her past as a spy and the broken relationships left in her wake long before she became an Avenger. Scarlett Johansson reprises her role as Natasha/Black Widow; joining the Marvel Cinematic Universe (MCU) are Florence Pugh as Yelena, David Harbour as Alexei/The Red Guardian, and Rachel Weisz as Melina.
Directed by Cate Shortland and produced by Kevin Feige, Black Widow—the first film in Phase Four of the MCU—opens in theaters May 1.
A Wild New Jungle Cruise Trailer Sails Into (Virtual) Port
When we said a lot of cool stuff was released this week, we weren't kidding! The Walt Disney Studios just released a brand-new trailer for Jungle Cruise, starring Dwayne Johnson and Emily Blunt. See the clip, above…
Intrepid researcher Dr. Lily Houghton (Blunt) must travel from London to the jungle—and she enlists the questionable services of wisecracking skipper Frank Wolff (Johnson) to guide her downriver on La Quila, his ramshackle-but-charming boat. Lily, it seems, is determined to uncover an ancient tree with unparalleled healing abilities, possessing the power to change the future of medicine. Along the way, however, the unlikely duo encounters dangers and supernatural forces a-plenty, all lurking in the deceptive beauty of the lush rainforest. But as the secrets of the lost tree unfold, the stakes grow higher, putting Frank and Lily's fate—and mankind's—in jeopardy.
Directed by Jaume Collet-Serra—and costarring Edgar Ramírez, Jack Whitehall, Jesse Plemons, and Paul Giamatti—Jungle Cruise sails into theaters on July 24.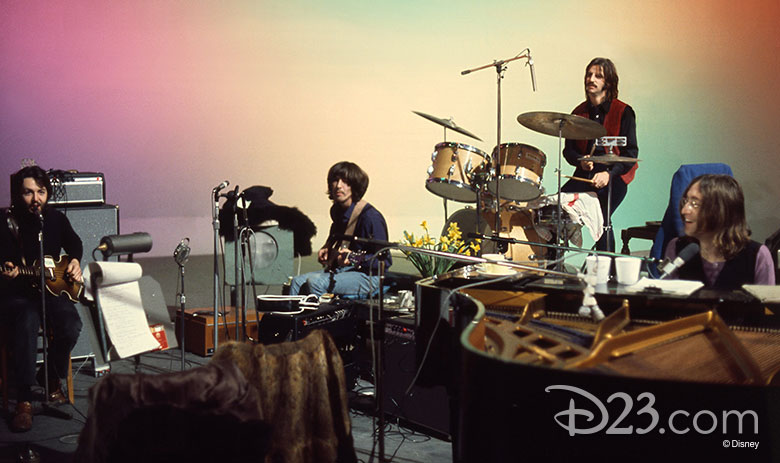 The Walt Disney Studios to Release New Documentary The Beatles: Get Back
Beatles fans (hey, that's us), take heed: There is a sure-to-be-memorable new documentary coming about the Fab Four, helmed by none other than acclaimed filmmaker Peter Jackson. Disney Executive Chairman Bob Iger made the big announcement at the Company's recent annual meeting of shareholders.
The Beatles: Get Back will showcase the warmth, camaraderie, and humor of the making of the legendary band's studio album, Let It Be, and their final live concert as a group—the iconic rooftop performance on London's Savile Row. The Beatles: Get Back will be released by The Walt Disney Studios in the United States and Canada on September 4, 2020, with additional details and dates for the film's global release to follow.
"Working on this project has been a joyous discovery," Jackson recently explained. "I've been privileged to be a fly on the wall while the greatest band of all time works, plays, and creates masterpieces." We can't wait to see the finished product!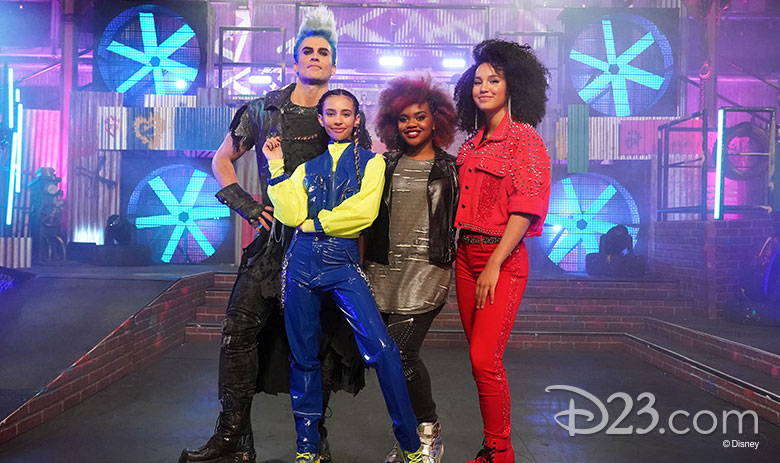 Descendants Remix Dance Party Coming to Disney Channel March 20
Are you a Descendants fan? (Who isn't?!) And are you ready to rock? Look no further than the just-announced Disney Channel special Descendants Remix Dance Party: A Disney Channel Music Event, celebrating all things Descendants music and magic.
Hosted by Cheyenne Jackson as Hades from Descendants 3, this half-hour, high-energy dance party will feature memorable musical performances of reimagined hits from the fan-fave Descendants movies by multi-talented Disney Channel stars including Sofia Wylie and Dara Reneé from Disney+'s High School Musical: The Musical: The Series and Kylie Cantrall from Gabby Duran & The Unsittables. (FYI: Five-year-old rapping sensation ZaZa will make a special appearance during Cantrall's performance!)
Executive produced by the Emmy® Award-winning choreography duo NappyTabs (So You Think You Can Dance), Descendants Remix Dance Party premieres on Friday, March 20, at 7:30 p.m. EDT/PDT. Don't miss it!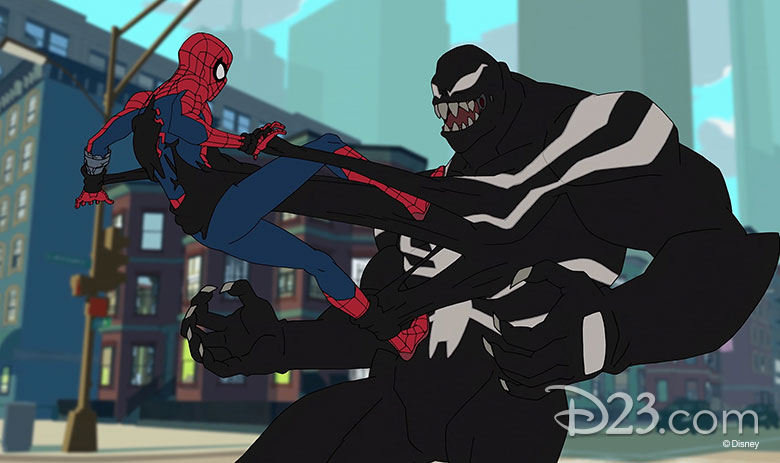 Marvel's Spider-Man: Maximum Venom Returning for Season Three Next Month
Are your spidey senses tingling? Here's why: Season three of the web-slinging Emmy® Award-nominated Marvel's Spider-Man: Maximum Venom debuts with a one-hour special on Sunday, April 19, at 9 p.m. EDT/PDT on Disney XD and DisneyNOW.
The six one-hour specials feature appearances by favorite Marvel characters including Captain Marvel, Groot, Doctor Strange, and Star-Lord! This new season follows Spider-Man as he is pushed to his breaking point after Venom summons an earth-shattering threat from its home planet.
Marvel's Spider-Man: Maximum Venom stars Robbie Daymond as Peter Parker/Spider-Man, Ben Pronsky as Venom, Fred Tatasciore as Max Modell, Nadji Jeter as Miles Morales, Melanie Minichino as Anya Corazon/Spider-Girl, Laura Bailey as Gwen Stacy/Ghost-Spider, Scott Menville as Grady Scraps, Max Mittelman as Harry Osborn/Hobgoblin, Yuri Lowenthal as Curt Connors, and Nancy Linari as Aunt May.
Guest voices for season three include Yvette Nicole Brown (Community) as Head Administrator, Sofia Wylie (Disney+'s High School Musical: The Musical: The Series) as Ironheart/Riri Williams, and Disney Channel's ZOMBIES 2 stars Meg Donnelly, Kylee Russell, and Carla Jeffery as Symbiote Sisters Scream, Scorn, and Mania, respectively. Plus, Felicia Day (The Guild) joins the Marvel's Spider-Man: Maximum Venom cast as Mary Jane Watson, who makes her debut appearance in the new season.