Frozen News that Gives Us Chills
Today, Disney announced the coolest news we've heard in a little while: Frozen is coming to Broadway! In spring 2018, the all-new show will take its place on New York's Great White Way, where Aladdin and The Lion King have already been hits with theatergoers and critics alike. The pre-Broadway engagement will kick off August 2017.
Award-winning songwriters Kristen Anderson-Lopez and Robert Lopez are providing music for the theatrical show and the story will be based on a book by Jennifer Lee, who wrote Frozen, the film. The show is to be directed by Tony® Award winner Alex Timbers (Peter and the Starcatcher, Mozart in the Jungle) and will be choreographed by Peter Darling (Billy Elliot, Matilda).
And if that isn't the greatest thing you've heard for, well, the first time in forever, you'll be able to enjoy another new Frozen experience in the comfort of your own home. We also learned today that an all-new Frozen holiday special is slated to air Holiday 2017 on ABC. Our Arandelle favorites—Olaf, Anna, Elsa, Kristoff, and Sven (and the actors who voiced them!)—will be on hand for the special, which will be directed by Emmy®-winning directors Kevin Deters and Stevie Wermers-Skelton (Prep & Landing) and produced by Oscar® winner Roy Conli (Big Hero 6).
Stay tuned to D23.com in the coming months for more information about both of these special events worth melting for.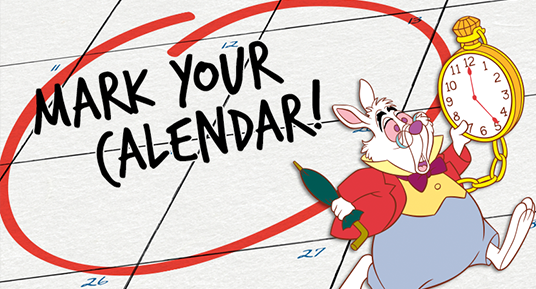 Save the Date!
Be sure to mark these upcoming Disney events on your calendar: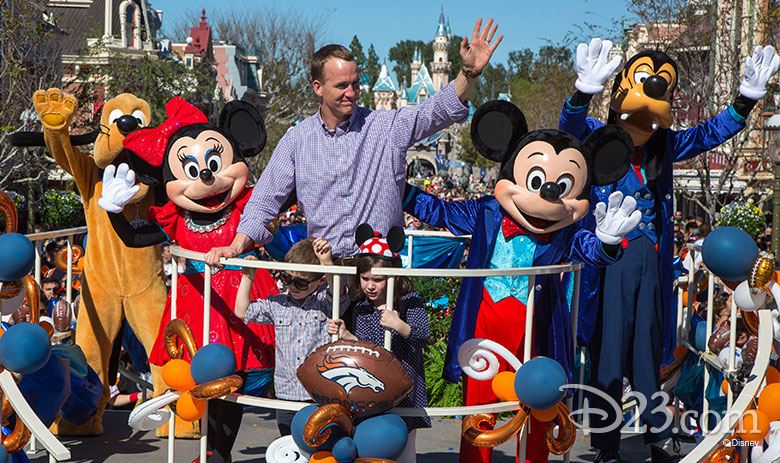 Super Bowl Champ Celebrates at Disneyland Resort
Football fans (and let's be honest, delicious-finger-food fans) the world over watched Super Bowl 50 yesterday—and it was truly a game for the record books. Case in point: Denver Broncos quarterback Peyton Manning celebrated not only his second Super Bowl win, but also his whopping 200th win as a starter. And where does one go to celebrate such huge milestones? Why, the Happiest Place on Earth, of course!
After declaring, "I'm going to Disneyland!", at Levi Stadium in Santa Clara, CA, on Sunday evening, Peyton traveled to Disneyland Resort on Monday to take part in a champion's parade down Main Street, U.S.A. The quarterback smiled and waved to fans as he rode on a float with his family in an unforgettable, picture-perfect moment.
Peyton joins an illustrious roster of sports superstars who've celebrated wins and special occasions at Disneyland or Walt Disney World Resorts—including fellow NFL legends Joe Montana, Jerry Rice, and Tom Brady, and NBA heroes Magic Johnson and Michael Jordan.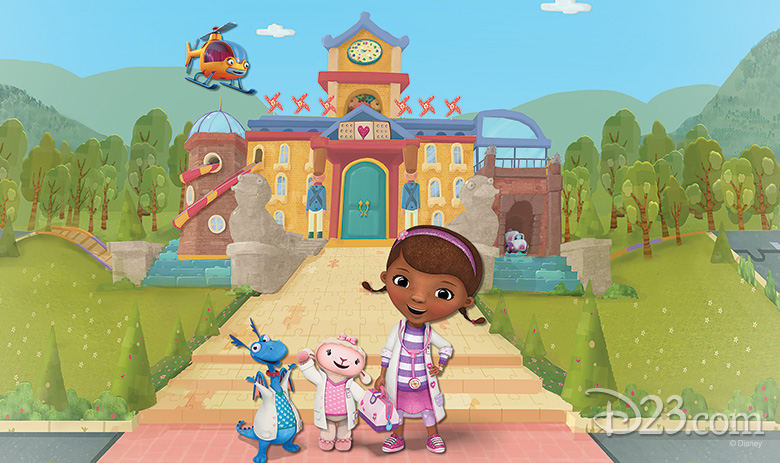 Doc McStuffins Welcomes Special Guest Voices for Season Four
When "the Doc is in" for Season Four of Disney Junior's Doc McStuffins, she'll be joined by a just-announced line-up of guest stars who will be lending their voices to the Peabody and NAACP Image Award-winning animated series. Anthony Anderson (black-ish), Molly Ringwald (Sixteen Candles), Ellen Pompeo (Grey's Anatomy), Gabourey Sidibe (Empire) and Vanessa Williams (The Good Wife) will all voice guest roles on the animated series about a little girl who aspires to be a doctor like her mom and runs a clinic for stuffed animals and toys out of her backyard playhouse. They'll be joining previously announced guest star Christopher "Ludacris" Bridges.
For the new season, slated to debut this summer, Doc and her toy friends will be magically transported to a make-believe town, made up entirely of toys, where Doc serves as chief resident of the Toy Hospital. Sounds like a lot of fun for Doc—and for her fans!
Lab Rats: Elite Force Coming to Disney XD in March
They're getting ready to save the world! Lab Rats: Elite Force, the new spin-off series from Lab Rats: Bionic Island and Mighty Med, is set to debut on Wednesday, March 2, at 8:30 p.m. ET/PT on Disney XD.
Lab Rats: Elite Force is set in a bustling metropolis after the Mighty Med hospital is destroyed by a band of unknown super-villains. New team members Kaz (Bradley Steven Perry), Oliver (Jake Short) and Skylar (Paris Berelc) join forces with Chase (William Brent) and Bree (Kelli Berglund) to form a powerful elite force that combines bionic heroes and superheroes. Together, they vow to track down the villains and keep the world safe! Booboo Stewart (Descendants) and Ryan Potter (voice of Hiro in Big Hero 6) guest star in the premiere episode as teenage shape-shifters Roman and Riker, respectively.
Looking for a lil' sneak peek at all the action? Take a look at the new promo, above. And here's some even cooler news: If you wanna see the premiere episode early, check it out starting February 29 on both Video on Demand (VOD) and WATCH Disney XD.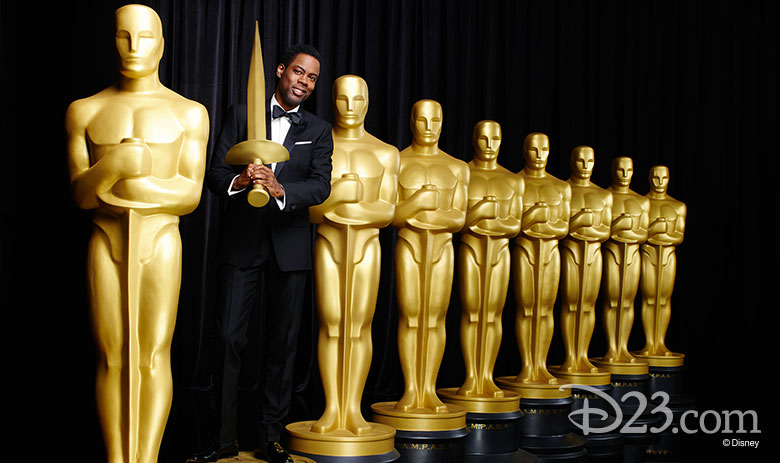 Stars Explore a Journey to the Oscars in New ABC Special
Some of today's hottest actors and directors reflect on the defining moments of their careers in Journey to the Oscars, premiering Sunday, February 21, on ABC. Hosted by Good Morning America's Robin Roberts, the one-hour special features emotional, in-depth interviews with some of the most notable 2016 Oscar® nominees, including Sylvester Stallone (Creed), Brie Larson (Room), and Bryan Cranston (Trumbo), plus The Martian director Sir Ridley Scott and star Matt Damon.
Ever wanted to find out the turning point that took Bryan Cranston from soap operas and TV commercials to Breaking Bad? Or whether Sly Stallone really feels like Creed is his "comeback"? Tune in for all this, and more, when Journey to the Oscars debuts on February 21 at 10 p.m. ET/PT.
New Trailer for The Jungle Book
Following its TV debut during the big Super Bowl game on Sunday, the new trailer for Disney's The Jungle Book is now online! The action-adventure—which blends live-action with photo-realistic CGI animation—roars into theaters this April!
Directed by Jon Favreau (Iron Man), The Jungle Book follows man-cub Mowgli (newcomer Neel Sethi) as he embarks on a captivating journey of self-discovery when he's forced to abandon the only home he's ever known. The film also features the dulcet tones of Bill Murray, Idris Elba, Scarlett Johansson, Christopher Walken, and Ben Kingsley.
"Weird Al" Yankovic Lends Voice to Disney XD's Milo Murphy's Law
Musical satirist and Grammy Award®-winner "Weird Al" Yankovic (of "Eat It" and "Tacky" fame) is coming to your TV! He'll voice the title role in Disney XD's Milo Murphy's Law, a brand-new animated comedy series from Phineas and Ferb creators/executive producers Dan Povenmire and Jeff "Swampy" Marsh. Premiering this fall, Milo Murphy's Law will introduce audiences to Milo, the (fictional) great-great-great-great grandson of the Murphy's Law namesake. "Weird Al" will also sing the opening theme song and—throughout the series—perform original songs as his character!
Milo, as we'll come to find out, is the personification of Murphy's Law, where anything that can go wrong will go wrong. Suffering from Extreme Hereditary Murphy's Law condition (EHML), young Milo always looks to make the best of the cards he's been dealt—and his endless optimism and enthusiasm can turn any catastrophe into a wild adventure! Joining "Weird Al" is a bevy of stars, including Christian Slater (Mr. Robot, Heathers), Vanessa Williams (Ugly Betty), Sarah Chalke (Scrubs), Sabrina Carpenter (Disney Channel's Girl Meets World) and Mekai Curtis (Disney XD's Kirby Buckets). Keep a (careful!) eye out for premiere dates and more info soon…
New Trailer and New Emojis for Captain America: Civil War
Before the big game on Sunday, Marvel released a brand-new look at Captain America: Civil War, which is set to storm your local cineplex on May 6. (If you missed the trailer, check it out, above!) In celebration, custom Twitter emojis showcasing "Team Cap" and "Team Iron Man" have now been revealed… and they're totally awesome.
As part of a unique Twitter campaign, 11 new character emojis are now available—and fans are encouraged to Tweet using #TeamCap or #TeamIronMan to declare their allegiance to their favorite Marvel characters. Additionally, fans can create their own super team using the Captain America emojis and #TeamCapSweepstakes or #TeamIronManSweepstakes for a chance to win a walk-on role in Marvel's Avengers: Infinity War—Part I. Now that is a prize!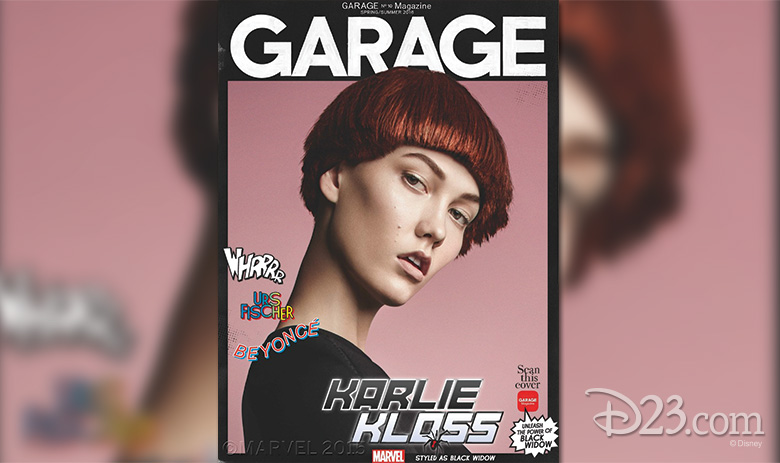 GARAGE Magazine Celebrates Marvel with Five Unique Covers
Speaking of Marvel, GARAGE Magazine—a biannual print publication that brings to life original, ambitious collaborative projects across contemporary art and fashion—has assembled some of their own Avengers… in supermodel form. Produced in creative collaboration with Marvel Entertainment, GARAGE's five unique covers (on newsstands globally this Thursday, February 11) feature supermodels styled as some of Marvel's most popular super heroes. Using the cutting-edge GARAGE Mag mobile app, readers can also scan each of the covers to see these leading ladies come to life as 3-D digital "comic book" animations. Covergirls include Adriana Lima as She-Hulk, Karlie Kloss as Black Widow, and Lexi Boling as Captain Marvel.
For more info on the covers, and to learn how to access the digital animations, visit GarageMag.com.