By Courtney Potter
World of Color Returns to Disney California Adventure with a New Virtual Queue System
World of Color, the breathtaking nighttime spectacular at Disney California Adventure Park, brings animation to life—and it's officially returning on Friday, April 22! The show allows viewers the chance to relive memorable scenes from beloved Disney and Pixar films through powerful dancing fountains shooting high to the sky; a fantastic movie screen of made entirely of water; and lasers that electrify the night… all brought together on Paradise Bay by a memorably tuneful soundtrack. Need a quick reminder of the fun? Check out the new clip from our friends at Disney Parks Blog, below.
When World of Color returns, there will be a new virtual queue system to help guests view this popular show. Beginning April 22, distribution times for the virtual queue enrollment—only accessible via the Disneyland mobile app—will begin at noon, daily. (Do note that, in order to join the virtual queue, you must have entered Disney California Adventure with a one day, one park ticket or Park Hopper ticket, or Disneyland Park with a Park Hopper ticket.) But never fear: If the queue reaches capacity, guests can visit the Paradise Bay viewing area shortly before World of Color begins to check in with a cast member for walk-up viewing options.
Joining the virtual queue for World of Color is not required to view the spectacular, but it is highly recommended. For all the pertinent how-to details about the virtual queue system, visit Disneyland.com… and prepare to be dazzled once again!
5 Fantastic Things to Watch This Weekend Presented by State Farm®
There are some egg-cellent ways to celebrate this Easter weekend from around the worlds of Disney: See if private eye Eddie Valiant (Bob Hoskins) can uncover Who Framed Roger Rabbit; get into the spring spirit with Disney's classic Bambi; spend a blustery day with Disney's Winnie the Pooh; and much more.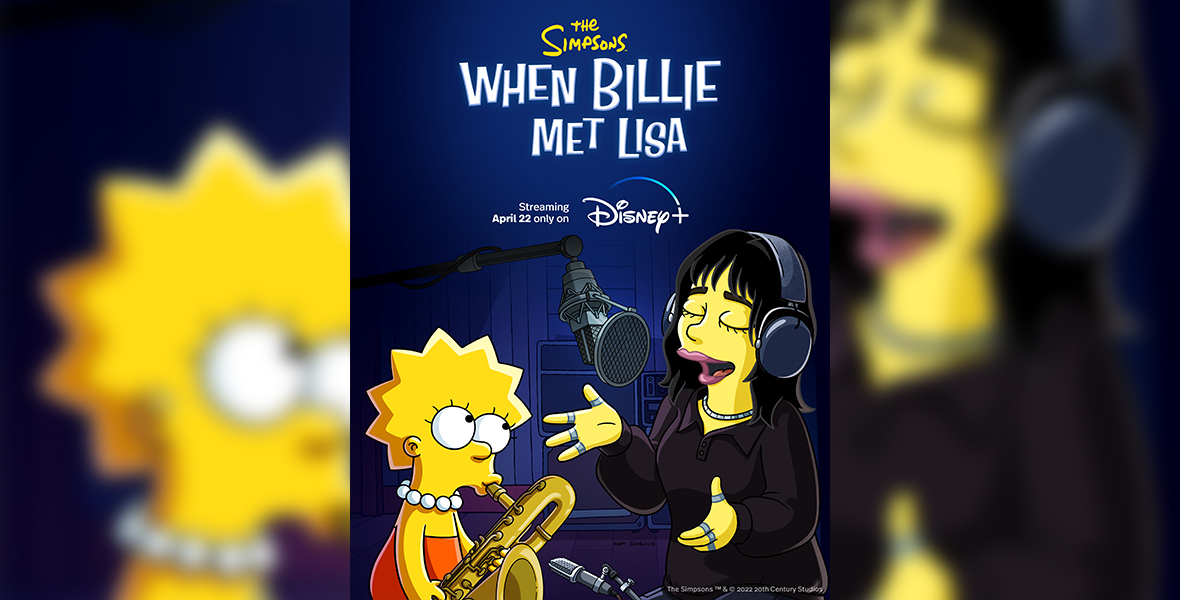 Coming Soon: New Disney+ Short When Billie Met Lisa
Just this week, Oscar®- and Grammy®-winning singer/songwriter Billie Eilish revealed that she'll be appearing alongside the iconic family from The Simpsons in the upcoming short titled When Billie Met Lisa. The all-new short, featuring Eilish and her brother FINNEAS, will premiere Friday, April 22, exclusively on Disney+.
In When Billie Met Lisa, Lisa Simpson (voiced by Yeardley Smith) is discovered by the chart-topping artists while she's searching for a quiet place to practice her saxophone. Eilish invites Lisa to her studio for a special jam session she won't soon forget!
This upcoming release from The Simpsons is the fourth in a collection of shorts created exclusively for Disney+. The previously released Star Wars and Marvel-themed shorts Maggie Simpson in 'The Force Awakens from Its Nap' and The Good, The Bart, and The Loki are currently available on the streamer—and the most recent short, The Simpsons in Plusaversary, was released on November 12, 2021, in celebration of Disney+ Day. All of these and more can be found in The Simpsons collection on the streaming service. "D'oh!"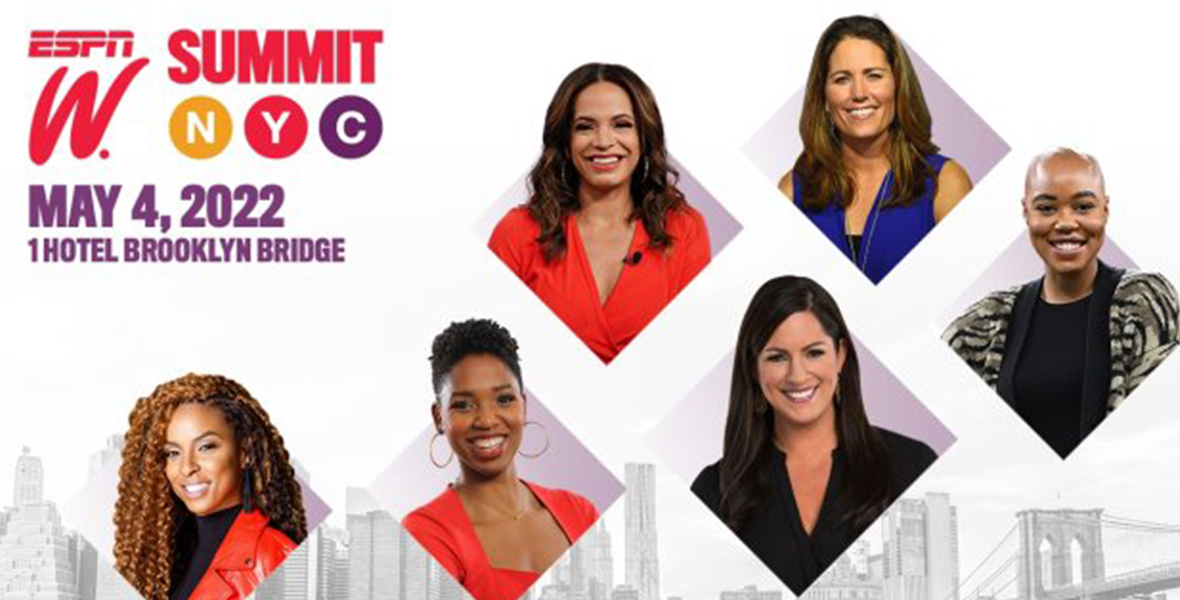 espnW Summit NYC Unveils Speakers and Agenda
Cool news, sports fans: The espnW Summit NYC will return in person and via livestream on Wednesday, May 4, at the 1 Hotel in Brooklyn. The one-day event will gather a distinctive group of leaders and change-makers at the intersection of sports, business, and entertainment for a day of conversation and reflection about the women and sports space.
The line-up includes a look ahead at ESPN's Fifty/50 initiative honoring the 50th anniversary of Title IX, a conversation with NWSL Commissioner Jessica Berman, and more. The event will stream live across espnWevents.com, the ESPN App, Facebook, Twitter, and YouTube—and as with all espnW Summits, movement and wellness will be woven into the experience. espnW Columnist and ESPN Radio host Sarah Spain will once again serve as event host, joined by espnW writer and ESPN commentator Julie Foudy, SportsCenter anchor Elle Duncan, Women's College Basketball and WNBA game and studio analyst and sideline reporter LaChina Robinson, game and studio analyst Monica McNutt, and studio anchor Christine Williamson.
The espnW Summit NYC will run from 8 a.m. to 7 p.m. ET. To register to attend in person—and for further information—visit nyc.espnwsummit.com.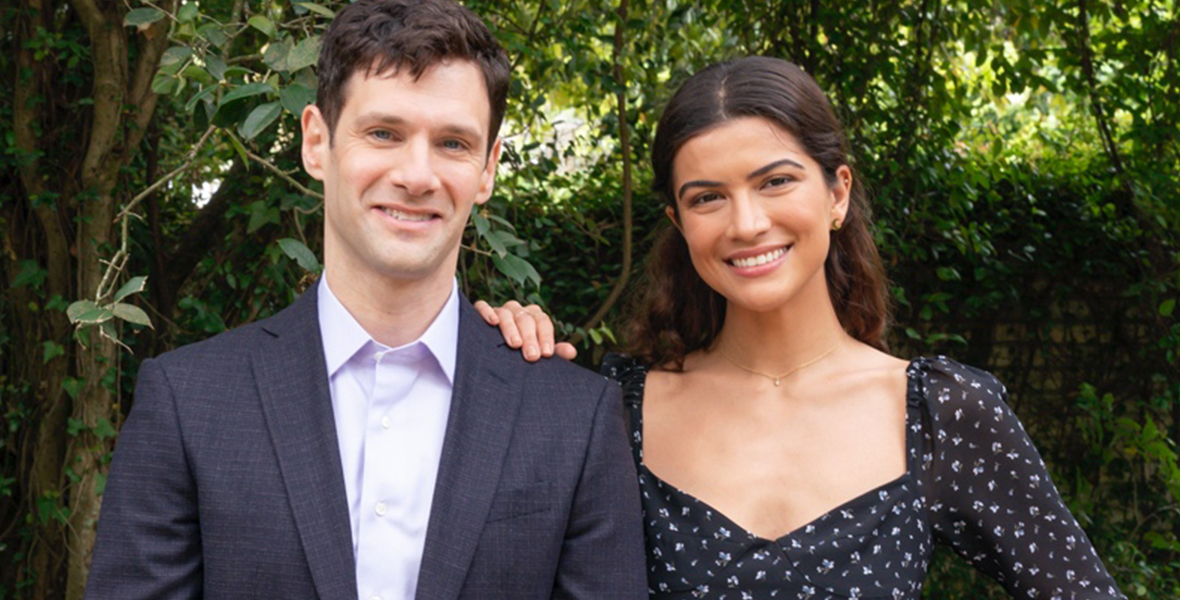 Justin Bartha Joins Cast of National Treasure on Disney+
Riley is back, and he's ready for more adventure!
Earlier this week, Disney+ announced that Justin Bartha is returning to guest star and reprise his memorable character Riley Poole from the hit National Treasure franchise in the upcoming Disney+ original series of the same name. The live-action series is an expansion of the movie franchise centered on a young heroine, Jess (Lisette Alexis), a brilliant and resourceful DREAMer who embarks on the adventure of a lifetime to uncover the truth about her family's mysterious past and save a lost Pan-American treasure.
As previously announced, the series also stars multiple award-winning actress Catherine Zeta-Jones as Billie, a black-market antiquities expert and treasure-hunting billionaire who lives by her own code; Zuri Reed as Tasha, Jess' ride-or-die friend who joins the treasure hunt but is forced to reevaluate her belief system to help her best friend; Jordan Rodrigues as Ethan, Jess' childhood best friend who has loved her since the day they met; Antonio Cipriano as Oren, a loveable but self-obsessed goofball with an encyclopedic knowledge of conspiracy theories who attempts to win back Tasha's affections; and Jake Austin Walker as Liam, a swoon-worthy struggling musician with a permanent chip on his shoulder who comes from a long line of treasure hunters. Jess recruits her friends to help uncover the truth about her parents and their connection to the treasure. Lyndon Smith stars as FBI Agent Ross, who assists in the quest.
Stay tuned for more updates on the series as they become available.
Behind the Design of shopDisney's New Limited-Edition Merida Doll
The latest release from the Ultimate Princess Celebration Disney Designer Collection of limited-edition dolls, now available on shopDisney, is Merida—the memorable heroine of Disney and Pixar's Brave. D23 recently spoke with the doll's designer, Wes Jenkins; hear about his process, and what drew him to Merida in the first place, by clicking here.
If the Sneaker Fits: Disney+ Releases Trailer for Sneakerella
Disney+ has just revealed a new trailer for its upcoming original movie Sneakerella—premiering Friday, May 13, on the streaming service. From the studio behind the mega-hit Descendants, High School Musical, and ZOMBIES franchises, this pop/hip-hop musical is set in the vibrant street-sneaker subculture of New York City and puts a contemporary twist on the Cinderella fairy tale.
El (Chosen Jacobs), an aspiring sneaker designer from Queens, works as a stock boy in a shoe store and hides his artistic talent. Sparks fly after a chance encounter with Kira King (Lexi Underwood), the daughter of sneaker royalty and a Manhattan "Princess Charming" of sorts. With a nudge from his best friend and a touch of magic, El finds the courage to lace up and dream big!
Also starring John Salley, Devyn Nekoda, Juan Chioran, Bryan Terrell Clark, Kolton Stewart, Robyn Alomar, Yvonne Senat Jones, and Hayward Leach, Sneakerella is directed and co-executive produced by Elizabeth Allen Rosenbaum.
ICYMI: Dancing with the Stars Moving to Disney+ This Fall
The rumors are true—the mirrorball is moving: After an incredible 30 seasons on ABC, Dancing with the Stars is moving to a new home on Disney+. The hit series received a two-season pickup and will premiere exclusively in the U.S. and Canada this fall, making Dancing with the Stars the first live series to debut on the streaming service. Hear about the change from a few folks behind the sparkly scenes right here at D23.com.