Disney doll and Brave aficionados rejoice! Merida, the latest release from the Ultimate Princess Celebration Disney Designer Collection of limited-edition dolls, is now available on shopDisney! The collection is part of a yearlong event spotlighting the courage and kindness of Disney princesses. Each doll in the monthly specialty series, launched in October 2021, is carefully crafted by artists across The Walt Disney Company and celebrates both the Disney Princess and the designer inspired by our heroine's story. D23 recently sat down with designer Wes Jenkins to talk about his inspirations for Merida and to give us a peek into the design process.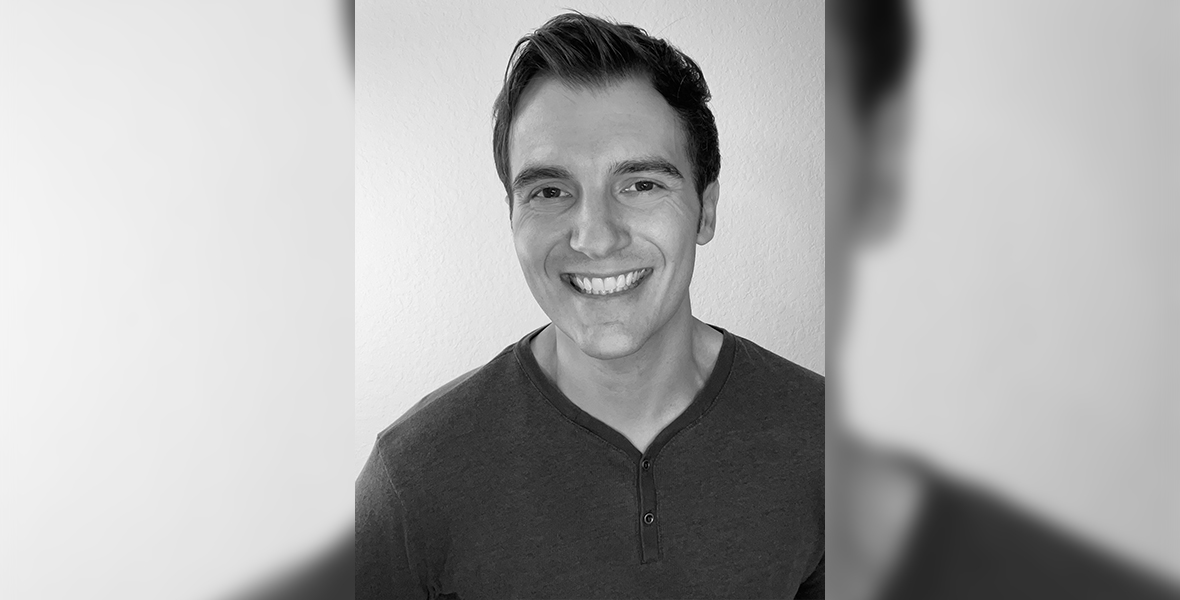 D23: The Official Disney Fan Club: What about Merida do you find inspirational?
Wes Jenkins (WJ): Merida embodies the will and courage to be different. I am definitely not your typical 35-year-old male from Indiana. I connect with her disillusionment with others' expectations that you fall in line with the status quo. I never felt compelled to be like anyone else. It didn't make sense to cover up my talents or try to be good at something I didn't enjoy. Luckily, I have a family and friends that supported my artistic ambitions while I was growing up. And I'm very happy with where it got me.
D23: How did you react when you were asked to design this limited-edition doll?
WJ: I was speechless. It really came out of nowhere, or at least it felt that way to me. The group of chosen designers were all invited to request their preferred princess(es) to design, and I offered three options (Ariel, Belle, and Merida.) I had a suspicion that I would get Merida, and that proved to be true—for which I am very grateful. Her personality, story, and cultural heritage offered boundless inspiration.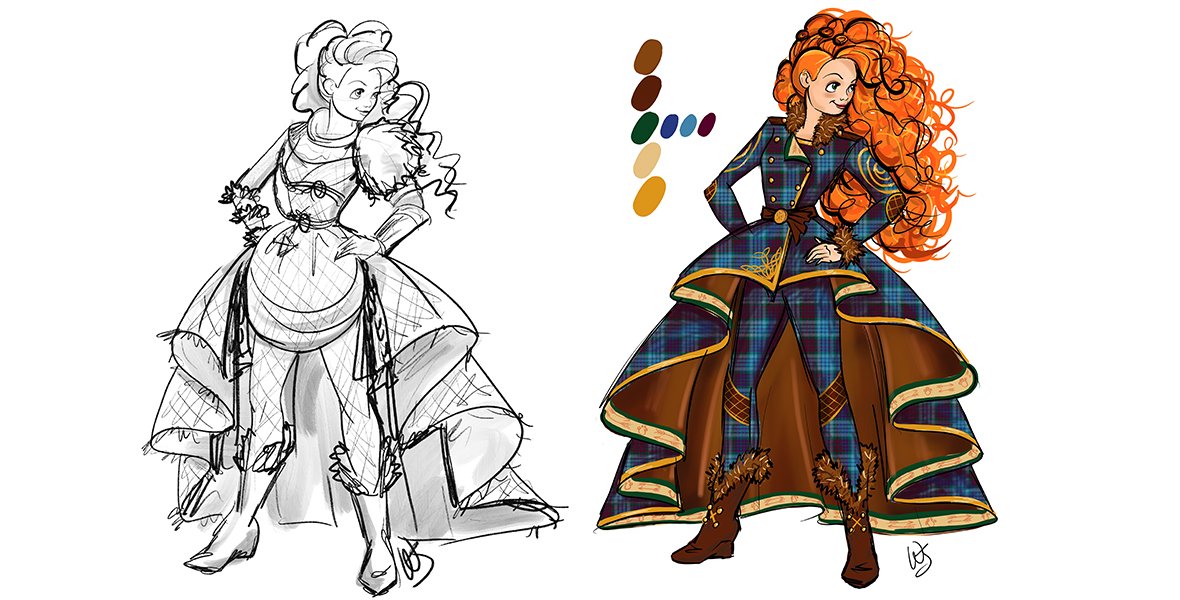 D23: Can you talk us through your design process? What was your inspiration for the Merida doll you created?
WJ: As soon as I knew that I would be designing a doll for this collection, I started sketching out ideas for several characters. My early sketch for Merida heavily influenced where her final design landed. I knew that I wanted to celebrate her Scottish heritage, with which she has a tumultuous relationship in the film but learns to embrace as an opportunity to shape her clan's future. I also wanted her to look like a leader, not a follower, with her own unique sense of style that is rooted in elements of her story.
When we were asked to design these dolls, our task was to reimagine them for a fantastical event—like the MET Gala. As I was searching for design inspiration, I kept landing on grunge and punk fashion movements (à la Vivienne Westwood) where tartan fabrics played a significant role. They were draped, pleated, and swagged—similar to the early ancestors of our modern-day kilt. Leather belts and chains, layered up like impromptu armor, were also heavily featured. Combined with Merida's backstory, I was able to design a look for her that incorporated punk elements and her Scottish heritage.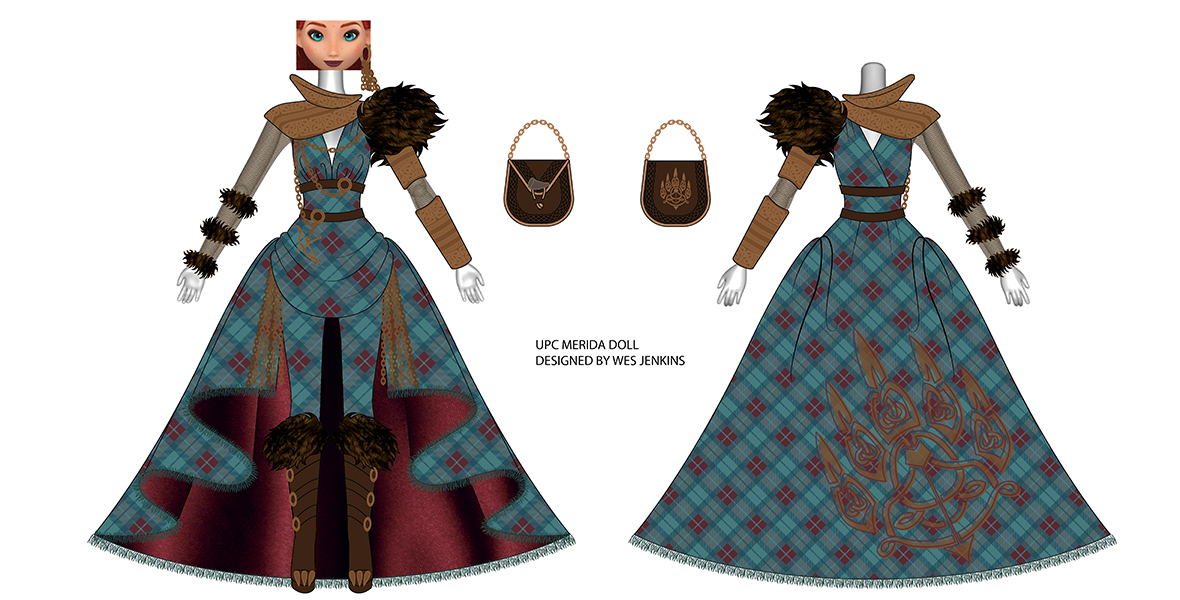 I loved the idea of dressing her in head-to-toe tartan, which is a staple feature of punk-inspired couture fashion. Her skirt is pulled up and swagged out of her way in front, allowing her to mount a horse and ride more quickly into a battle (or a gala!). The waterfall pleats falling from her hips are an homage to the pleats of a kilt. She wears armor braces and a modified gorget emblazoned with patterns from the film that are inspired by Pictish and Gaelic art from the early Middle Ages. The same kind of patterns decorate the edge of her skirt and her bag (which is inspired by the traditional Scottish sporran.) She originally had three bands of faux fur around her forearm (to represent her brothers), but it didn't execute well at such a small scale. I chose to replace it with a wrapped leather gauntlet.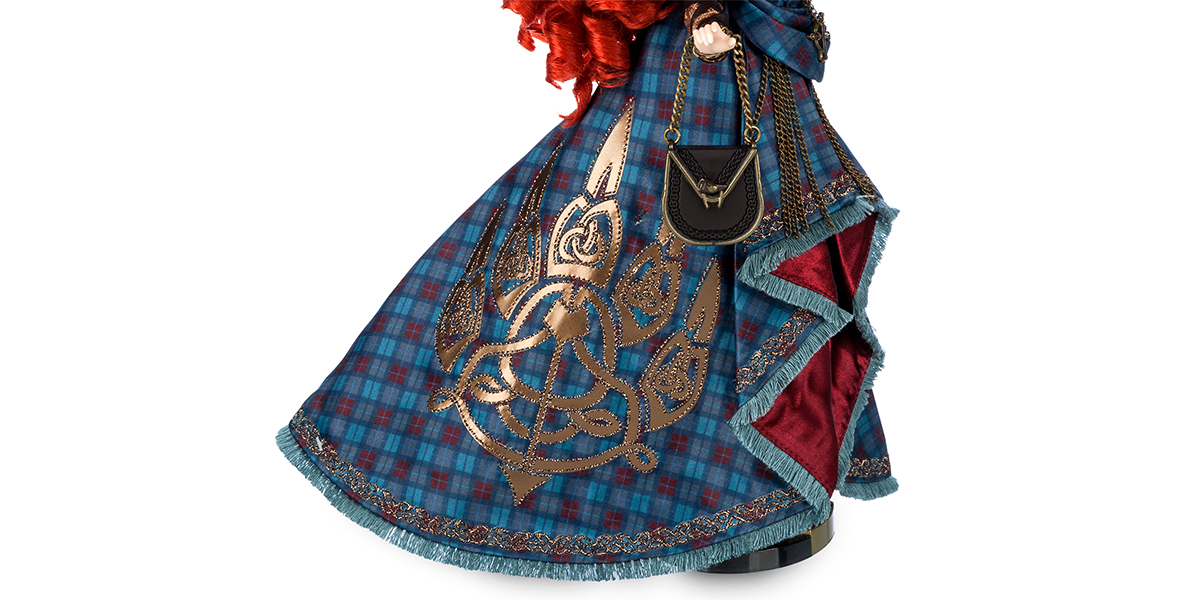 One of the most striking details of my design may be the large icon of a bear paw combined with her bow and arrow on the skirt. There are many incarnations of this Celtic bear paw artwork, which has roots in the Pictish, Gaelic, and even Viking artwork from the region. I reworked it to include Merida's bow and arrow. I felt the final product was a strong emblem of her story and who she is and will become. The large scale of it and its offset outline are meant to evoke street art or graffiti—like she added it to the skirt as an afterthought.
Last, but not least, her hair is so vital to her identity and is almost a character itself. I wanted to do something with it that stayed true to Merida, but also felt appropriate to my design's aesthetic. I found reference images of hairstyles pulled up into fauxhawks with long curling tendrils down the back. The hair on the sides of her head is slicked back in tight braids—like she had pulled her hair out of the way to fire her arrow at any moment. I made it a priority to preserve her signature tendril over her left eye.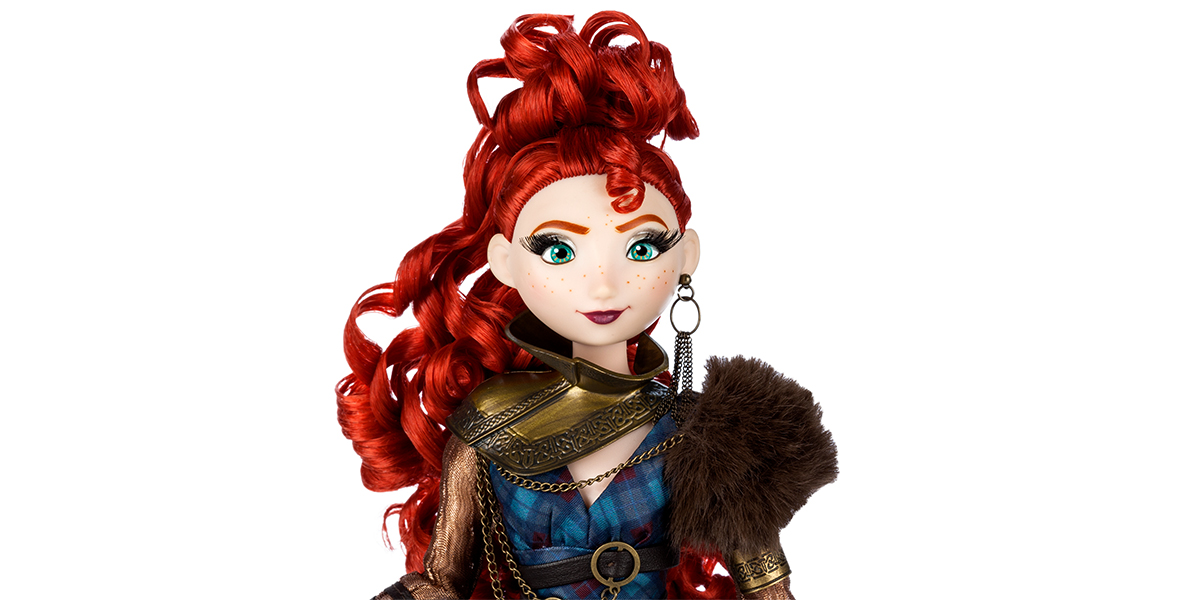 D23: What was it like seeing your design brought to life for the first time?
WJ: It was really cool. She was not complete when I saw the first sample, but the overall look was there. I didn't see her again until she was finished, and I was blown away. The doll exceeded all my expectations, and it felt like a culmination of so many facets of my life as an artist and creator. As you can read on the back of the doll's box, I dedicated her to my grandmother, Martha, who taught me to sew when I was very young. Most of what I sewed early on were small: clothes for plush and dolls, soft form sculpture, pillows, etc. It wasn't until I was in my teens that I learned any proper full-scale garment construction.
I briefly share a story on the doll's box about how I used to create these angel dolls out of old Barbies for my grandmother after my grandfather died. Every year after that, for almost 20 years, I dressed a doll up as an angel and gave it to her for Christmas. She passed away in January 2017—but if she were here to see this incredible Merida doll, I know she would be talking about it to every stranger at the grocery store.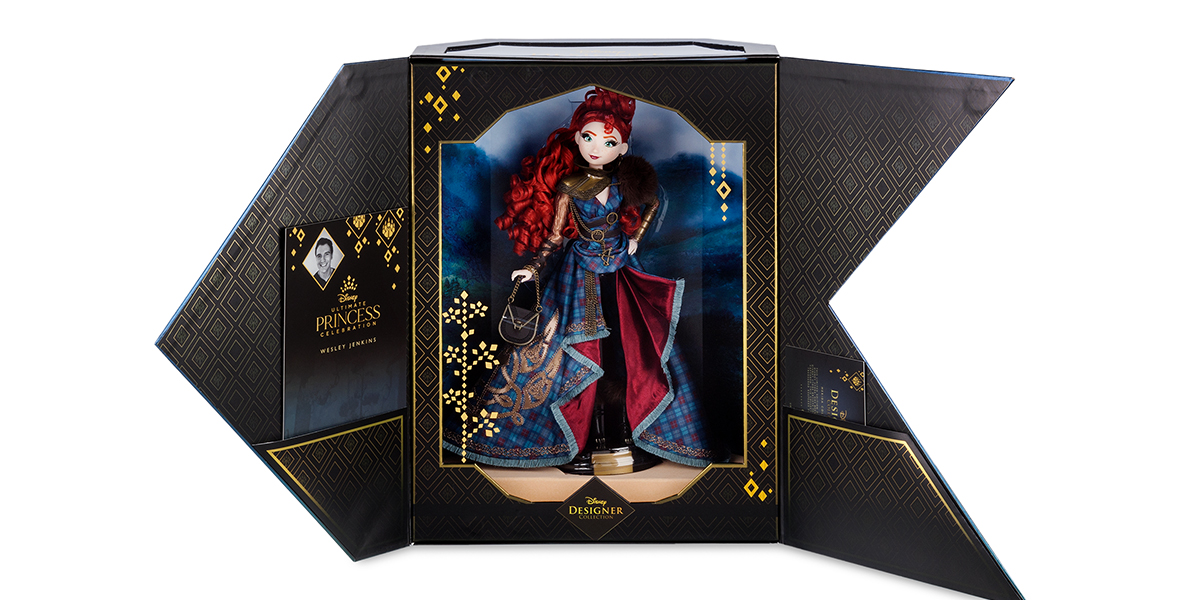 D23: What's your favorite small, hidden detail in your design?
WJ: My favorite hidden detail is the bear claws on her boots.
D23: If you had to choose another Disney Princess to design for, besides Merida, who would you choose and why?
WJ: I would have chosen Ariel, for sentimental reasons. The Little Mermaid was the first Disney film I saw in a theater, and it had a profound effect on my interest in drawing and art in general. My first career aspiration as a kid was to become an animator for Disney. I remember drawing the characters over and over, and that continued as I saw subsequent animated Disney films. My interests evolved, but luckily still lead me to a career at Disney.
D23: Is there anything else you'd like to share with our D23 members?
WJ: Well, I think I would conclude by saying that dreams really can and do come true if you are willing to take risks and be your own version of pixie dust. I consider myself extremely lucky and privileged to be doing my work at Disney, but getting here took time and dedication. Trust the process and yourself—accept and learn from your failures and take time to appreciate your successes. (I still struggle with that one.) The princesses—heroines—that are being celebrated in this collection had huge dreams in the face of seemingly insurmountable challenges, but they made it through and found their way, and we should be inspired to try do the same.
You can find this expertly designed Merida doll, in addition to the rest of the Disney Designer Collection's Ultimate Princess Celebration on shopDisney.com—with new releases introduced each month!