By Courtney Potter
Disney•Pixar readies its latest short film, and ESPN+ sets a launch date… Read more, along with other news from around Disney, in this week's news briefs!
Adorable New Disney•Pixar Short Debuting with Incredibles 2
There's something incredible-y cute coming with Incredibles 2 when it races into a cineplex near you this summer… it's the latest short film from Disney•Pixar!
The seven-and-a-half-minute short is called Bao, and it is a culinary fable about a Chinese-Canadian woman suffering from a bout of "empty nest"-related depression. She gets a second shot at motherhood when, magically, one of her handmade dumplings comes to life!
Storyboard artist Domee Shi becomes Disney•Pixar's first female short director in the studio's history with Bao, and she was inspired to tell a story flavored by her upbringing as the only child to Chinese immigrants. "Often times it felt like my mom would treat me like a precious little dumpling, wanting to make sure I was safe, that I didn't go out late, all that stuff," Shi recently told Entertainment Weekly. "I just wanted to create this magical, modern-day fairy tale, kind of like a Chinese Gingerbread Man story. The word 'bao' actually means two things in Chinese: Said one way, it means steamed bun. Said another, it means something precious. A treasure."
Look for Bao—in front of the latest adventures of Elastigirl, Mr. Incredible, and family—in theaters in June 15!
Save the Date!
Be sure to mark these upcoming Disney events on your calendar:
D23 and Walt Disney Archives


April 7, 2018


The Official Walt Disney Studios Tour—Gold Family Exclusive


April 22, 2018


D23 Celebrates 20 Years of Disney's Animal Kingdom


May 19, 2018


Exclusive Meet & Greet with Ashley Eckstein


May 25, 2018


D23's Return to Marceline


November 16-18, 2018


Destination D: Celebrating Mickey Mouse


August 23-25, 2019


D23 Expo 2019
Parks


February 28–May 28, 2018




Epcot International Flower & Garden Festival




March 2–April 12, 2018




Disney California Adventure Food & Wine Festival




April 13, 2018




Pixar Fest begins at the Disneyland Resort




April 26, 2018




Disney•Pixar Toy Story Land opens at Shanghai Disneyland




May 25, 2018




Incredible Summer Begins at Walt Disney World Resort




May 27, 2018


Star Wars: Galactic Nights Returns to Disney's Hollywood Studios


June 23, 2018




Pixar Pier opens at Disney California Adventure




June 30, 2018




Toy Story Land opens at Disney's Hollywood Studios


August 17, 24, 28, 31
September 3, 7, 9, 11, 14, 16, 18, 21, 23, 25, 28, 30
October 2, 4, 5, 8, 9, 11, 12, 14, 16, 18, 19, 21, 23, 25, 26, 28, 30, 31


Mickey's Not So Scary Halloween Party at Magic Kingdom Park




August 30-November 12, 2018




Epcot International Food & Wine Festival




2019


Star Wars-Themed Lands Opening at Disneyland and Walt Disney World



Studios




April 27, 2018


Marvel Studios' Avengers: Infinity War opens in U.S. theaters


May 25, 2018


Solo: A Star Wars Story opens in U.S. theaters


June 15, 2018


Incredibles 2 opens in U.S. theaters


July 6, 2018


Marvel Studios' Ant-Man and the Wasp opens in U.S. theaters opens in U.S. theaters


August 3, 2018


Disney's Christopher Robin opens in U.S. theaters


November 2, 2018


The Nutcracker and the Four Realms opens in U.S. theaters


December 19, 2018


Mary Poppins Returns opens in U.S. theaters

ESPN+ Streaming App Launching April 12
Sports fans, listen up: There's a brand-new way to stream some of your favorite sports, and it all kicks off next week! ESPN+, the new direct-to-consumer subscription streaming service from Disney Direct-to-Consumer and International (in partnership with ESPN, and featuring ESPN-branded content) will launch on Thursday, April 12—and it's set to offer fans a totally dynamic lineup of sports-related programming.
ESPN+ will be part of a completely redesigned and reimagined ESPN App, as well as available through ESPN.com. Fans will be able to watch thousands of live sporting events; see original shows and films; catch exclusive studio programs; and search through an amazing on-demand library of content.
Subscriptions are $4.99 a month… Grill up those hot dogs, pick up some peanuts and Cracker Jacks, and enjoy!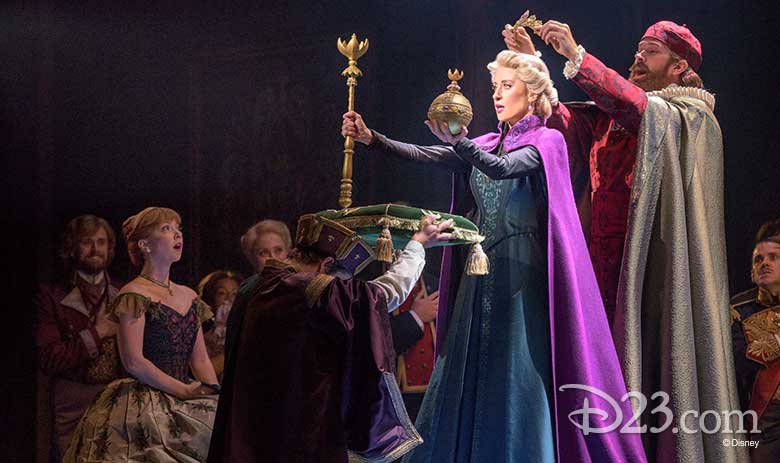 A Chill Has Come Over Broadway: Frozen Breaks Records
Disney Theatrical's latest production, Frozen, has already made history! In its first full week of performances (since officially opening on Broadway on March 22), the show broke the "house record" at New York City's St. James Theatre for the week ending April 1—with a whopping gross of more than $2 million on just eight performances. Incredibly, this marks the very first time a production has broken the eight-performance "house record" of $1.6 million established back in January 2004 by the smash hit The Producers…
Frozen is the first—and only—incarnation of the frosty tale that expands upon and deepens its unforgettable plot and heartwarming themes through new songs and story material from the film's creators; in fact, this new stage production features more than twice as much music as the film! Four of the 12 new songs written for the musical are available now at FrozenTheMusical.com/music and wherever music is streamed or sold.
Congratulations to the entire company of Frozen!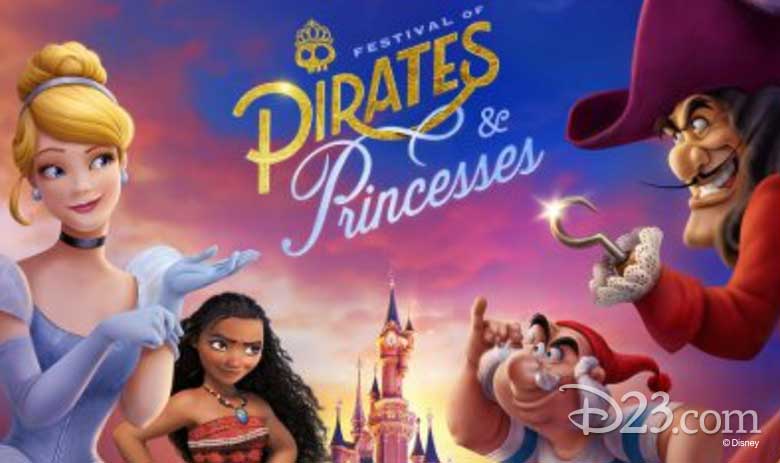 Disneyland Paris Celebrates 25th Anniversary with New Festival
Disneyland Paris has been delighting guests from around the world for a fantastical 25 years—and to commemorate the occasion, beginning March 31 and continuing through May 31, a plethora of pirates and princesses will take over Disneyland Park.
All fairy tales start with the words, "Once upon a time"… and this spring, how the rest unfolds is up to Disneyland Paris guests. During "The Festival of Pirates and Princesses," guests can choose their side—creating their very own adventure story; you can choose to be one, or even decide to be both!
Guests will get to experience Disney Pirate or Princess: Make your Choice!, an all-new interactive parade featuring more than 85 performers. "This is the first time we have ever immersed our guests so fully in an outdoor show," says director Christophe Leclercq. "They decide on their team, and they experience a different story depending on the choice they make." The two worlds will merge several times a day; setting off from opposite ends of the Parade route, both the "Pirates" float and "Disney Princesses" float will stop halfway and immerse guests in a musical celebration. Then, the floats will head to Central Plaza where they'll come together for tons of memorable guest interaction…
"The Festival of Pirates and Princesses" is one of several highlights celebrating Disneyland Paris' 25th Anniversary, which is coming to a close this September.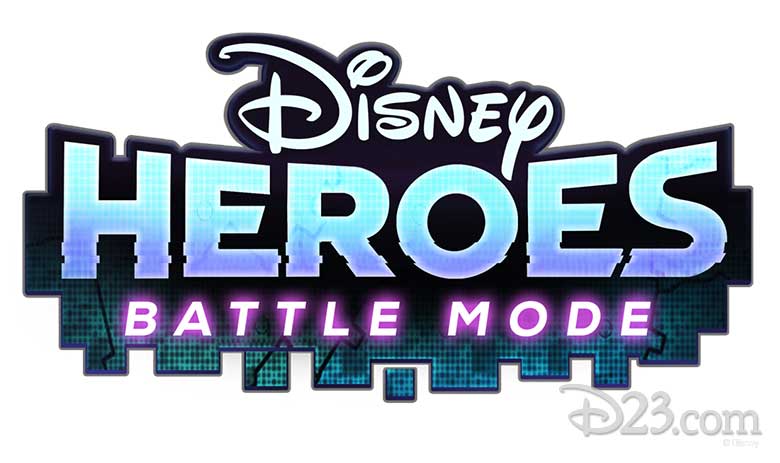 Coming Soon: Disney Heroes: Battle Mode
If you've never tried a role-playing game (RPG), you're missing out on a whole world of fun. You can even play them on your mobile devices… and here's a revelation that'll excite Disney fans and RPG aficionados alike: Disney and independent mobile games studio PerBlue have just announced a brand-new mobile RPG game called Disney Heroes: Battle Mode.
The game will feature Disney and Pixar heroes battling together in the same universe in all-new ways. Players will experience fun, unexpected "5v5" match-ups with fan-favorite characters from The Incredibles, Wreck-It Ralph, Pirates of the Caribbean, and much more. Pre-registration began this week on Google Play™, with the game available on the App Store® and on Google Play later this year—and guess what? Pre-registered players will receive a free hero of their choice at game launch! Heroes to choose from include Mr. Incredible, Fix-It Felix, Jr., Nick Wilde, Jessie, and Sulley with Boo.
For more info on the game as its debut gets closer, keep an eye on disneyheroesgame.com.