By Beth Deitchman
Mount Everest is the world's highest peak, rising more than 29,000 feet above sea level. Every year, many attempt the perilous climb, creating a "traffic jam atop the world," but only a relatively small number of brave and hearty climbers have reached the summit since Sir Edmund Hillary and Tenzing Norgay were celebrated as the first to reach this lofty goal.Lost on Everest—premiering on National Geographic Tuesday, June 30, at 9 p.m. ET/8 p.m. CT, and available through Video on Demand and TV Everywhere, beginning July 1—takes a closer look at the great explorers Andrew "Sandy" Irvine and George Mallory who took their own run at Everest, to try to determine if they were the first to summit the greatest mountain in the world. As one of exploration's greatest mysteries, solving it would rewrite history.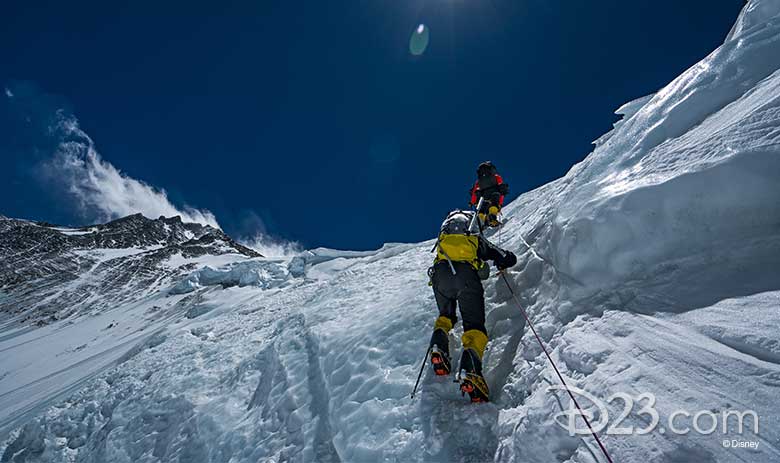 Before their disappearance on June 8, 1924, Irvine and Mallory were last seen just 800 vertical feet from the summit, and Mallory's body was later discovered during a 1999 expedition. Now, in Lost on Everest, National Geographic writer, climber, and adventurer Mark Synnott and National Geographic photographer, climber, and mountaineer Renan Ozturk are joined by an expert team of professional climbers to search for Irvine—and hopefully, in the process, discover the Kodak VPK camera that Mallory and Irvine would have used to chronicle their journey.
The camera wasn't found with Mallory when his body was located, but given that he was the de facto leader of the 1924 expedition, it seems likely that Irvine would have been the photographer, to ensure that Mallory would be front and center in any triumphant photos that were taken. During a panel moderated by National Geographic Magazine Editor at Large Peter Gwin (who also hosts National Geographic's Overheard podcast), Synnott revealed that technicians at Kodak believe that the high altitude and low temperatures at the top of Everest mean there is a strong possibility that Mallory and Irvine's film could be salvageable.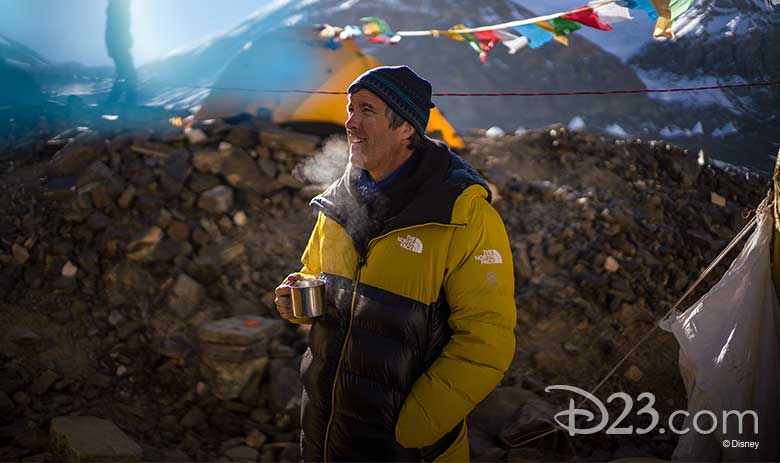 "We know this thing is on the mountain somewhere," Synnott said. Preeminent Everest historian Tom Holzel had used state-of-the-art computer software to determine GPS coordinates for where he believed Irvine's body could be. Synnott explains, "At first, I kind of thought this is a great story. This is how I'm going to lure Peter into this and Renan and everyone else. But then I went and visited Holzel at his home in Connecticut and he took me through his theory step by step." The theory was more than sound, Synnott emphasizes, adding, "Then our whole expedition became our quest to try to get to what we call 'the Holzel spot,' which turns out is at about 27,700 feet up in the Yellow Band [a distinct, sedimentary band of light-colored limestone with steep walls and edges that runs through the Himalaya] off the route."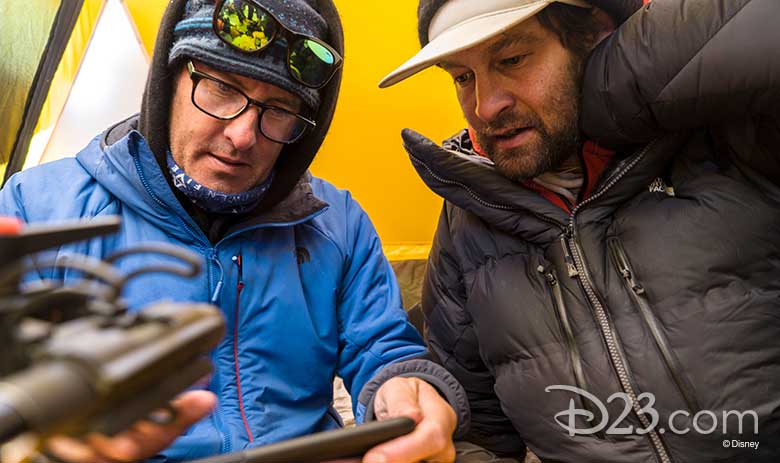 Given the inherent challenges that come from working at such high altitudes, Ozturk emphasized the need for a multitalented team of "superhumans" that could be interchangeable, given the strong chance that anyone attempting to reach the top of Everest might become too sick to continue. In fact, during their expedition, one cameraman developed blood clots in his lungs, while another climber suffered a minor stroke, forcing both off the mountain for emergency medical help.
In their quest, the National Geographic team also faced an overcrowded summit, along with punishing conditions that included freezing temperatures and hurricane-force winds that blew tents into the air and threw climbers off their feet, inches away from the side of the mountain. "We spent the night in fear and then woke up in the morning and you could look up at the upper mountain and it just looked like this black 'death cloud," Ozturk recalls. "Every 20 minutes or so another one of these mini-tornadoes would hit. A few people above us were retreating. At one point, they were lifted off their feet and thrown off the ropes… It was like a scene from some Hollywood movie."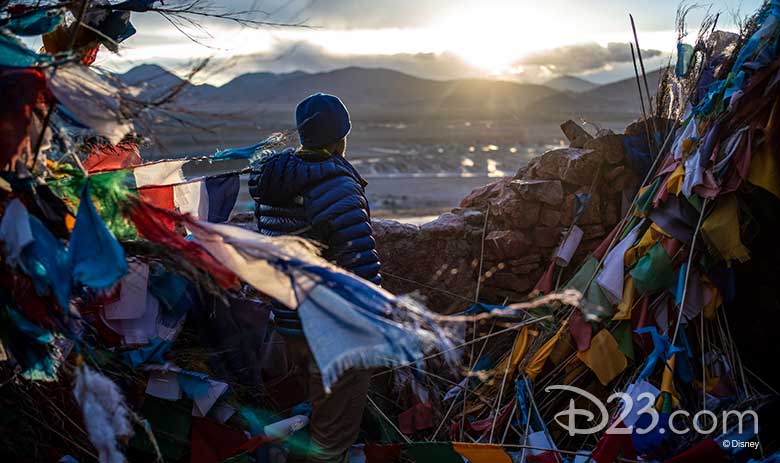 Ozturk's determination to capture a rare and breathtaking 360-degree panorama photograph of Mount Everest that was featured in National Geographic magazine in 2019 also required a tremendous amount of creativity and innovation. The photographer utilized high-altitude drones, flying them above the mountain and taking a photo every 20 feet or so, so that these images could be stitched together digitally to create a single image with resolution so high it's possible to zoom in on a single pebble. "The drones were our secret weapon, but we were also battling with them the whole time," shares Ozturk, who had to work directly with the manufacturers to circumvent built-in restrictions as to the altitude and speed at which drones are allowed to operate. He had a very limited time to capture footage, before sub-freezing temperatures impacted the drones' batteries, and he came "within inches" of losing a drone due the high winds.
"We were able to use this new technology to search for Sandy Irvine in a whole new modern way, rather than just boots on the ground like we had done in some of the previous expeditions," Synnott says. The hour-long special will be presented commercial-free, and continues National Geographic's long legacy of exploring and celebrating Everest—a legacy that dates back to 1933, when the magazine published a story about flying over the mountain for the first time, and also includes National Geographic's inaugural television broadcast in 1965, featuring footage shot on Everest for the very first time.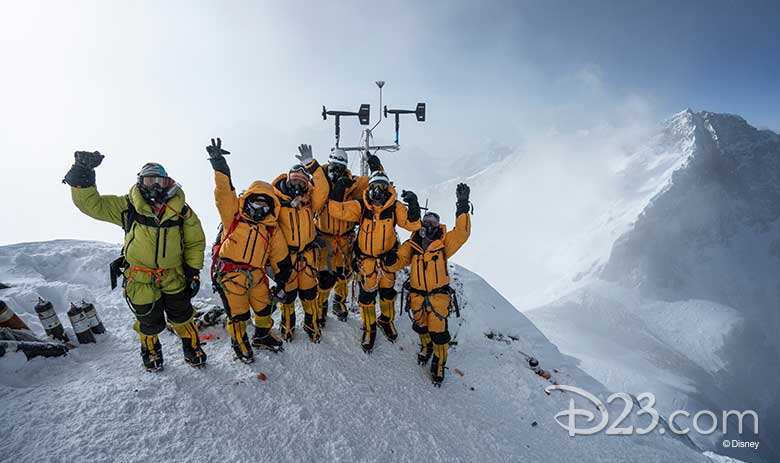 Following Lost on Everest, Tuesday night's programming event also marks the premiere of Expedition Everest (10 p.m. ET/9 p.m. CT), which follows a team of international scientists, climbers and storytellers as they conduct the most comprehensive, single scientific expedition in Mount Everest history. As part of the National Geographic and Rolex Perpetual Planet partnership, the one-hour special, narrated by Tate Donovan (MacGyver, The Man in the High Castle), captures  trailblazing climate research that is critical to understanding changes facing the mountain and its glaciers and shines a light on the threats these changes pose to the communities that live downstream. The elite expedition team braved extreme conditions in conducting their research, which took them from the valleys that surround Everest and Everest Base Camp, all the way up to the "death zone" above 26,000 feet.
The world's highest mountain also stands tall on the July issue of National Geographic magazine, a special, single-topic issue that includes stunning photography and weaves together the unique history of exploration and discovery on Mount Everest with new, cutting-edge science and storytelling. The issue is available now, both online and on newsstands. Visit NationalGeographic.com/mounteverest to learn more.