By Courtney Potter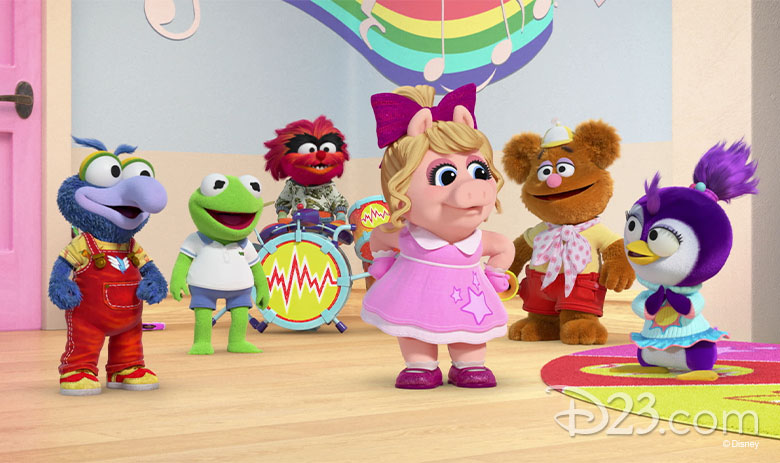 Season Three of Disney Junior's Muppet Babies Debuts This January
They'll make your dreams come true—with all-new adventures, starting next month! Season three of Disney Junior's Emmy Award®-nominated series Muppet Babies will premiere Monday, January 4, at 5 p.m. EST on Disney Junior and in DisneyNOW, and will introduce a new Muppet named Rozzie, the newly adopted sister of Fozzie Bear!
In the season three premiere, Fozzie shares the news that his family is adopting a little sister, and he's worried that he doesn't have what it takes to be a big brother. Consequently, Fozzie's friends use their imaginations to enroll him into "Rizzo's Big Bruddah School." (We have a feeling Fozzie will "graduate" with flying colors.)
The reimagined, CG-animated Muppet Babies follows the hilarious playroom antics of a young Kermit the Frog, Piggy, Fozzie Bear, Gonzo, Animal, and Summer Penguin, and is Disney Channel's No. 1 series with kids ages 2 through 5. Based on the original Emmy Award-winning series, the show is executive produced by Tom Warburton (Codename: Kids Next Door), and Matt Danner (Gravity Falls) will be co-executive producer and supervising director for season three. And speaking of Danner, earlier this year, he won an Emmy Award for Outstanding Performer in a Preschool Animated Program for voicing Kermit, Rowlf, Mr. Waldorf, Beaker, and Chef. Kudos on that sensational, celebrational, Muppetational work!
5 Fantastic Things to Watch This Weekend
It's a holly jolly holiday around the world of Disney, with so much to watch that you may have to brew up a second pot of hot chocolate to get you through. So, what can you expect? Why, nothing less than the sure-to-be-amazing season two finale of Disney+'s The Mandalorian! Plus, it's time once again for ABC's annual Christmas-adjacent airing of the iconic 1965 film The Sound of Music. All told, these are "a few of our favorite things" for watching over the next couple days. Get it? "Favorite Things"? Fraulein Maria? (We crack ourselves up.)
New Music-Filled Featurette From Disney and Pixar's Soul
One of the incredible aspects of Disney and Pixar's upcoming animated feature Soul is its music… With the film set in two distinct worlds—bustling New York City, and the fantastical cosmic realms of The Great Before—it called for two styles of music that will help shape and define each world. Renowned musician and Grammy® nominee Jon Batiste provides the original jazz compositions and arrangements for Soul, while Oscar® winners Trent Reznor and Atticus Ross (The Social Network) created an original score that will drift between each realm. For an inside look at how some of that was accomplished, check out the brand-new featurette, above.
In related news, Walt Disney Records is set to release several albums inspired by the film: the Soul Original Motion Picture Soundtrack; the Soul Original Score vinyl album; and Music From and Inspired by Soul vinyl album. The digital soundtrack—which features the songs "Rappin Ced" performed by Daveed Diggs, "Parting Ways" performed by Cody ChesnuTT, and Batiste's cover of the Curtis Mayfield classic "It's All Right"—as well as both vinyl albums will be available beginning Friday, December 18!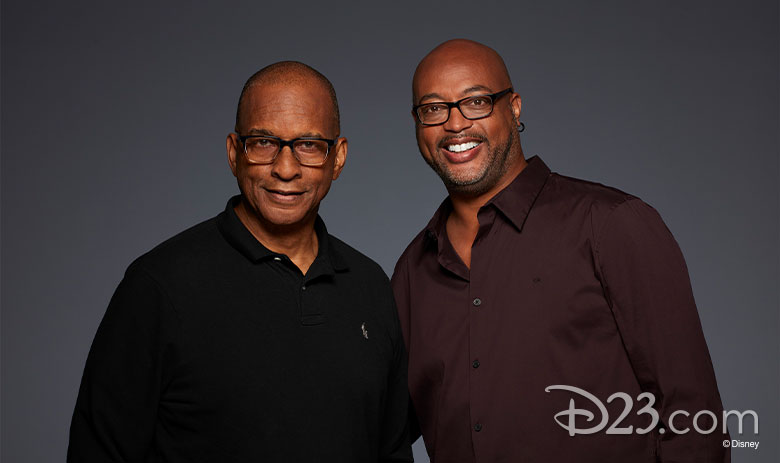 The Proud Family Producers to Develop Projects for Disney
Cool news for fans of awesome things (hey, that's us!): Influential producers Bruce W. Smith and Ralph Farquhar have entered into a multiyear overall deal with Disney that calls for them to produce animated and live-action series and movies for Disney Branded Television. They'll work closely with executives at Disney Channels and Disney Branded Television to bring their inspired storytelling to all manner of audiences. This new agreement provides Farquhar and Smith an incredible way to develop emerging talent, as well as leverage their own combined experiences to bring unique projects and voices to Disney.
Among many other things, Smith and Farquhar are the producers behind the groundbreaking animated series The Proud Family, which—18 years after its Disney Channel premiere—is still beloved for its characters, stories, humor, and messages about inclusion and cultural diversity in a super-smart, modern way. All episodes are currently available to stream on Disney+, home to the upcoming revival series The Proud Family: Louder and Prouder (premiere date TBA). We can't wait to see what else these two über-talented humans have in store!
ICYMI: All the Investor Day News That's Fit to… Post
The Walt Disney Company's recent Investor Day was a holiday gift of truly epic proportions—for it included the announcements of so many incredible upcoming projects, we almost couldn't keep track. But we did! (We're pretty good at that kinda stuff.) And we have a complete rundown of what you can expect in the months and years to come. Take a gander and mark those calendars for veritable scads of mind-blowing films and TV series to look forward to.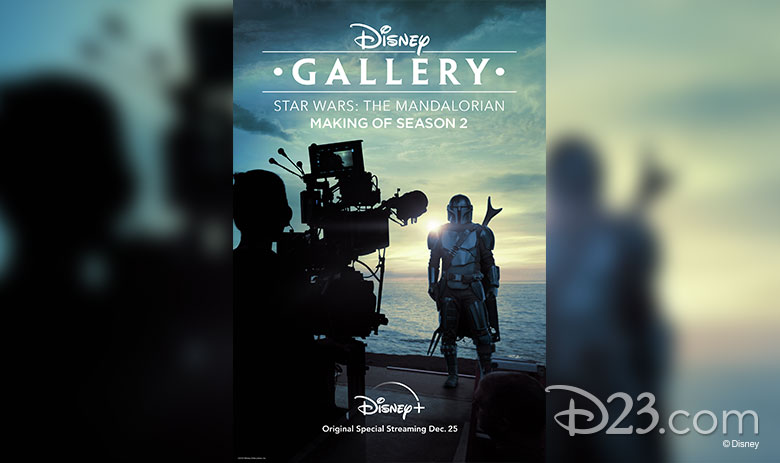 Go Behind the Scenes of The Mandalorian Season Two
As we previously mentioned, this very weekend features the second season finale of the mega-hit The Mandalorian. Yup, it's sadly season-finale time already… but don't you fret, because there's still some new Mandalorian-related content coming very soon to Disney+.
The streaming service will bring viewers behind the scenes of the groundbreaking season in a brand-new hour-long "Making of Season Two" documentary special, premiering Friday, December 25! In this new installment of Disney Gallery: The Mandalorian, filmmakers and cast provide unprecedented access to the storytelling decisions and innovations that went into season two of the Emmy® Award-winning series.
Featuring immersive on-set footage that places viewers in the center of the filmmaking process, the special explores the production of all eight episodes in season two—from early concept art through the groundbreaking technology introduced in the series.
In related news, Disney, Lucasfilm, and Google have teamed up to bring the world of Mando and friends to life through a new, immersive The Mandalorian AR Experience app. Users can now interact with characters from the Emmy® Award-winning series in their own homes, discovering hidden features while re-creating scenes from season one. Retrace the Mandalorian's steps, find the Child, and harness the Force as virtual versions of the characters appear via the Google Pixel app—which you can download by clicking here. (Available on 5G Google Pixels and other select 5G Android phones that have Google Play Services for AR updated.)
First Look at Disney Channel's Secrets of Sulphur Springs
Are you a fan of ghost stories? What about mysteries full of time-travel and intrigue? Then have we got a show for you… Secrets of Sulphur Springs, a brand-new live-action series for kids and families, will premiere on Friday, January 15, at 8 p.m. ET/PT with a special one-hour uninterrupted programming event on Disney Channel. Following the premiere event, new episodes of Secrets of Sulphur Springs will be presented Fridays at 8 p.m. ET/PT on Disney Channel, beginning January 22.
Set in the fictional Louisiana town of Sulphur Springs, the series follows 12-year-old Griffin Campbell (Preston Oliver), whose world has been turned upside-down after his father Ben (Josh Braaten) moves the family from Chicago to take over an abandoned hotel property, The Tremont. The Campbell family, which also includes Griffin's mother Sarah (Kelly Frye) and his younger twin siblings, Wyatt (Landon Gordon) and Zoey (Madeleine McGraw), moves into The Tremont in hopes of restoring it to the colorful vacation destination it once was. But on his first day at his new school, Griffin hears rumors that the hotel is haunted by the ghost of Savannah (Elle Graham), a girl who disappeared decades ago. He meets and befriends Harper (Kyliegh Curran), a thrill-seeking classmate, and soon they discover a secret portal that allows them to travel back in time and uncover clues about this astonishing town mystery.
Leading into Secrets of Sulphur Springs' debut is the season five premiere of BUNK'D at 7:30 p.m. ET/PT, guest starring original cast member Peyton List, reprising her role of Emma Ross. Looks like we'll be kickin' off the new year with some great TV!