By Beth Deitchman
"There's a great, big beautiful tomorrow, shining at the end of every day…"
The Sherman brothers' penned their classic song for the Carousel of Progress at the 1964–65 New York World's Fair, a musical representation of Walt Disney's vision of an optimistic future—a vision that is also very much at the heart of Disney Junior's Mission Force One and its predecessor, Miles from Tomorrowland. "There's a Great, Big Beautiful Tomorrow" was featured in a special episode of the animated series back in May, and now a music video of the song makes its debut today. Featuring clips from "The Space Station Situation" episode, the video is now airing on Disney Junior, as well as the DisneyNOW app.
"We always tried to portray the idea that the future is a hopeful, positive place, and to inspire our viewers to see themselves as the makers of that positive future," says Sascha Paladino, creator and executive producer of both Mission Force One and Miles from Tomorrowland. The "Miles-ified" version of the Sherman brothers' song is performed by musician Matt Mahaffey and Grammy®-winning banjoist Béla Fleck (Paladino's brother) and has been given a modern, rock-inspired makeover. "I was trying to combine the youthfulness of Miles and excitement about the future into our version of the song," Paladino shares.
The episode in which "There's a Great, Big Beautiful Tomorrow" appeared was an important one for the series and for its creative team. "A lot of us here feel like that episode is kind of the culmination of everything we've done on Miles from Tomorrowland to this point, because it sort of brings Miles and his friends into the real world of space as we know it," Paladino explains. The episode allowed Miles to travel back in time and meet real-life astronauts aboard the International Space Station (ISS); by introducing young viewers—and Miles—to our space program, Paladino hopes the episode planted the seed of an idea that the series' Tomorrowland Transit Authority is a natural evolution from NASA.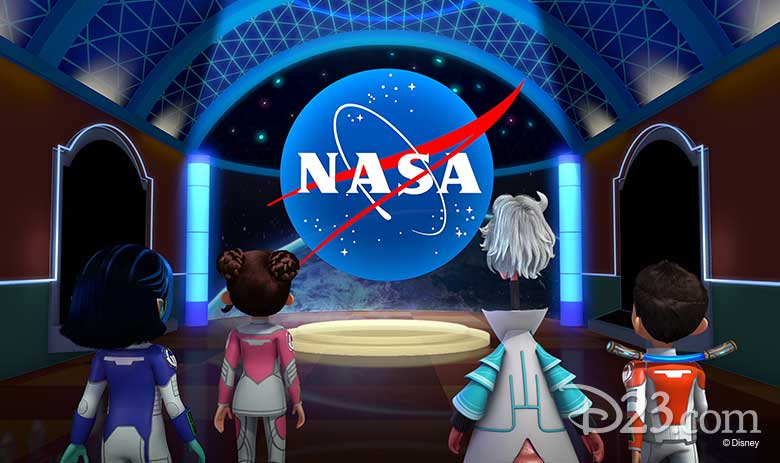 The ISS episode featured an out-of-this-galaxy cast of space and science luminaries and a dream-come-true collaboration with NASA. "How do you top that?" Paladino asks. And while Miles Callisto is just beginning a lifetime of space adventures with family and friends, the September 10 episode of Mission Force One will be the series finale. But, Paladino, emphasizes, viewers should not see this as an ending. "Miles and his family are off onto new adventures, and whether or not you see them on TV, those adventures are going to continue," he says. "My ideal scenario is that a kid watches the finale episode, then goes off and decides in his or her own head what Miles does next."
In the series finale, airing on Monday, September 10, at 5:00 P.M. EDT/PDT, viewers can look forward to the return of Miles' parents, Phoebe and Leo, along with an encore appearance by a very special guest voice actor: legendary astronaut Buzz Aldrin, who reprises his role as the head of the Tomorrowland Transit Authority.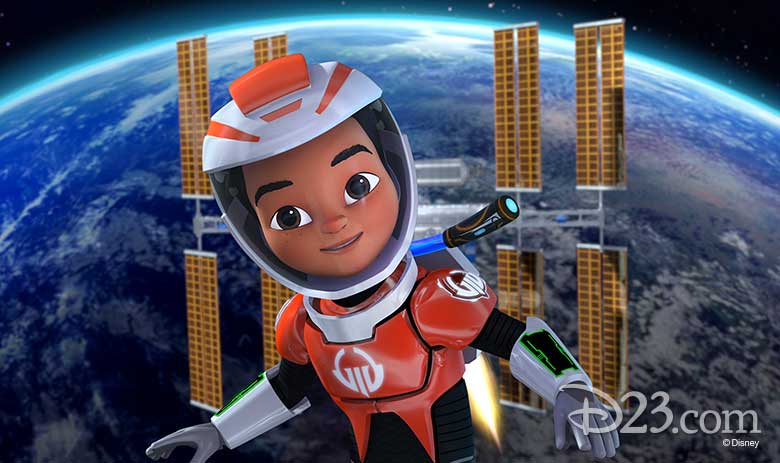 Working with the likes of Aldrin is just one of the many amazing experiences Paladino has had during his time with Miles. "It was in so many ways a dream come true," he shares. "I got to explore outer space. I got to explore ideas about the future. I got to, in a way, live vicariously through Miles my dreams of going to outer space. And I got to tell stories that were important to me and explore this idea of a future that we want to live in and what that might look like; and also explore stories about what it means to connect with different cultures."
The theme of connection is very much a part of Miles Callisto's adventures, whether he was connecting the universe for the Tomorrowland Transit Authority with his family, or connecting and protecting that universe with his friends on Mission Force One. And the series itself is very much connected to a legacy that began for Disney in 1955 with the inaugural airing of Man in Space on Walt Disney's Disneyland series, and continues in a galaxy far, far away. "I love Walt Disney's ethos of the future as a place of innovation where great things will happen. That really summed up what the show is about," says Paladino.
Or as the Sherman brothers wrote, "Tomorrow's just a dream away."