A veteran of British TV and film, Scottish actress Amy Manson took a brave new step, so to speak, into American television this season when she was cast in the recurring role of Merida in the hit ABC adventure fantasy series Once Upon a Time. Currently enjoying a mid-season break after appearing in six episodes last fall, Manson, 30, recently talked with entertainment journalist Tim Lammers for D23.com. She discussed the origins of Merida—who, of course, debuted in the 2012 Disney/Pixar Best Animated Feature Oscar® winner, Brave—her work on Once Upon a Time, and when she'll appear on the show next after Season 5 resumes March 6.
Tim Lammers: During the mid-season break, have you had time to step back and let everything sink in about just how amazing this opportunity has been?
Amy Manson: Maybe when I went home for Christmas to Scotland. It's one thing to be in your homeland as opposed to trying to re-create a place as your homeland, when you only have yourself, your thoughts, and your memories when you're filming. Having time with my family in Scotland, and especially with my father—given the events of Merida's storyline in the show—made me feel grateful. Being home really gave me my first chance to think of everything.
TL: This almost goes without saying, but you must be a big fan of the Disney/Pixar version of Merida in Brave.
AM: I really am! She's really everything, right up to that Afro and wild, unruly curls. Had that film come out when I was a young girl, it would have had a huge effect on me. She only becomes brave, as the title says, over the fear of losing something in her life and that's her mother. Merida pulls out all the stops and lets go of her ego, and becomes a determined young lady, and wants to put everything right between her mother and her. I love Pixar in general, anyway, and I love the tender moments when Merida is trying to teach her mom how to catch fish in the river scene.
TL: Merida's appearance in Once Upon a Time is groundbreaking, of course, because she's not only the first Pixar character to be named a Disney Princess, but the first Pixar character to be realized in live- action form. That must be incredibly satisfying and humbling to have the opportunity to play her.
AM: Yes it is. Merida's just put a big spin on the whole archetypal Disney Princess. I think it's because she just takes matters into her own hands. It's not that she doesn't listen, it's just because she's quite capable and she fights for what she believes in, mentally and physically, because that's who she is and grown up seeing. She's grown up with her father, who made her who she is, which is a capable young lady. Her upbringing is what makes her unique. She wears her heart on her sleeve, because she's from Scotland, where you do it yourself and don't need help from anyone else. There's a mantra we have of 'being borne of the rugged land' and you just have to get on with things. I guess her character sticks out, too, in Once Upon a Time because it's not a fantasy land and it's not modern day. It's just a whole, other unique land.
TL: Growing up in Scotland, were the Disney Princesses accessible to you as they are to viewers in the U.S.?
AM: Disney movies certainly were, but I watched things like Bambi. I learned princess and fantasy types of stories from where I grew up. I'm from Aberdeenshire, which is also known as Scotland's castle country. I spent a lot of holidays with my family touring the castles, stately homes, ruins, and landscapes. Aberdeen has more castles per acre than anywhere else in the UK, so I used my time to explore them since they were on my doorstep and so accessible. You could get lost in the storytelling and ghost stories and go to nightly events at castles and festivals during the day. That's where I was able to let my mind loose and dream of other worlds and places.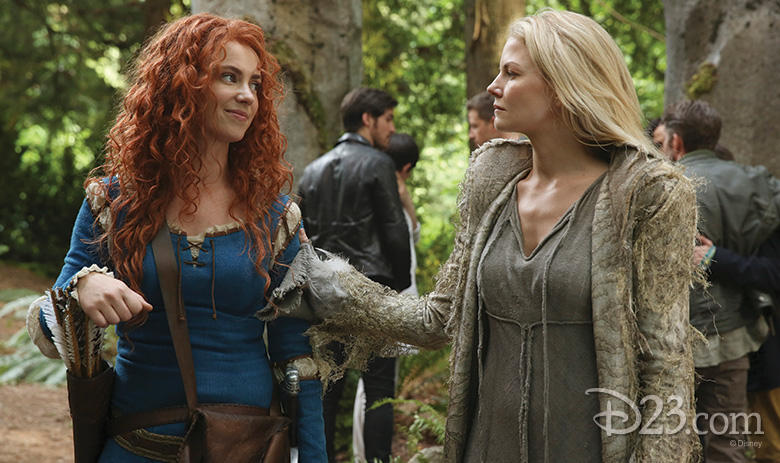 TL: When you were cast as Merida for Once Upon a Time, did the expectations of the huge fan base of Merida and Brave weigh heavy on your mind?
AM: It really did, mostly on the first day filming the first scene for the first episode that Jennifer Morrison (The Dark Swan) and I are in. I kept mixing up my lines, but I was told 'Oh, no, it's fine! It's fine!' It took me about five takes to get things right before I found some momentum. To help, I found myself coming back to such thoughts as, 'Why am I enjoying this?' It's because I love doing the research, being on set and using the language—that's where I get my kick. What you say determines who you are, especially with Merida. Doing these things helped ease me into playing her.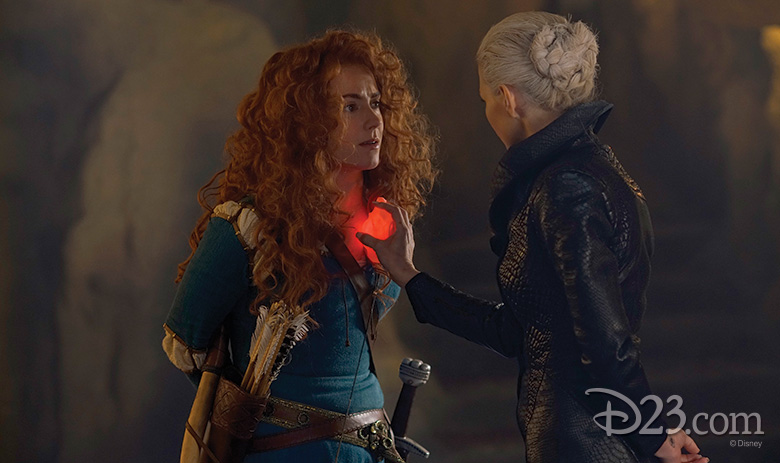 TL: There are so many things to love about Merida: her spunk, compassion, and skill with the bow and arrow. What character attribute or attributes do you admire most about her?
AM: I love her honesty and her attitude about doing the right thing. She's just an old soul. Merida's definitely borne of the land and I just wanted to capture the heart of the Scottish population with her, and that always starts with the land—which makes you who you are. It's the only thing we can trust in life, since we're all moving, evolving, and becoming the people that we are. The stability we have is the land, and the land for me is Scotland. She has a 'never give up' attitude and she knows there is always somebody else to help. It's not about her, it's about helping others. That's what I love the most about playing her. She's taught me a heck of a lot in the past year.
TL: I can't help but think the people of Scotland are very proud of you and your portrayal of Merida.
AM: I really hope so. It's one of those things, where you first go off in search of a dream and someone gives you an opportunity to act, and after that, you want to go off to America. Now that I'm here, it's been an absolute blessing to play a Scotswoman for my first role in America. I think that's how everybody feels back home as well, that I'm able to play a Scot and not have to condense anything, because we're animated creatures [laughs]. I'm not playing The Dark Swan. I'm not muddled in my head. She has one direction and one goal, to save her brothers, and then she's on to the next goal.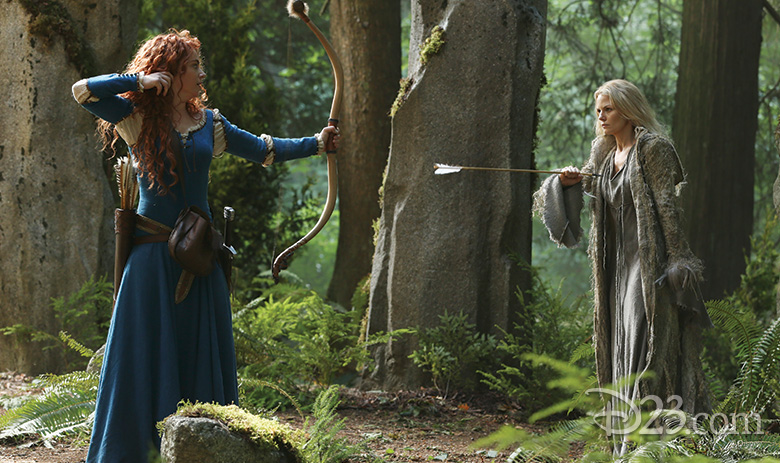 TL: How proficient were you with the bow and arrow before the series?
AM: I was awful. I think I used the bow upside down the first time I picked it up—I'm not sure what I did [laughs]. But once I started to learn, I thoroughly enjoyed it. I asked for a few days of training before we started filming to learn with an archer. It was about practice and repetition. It was nice to have him on set just to say things like, 'Your elbow's too high' or since you can't aim your live bow at a cast or crew member, change out the string for a loose one so if I accidentally did pull it, the arrow would just drop to the ground.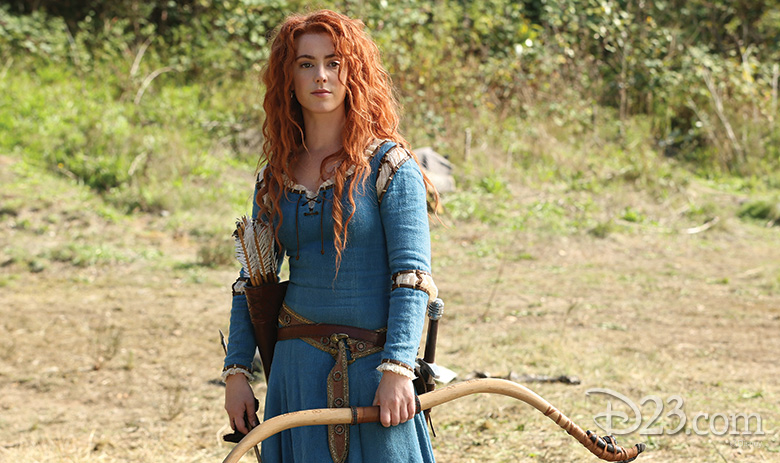 TL: If there's a bow and arrow contest between Merida and Katniss Everdeen from The Hunger Games. Merida wins every time, right?
AM: (Laughter) Yes! I think those two would be best friends in the real world. But yes, I think Merida wins!
TL: Of course, the mid-season premiere of Once Upon a Time is just around the corner. How soon will we see Merida again?
AM: Funny enough, I just found out today that Merida will return for the season finale. Maybe it will be about planting the seeds for next season. You're the first person to know! I start shooting in early March.