By Andie Hagemann
Class is back in session at Cal U, and a new member of the Johnson family is strolling the halls on Freeform's grown-ish. Newly graduated Zoey Johnson (Yara Shahidi) is passing the baton on to her onscreen sibling Andre Johnson Jr. aka Junior (Marcus Scribner), who is giving college another shot.
"What's so nice about grown-ish is it is really a college experience, and every four years, new students enroll," says Zakiyyah Alexander, grown-ish executive producer and co-showrunner. "We try to keep a lot of the same energy of 'what does it feel like to start your first year of school' and took Junior's lead as someone who has taken a little time off; that allowed us to look at the show in sort of the same way, but a little bit differently."
Joining the hit spinoff series was initially a surprise for Scribner, who was preparing to move on from his character when ABC's black-ish bid farewell earlier this year. "I was shocked because they let me know a couple of days before we wrapped black-ish," he says. "This was not something that was a long-game process. Yara has been hyping me up for a minute, trying to get Junior on board and join the grown-ish cast, but it was a last-minute decision."
Scribner continues, "I was ready to part ways, and here I am on grown-ish starting a new chapter in Junior's story."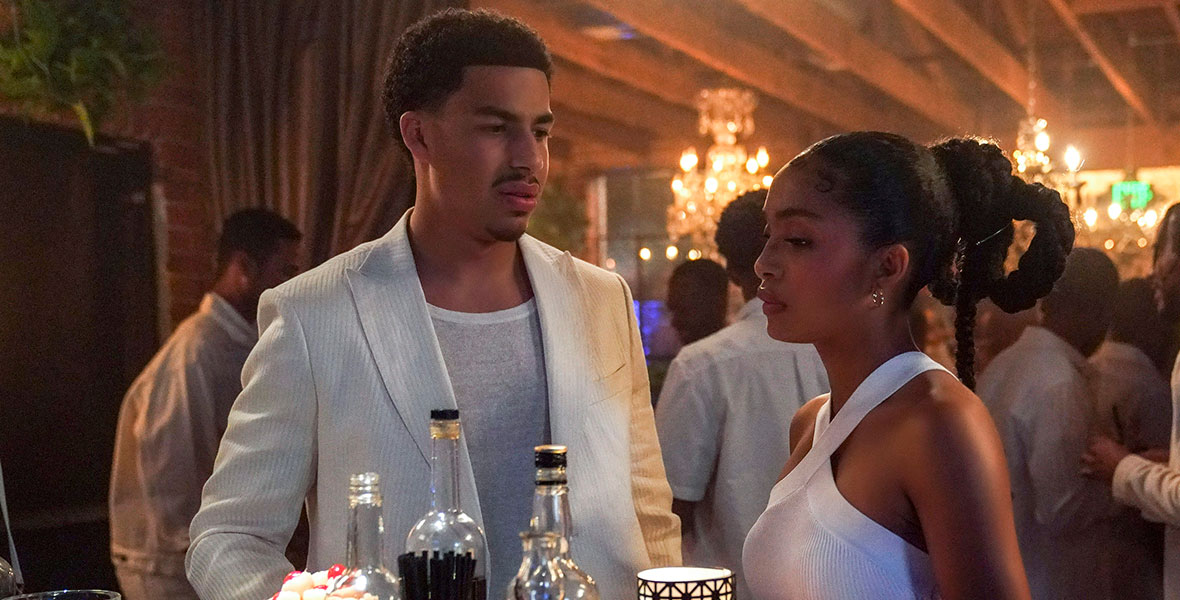 As for Zoey, she's determined to help Junior get the most out of his college experience at her alma mater while simultaneous crushing post-grad life. With the series primarily focusing on Junior, Shahidi is leaning more into her role as executive producer and cultivating the series' new direction. "What I admire about this revamp is that it speaks to the essence of how grown-ish blossomed in the first place—knowing there was no way to recreate the magic of black-ish—so it was really [about] figuring out how to lean in and commit to a new point of view, a new cast of characters, and figure out what Zoey's perspective could offer in terms of story," she says. "Similarly, bringing Junior on has allowed us to leverage in terms of stories and worlds that Zoey and her crew would have never initially gone into."
Like Junior, Kiela (Daniella Perkins) is making Cal U more of her own, stepping out of her big brother's shadow now that Luca (Luka Sabbat) has graduated. "In this season, you definitely get a better look at Kiela because she is a very interesting girl," says Perkins. "She's an R.A. [resident advisor] and doing all these new things. She's overwhelmed, but it's fun to get a sense of her a little bit more now."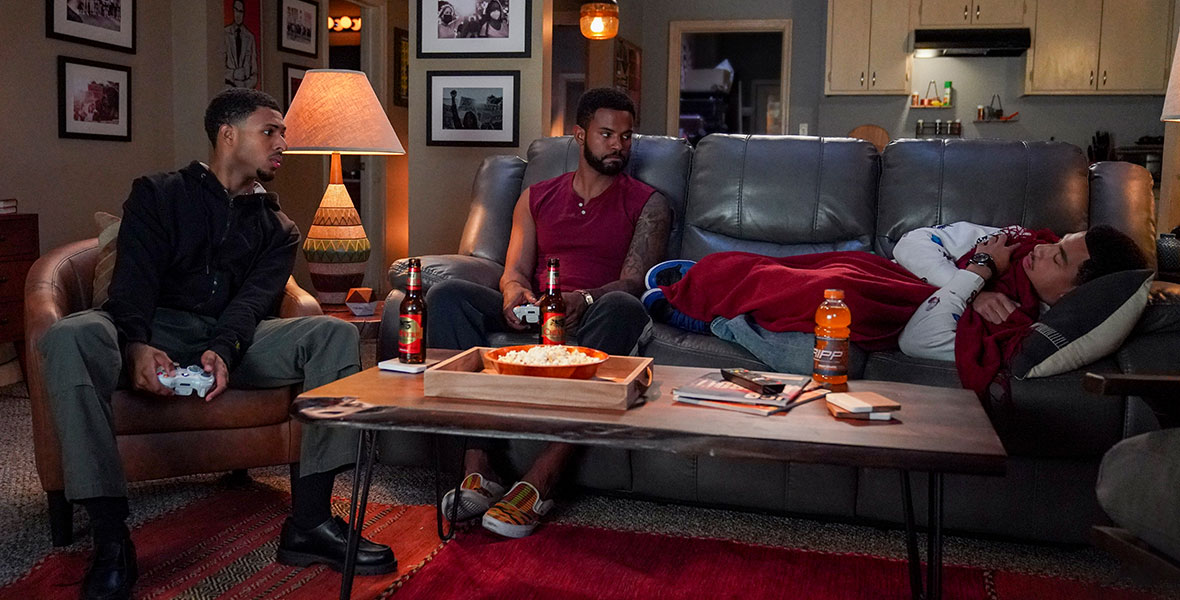 Aaron (Trevor Jackson) and Doug (Diggy Simmons) are back, rounding out the Season 5 cast. In addition to navigating the workforce for the first time, the dynamic duo serves as another outlet for Junior to lean on as he transitions to this new phase in his life. Continuing the stories of both characters felt like an easy transition for the series' creative team as it's replicative of what grown-ish means: growing up. "The writers continue to do such a marvelous job of is figuring out and excavating who these characters are and where they take us," says Shahidi. "The same remains true about the entire new cast is that they continue to bring on endless possibilities with the show. It really speaks to the natural path forward that's excavated from these storylines."
Watch Junior navigating dating, pledging a fraternity, and intense course loads when new episodes of grown-ish air Wednesdays at 10 p.m. ET/PT on Freeform.
Click here to listen to Scribner on the D23 Inside Disney podcast spill more details on grown-ish and share his Disney Parks favorites