By Andie Hagemann
Now it's time to say goodbye… to the Johnsons. (We're not crying, you're crying!) ABC's award-winning hit comedy series black-ish concludes with each member of the iconic sitcom family contemplating major life decisions, in an episode aptly titled "Homegoing." From Pops (Laurence Fishburne) and Ruby (Jenifer Lewis) embarking on a cross-country trip and Diane (Marsai Martin) and Jack (Miles Brown) weighing their college decisions, to Dre (Anthony Anderson) and Bow (Tracee Ellis Ross) mulling a big shake up themselves, the series finale airs on Tuesday, April 19, at 9 p.m. ET/PT, on ABC, and will be available the next day on Hulu. All eight seasons are available for streaming on Hulu.
Audiences have watched the TV family grow on- and off-screen, with the series spawning two spinoffs: grown-ish, with Yara Shahidi reprising her role as Zoey Johnson; and mixed-ish, which chronicled Bow's upbringing in a biracial family.
As the Johnsons prepare to say their farewells, stars Anderson and Ross joined black-ish creator/executive producer Kenya Barris and showrunner/executive producer Courtney Lilly on a virtual panel during the recent TCA Winter Press Tour to discuss the series' stand-out moments and emotional conclusion.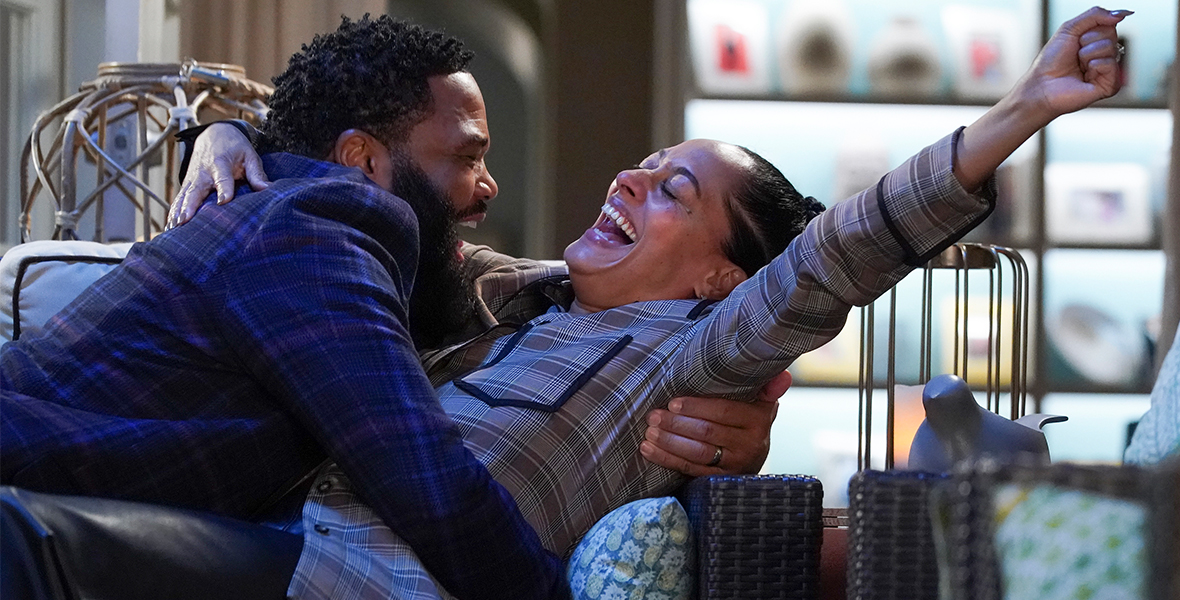 "In our last episode, Anthony will tell you, there were a lot of tears from me—they just kept coming," Ross confessed. "He was, like, 'Are you seriously crying again?!' And I would be, like, 'Yeah, I am!'
"I didn't think I was going to be able to get through our final scene," the actress continued. "I think rehearsal was a mess. I couldn't—I thought, 'I can't even do it.' The final scene that we shot—the final scene of the show was just… yeah."
Added Anderson, "That's another great thing about Tracee and my relationship; no matter where I was, in whatever emotional state I might have been in, all it took was just a touch from Tracee on my shoulder, on my hand, on my knee, as we were sitting at the table—I knew that it was all going to be all right, and that's all it took to calm me down and reel me back in."
After eight seasons and dozens of memorable moments, black-ish is ending on a high note and on their own terms. The series' executive producers were adamant about the final season celebrating the seminal TV family and their devoted fans. "I think that we were lucky enough to know this was our final season, and that gave conversations a chance to simmer and brew," said Barris. "[The final season] was more of an homage to the show, and a proper goodbye to the audience who stood by us for so long; a chance to say goodbye and take a walk with this family."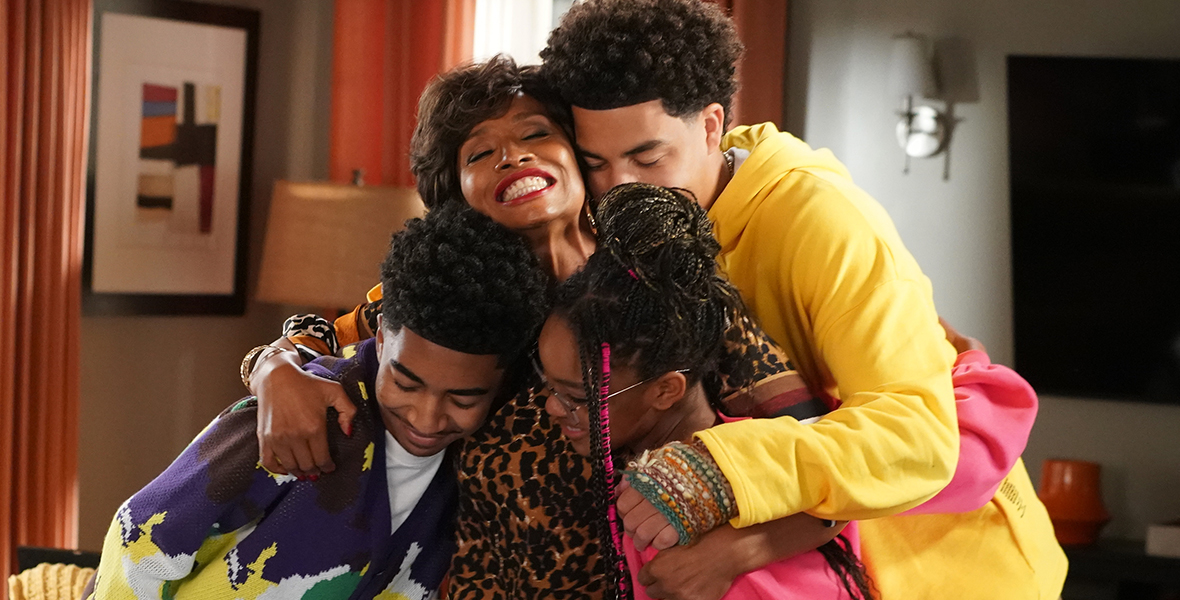 Adding to a long list of legendary guest stars, show creators pulled out all the stops for black-ish's eighth season—beginning with former First Lady Michelle Obama appearing in the first episode. And Olympic Gold Medalist gymnast Simone Biles, ESPN personality Stephen A. Smith, Los Angeles Lakers star Dwight Howard, and actress Vivica A. Fox have all stopped by for the Johnsons' final curtain call. Lilly said Ross and Anderson know "everybody," which made it easy to secure the superstar guests and even film scenes at the Lakers' practice facility.
Since the series' debut in 2014, viewers have watched the Johnson family engage in earnest conversations surrounding race, culture, religion, and politics, while also incorporating comedy and heart. The series tackled pivotal moments in history during its run—including two presidential elections, social change, and the COVID-19 pandemic. "I think one of the things that will happen with this show is, in the future, regardless of whatever happens politically or economically or socially—as a show that commented on these things, it wouldn't surprise me that in a few years, people sit there and go, 'Oh, I wonder how black‑ish would have handled this,'" said Lilly.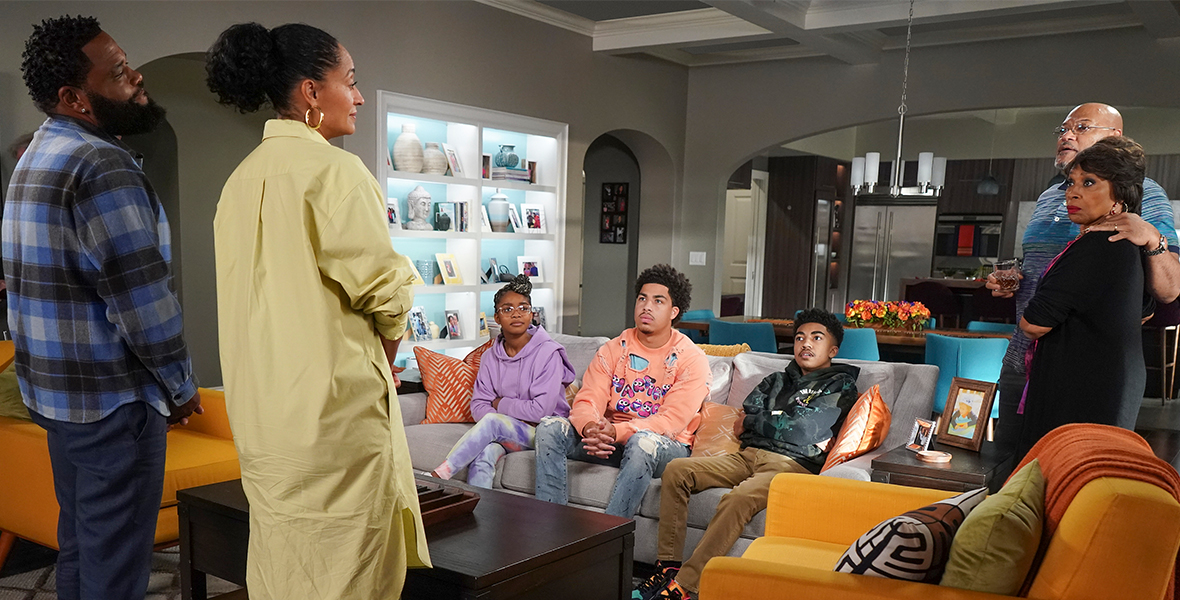 Aside from the series finale, the panel revisited the episodes that were the most meaningful to them. For Anderson, it was one-take monologue he delivered in the series' infancy that was the most impactful: "'Hope' (Season 2, Episode 16) was that episode for me that I didn't expect," he explained. "Not that it was overly‑emotional, but there was some connection—as I was delivering the speech to Tracee, in the family room about Inauguration Day—about Barack [Obama] getting out of the limo.
"The world had a collective gasp: 'No, get back in the car, because it could be snatched from us,'" Anderson continued. "All of this hope can be snatched from us in a moment, in a nano-second. I remember maybe the second take, it hit me—the gravity of what I was talking about. How it all affected us, and how we all had the same thought at that moment."
Ross shared that "Black Like Us" (Season 5, Episode 10) was difficult for everyone to film, as it focused on colorism when Diane wasn't properly lit in her class photo—prompting Junior (Marcus Scribner) to insinuate colorism exists within their own family.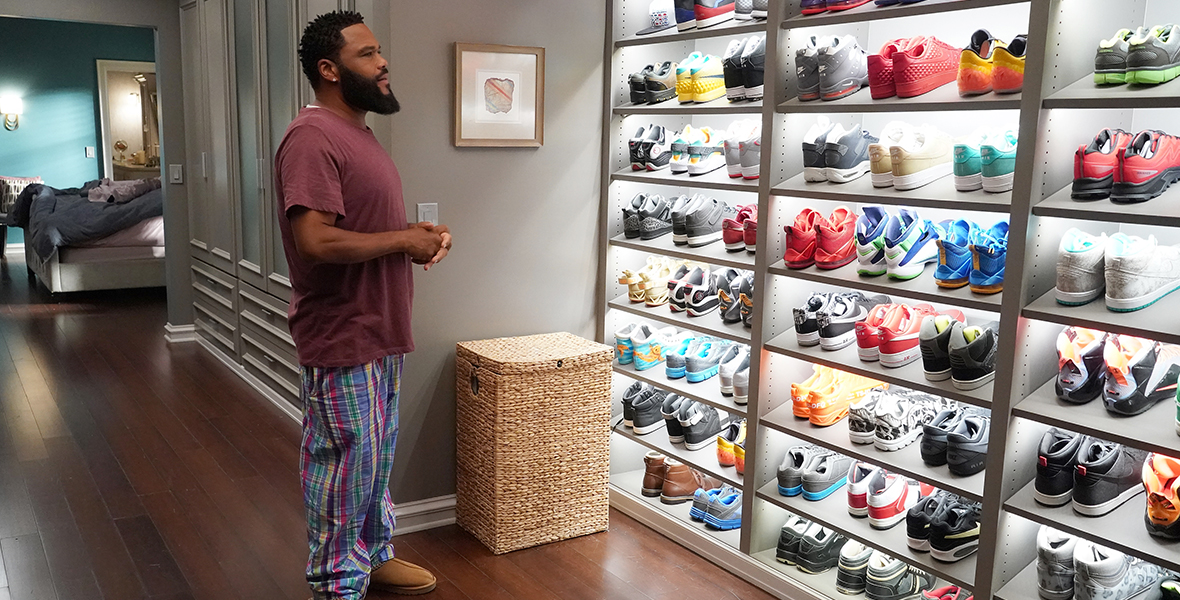 "Sprinkles" (Season 3, Episode 24) had the strongest connection for Barris, because his son was born premature like baby Devante (August and Berlin Gross). "There was a moment with Anthony, just in general—being a father, worrying about your wife and worrying about your family—seeing the baby, not knowing if he was going to make it," he said. "Tracee played that so beautifully, and she gave a lot of herself in a way that I felt it was some of my favorite Tracee Ellis Ross acting."
Ross shared playing Bow has been such a huge part of her life that letting go of this character will be quite difficult. While the show knew the end was near, it was difficult to say goodbye as the series neared the finish line: "I've been pretend-married to Dre Johnson for a really long time and had a million children," she shared. "I saw those people every day, and not just our cast—our crew as well; we had the most incredible crew for all those years, and they are people that you come to love and [who] become your family."
See the Johnsons' heartwarming, hilarious, and memorable journey come to an end when black-ish concludes Tuesday, April 19, at 9 p.m. ET/PT, on ABC.