The D23 Team
Disney and Pixar's all-new original animated feature Turning Red will introduce audiences to Meilin Lee—a confident, slightly dorky 13-year-old with a solid group of friends, a more-than-admirable record in school, and a better-than-average relationship with her family... well, for the most part. That includes her protective, if not slightly overbearing mother, Ming. So naturally, Meilin—Mei to her friends—has every reason to expect smooth sailing throughout the rest of her middle-school career. But there's a hitch. Mei discovers that this phase of growing up is marked in an unexpected, totally-can't-hide-from-it, larger-than-life way... whenever her emotions get the better of her, she "poofs" into a giant red panda!
Let's take a closer look at Mei and her family and friends, in advance of the film's big debut this Friday: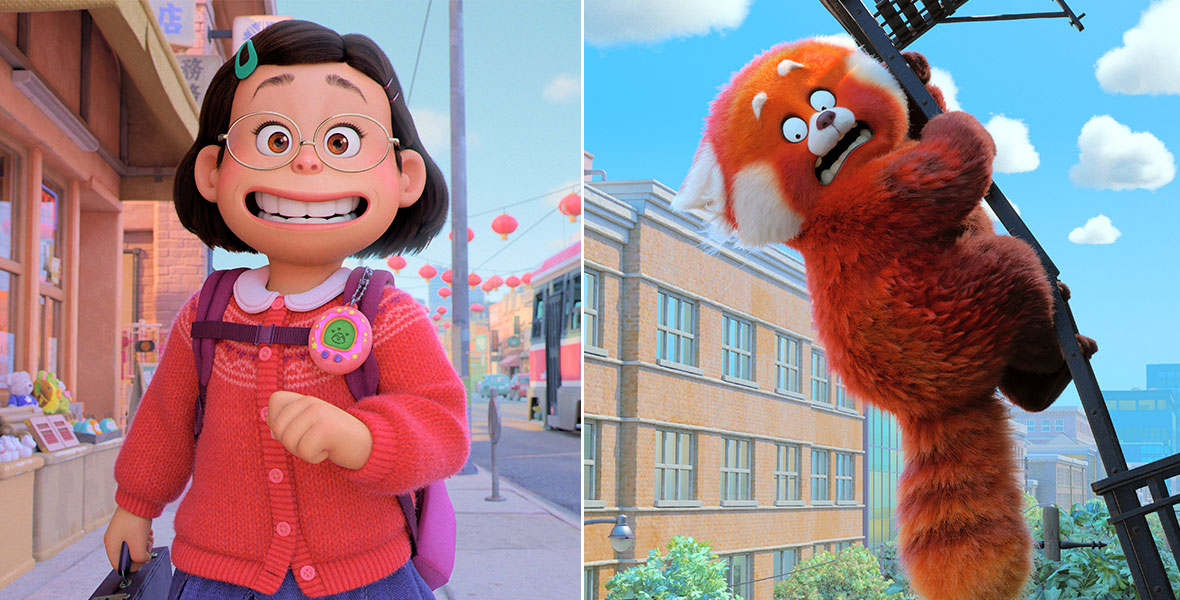 Meilin Lee (voice of Rosalie Chiang)
Mei is a middle-school force of nature. Exuberant, ambitious, and over-achieving, Chinese-Canadian Meilin excels at school and at home. Her posse of loyal besties always has her back; they also share a borderline out-of-control obsession with boy band 4*Town—but what 13-year-old doesn't? At home, Mei is a dutiful and driven keeper of the ancestral family temple, working contentedly alongside her mother, Ming. But when the teen mysteriously begins to "poof" into a giant, uber-emotional red panda at the most inconvenient times, a gulf opens up between Mei and her mom, forcing a reckoning between Mei's two selves: the spirited teenager and the obedient daughter. "She's spunky, confident, nerdy, passionate, weird, and a little bit snooty," says director Domee Shi of her main character. "When I was her age, I was Mei."
Red Panda Mei
...is the same Mei her friends and family know and love—but in the form of an unpredictable, eight-foot-tall, smelly, and inadvertently destructive red panda. She may be fluffy and impossibly cute, but Red Panda Mei represents Mei at her most vulnerable, and messy, true self. "We're basically using the red panda as an adorable metaphor for the very unadorable phenomenon of puberty," Shi says.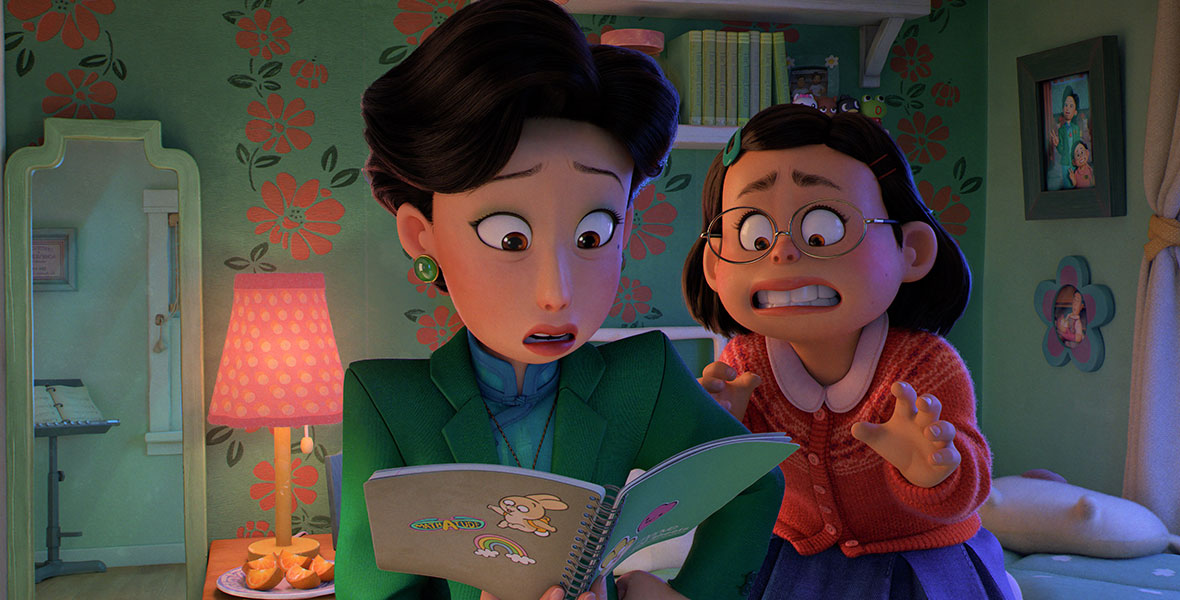 Ming Lee (voice of Sandra Oh)
Ming is a proud wife, devoted mother, and hardworking keeper of the Lee Family Temple in Toronto's Chinatown. Elegantly turned out and poised at all times, Ming takes her professional duties seriously—but she's even more dedicated to keeping an eye on her precious daughter, Meilin. There's no doubt: Ming is fierce, stubborn, funny, controlling, and—as Mei would put it—a lot, but the deep love she has for her family is always apparent. "Ming is a compilation of all of the very strong and awesome Asian women in my life," says Shi. "Ming can be intense, but all of the crazy stuff she does is motivated by her love for her daughter."
Jin Lee (voice of Orion Lee)
Jin—the quiet, steady presence in the Lee family—works hard and aspires to a life of simple pleasures: cooking a good meal for his family, sneaking the occasional donut, and gardening. He's a necessary balance to his strong-willed wife Ming, and a doting and loving father to his daughter Mei. But when an ancient phenomenon throws his family into chaos, Jin's quiet life is upended.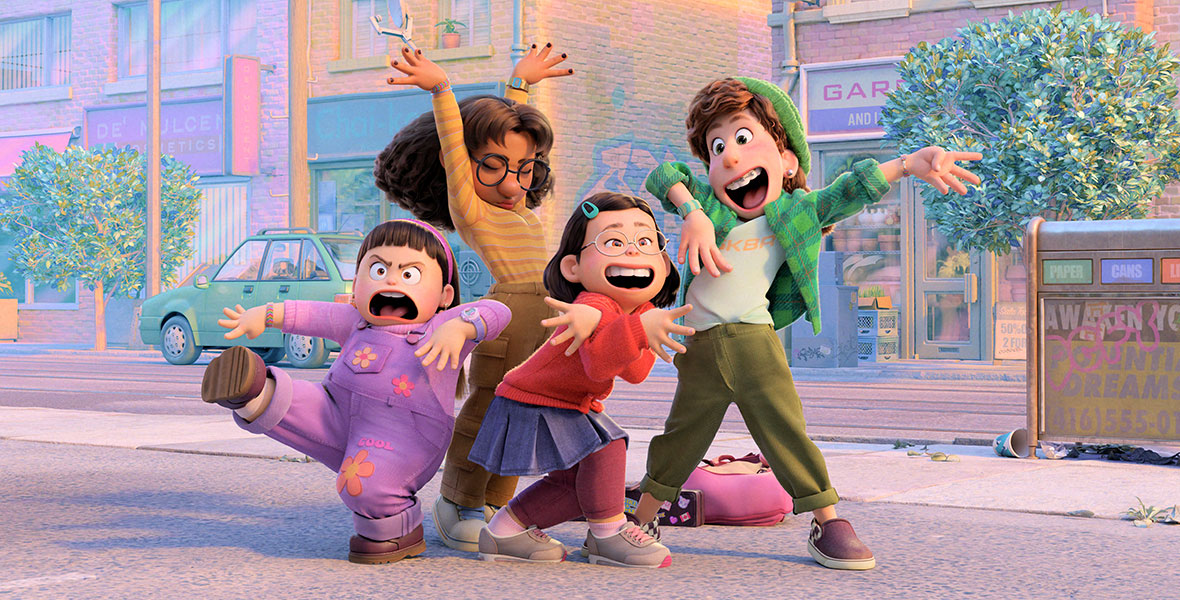 Abby (voice of Hyein Park) (pictured left)
Abby is a stick of dynamite—a fierce-but-tiny warrior who will not hesitate to launch herself at anyone who threatens her besties. The opposite of shy, Abby is not afraid to be heard. She does have a soft spot for Red Panda Mei, however... all that extreme fluff is just too hard not to hug.
Priya (voice of Maitreyi Ramakrishnan) (pictured to left of Mei)
Priya is meticulous yet artsy, passionate yet stoic. She's a quiet wild card with a deadpan sense of humor and a calm and collected approach to school, friendship, and just about anything—except 4*Town. Even Priya can't contain her love of 4*Town.
Miriam (voice of Ava Morse) (pictured right)
Miriam is loyal, easygoing, and a total goof who can make her besties laugh when they need it most. A bit of a tomboy, Miriam regularly rocks a flannel shirt and slouchy cap, and she shares her friends' obsession with boy band 4*Town. Mei's mom, however, is not a fan of Miriam. Ming sees Miriam as a threat to her relationship with her daughter, despite the girl's stellar support for Mei.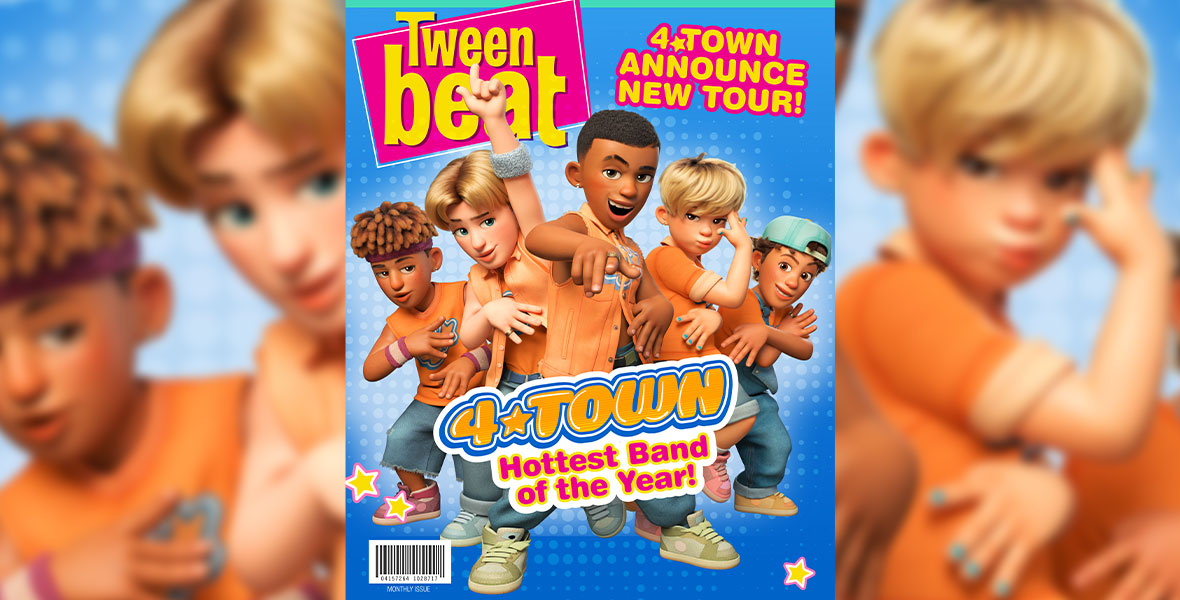 4*Town
The hottest, coolest boy band of all time, the five guys of 4*Town are behind songs like "Nobody Like U"—the single from their latest album that's climbing all the charts. Their concerts are truly epic, featuring high-flying theatrics, lights, pyrotechnics, and of course the boys' dreamy good looks. The voices behind 4*Town include Jordan Fisher as Robaire, Finneas O'Connell as Jesse, Topher Ngo as Aaron T., Grayson Villanueva as Tae Young, and Josh Levi as Aaron Z.
Turning Red premieres exclusively on Disney+ Friday, March 11!