By Zach Johnson
Marvel Studios' Eternals opens in theaters this Friday, introducing 10 new Super Heroes to the Marvel Cinematic Universe (MCU). Based on characters created by Disney Legend Jack Kirby, the Eternals are a group of ancient, immortal beings who work on behalf of the Celestials, aka the architects of life itself. The Celestials sent the Eternals to Earth 7,000 years ago to protect mankind from the Deviants, a race of alien predators. Now, the mysterious reemergence of the Deviants is about to force the Eternals out of the shadows. It's been hundreds of years since the Eternals went their separate ways, and not everyone has kept in touch. But they'll have to regroup to fulfill their purpose and protect the planet.
Meet each member of the Eternals below. And don't worry: There are no spoilers!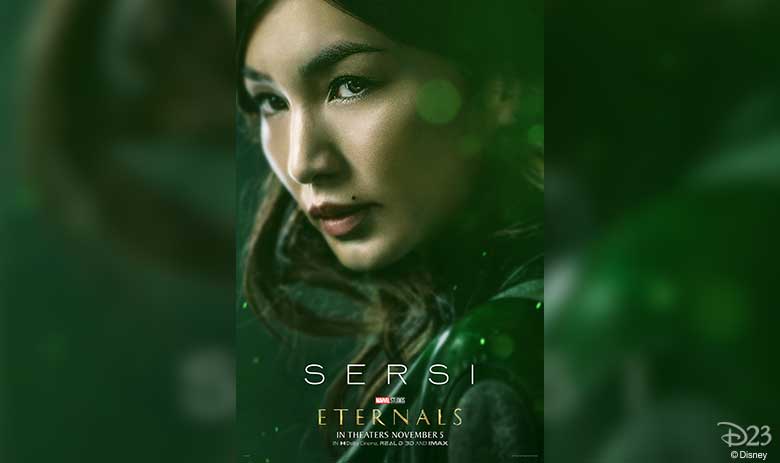 Sersi (Gemma Chan)
Sersi wields the power of matter transmutation, meaning she can change the makeup of any non-sentient material she touches. Dependable and caring, Sersi loves humans. In present-day, she works as a curator at the Natural History Museum in London and has a close relationship with Dane Whitman. She also has a long history with fellow Eternal Ikaris, her on-and-off lover of thousands of years. "This is really a coming-of-age story for Sersi in that when you meet her, although she has not been denying her Eternals background, she really loves humans. She wants to fit in with them," says Chan. "So, she's been kind of operating under the radar. Her story in the film is her rediscovering her power and finding out that she needs to use it to an even bigger extent than she ever thought."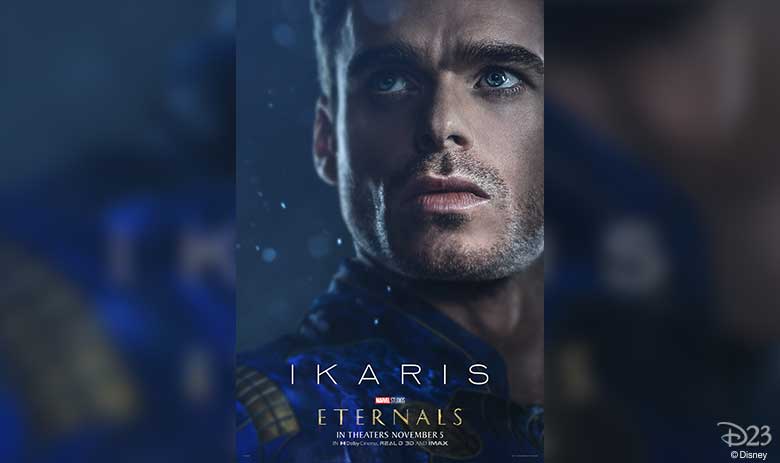 Ikaris (Richard Madden)
A moral, charismatic tactician, Ikaris is tasked with keeping humanity—and the Eternals—safe. Not only can he fly, but he possesses incredible strength and can project cosmic energy beams from his eyes. After the Deviants reappear, he finds the Eternals Sersi and Sprite and embarks on a mission to reunite the team. "He's always constantly wrestling between what's right for him as a being and what's right for the greater good," says Madden. "And the guilt that comes with making either one of those choices. But Ikaris is always more about the greater good of the universe than the greater good of humanity. So, it's really the greater good of the universe versus his own personal priorities. But he's a soldier, so he has loyalty to the bigger picture much more than his personal preferences."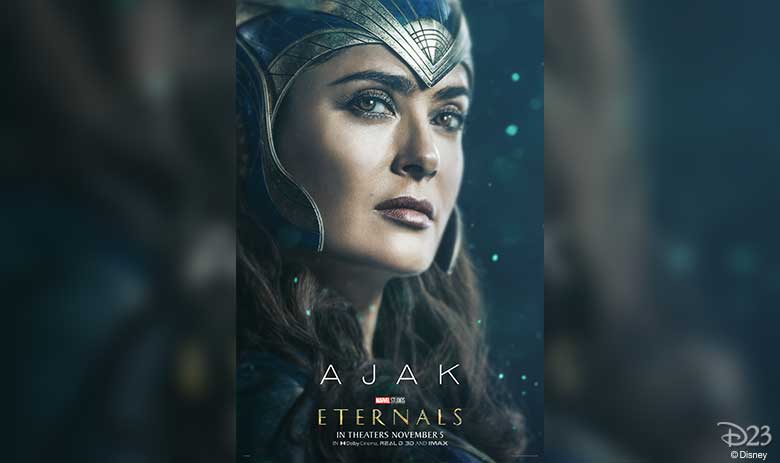 Ajak (Salma Hayek)
The matriarch and spiritual leader of the group, Ajak is the only Eternal with the ability to telepathically communicate directly with the Celestials. Cosmic energy pulses through Ajak, which gives her the power to heal her fellow Eternals, as well as animals and humans.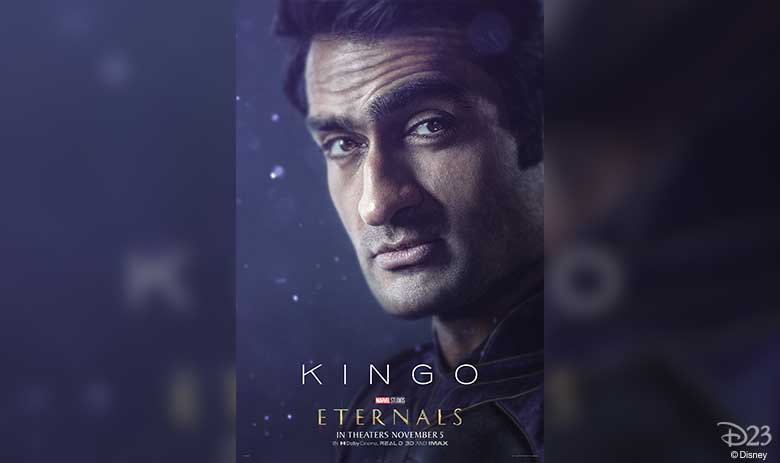 Kingo (Kumail Nanjiani)
Enthusiastic and confident—with a lil' bit of attitude and flair—Kingo is able to create powerful cosmic energy blasts from his hands. Unlike the rest of the Eternals, Kingo hasn't exactly stayed in the shadows since the team went their separate ways. "Kingo decided to keep a low profile by becoming a Bollywood movie star," jokes Nanjiani. "He's this guy who's always been pretty flashy. He's always wanted people to know he's a Super Hero, but he can't reveal that. So, to him, this is the second-best thing." These days, Kingo is almost always tailed by Karun (Harish Patel), his longtime valet and videographer. In fact, Karun has been Kingo's best friend for years, keeping him grounded and connected to humanity.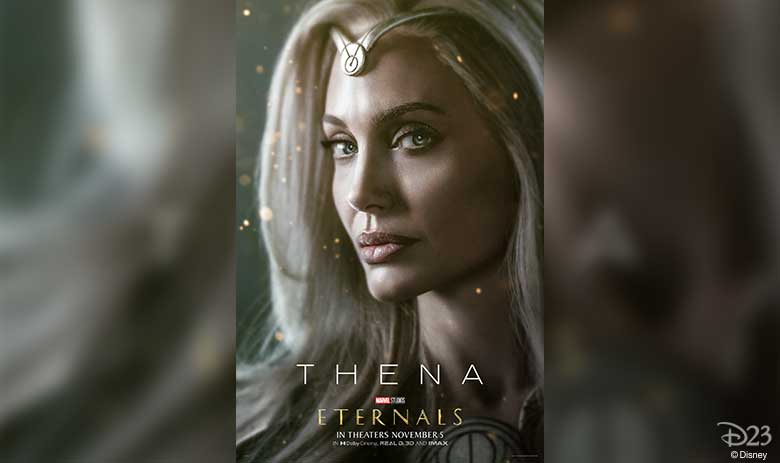 Thena (Angelina Jolie)
Thena can create weapons out of cosmic energy that morph at her will during battle, making her a fierce fighter. However, she is also sensitive, and her memories can overwhelm her. "Thena is like a soldier who is affected by the memories of battle and has PTSD or moral injury to live with," Jolie says. "Thena just assumes that a fight's coming at her rather than care and kindness. So, she's quite wired, and a lot of her struggle is just holding on to her mind and her center and her peace. I understand her, and how she feels."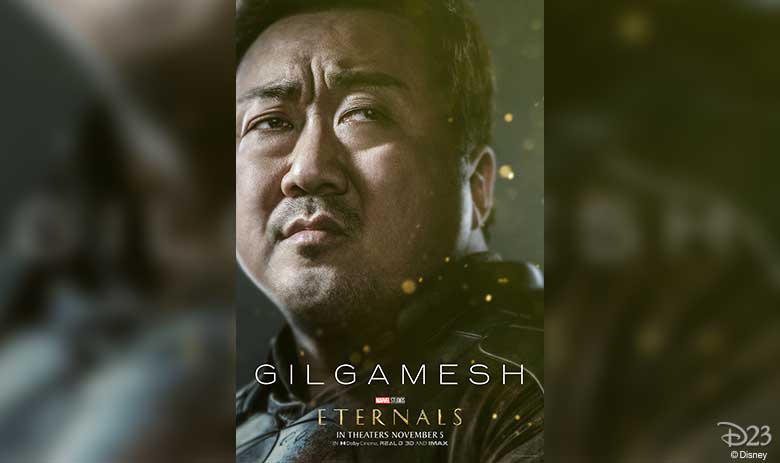 Gilgamesh (Don Lee)
A fierce warrior, Gilgamesh is remembered throughout history for his legendary battles. When he's fighting, Gilgamesh displays incredible strength as a golden, cosmic energy-enhanced exoskeleton shields his arms and fists. The strongest and kindest member of the group, Gilgamesh becomes Thena's de facto partner following events that led to the Eternals' dissolution. "They are like comrades in arms, who have known each other and fought alongside each other," Jolie explains. "They are partners, and they fight together."
Makkari (Lauren Ridloff)
Cosmic energy makes Makkari the fastest woman in the universe. She does everything fast, from reading to running. She has seen every corner of the world a thousand times over, collecting artifacts and mementos along the way. Over time, Makkari has become disillusioned and a bit bored with life on Earth. "Obviously, she's fast; that's her strength," she says of Makkari, who, like Ridloff herself, is deaf. "But also, she's loyal and she values her family. She would do anything for her family. She would do what's right. But she's not a goodie-two-shoes. She's not a saint." For example, "She likes shiny objects," she says. "She's been on this planet for 7,000 years, so she's picked up a few things that she likes."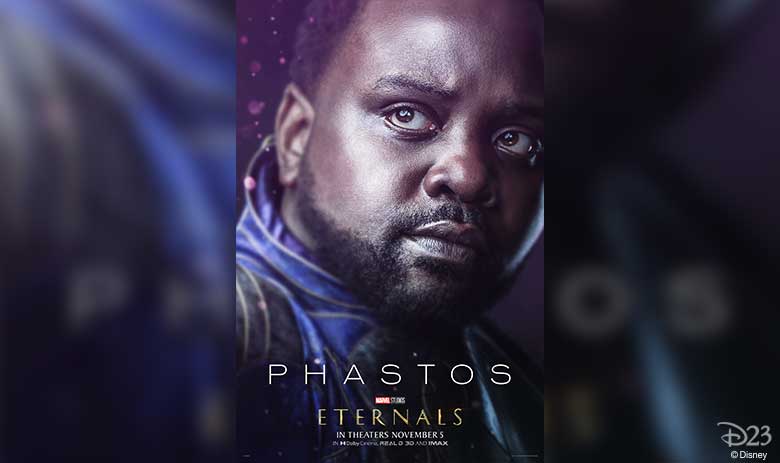 Phastos (Brian Tyree Henry)
The brilliant Phastos' cosmic energy gives him the power to help advance mankind. He is one of the smartest people in the universe, being a technopath and a master inventor. Phastos controls the Domo (the Eternals' starship). He also has the ability to understand, build, and communicate with machines and devices, in addition to combining different technologies to create whatever he imagines.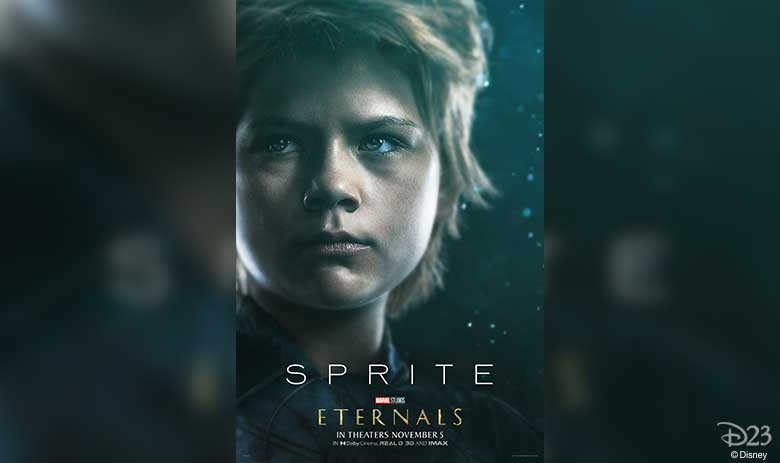 Sprite (Lia McHugh)
Sprite has the ability to cast lifelike illusions, entertaining and influencing humanity with her grandiose stories. She has the ability to make herself and others invisible. Ironically, people don't often see her even when she is visible, as she has the appearance of a 12-year-old girl. Sprite can't hide a world-weary sadness and frustration for being dismissed as a child for centuries, and she is determined to finish the Eternals' mission on Earth and return to their home planet, Olympia, where she will no longer be treated like a child. "She's like a cranky old lady, but she's also like the trickster of the group," says McHugh. "And she's sort of funny, but doesn't always intend to be, just because of how she expresses herself."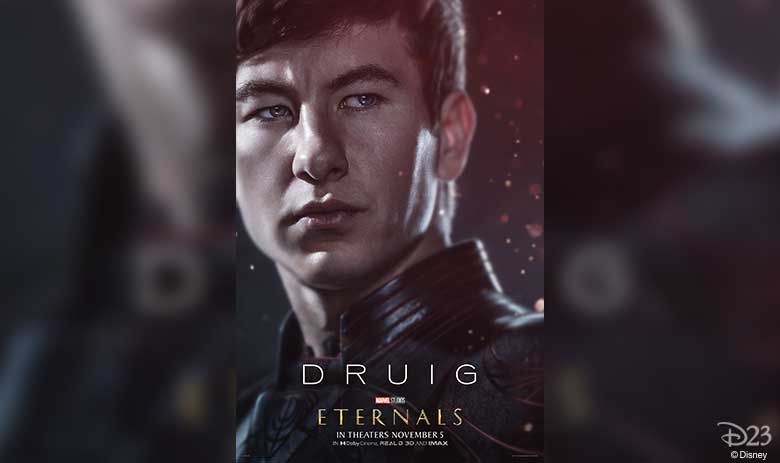 Druig (Barry Keoghan)
The aloof Druig has the powerful ability to control other people's minds using his cosmic energy. He can be intense and withdrawn, and over the centuries, he's become frustrated with the divisions that exist within humanity. He had hoped to intervene during various events in history, but doing so was strictly forbidden by Ajak and, ultimately, the Celestials.