By The D23 Team
Hurry up and don your best frocks, darlings—we don't want to be late to the debut of Disney's Cruella! And just who else will be attending this sure-to-be-swanky affair? We've got a look at the "guest list"—some of the characters you'll get to meet (or, in the case of a certain iconic villain, reacquaint yourselves with) when the film premieres later this week…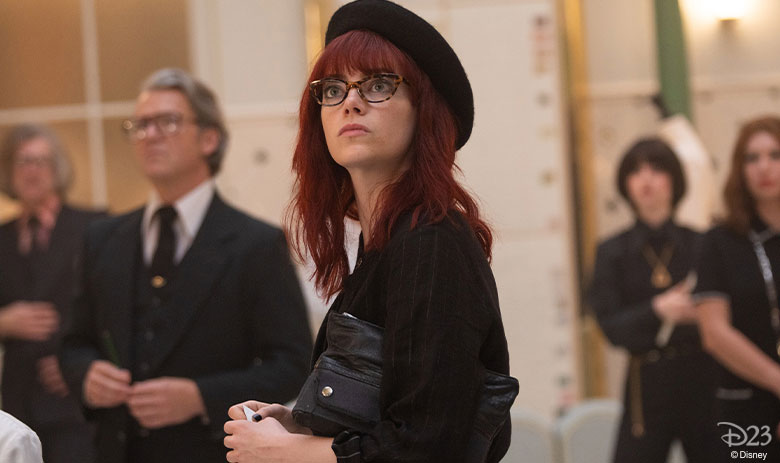 Estella/Cruella (Emma Stone)
Just how did Cruella de Vil become the beloved character we know and love (and love to hate!) today? Estella—her real name—was full of energy and edge as a child, and was blessed with creativity, seeing the world from a different perspective from those around her. Suffering a loss early on in life, and haunted by that experience, she often feels like an outsider among her conformist schoolmates. Estella and her friends Horace and Jasper later fall into a life of crime on the streets—pulling a variety of con jobs while using her imagination and sewing skills to create a brilliant array of disguises. But while the two young men are satisfied with surviving as grifters, Estella has aspirations for a better life as a fashion designer. At age 25, she starts working at London's most stylish department store, Liberty—and while there, she catches the attention of The Baroness, a fashion legend known to be as chic as she is abrasive. "It's fun to see the origins of Cruella, and we've had fun exploring what makes a villain," says Stone.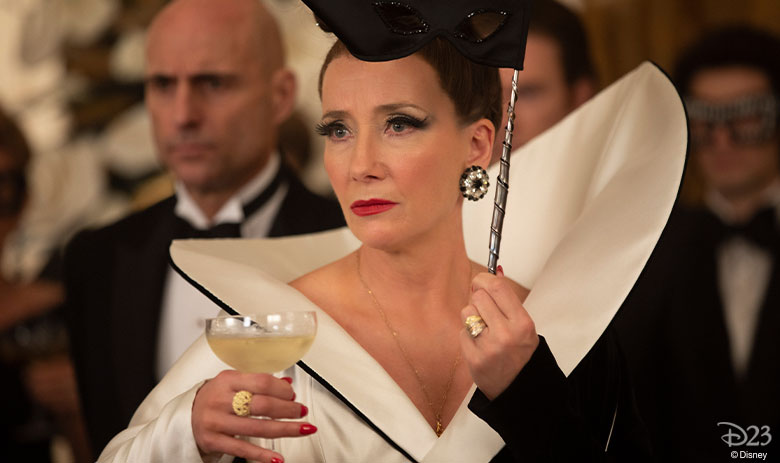 The Baroness von Hellman (Emma Thompson)
Elegant yet wicked, fashion queen The Baroness is the opposite of Estella in every way. Estella is cutting-edge, whereas The Baroness—though highly successful—is slightly old-fashioned… and just doesn't realize it. After impressing her new mentor with a unique window display, Estella revels in The Baroness' praise and recognition of her talent—happily inhaling every whiff of fashion expertise and management style her new boss exudes, while willingly keeping her rebellious, independent nature in check. But when The Baroness shows up at a ball wearing a special something from Estella's past, all bets are off, setting in motion a course of events and revelations that cause Estella to embrace her wicked side and become the raucous and revenge-bent Cruella. Admits Thompson, "The Baroness is the reason for Cruella, unfortunately."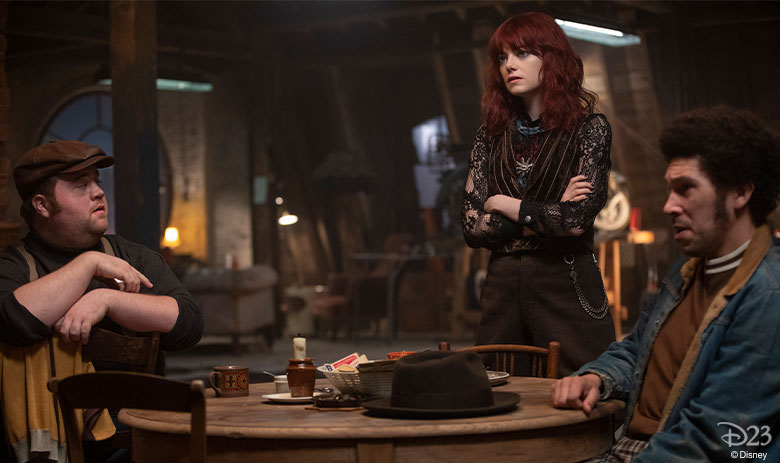 Jasper (Joel Fry) and Horace (Paul Walter Hauser)
Young Estella winds up finding a makeshift family—as well as partners in crime—with Jasper and Horace. It's Jasper who helps Estella get a job at Liberty, knowing that her dream is to leave grifting behind and design fashion. But their family ties become strained when Cruella starts to take over. "It's very sad, and you see why they need each other, long term, because they're a real tripod. I don't know what Cruella would be without Jasper and Horace," explains Stone.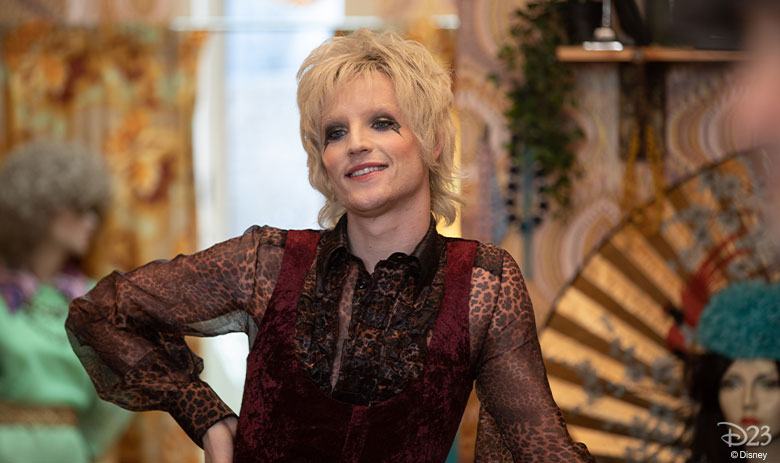 Artie (John McCrea)
After hatching a plan with Jasper and Horace to upstage and distract The Baroness at an event, Estella goes on the hunt for something suitable to wear. She winds up shopping the vintage stores along Portobello Road, where she meets a kindred spirit named Artie—a young shopkeeper with the ideal dress. Says Stone, "Artie is just this really gorgeous, smart, creative, brilliant person, who Estella meets by just going into his shop, and becomes a very important part of sort of creating Cruella."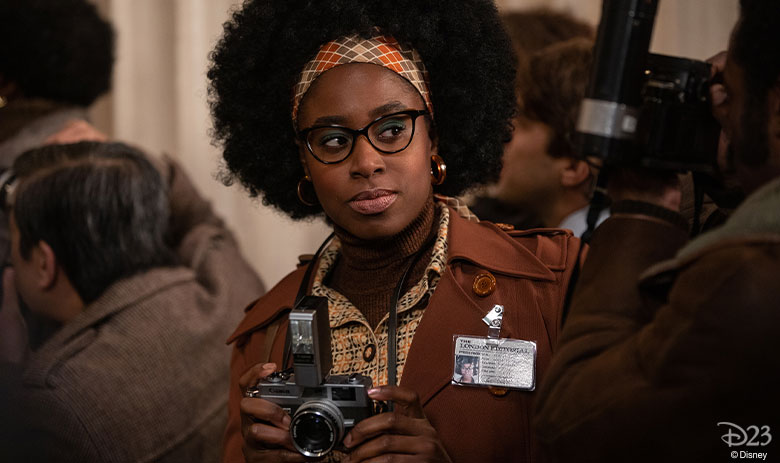 Anita Darling (Kirby Howell-Baptiste)
One of Estella's former schoolmates, Anita grows up to become a photojournalist at the tabloid publication Tattletale. Of her character, Howell-Baptiste says, "We first meet Anita at one of The Baroness' balls, and she's a reporter, a sort of young up-and-comer. She's very ambitious and smart. What's lovely is that all the women are very intelligent. The Baroness is the baddie, and then you have Estella, who also has this slightly dark side, and I think Anita falls right in between where she kind of understands them both but isn't the same as either of them."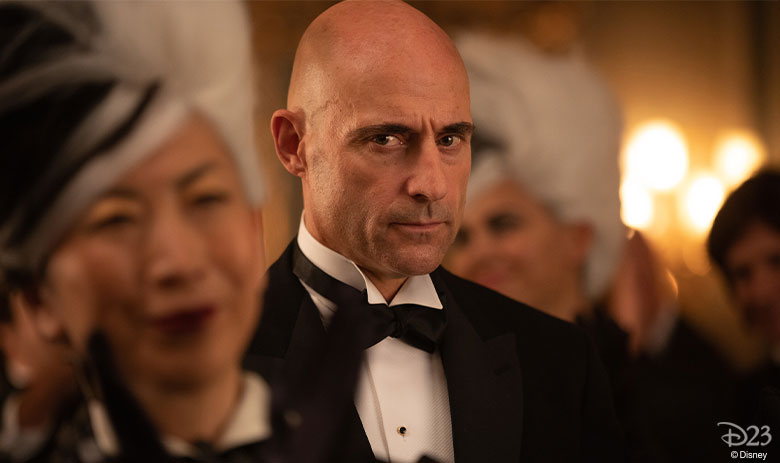 John the Valet (Mark Strong)
Mysterious and tight-lipped, John is a highly trusted member of The Baroness' entourage. "You're never really quite sure who he is or what his agenda is, because essentially he's quite a silent character," explains Strong. "But then you discover something very interesting about him, and that was the thing that made me want to play him."
Look for Cruella beginning this Friday, May 28—in U.S. theaters and on Disney+ (with Premier Access in most Disney+ markets).