by Jim Frye
It's another extra helping of Pixar.
When you go see Cars 3 in theaters this June, you'll also be treated to Pixar's latest short called Lou, about a school playground creature made out of lost-and-found toys. It bears a slight resemblance to classic Muppets characters, but definitely has a look all its own, comprised of baseballs, a red hoodie, and a few other goodies saved from the lost-and-found. That's actually where the title comes from: The "L," "O," and the "U" from the words "Lost and Found" combine to make "Lou."
From director Dave Mullins and producer Dana Murray, Lou is a heartwarming (as usual—it's Pixar!) tale of a pile of lost-and-found toys that comes to life and confronts the schoolyard bully, J.J., who has been taking toys from his classmates. "Bullies always want something," says Mullins, after a preview of the film at the main screening room at Pixar's Emeryville studio. "There's a reason they do what they do, so we wanted to explore that."
Mullins admits that, yes, Lou is an off-the-wall idea. "What we originally pitched didn't necessarily work well onscreen," he says. "It's definitely a story that can only be done with animation." But that's perfect, because Pixar seems to gravitate toward those "off-the-wall," original ideas—Up, WALL•E, Inside Out, and Ratatouille come to mind, not to mention the shorts Day & Night, For the Birds, and One Man Band. Originality is Pixar's stock and trade.
A quick walk around the Pixar Studio is like an immersion in storytelling and animation greatness, from the shelves of Oscars® and letters from fans, to the life-sized Incredibles family of figurines, or the wall-sized art from Cars 3. Everywhere you look, you're reminded of the characters who built this campus, and the award-winning stories Pixar has told.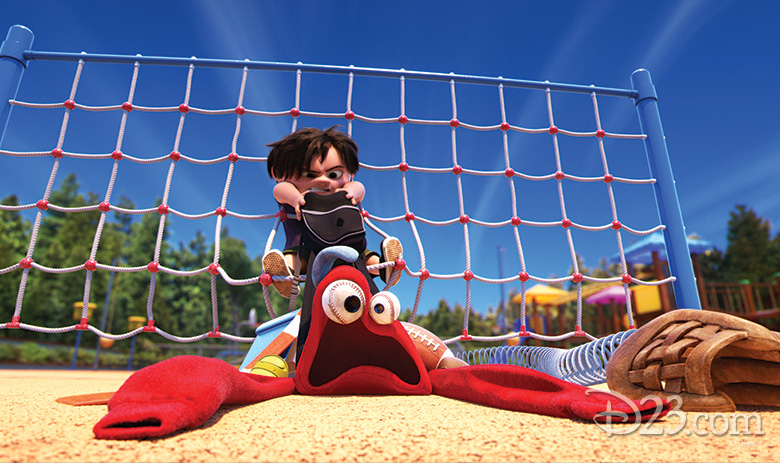 Speaking of story, Mullins talks about the time and effort that Pixar puts into each and every one of their films: "Pixar is never done with the story," he says. "The story department is involved each step of the process—from the pitch, to the design, to development, it's all about story."
And this particular story is very close to Mullins, for two big reasons. Most obviously, it's his first time directing a Pixar short. He's served as an animator, animation supervisor, or assistant animator on a number of Disney and Pixar films, including The Good Dinosaur, Monsters Inc., Finding Nemo, Inside Out, and even Fantasia 2000. But this is the first time he's been in the driver's seat.
The second reason is perhaps more personal: At the end of the film, Mullins adds the dedication "For Dad." His dad, who shared his son's love of films, died while Mullins was elbow-deep in production on Lou. It definitely adds even more heart to a deeply moving tale of compassion and friendship.
The six-minute Lou arrives in theaters—along with Cars 3—June 16.