Cars 3 is going to be legendary!
Nobody does nostalgia like Pixar! First, they made us miss our childhood toys in Toy Story. Then they brought back fond (and frightful!) memories of growing up in Monsters Inc.; and they took us through a lifetime of love in Up. But it's through Cars that they captured our love for small towns, afternoon drives, and "getting off the highway" to enjoy the journey.
Now, Cars 3 pulls those nostalgic heartstrings even more as Lightning McQueen meets up with The Legends of racing (literally!) with cars from the glory days of the sport. And to help make these animated legends resonate with audiences, Pixar based each of the characters on actual, real-world racers from the early days of racing—true legends.
Here's the setup: As Lightning McQueen struggles to get back on top, he meets a group of characters who represent the roots of stock car racing—and provide a link to Lightning's late coach and mentor, Doc Hudson. To really hone in on who these characters should be, members of the story team went to NASCAR's Daytona 500 to soak up the atmosphere. "We found a wealth of information there that gave us a springboard to find these characters," says screenwriter Mike Rich. "They show Lightning that racing can be a lifetime thing. It might change over time, but you adapt and learn to race differently. The love of racing has never left these legends."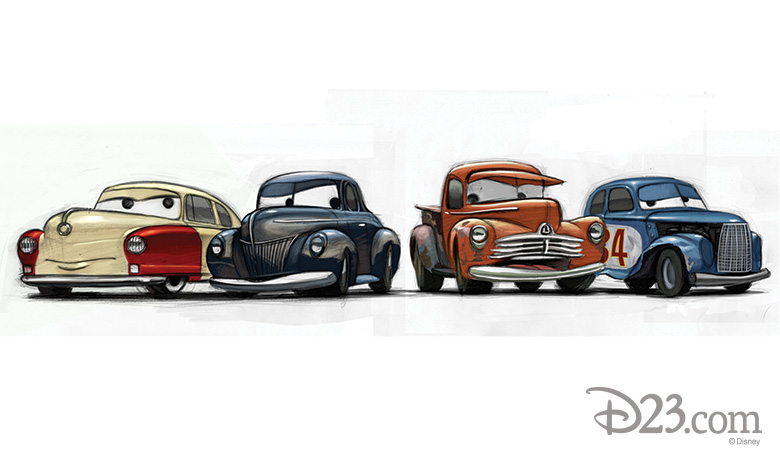 SMOKEY
The character of former Piston Cup team owner Smokey (voiced by Chris Cooper) was inspired by real-life legend Henry "Smokey" Yunick. A racer and designer in NASCAR's early days, Yunick was best known as a mechanic, builder, and crew chief. He was twice named NASCAR mechanic of the year, and his teams won 57 NASCAR Cup Series races, including two championships in the early 1950s. Smokey's Best Damn Garage in Town was an infamous part of Daytona Beach for four decades.
JUNIOR "MIDNIGHT" MOON
NASCAR legend Robert Glenn "Junior" Johnson both inspired and lends his voice to the character Junior "Midnight" Moon. Johnson, who won 50 NASCAR races in the 1950s and 1960s, got his start in an unconventional way—making moonshine runs for his family business throughout the mountains of eastern North Carolina. The recipe was later shared with Piedmont Distillers and is sold under the label Junior Johnson's Midnight Moon.
LOUISE "BARNSTORMER" NASH
The character Louise "Barnstormer" Nash (voiced by Margo Martindale) is based on the "First Lady of Racing," Louise Smith. The gutsy Nash didn't have an easy start as one of the first and only females in racing. She wasn't provided a racing number, so she had to steal one to compete in her first race. But her fearless driving style soon won her the respect of every car she raced. In Cars 3, Nash took on the Fabulous Hudson Hornet in the early days of the Piston Cup, winning three back-to-back races. The real-life Louise Smith refused to just sit on the sidelines. Instead, she entered NASCAR—but ultimately rolled her family's new Ford coupe in her first race. She went on to win 38 races during her seven-year career.
RIVER SCOTT
The character River Scott (voiced by Isiah Whitlock Jr.) was inspired by NASCAR's Wendell Scott. In 1963, Wendell became the first African-American driver to win the Grand National Series at Jacksonville's Speedway Park. He was posthumously inducted into the NASCAR Hall of Fame in 2015.
In addition to these racing legends, Pixar filmmakers infused Cars 3 with extra horsepower by recruiting a number of actual NASCAR greats. "We all love a good story," says co-producer Andrea Warren. "We were so lucky to get to hear their stories, get a taste of what happens behind the scenes of racing. That connection really comes through in the way many of our characters interact."
Chase Elliott provides the voice of Chase Racelott, Ryan Blaney voices Ryan "Inside" Laney, Daniel Suárez lends his voice to Danny Swervez, and Bubba Wallace voices Bubba Wheelhouse. Jeff Gordon is the voice of Jeff Gorvette, Richard Petty once again voices Strip "The King" Weathers, Kyle Petty steps in as the voice of Cal Weathers, and Ray Evernham lends his voice to Ray Reverham. FOX's Darrell Waltrip returns as the voice of Darrell Cartrip, the network's Shannon Spake provides the voice of Shannon Spokes, Humpy Wheeler returns as the voice of Tex Dinoco, and FOX Sports' Mike Joy provides the voice of Mike Joyride.
Cars 3 races into theaters June 16.