By Justin Calvert
Like so many of us, Jake Solomon, creative director for the upcoming tactical role-playing game Marvel's Midnight Suns, grew up enjoying Marvel comics. He never stopped, and still counts Magik—whose early adventures he read about in The New Mutants back in the '80s— as one of his favorite characters in the Marvel Universe. He's also a big fan of Ghost Rider, particularly the Rise of the Midnight Sons event that played out across supernatural characters' comics in the early '90s.
Now that the December 2 release of Marvel's Midnight Suns is mere weeks away, and Solomon has obviously spent a lot of time playing it, do Magik and Ghost Rider make the cut on his go-to team?
"Choosing just three heroes is tough," said Solomon. "If I had to choose only three heroes for my perfect Midnight Suns team, I'd go with Ghost Rider, Iron Man, and Nico Minoru. But I would happily sub in Magik, Captain Marvel, and Blade depending on the circumstances."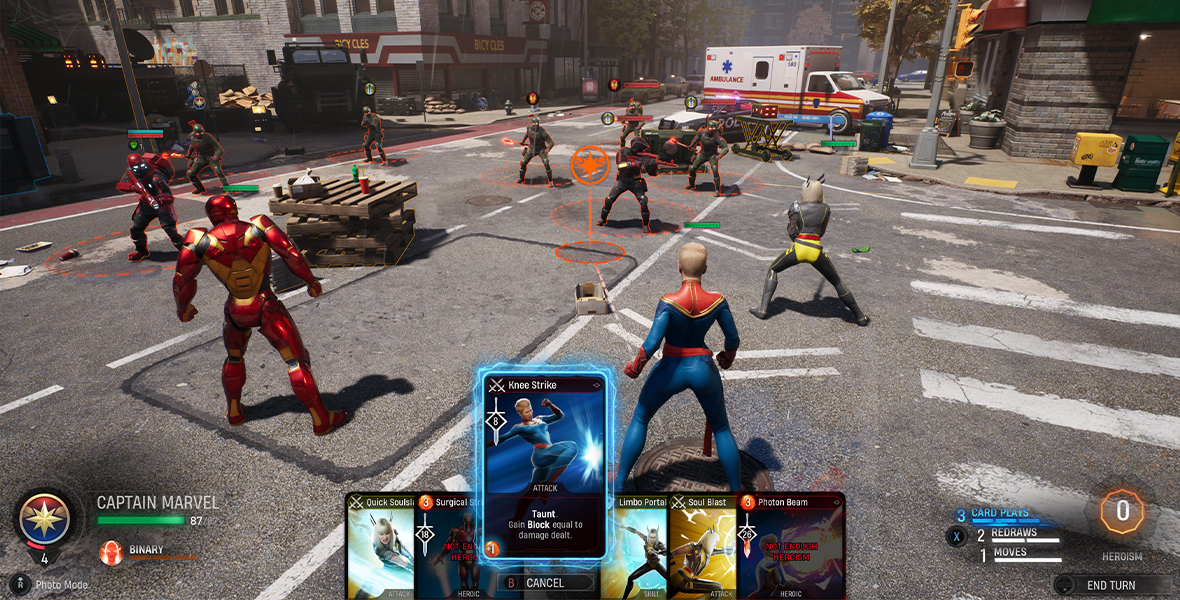 He continued, "Ghost Rider is pure power; as long as he stays healthy, he deals massive amounts of damage. Iron Man is a swing hero who can support the team and also hit single or multiple enemies for a fair amount of damage. And Nico is the ultimate support character. Because Ghost Rider and Iron Man have so many heroic abilities, Nico is great at making sure the team always has enough of the heroism resource to keep fighting."
Heroism is the resource needed to perform environmental attacks and unleash your heroes' most powerful moves and is earned by playing ability cards during tactical missions. The ability cards you're dealt at the start of each turn are random, but because you get to choose which eight ability cards each of your heroes brings into a mission, you can tailor their loadouts to your preferred playing style. Here's what Solomon had to say about the abilities he likes to include when assembling his ideal team: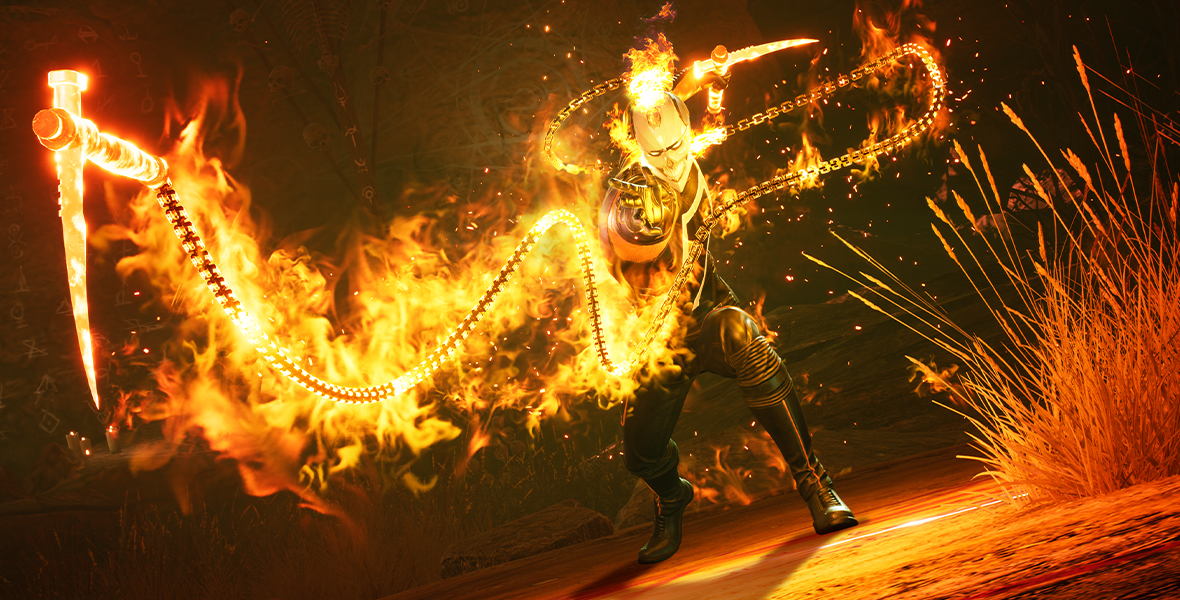 Ghost Rider
"Ghost Rider is a double-edged sword. He deals tons of damage to his enemies, but often times he damages himself in the process," said Solomon. "Because of that, I always try to keep his Straight to Hell and Drain Souls abilities in his deck, because they can help him stay near full health. Then, with either Judgment or Penance Stare, it's possible to convert Ghost Rider's current health into obscene amounts of damage against his enemies."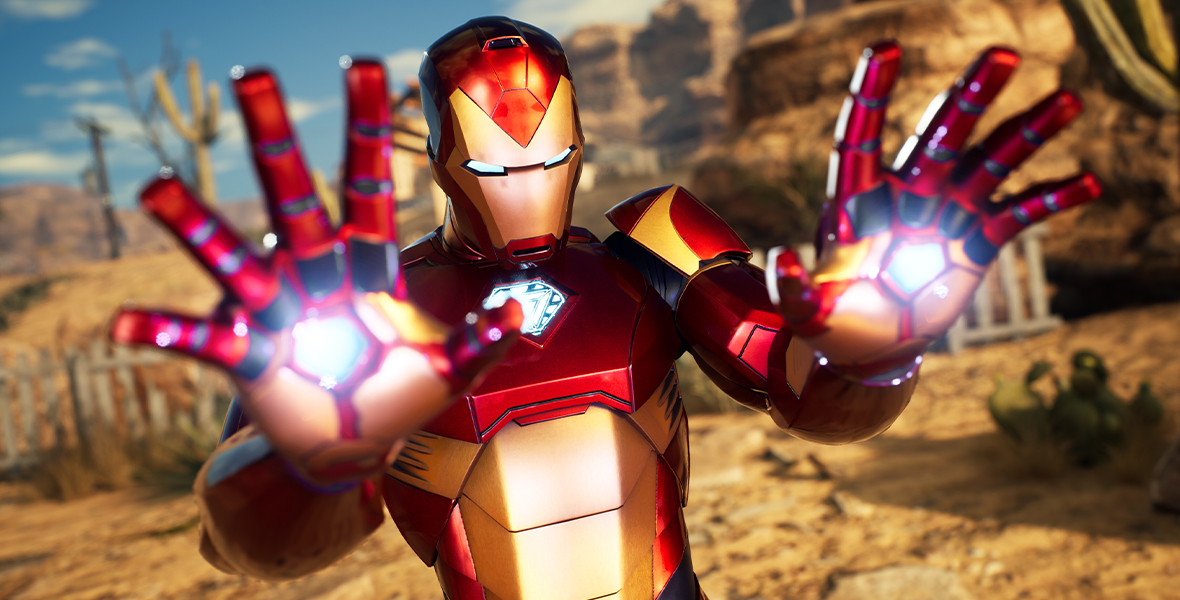 Iron Man
"I love using Iron Man's Leave It To Me ability, which can draw more of his abilities into your hand," Solomon elaborated. "His Precision ability is the perfect follow-up, letting you use powerful Iron Man abilities without discarding them. Pair those with his ultimate Hellfire Beam ability, and Iron Man has the potential to end battles in a single turn."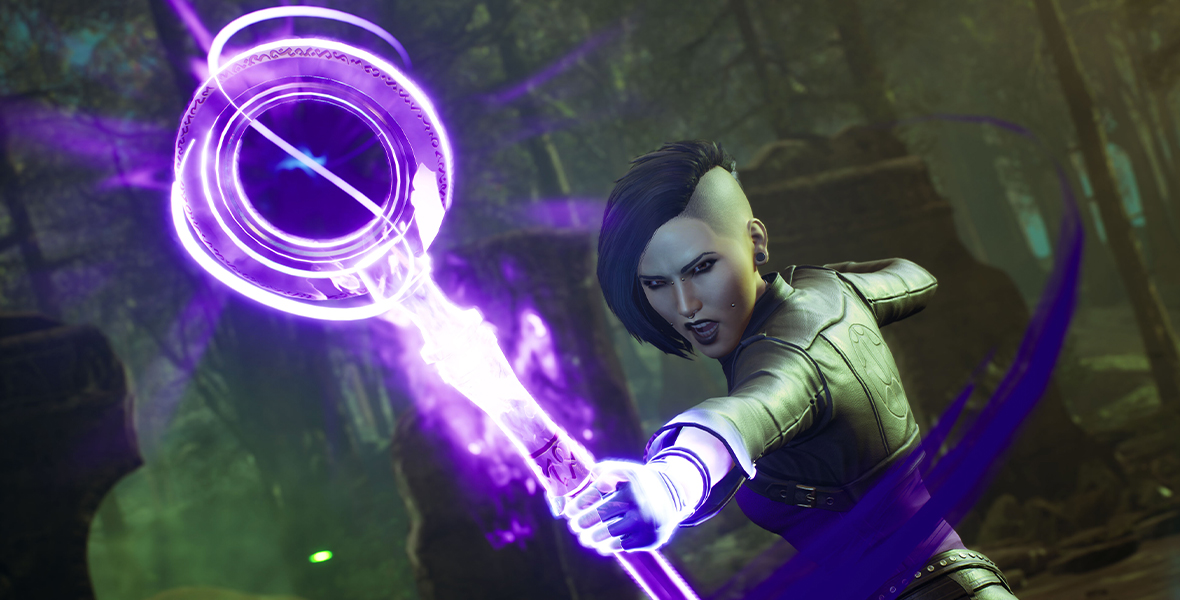 Nico Minoru
"Nico is the glue that holds this squad together, bringing powerful support abilities like Empower, which reduces the heroism cost of all cards in your hand to 0," Solomon explained. "Because Ghost Rider and Iron Man have a lot of heroic abilities, this can be a game changer. Nico can also turn the tide with her Double Up ability, which can duplicate abilities in your hand. Use this at the right time and you'll have a nigh unbeatable combination of cards."
He continued, "In addition to customizing your heroes' ability loadouts, you can change their appearance by equipping different color schemes for their outfits that you'll unlock as you progress through the game. "The unlockable black-and-gold Midnight Suns suits are always sharp. But before I get those, I tend to equip the latest color scheme I've unlocked for each hero, so my squad is always looking fresh."
If you haven't seen the Midnight Suns suits, be sure to check the "Live Among Legends" gameplay trailer above for shots of them being worn by Super Heroes including Blade, Captain America, Scarlet Witch, Spider-Man, and more. You might also be interested to know that a Funko Pop of Iron Man in his Midnight Suns suit is available when you purchase either the Enhanced or Legendary Edition of Marvel's Midnight Suns from GameStop (online or in participating stores) in the US or Canada*.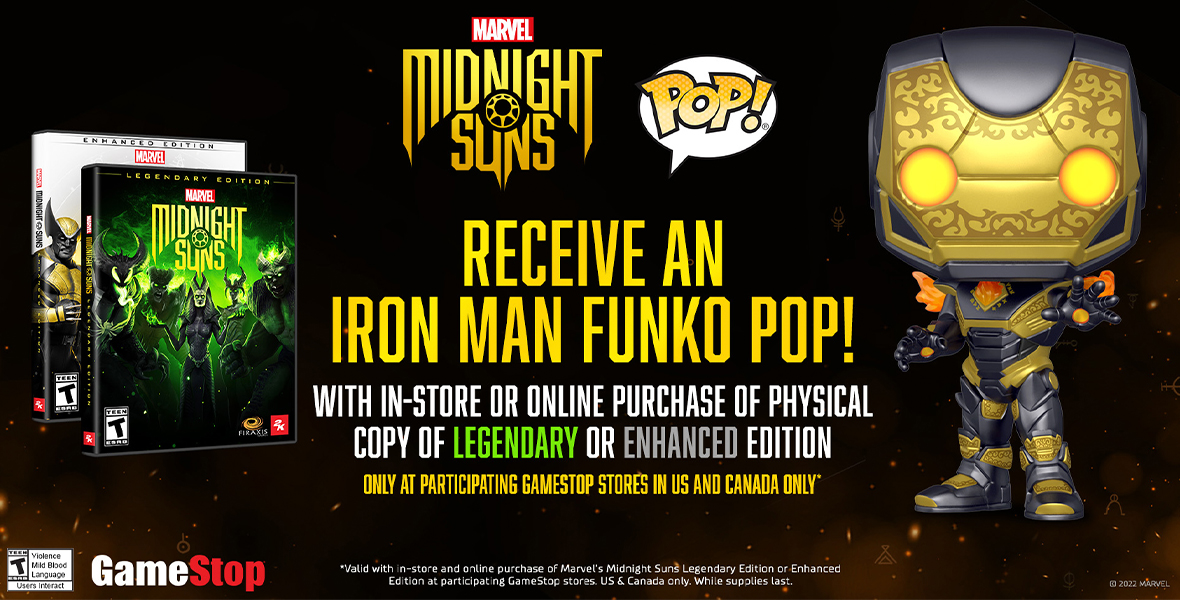 Some characters may require unlocking through gameplay, but now that you know Solomon's favorite Midnight Sunsteam, perhaps you're thinking about which Super Heroes you'll use in the battle against Lilith's demonic forces. His advice? "Play with the heroes you love," he recommended. "We've designed them to complement wildly varying playstyles, so any trio you assemble is going to be valid and, of course, a blast to play with!"
*Valid with purchases of Marvel's Midnight Suns Legendary Edition or Enhanced Edition from GameStop. GameStop offer available online and at participating stores only. US & Canada only. While supplies last.