Mark Hamill loves Disney. And not just a little. He really loves Disney. While we're introducing ourselves, we mention that we're from D23, and he immediately jumps in with, "That's the year that Walt Disney came to California." Yes, that's right. (And the reason behind the name D23.)
Mark Hamill plays the iconic character Luke Skywalker in the blockbuster Star Wars film saga and returns this December in Star Wars: The Force Awakens, along with fellow actors Carrie Fisher and Harrison Ford, returning to the roles of Leia Organa and Han Solo. It must have felt like a homecoming, right?
"What do you mean 'did it feel like a homecoming?'" he laughs. "It was a homecoming! They're so much a part of my life now, they are like family now… like family you don't see for years and years and years.
"It's so special and it's so unexpected to be doing this again," he continues. "It was such a wonderful thing, coming full circle in a way. For me, the original films did have a beginning, middle, and end, but in terms of the world, it never really ended. It's an incredible opportunity, but it's all the more savory because it was so unexpected."
"I went to the park the very first year it was open, the summer of '55, and I remember the Jungle Cruise. My family loves to tell the story about how I hid in terror at the bottom of the boat."
MARK HAMILL, THE VOICE ACTOR
What many people don't realize is that in addition to his film work, Mark Hamill is also a prolific voice actor, having worked on such Disney shows as Gravity Falls, Miles from Tomorrowland, and The Little Mermaid TV series. "My earliest memory of realizing that you could be someone who provided the voice for a cartoon character—I was just dumbstruck," he says. "It just never occurred to me because they were so alive and real. It was Clarence Nash voicing Donald Duck. Not only was it a revelation, but I never saw cartoons the same way again."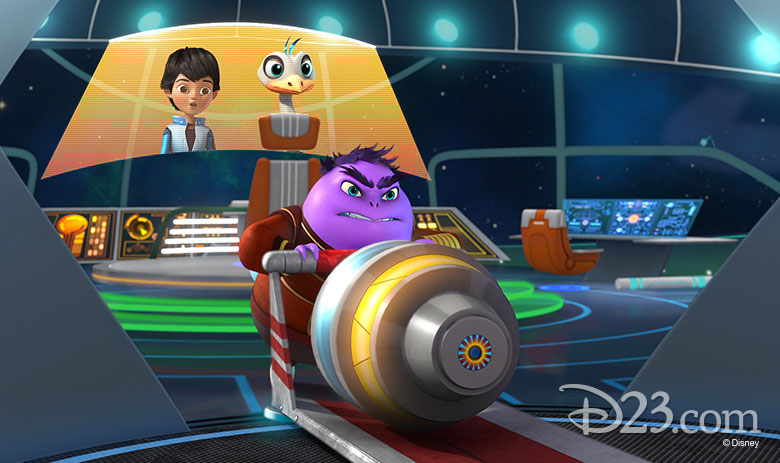 He continues, "I was young when I could connect the fact that, 'Oh, that's the same actress in Rocky and Bullwinkle as the witch in the Bugs Bunny cartoons and the witch in Trick or Treat with Huey, Dewey, and Louie! [June Foray].' That's the same actress! I know, this doesn't sound that impressive now in the days of instant gratification where you can just Google it or Wikipedia it. And I loved comedy records as well: St. George and the Dragon Net was the first comedy record I ever bought… with my own money, my allowance. In those days I probably got like 30 cents or something. I thought it was funny! It was a parody of the old Dragnet series, with Stan Freberg, Daws Butler, and June Foray doing the voices. I had it memorized, and I'd do all the voices. I just adored that whole aspect of show business from the get-go."
HIS LOVE OF DISNEY RUNS DEEP
"You know, I was a Disney baby," Hamill says. "I went to the park the very first year it was open, the summer of '55, and I remember the Jungle Cruise. My family loves to tell the story about how I hid in terror at the bottom of the boat. I was sitting next to Alan Horn, and the thing that I wanted to mention to him, but didn't—my wife later told me it would have been shameless pandering to bring it up—is that my firstborn son was born in England while we were filming The Empire Strikes Back. When I had to find a name to bridge Nathan to Hamill, I picked Walt Disney's middle name, so he is Nathan Elias Hamill. It's a very melodic name, but it also shows you the depths of the Disneyphile that I am. I have all the animation tin sets [from Disney]. It's really such a woven fabric of my childhood."
WORKING WITH J.J. ABRAMS
The Force Awakens is Hamill's first time working with prolific director J.J. Abrams. "He's clearly a very gifted writer and filmmaker," Hamill says. "Bright and full of ideas, but very personable, very exuberant in his passion for this project. It's infectious and real fun to be around." But there's another thing that both Hamill and Abrams have in common. "We like so many of the same things," he says. "I'm jealous he has the Twilight Zone board game! It's in the lobby of Bad Robot. It's so hard to find, that one and Outer Limits. But it's something to live for. He's wonderful."
THE SKY-HIGH EXPECTATIONS
In April, Hamill was also a guest for the Star Wars Celebration in Anaheim, which saw the first look at the newest trailer from The Force Awakens (the "Chewie, we're home" trailer). For him, that moment is hard to beat. "With a certain segment of people, the mania has never really gone away," he says. "I knew the passion was there [in Anaheim]. The thing I'll take away is that as soon as we left the stage and the lights went down, I went down to the floor. No one would have seen me, even if I was doing cartwheels," he says. "So I got really close to the audience, stage right, and watched the crowd as they watched the trailer. I just wanted to watch them! It was absolutely moving. I can't tell you—when you see that many people just transported with joy [laughing]… that's the peak and that's what I'll remember forever."
Catch that joy, and Mark Hamill, in Star Wars: The Force Awakens now in theaters.