By Courtney Potter
Another look at the return of the Fairy Queen of the Moors, and Freeform prepares for "30 Days of Disney"… Read more, along with other news from around Disney, in this week's news briefs!
Maleficent: Mistress of Evil Debuts Eye-Catching New Poster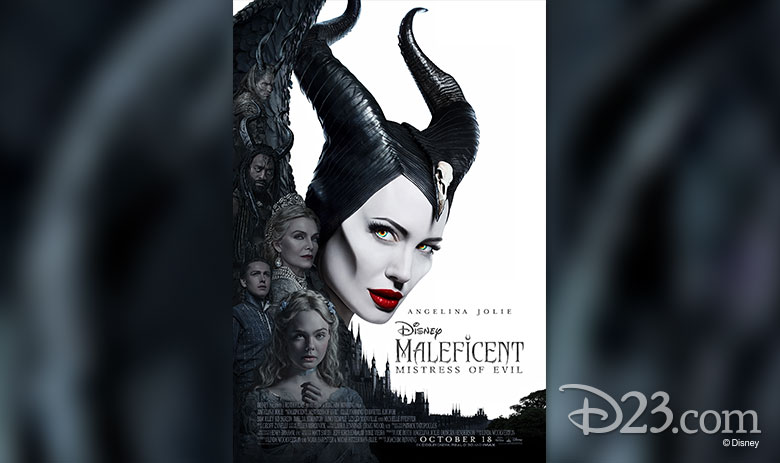 It may be hard to believe, after the years-long anticipation, but Disney's Maleficent: Mistress of Evil will finally fly onto screens everywhere in just a few months' time! And this week, we got to see the brand-new poster for the film, above. Iconic, right?
Picking up several years after 2014's Maleficent—in which audiences learned of the events that hardened the heart of Disney's most notorious antihero and drove her to curse a baby Princess Aurora—Maleficent: Mistress of Evil explores the complex relationship between the horned fairy and the soon-to-be Queen as they form new alliances and face new adversaries… all in their struggle to protect the moors and the magical creatures that reside within. Directed by Joachim Rønning, from a story by Linda Woolverton and a screenplay by Linda Woolverton and Micah Fitzerman-Blue & Noah Harpster, the film opens October 18.
Save the Date!
Be sure to mark these upcoming Disney events on your calendar:
D23 and Walt Disney Archives


August 23-25, 2019


D23 Expo 2019


September 9, 2019


The Official Walt Disney Studios Tour—Presented by D23


September 21, 2019


D23's Magical Screening Series: Indiana Jones and the Temple of Doom at Walt Disney World


September 28, 2019


D23's Magical Screening Series: Indiana Jones and the Temple of Doom on the Lot


January 17, 2020


Get VIP Tickets to Disney's Frozen The Hit Broadway Musical
Parks


August 16, 20, 23, 27, 30; September 2, 6, 8, 10, 13, 15, 17, 20, 22, 24, 27, 29; October 1, 3, 4, 6, 8, 10, 11, 14, 15, 17, 18, 20, 21, 24, 25, 27, 29, 31, 2019




Mickey's Not-So-Scary Halloween Party at Magic Kingdom park




August 29, 2019


Star Wars: Galaxy's Edge Opening at and Walt Disney World Resort


August 29—November 23, 2019, 2019




2019 Epcot International Food & Wine Festival




September 17, 19, 22, 24, 26, 29, 2019; October 1, 3, 6, 8, 10, 13, 15, 17, 20, 22, 24, 27, 29, 31, 2019




Oogie Boogie Bash – A Disney Halloween Party at Disney California Adventure park




November 8, 11, 12, 14, 15, 17, 19, 21, 22, 24; December 1, 3, 5, 6, 8, 10, 12, 13, 15, 17, 19, 20, 22, 2019




Mickey's Very Merry Christmas Party at Magic Kingdom park




2019 Epcot International Festival of the Holidays




Studios




October 18, 2019


Maleficent: Mistress of Evil opens in U.S. theaters


November 22, 2019


Frozen 2 opens in U.S. theaters


December 20, 2019


Star Wars: The Rise of Skywalker opens in U.S. theaters


March 6, 2020


Onward opens in U.S. theaters.


March 27, 2020


Mulan opens in U.S. theaters.


May 29, 2020


Artemis Fowl opens in U.S. theaters.


Television




August 9, 2019


Muppet Babies kicks off season two on Disney Channel (8:30 a.m. EDT/PDT)


September 1-30, 2019




"30 Days of Disney" on Freeform




September 29, 2019


Star Wars: Galaxy's Edge—Adventure Awaits premieres on Freeform (8 p.m. EDT)

September Brings a Massive Month of Disney Magic to Freeform
Our friends at Freeform have a new programming event just over the horizon, and it means a September replete with more Disney magic than you can shake a pair of mouse ears at! "30 Days of Disney" will feature fan-favorite movies from Disney, Marvel, and Pixar all month long… plus, they've got a brand-new, two-hour special all about Star Wars: Galaxy's Edge premiering on September 29. Read all about it by clicking here.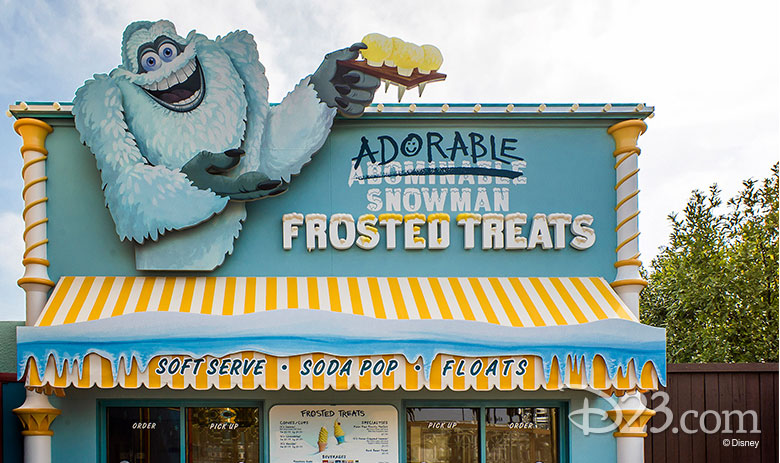 Foodie Fun: Mobile Ordering Expands at Disneyland Resort
If you've been to the Disneyland Resort in the last year, you may have noticed—nay, even partaken of—the ability to mobile order delicious eats and treats, from more than 30 different locations around the resort, for a pick-up time that suits your schedule. It's an extremely nifty component of the Disneyland app, if you ask us… and we're happy to announce it's gotten even niftier, just this week! Yes, our pals at the Disney Parks Blog recently revealed that six new fast casual and quick-service restaurant locations have been added to the mobile order lineup. At Disney California Adventure park, you can now mobile order your favorite treats from Schmoozies!, Rita's Baja Blenders, Pacific Wharf Distribution Co., and Adorable Snowman Frosted Treats. And over at Disneyland park, the Mint Julep Bar (with some of the best beignets this side of New Orleans!) and Troubadour Tavern now offer mobile ordering at the super-convenient touch of a button.
More restaurant locations are expected to join the lineup in the near future… learn all about what makes mobile ordering so handy by clicking here, and stay tuned for more delectable info as it becomes available!
There's a Hot Crustacean Band Coming to ABC This Fall…
Have you heard? Some whozits and whatsits are on their way to a television (or mobile device, should you be a stream-oriented watcher) near you this fall. In celebration of the iconic animated film's 30th anniversary, ABC will pay tribute to Disney's The Little Mermaid with The Wonderful World of Disney presents The Little Mermaid Live!, airing Tuesday, November 5. Get more info right here at D23.com.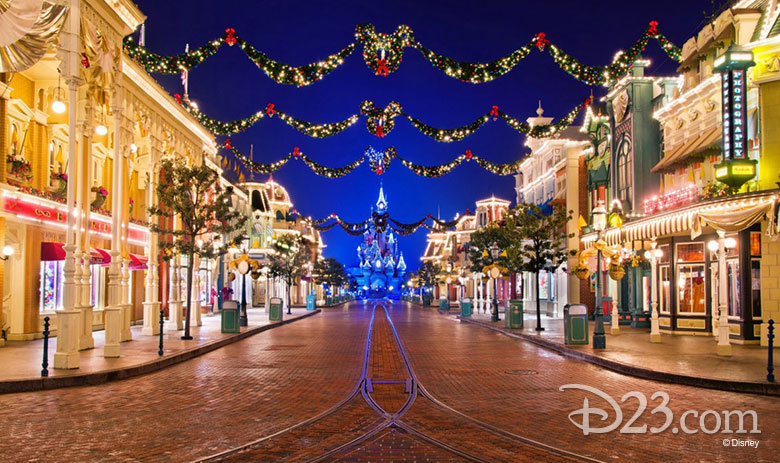 Disneyland Paris is Making Spirits Bright Beginning November 9
The temps (at least here in SoCal) may still be hot, and there are a few Labor Day-adjacent vacations yet to take… but as we always say here at News Briefs, it's never too early to start planning some holiday shenanigans. And if you happen to be traveling "across the pond" this winter, Disneyland Paris is ready to make all your spirits bright beginning November 9.
Resort guests are invited to experience this year's Magical Christmas Extravaganza, through January 6, 2020—where they'll discover glittering décor; meet all their favorite Disney characters; and so much more. At Disneyland park, all manner of holiday decorations will dazzle guests (don't miss the gigantic tree on Main Street, U.S.A.), and Santa Claus himself will welcome guests at "Meet Mickey Mouse," in a specially dedicated lodge until December 25. Plus, the traditional Disney's Christmas Parade will dazzle and delight twice daily. And Sleeping Beauty Castle will welcome back the Enchanted Advent calendar; between December 1 and December 24, Mickey Mouse, Minnie Mouse, and Goofy will discover a new surprise every day!
Over at Walt Disney Studios Park, Animagique Theater will be jumpin' and jivin' once again during the Mickey's Christmas Big Band show. From November 15 until January 5, this tuneful live production will feature favorite holiday melodies along with appearances by Disney characters. Additionally, the #SURPRISEMICKEY show returns to the Production Courtyard stage at the foot of The Hollywood Tour Hotel—where Minnie Mouse and friends will have some holiday surprises up their sleeves beginning November 15.
So if you're jingling all the way over to Europe this holiday season, don't miss the fun! Visit DisneylandParis.com to get the sparkling scoop.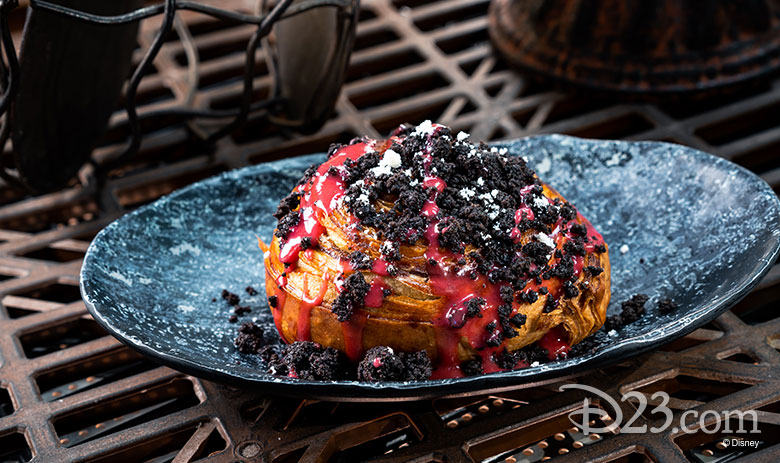 Bring the Flavors of Batuu Home with New Star Wars: Galaxy's Edge Cookbook
If you've been lucky enough to take a stroll through the incredible sights, sounds, and smells of Batuu at Star Wars: Galaxy's Edge at Disneyland park (and to our East Coast friends—fret not, for all those sights, sounds, and smells are coming very soon to Disney's Hollywood Studios park), then you know that one of the most intriguing aspects of the land is the food. Black Spire Outpost is a crossroads for all manner of smugglers, traders, and adventurers—and as such, it offers up eats based on truly unique traditions passed down through generations.
You'll soon be able to bring the taste of Batuu home, when Star Wars: Galaxy's Edge – The Official Black Spire Outpost Cookbook hits shelves just in time for the holiday season. Published by Insight Editions and co-authored by Chelsea Monroe-Cassel and Marc Sumerak, the book is the ultimate source for creating out-of-this-world meals and treats from Black Spire Outpost and beyond. Inspired by the stories and cuisine found throughout Disney's biggest single-themed land, it's written from the perspective of Strono "Cookie" Tuggs—former head chef at Maz Kanata's castle on Takodana, who now keeps hungry travelers fed at the Outpost's Docking Bay 7 Food and Cargo. And the best part? All these interesting, interstellar recipes are designed for home cooks of all skill levels.
For more information, or to pre-purchase (it'll make a great holiday gift for the Star Wars foodie fan in your life!), head over to the Insight Editions website.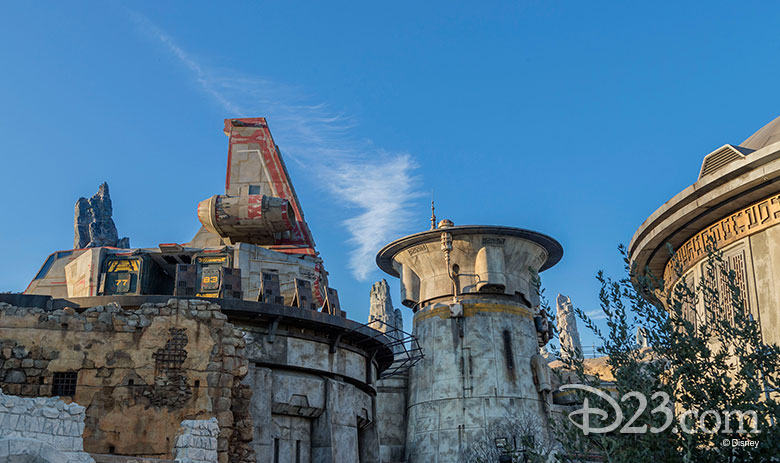 Reserve Galactic Disney's Hollywood Studios Experiences Beginning Now
And speaking of experiencing Batuu at Disney's Hollywood Studios… we've got some great news out of Walt Disney World Resort: Reservations for three of Black Spire Outpost's most memorable experiences—the Droid Depot, Savi's Workshop, and Oga's Cantina—are now being accepted!
Guests seeking to look into the availability of these experiences on their upcoming trip to Batuu should lightspeed directly to Disneyworld.com/SavisWorkshop, Disneyworld.com/DroidDepot, or Disneyworld.com/Cantina to see what their options are. And app-minded humans can also make reservations through the My Disney Experience app.
While reservations for these experiences are highly recommended, there will be limited walk-up availability. Either way, you're sure to have a galactically great time. 'Til the spire!