By Tim Lammers
Move over, Regina Mills: The Evil Queen has separated from her Storybrooke, Maine, alter-ego and is returning with a vengeance in the sixth season of ABC's hit series Once Upon a Time. Needless to say, series star Lana Parrilla, who, with delectable deviousness, has brought her evil highness to life since the fantasy romance drama kicked off in 2011, couldn't be more delighted.
Energized by her foreboding proclamation, the Dragon's heart in hand, during the thrilling conclusion of Season 5 ("This is a war, and it's just begun. The Queen … is back"), Parrilla is currently in production on the series in Vancouver, Canada. She recently took time out of her busy schedule to talk with D23 and give the legions of Once Upon a Time fans an idea of what to expect when Season 6 premieres on September 25.
D23: Congratulations on Season 6. When you first started, was it the goal of the cast and crew to mainly concentrate on the work of the first season in hopes that the show would find an audience, or did you have your sights set on Season 2, 3 and so on?
Lana Parrilla (LP): I have to say, I had a really good feeling at the start that we were going to go six seasons. I don't know how far we're going to go beyond this, but I had a good feeling early on about six. I think it was when I was saying goodbyes to family and friends in L.A. (getting ready to return for Season 2). Ginny Goodwin and I had a going-away party before we left to go to the set in Vancouver, and I just remember my goodbyes being longer and more emotional than other goodbyes. I looked at Ginny and said, "I think we're going to be up here in Vancouver for awhile," and she said, "Let's hope so," because we loved the show and wanted it to be successful. I would say to [creators] Adam Horowitz and Eddie Kitsis all the time, "We're going to make it to six seasons," and they were like, "Come on, don't jinx it!" I said, "I'm not jinxing it. I'm just really confident!"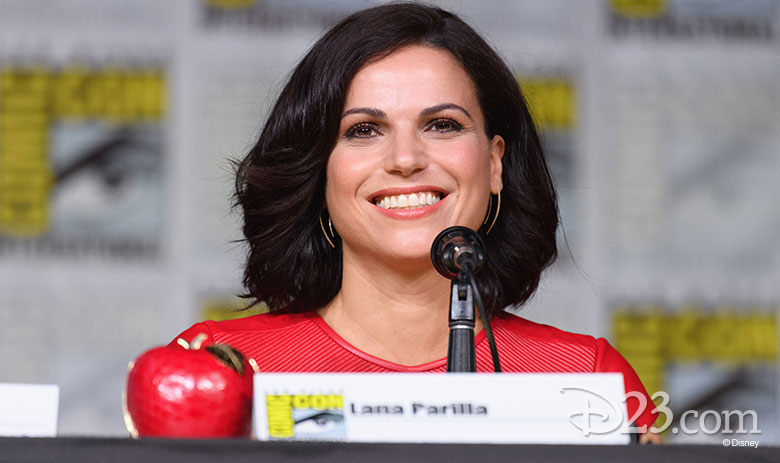 D23: Judging by the awesome trailer for Season 6 that debuted at San Diego Comic-Con in July, you can't help but come away with the feeling that this is going to be a big season for the Evil Queen.
LP: Yes it is. There's a lot happening with the Evil Queen and Regina—and their face-off—which is fun to do. I can say that the Evil Queen is the real opposition for the heroes this season, and she has her hands in everything right now. She's really creating turmoil in everyone's lives, which is fun for me to play.
D23: What details—spoiler-free, of course—can you reveal at this point?
LP: We have the Land of Untold Stories, so we have a lot of new inhabitants who are coming to Storybrooke. One of the stories is based on the characters from Aladdin, so we have Jafar, Aladdin, and Jasmine. The Dr. Jekyll and Mr. Hyde story continues in the first half of the season, and we'll have Captain Nemo since we'll start telling the 20,000 Leagues Under the Sea story, which is really cool. Also, Archie Hopper has a nice arc this season, so Raphael Sbarge is coming back and there's something really fun with him and the Evil Queen. Emma Swan is going through some changes as well. The creators like to say she's having some PTSD symptoms.
D23: Robin Hood's death was such a big loss for Regina—and ultimately, fans—last season. Will there be some repercussions stemming from his death that ripple over into Season 6?
LP: I think we're going to see Regina dealing with that very quietly and privately. She's not one to share her vulnerabilities so openly. She did with Emma in last season's finale, but you don't really see her opening up to everyone about that. Her private moments happen behind closed doors. We just filmed a scene not long ago with Regina dealing with the loss of Robin and Hades. The sisters—Regina and Zelena—are in an interesting place, which makes me sad, because there are a lot of similarities between the two. Still, Regina's no longer the villain and now the hero, and Zelena is entertaining the hero side, but she's still very much a villain. You'll get to see how the sisters deal with their differences, and also with the loss of their loved ones.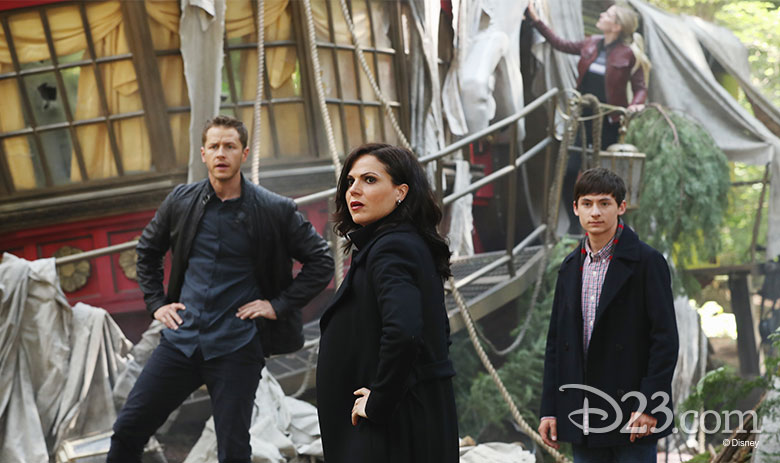 D23: Even though she's, well, evil, the Evil Queen is so beloved by fans. What do you think attributes to the character's popularity?
LP: I think it's her complexities. She's multi-dimensional, very complex, and an extremely layered character, and we've had the opportunity to tell the story over the course of, including this season, six years. I always think of the Evil Queen in other films, especially Snow White and the Seven Dwarfs, and we know the story so well, but her lineage only goes so far. We only see so much, but in Once Upon a Time, we're able to tell so much back-story about the character and we're able to humanize her in a way we haven't seen before. She's not just a villain, she's a woman who was in love. She's the daughter of the miller's daughter. There are so many layers to this character and I think that's what people really love about her. She's so complex, but also a lot of fun. She's deliciously evil. She has these incredible costumes. She's theatrical at times and likes to put on a show. She's coy and playful and temperamental, and she's sassy. There are so many adjectives to describe her.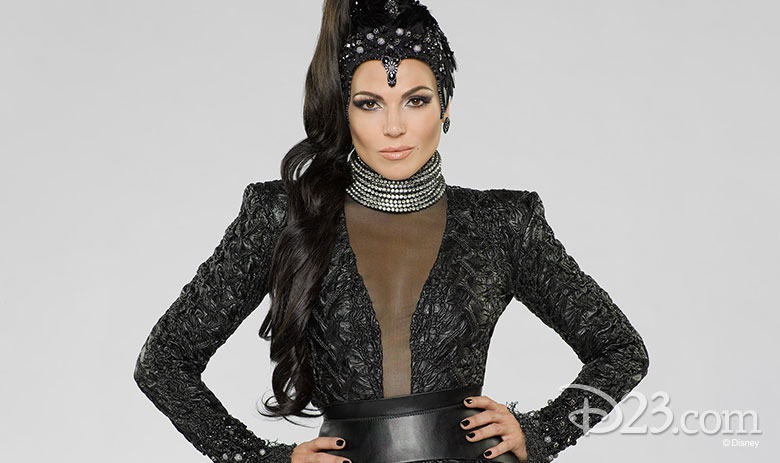 D23: The character arc you've been given throughout the series is so rare. Not every actor gets an opportunity explore a character so deeply.
LP: It depends on what's written, and I think the creators have done a really wonderful job with the Evil Queen's arc. Her arc is an inspiring arc, especially for youth. The message I like to lead with is, "Good can come from broken." I love how this broken character—who had her heart broken by her mother, made terrible decisions and became the Evil Queen—still found a way, and I think it's because of her relationship with Henry, to make better choices in her life and take a look at herself. There's a lot of self-reflection in this character that started happening in the second and third season that I find very inspiring. I know from meeting thousands of our fans that that is something that really resonates with them. It's a very positive message that we're able to put out in the world, especially in such difficult times. The overall theme of our show is hope, and that's exactly what we need in the world today. Even though Emma Swan's character represents hope, I still believe that Regina Mills/The Evil Queen represents hope because she was so broken, yet look how far she's come.
D23: It's so easy to see through your in-person encounters and social media interaction that the fans of Once Upon a Time mean the world to you. They really love you, Lana!
LP: And I love them. We wouldn't be here without their loyalty and passion. Honestly, it's what keeps us all going. I've never met such dedicated fans in my life. We have 200–300 fans that fly from all over the world to come and see us up in Steveston (British Columbia), which is our exterior for Storybrooke. They're there 14-and-a-half-hours with us, every day.  It's quite impressive.