By Zach Johnson
Ready for a magical and merry adventure?
Disney's Holiday Magic Quest returns tonight at 7 p.m. ET/PT on Disney Channel and hosted by Yvette Nicole Brown, the special finds ZOMBIES franchise stars Meg Donnelly, Milo Manheim, Kylee Russell and Trevor Tordjman competing in a high-stakes holiday adventure with epic challenges. The quest takes place during "The World's Most Magical Celebration" after dark, inside of Disney's Hollywood Studios at Walt Disney World Resort. For more on the special, enjoy our Q&A with director and executive producer Artur Spigel.
D23: The first Disney's Holiday Magic Quest special aired last year. What takeaways from that experience informed how you approached this year's special?
Artur Spigel (AS): The folks at Disney did really extensive research about what worked and what resonated with kids and families. They want more characters. They want a lot more heroes in the show—as well as villains. They want us to dig deeper into the IP, so they feel more immersed in the storylines. They want more attraction-based challenges.
D23: What's it like to film in a Disney theme park after dark?
AS: First and foremost, the guest experience is the No. 1 priority at Parks. So, we have to work within the parameters of the guest experience. We can have a crew of 100 people and be ready to go, but if there are guests still enjoying the park, even though it's after hours, we're waiting until they're ready to go. We are beholden to when the park is truly free and clear. Then, the maintenance of these attractions is super important. So, if an attraction's not ready for us, or if it needs additional maintenance, we have to wait until the time is right. And then when you talk about adding stunts or challenges onto these attractions, the amount of safety and testing and approval and work with Imagineering is really extensive and took months. Things that you would think are a no-brainer and easy to do need to be triple-checked, triple-harnessed, and triple reviewed. But it was well worth it, because it shows the park in a new light. We got to do things that no one's ever really gotten to do before. They were on board to stretch what's possible outside of a typical guest experience.
D23: Can you talk more about how you collaborated with Imagineering?
AS: Look, they're the protectors of this IP, and they're the protectors of the park. What they say goes, so we need to collaborate with them on multiple levels. First, there's the script portion. What are the characters going to say? Is this in the storyline of that land? Would the characters actually say that? Can they even exist in this world of a reality special in the park? You have to set those ground rules. Then, it's a matter of how we show the park and how we photograph it. The guest experience is very different when you're in The Twilight Zone Tower of Terror™, with the things you get to see. We have to find that balance. For example, we need to light it for television, but we don't want to disrupt what the environment looks like or the way a guest would typically see it. So, there's the storyline, there's the visual element, and then there's working with Imagineering to protect the attraction. You know, we were very fortunate that we were allowed to go in Tower of Terror; we got to go behind the ropes and in the lobby area, where they have the bellhop desk. Part of the beauty of that set is that there's cobwebs, which were handwoven and a hand-placed so many years ago. So, it's about asking: Where can the camera go? Where can the talent go? How many people can be in this area and for what duration of time? Ultimately, we're trying to preserve these beautiful environments for all these attractions they created. It's a deeper, richer experience stepping into these challenges and games this time around.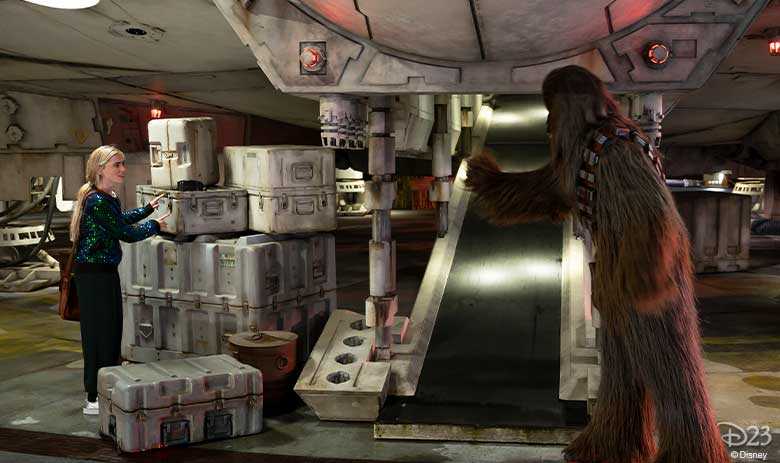 D23: What can you tease about some of the characters and lands we'll get to see?
AS: For me, it's really a dream come true to be able to do this show at all. And in this particular instance, with the show taking place in Hollywood Studios, we get to delve into Star Wars: Galaxy's Edge. We got to work really closely with Lucasfilm and Imagineering to weave our storyline—our quest—into the story of Galaxy's Edge, inclusive of being hunted by Kylo Ren and the First Order and working with Chewbacca to help solve the puzzles. That land on camera feels like you are truly in a Star Wars movie. Some of what we shot wound up becoming some of my favorite stuff in the special, just because it is so immersive.
D23: This year's quest begins with Maleficent stealing the holiday star from atop the Holiday Tree, then scattering its pieces throughout the park. After being divided into two teams, the four ZOMBIES stars must then find the pieces, reassemble the star, and place it back atop the tree in order to restore the park's magic. What inspired this adventure?
AS: We wanted to take the format to the next level. Last year, it was like, 'We have to find the holiday magic that was locked away.' And in this instance, we really wanted to motivate our teams to scatter throughout the lands and go to a lot of different attractions. In the spirit of Disney, we love this idea of goodhearted competition, where people are trying their hardest. But at the end, they all come together to make the world an awesome place.
D23: Both Milo and Kylee competed in Disney's Holiday Magic Quest last year. Did that give them an edge over Meg and Trevor, who were competing for the first time?
AS: They knew what they were dealing with when it comes to how the show was going to go, but they really don't know anything. They've not seen any of the material. They don't know any of the challenges. They knew there was a mix of hybrid storytelling, where they get to interact with characters. But then all of a sudden, they're thrown into real games with real outcomes, and they really have to win or lose. It's all very spontaneous and real. They have no script points. What they are experiencing is what's really happening to them. Some characters, like Maleficent, have their beats. But otherwise, they're all saying what they really feel. Everything is candid. There was a little bit more of a rivalry than we expected; they really got very competitive. Even though it was a fun, dream-filled night, they—especially Milo and Meg—really wanted to beat each other. So, that part was fun.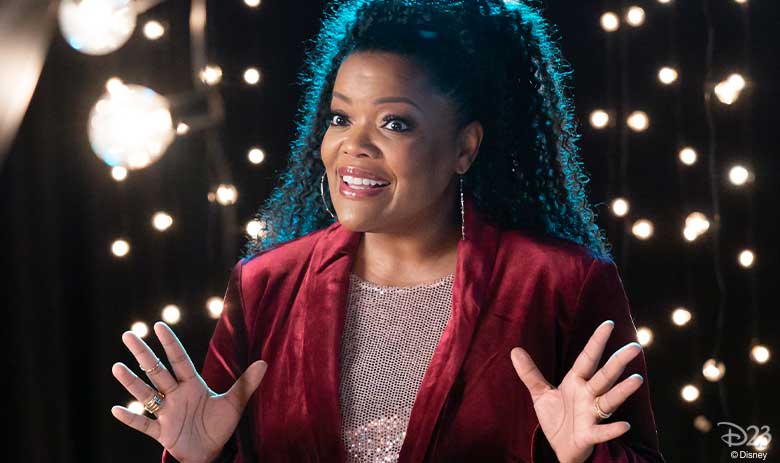 D23: Tells us about bringing Yvette on as host.
AS: She has such an amazing energy. She brings a serious intensity to the gameplay, but in a very warm, comedic way. She's a great addition; it was super fun to work with her on this.
D23: What can you say about the charitable component to the special?
AS: Ultimately, Disney is making a donation to Toys for Tots in the name of the winning team. So, a large amount of actual, physical toys are going to be delivered to Toys for Tots.
D23: Will there be any fun cameos?
AS: There are some family members, and there is definitely a ZOMBIES cameo…
Disney's Holiday Magic Quest is also streaming Friday on Disney+.