Jon Hamm steps out from behind his swanky Mad Men desk and steps up to the plate in his new Disney film, Million Dollar Arm. In this inspiring film that's based on a true story, Hamm takes on the role of sports agent JB Bernstein.
Walt at the Bat: Watch This Video About Disney's Baseball Legacy ►
In a last-ditch effort to save his career, JB stakes everything on a reality show in India designed to find the next great baseball star. He finds two hopefuls and as the boys learn the finer points of baseball, JB learns about teamwork, commitment, and what it means to be a family.
D23 grabbed a few moments to chat with the dashing actor to chat about the film—and a few of his favorite Disney moments.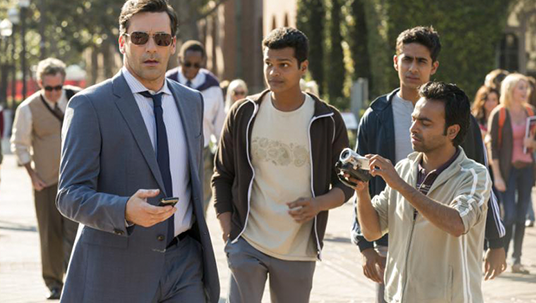 D23: Why do you feel fans of Disney will enjoy Million Dollar Arm?
"The 'Disney' aspect of the movie is that it's a story the entire family can enjoy. That is part of what attracted me to the project."
Now that you're starring in a Disney film, what's your favorite Disney movie?
"I'm a big fan of all of the Disney animated films—going back to the early 'Golden Age' animation. My favorite is, oddly, Fantasia. Such an outlier of a film, yet tremendously creative."
Do you remember your first Disney memory?
"I don't specifically, but I also don't remember a time in my life when I wasn't aware of Disney."
Who's your favorite Disney character and why?
"Impossible to say—[there are] just too many fantastic, fascinating characters."
Do you have favorite Disney theme park attractions?
"I came to Disneyland for the first time at the age of 9. I rode every ride in the park. Space Mountain was by far my favorite."
Lots of famous faces go behind the mic to voice Disney characters. Is there a character —or a type of character—you'd like to voice for a Disney movie?
"If I could sing better I'd love to do an animated Disney movie. I think I'll have to settle for being in a Pixar movie of some sort. I don't think anyone wants to hear me sing for any extended period of time. There are people who do that kind of thing way better than I."
Million Dollar Arm opens nationwide May 16, 2014. Check out the trailer below!