By Courtney Potter
Jimmy Kimmel to Host the 2017 Oscars® on ABC
He's had a great 2016, and now it's looking like Jimmy Kimmel is off to an amazing start for the new year! After successfully hosting this year's Emmy® Awards, Jimmy has been tapped to host the 2017 Academy Awards®—set to air this February, exclusively on ABC.
Jimmy announced his new gig via Twitter, saying, "Yes, I am hosting the Oscars. This is not a prank. And if it is, my revenge on @TheAcademy will be terrible & sweet."
So mark those calendars! The Oscars will bring all the glitz and glamour Hollywood has to offer to ABC on February 26. Expect a few of Jimmy's now-patented Matt Damon jokes, too…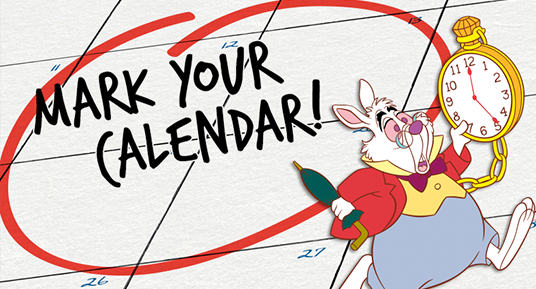 Save the Date!
Be sure to mark these upcoming Disney events on your calendar:
D23 and Walt Disney Archives


December 11, 2016


Holiday Gingerbread House Workshop at Downtown Disney


December 13, 2016


D23's Disney Springs Holiday Celebration


December 13, 2016


D23's Moonlight and Mistletoe Dinner


July 14-16, 2017


D23 Expo 2017


Studios




December 16, 2016


Rogue One: A Star Wars Story opens in theaters


February 16, 18 and 22, 2017


Newsies in select movie theaters


March 17, 2017


Beauty and the Beast opens in theaters


May 26, 2017


Pirates of the Caribbean: Dead Men Tell No Tales
opens in theaters
Parks


November 7, 8, 10, 11, 13, 15, 18, 27, 29; December 1, 2, 4, 6, 8, 9, 11, 13, 15, 16, 18, 22




Mickey's Very Merry Christmas Party at Walt Disney World Resort




November 10–January 8, 2017




Holidays at the Disneyland Resort




November 11–January 8, 2017




Holidays at Disney Springs




January 20, 2017


Main Street Electrical Parade returns to Disneyland park


August 31-November 13, 2017




Epcot Food & Wine Festival




Television




December 1-25, 2016


Freeform's 25 Days of Christmas


December 25, 2016


The Disney Parks' Magical Christmas Celebration, 9–11 a.m. on ABC


January 15, 2017


Mickey and the Roadster Racers Premieres at 9 and 9:25 a.m. ET on Disney Channel and Disney Junior


February 26, 2017




The Oscars® are broadcast on ABC
Disney's Newsies: The Broadway Musical—In Cinemas This February!
Ready to "Seize the Day" in a whole new way? Disney Theatrical Productions has partnered with Fathom Events (the leaders in entertainment events broadcast to the big screen) to bring their Tony Award®-winning smash hit musical Newsies to cinemas across the country. And they'll "open the gates" for a rare three-day event this February! Check out the brand-new official trailer for the exclusive experience, above.
Filmed live this past September at the Hollywood Pantages Theatre—with several members of the original Broadway cast, including Tony® nominee Jeremy Jordan (Jack Kelly), Kara Lindsay (Katherine Plummer), Ben Fankhauser (Davey), and Andrew Keenan-Bolger (Crutchie)—Disney's Newsies: The Broadway Musical will also include exclusive behind-the-scenes footage and interviews with the cast and creators.
Tickets for the three showings—on February 16, 18, and 22—and information about the select 700 movie theaters participating can be found at FathomEvents.com.
Brand-New Guardians of the Galaxy Vol. 2 Teaser Trailer
So we don't get to revisit with Star Lord, Gamora, Drax, Rocket, and Groot 'til next summer—but the good news is, we've just gotten our hands on a brand-new teaser trailer for Guardians of the Galaxy Vol. 2! Check out the clip—which premiered over the weekend at Comic Con Experience 2016 in Sao Paulo, Brazil—above.
We're not sure what we like most—watching our intrepid anti-heroes zooming around space once again, or how unbelievably adorable lil' baby Groot is. Those eyes! That voice! We can't take it!
Look for Marvel's Guardians of the Galaxy Vol. 2 in a cinema near you on May 5!
Epcot's Spaceship Earth Transformed into Star Wars Death Star
Big Star Wars fun at Walt Disney Resort this week… To celebrate all the massively cool additions inspired by Rogue One: A Star Wars Story coming to Disney's Hollywood Studios, our pals down at Epcot got into the Force-full spirit by transforming their giant Spaceship Earth into the Death Star! Some lucky Star Wars fans and Disney Parks Blog readers got to experience this totally unique event up close and personal. But if you couldn't make it yourself, never fear! We've got some video of the amazing transformation, above.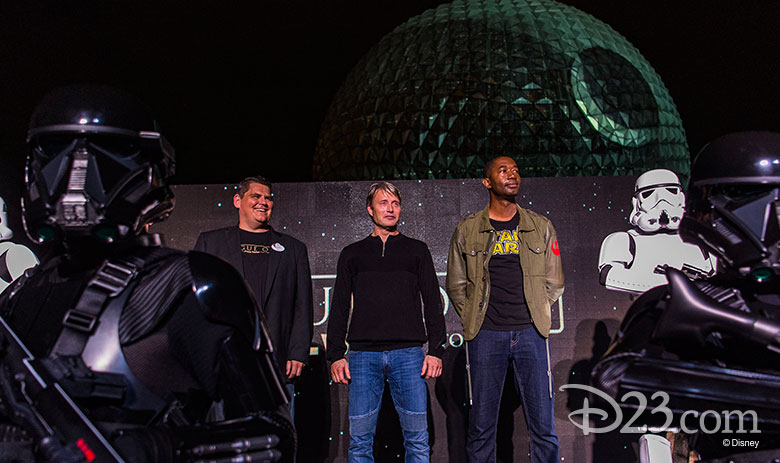 Additionally, during the meet-up, actor Mads Mikkelsen—who plays Galen Erso in Rogue One—made a surprise appearance and took part in a quick (but fun!) Q&A session with the audience. Among the night's other big announcements was the news that the film's Advanced Weapons Research (AWR) Troopers are coming soon to Disney's Hollywood Studios, along with new Rogue One props that will be joining the Star Wars Launch Bay, where making-of footage will be added to the Launch Bay Theater. (West Coasters, fret not—similar updates will be found at Disneyland's Star Wars Launch Bay.) But wait, there's more: Fan fave nighttime show Star Wars: A Galactic Spectacular will return to Disney's Hollywood Studios on December 16 and will join Jingle Bell, Jingle BAM! as a second nightly fireworks spectacular through December 31. And! A new Star Wars Guided Tour is also in the works for the ultimate Star Wars fan visiting the park. So many Star Wars goodies, so little time; stay tuned for more info on all of the above as it becomes available…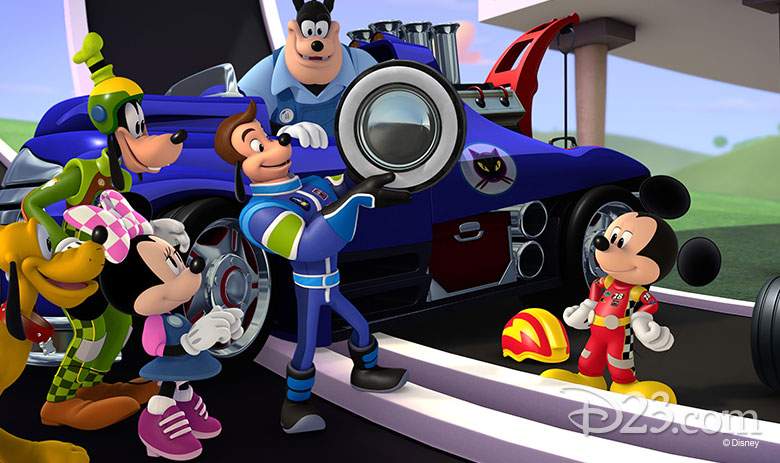 Disney Junior's Mickey and the Roadster Racers—Premiering on January 15
Oh boy! The latest madcap animated adventure for the preschool set from Disney Junior, Mickey and the Roadster Racers, will make its TV debut at 9 and 9:25 a.m. EST on Sunday, January 15—with a big simulcast on Disney Channel and Disney Junior. Two more episodes will premiere the next day, Monday, January 16 (at 9 and 9:25 a.m. EST), on Disney Channel.
The series—set to premiere internationally throughout 2017—takes our pal Mickey Mouse and the gang, along with their unique transforming vehicles, on hilarious, high-spirited races all over the world… as well as plenty of shenanigans in their hometown of Hot Dog Hills. Off the racetrack, Minnie and Daisy run their own successful business as Happy Helpers—solving problems for anyone in need of a helping hand. Meant for kids ages 2 through 7, the stories are designed to convey lessons about friendship, teamwork, optimism, and good sportsmanship.
NASCAR stars Jimmie Johnson, Danica Patrick, and Jeff Gordon will recur on the series as race car drivers Jiminy Johnson, Danni Sue, and Gordon Gear, respectively. Additional guest stars include TV personality Jay Leno as announcer Billy Beagle; Tim Gunn (Project Runway) as Robbie Roberts; Tony Shalhoub (Monk) as Luigi (yes, it might just be his character from Disney•Pixar's Cars!); and comedian/writer Patton Oswalt as Mr. McSnorter.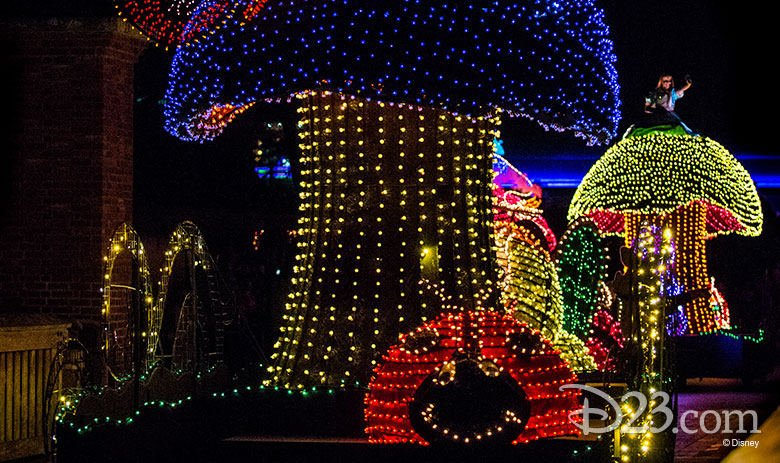 Main Street Electrical Parade Returns to Disneyland Resort January 20
Ladies and gentlemen, boys and girls! A few months ago, we clued you into some very exciting news: The legendary Main Street Electrical Parade would be returning to Disneyland Park for a limited time. And now, we can give you a specific date to circle on your calendar: January 20, 2016!
This "encore" performance will run nightly until June 18—which will mark a full 45 years since the parade first lit up Main Street, U.S.A., in 1972! During this limited-time celebration, guests will also enjoy special merchandise and food offerings inspired by the Main Street Electrical Parade; keep your eyes peeled here, and with our pals over at Disney Parks Blog, for more info.