By Jeffrey Epstein
What is… what happens when a treasure trove of Disney history meets one of the country's top game shows, Alex?
The answer was: Jeopardy visits the Walt Disney Archives.
For the episode of Jeopardy that aired April 20, the Walt Disney Archives provided "questions" for one of the categories, and D23 was on hand when the show's "Clue Crew"—Jimmy McGuire and Sarah Whitcomb Foss—visited to work their magic. Luckily both are big Disney fans, so it was a match made in game show heaven.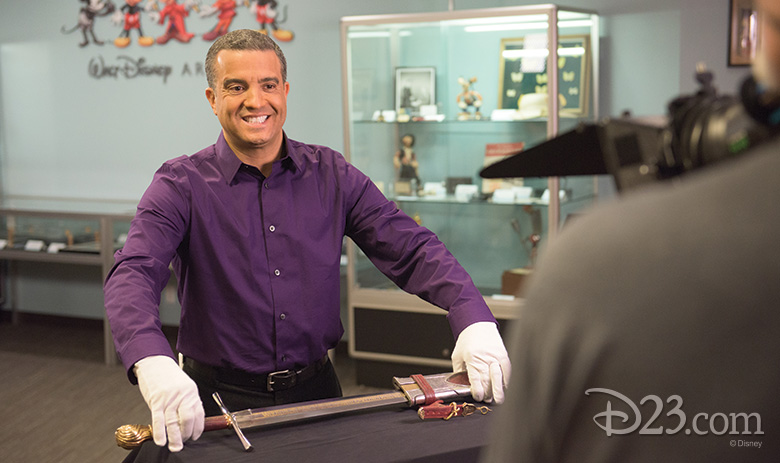 "I guess I was in probably fifth grade when we were brought into the auditorium and we watched 20,000 Leagues Under the Sea," recalls McGuire, of his first Disney experience. "Little did I know that the 11-foot miniature used in the film would be part of my life. So we've come full circle!"
Foss, an Arizona native, was first introduced to Disney through family trips to the Happiest Place on Earth. "My parents would actually surprise us," she remembers. "We would be with my cousins, and it would be one of those early-morning drives where we would be driving in the dark and we didn't really know where we were going until it got a little lighter, and they would surprise us and you're going to Disneyland!"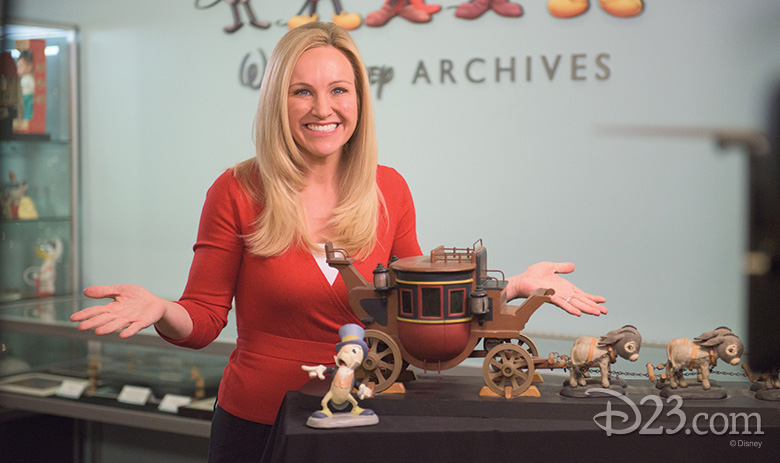 It's no surprise that years later Foss—and her family—are annual passholders to Disneyland. "Now that I have a daughter I think my favorite [attractions] have evolved," she says. "I can't ride the thrill rides with her quite yet. So seeing the wonder through her eyes on it's a small world has definitely become my number one. I just love not only the attraction but what it teaches my daughter about the world."
Preparing for the shoot brought back many more memories for McGuire. "One of my favorite moments as a child was when I saw a double feature that included The Love Bug," he says. "I just feel that same same excitement being here [in the Archives], and it really is cool that Walt Disney had such an incredible mind. Even though he may be here today, to be able to see all of the things that he was able to do… it's overwhelming."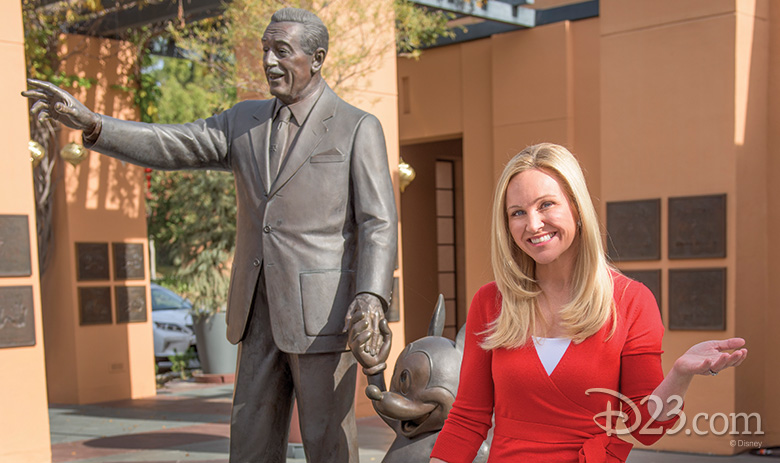 For Foss, getting to see the "Partners" statue of Walt Disney ad Mickey Mouse up close was a highlight. "I've seen it at the parks from a distance but you get the chance to stand right there next to Walt and Mickey and just be in the center of this historic studio, it's pretty awesome."
Something fans of the show may not know is just how long it takes to put together clues such as the ones highlighted in the Archives—in fact the show viewers saw was more than a year in the making! "There were scouting sessions to see what would be available for us to shoot, and then our producers have to weigh in on their thoughts," Foss notes. "And then our writers go to work and write the material. Our researchers research all of the clues and by the time we get here today and shoot so much work is already put into something that looks very simple for an eight-second clue. There's always a little Jeopardy magic. We know you have a lot of Disney magic, but we have a lot of Jeopardy magic as well and a lot goes into those little clues."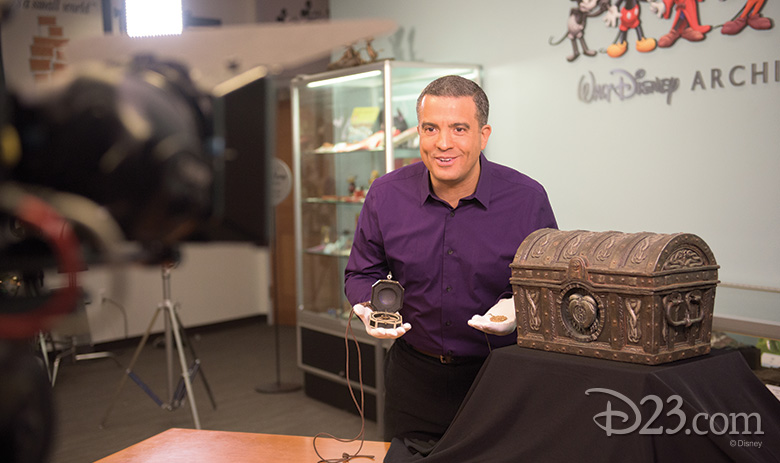 The pair, who have worked together for 15 years have traveled all over the world revealing fascinating facts for the hit show. But—of course—the Walt Disney Archives is already ranking up as one of their favorite destinations. "Today is certainly a thrill," noted McGuire while standing in the Archives. "Jeopardy is a staple in our culture in certain—as is Disney."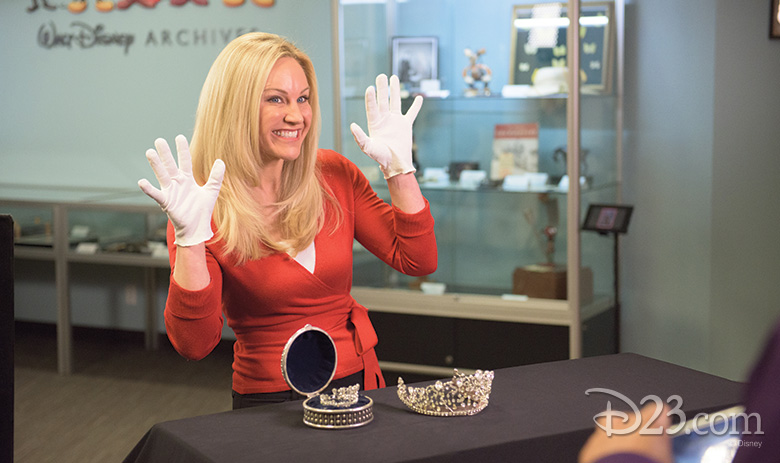 "We have had the opportunity to shoot at the Walt Disney Family Museum and now here the Walt Disney Archives," Foss adds. "I'm hoping this is only the beginning of a lot more shoots at Disney, because I am a huge fan and this is the ultimate shoot location for me!"