By Beth Deitchman
When executive producer Rob LaDuca and co-executive producer/supervising story editor Mark Seidenberg began to imagine Hot Dog Hills—the mini-metropolis that the characters of Mickey and the Roadster Racers call home—they wanted to fill it with colorful personalities from the world of racing, along with cars that would be as unique as their drivers. They've gotten invaluable assistance in both areas from one person: comedy legend Jay Leno. The noted car collector invited the creative team to his garage for research, and he had such a good time he's sticking around in Hot Dog Hills, lending his voice to the character of Billy Beagle, racetrack announcer and head of the Beagle Boys Camera Crew.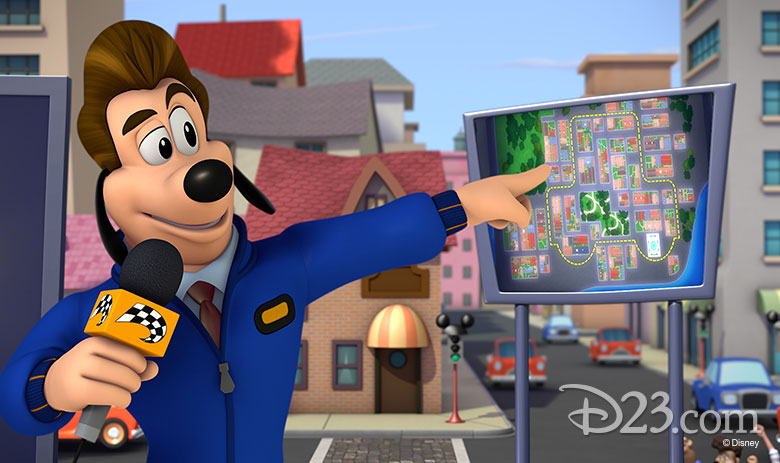 LaDuca, Seidenberg, and the team looked at a variety of extraordinary cars and car collections, including those of 1960s car designer Ed "Big Daddy" Roth and cars "kustomized" by George Barris—the man behind the original Batmobile and the Munster Koach, to name just two. But knowing that Jay Leno's famed garage is just a Sunday drive from the Mickey and the Roadster Racers production office, the creative team arranged to take a field trip to meet Leno and view his vast collection.
Leno details that he pointed out the difference between modern cars and those from a bygone era—which, he explains, were quirkier. "Cars have to look a certain way now," Leno tells D23, "but when you see cars of the '30s, '40s, and '50s with enormous headlights and big grilles in the front, they take on an anthropomorphic sort of tendency—they tend to look human. The grille looks like a smile or a frown. The headlights look like big eyes. Older cars look more friendly [than modern cars], like a big dog."
The creative team was steeped in car history during their visits, as Leno showed them vehicles that included early electric cars, cars that run on steam, and European sports cars, among others. "When you see cars from the turn of the century and from the early 1920s, roads were not paved, so the wheels were huge and the cars tended to sit higher up off the ground," Leno notes. "And because it's animated, you can have a car from 1920 competing with a modern super car from today and doing equally well in the race."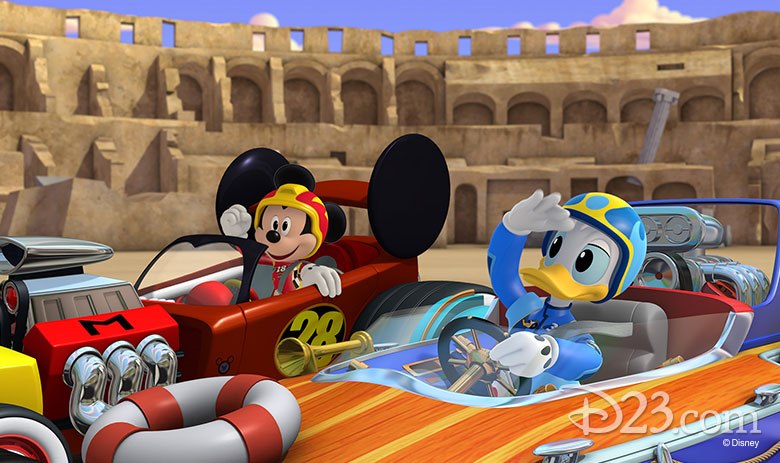 "The fun thing about having people who are not 'car people' [creating the show] is that car people tend to take things literally," Leno observes. "[They'd say] 'The car could never do that.' But you can do whatever you want, it's a cartoon—you can make it fly if you want! So they would come and see the different types of vehicles and utilize elements from one and put it on the other," he adds. Leno pointed out details and made suggestions and, he says, "That was the fun part—showing them steam engines that blow huge clouds of steam, which another character could use to block the guy behind him, things that like. You want to have a little basis in reality."
When it comes to voicing the very verbose and loquacious Billy Beagle, Leno enjoys being a little larger than life. "The character has a bit of an ego and he likes to make himself sound more important than he is," Leno explains. The team has taken full advantage of having, in Jay Leno, a voice actor with quick comedic wit and impressive automotive acumen. "Jay loves to ad lib and make jokes, so we record everything and then go back in and see how many ad libs we have time for within the animation," LaDuca says, adding, "A lot of his ad libs have to do with cars, so he brings a lot of knowledge to the recording session."
"It's fun to throw in kid jokes and things that will be silly and fun, and I enjoy pitching ideas," Leno tells D23, and he wants Billy Beagle to amuse all members of the family. "The trick is to try and find contemporary references that parents will think are funny and kids will think are silly—that's the tricky part, but that makes it fun to do," he says.
But the lifelong car enthusiast hopes that kids don't just find Mickey and the Roadster Racers funny, but that they take inspiration from it. "I hope it makes them curious about mechanical things. Video games and that kind of stuff are OK, but you're not learning how things go together or how things work," he states. "I like to see kids come away with a little something that makes them understand how things move and makes them curious about how a car would go down the road and what propels it."