By Zach Johnson
The Disney+ original movie Lady and the Tramp presented a unique opportunity for actress and recording artist Janelle Monáe: Not only would she get to voice Peg, the sassy and dynamic Lhasa Apso whom Lady befriends in the pound, but she would also get to perform an original song, "That's Enough," which is featured in the film's closing credits.
Monáe is part of a voice cast that includes Tessa Thompson (Lady), Justin Theroux (Tramp), Sam Elliott (Trusty), Ashley Jensen (Jock), and Benedict Wong (Bull). The live-action cast includes Thomas Mann (Jim Dear), Kiersey Clemons (Darling), Yvette Nicole Brown (Aunt Sarah), Adrian Martinez (Elliott), F. Murray Abraham (Tony), and Arturo Castro (Joe). Lady and Tramp are played by dogs Rose and Monte, respectively.
For the role of Peg, director Charlie Bean, producer Brigham Taylor, and casting director Richard Hicks were looking for someone established in the music industry who also had real acting chops—and Monáe, who starred in the Oscar®-nominated film Hidden Figures, was one of few people who fit the bill. After being cast, she asked Roman GianArthur and Nate "Rocket" Wonder to write and produce "That's Enough" for the movie. "When I listened to it, I was like, 'This is an instant classic!" Monáe says. "They are part of my Wondaland Collective, and we have all been writing music for a pretty long time, so it was fun to go in and do something for a film that we all three love."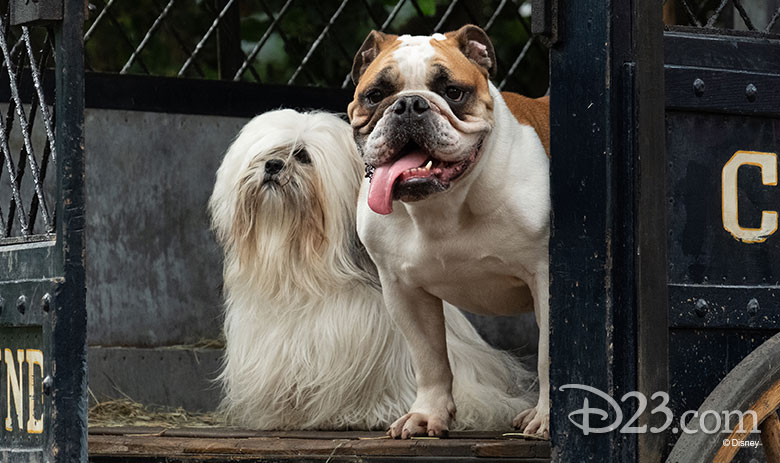 In addition to writing, producing, and performing a new song for cats Devon and Rex ("What a Shame)," GianArthur and Wonder also produced "He's a Tramp 2019," a vivacious version of the song from the 1955 classic. "It's an honor, obviously, to sing a song that Peggy Lee did—and she did it so well!" Monáe says. To do it justice, she studied her favorite jazz artists, including Nat King Cole, Sarah Vaughan, and Judy Garland. The difference, Monáe says, is that "Peg has attitude… and I have attitude!"
Lady and the Tramp is set sometime between 1910 and 1915, paying homage to the turn-of-the-century period of the animated film. Monáe, an eight-time Grammy® Award nominee, hopes fans enjoy the new music, including the beautiful score by Joseph Trapenese: "I hope people feel all the fun we had when we were making these songs."
Want more Disney+ news? Click here to stay up-to-date with what's streaming!