By Courtney Potter
Emily Blunt is Practically Perfect in First Image from Mary Poppins Returns
Feel that? Somethin' is brewin'… about to begin. Just a few days ago, Walt Disney Studios thrilled fans around the world with the first glimpse of Emily Blunt as Mary Poppins in Mary Poppins Returns, the all-new sequel to Disney's legendary 1964 film!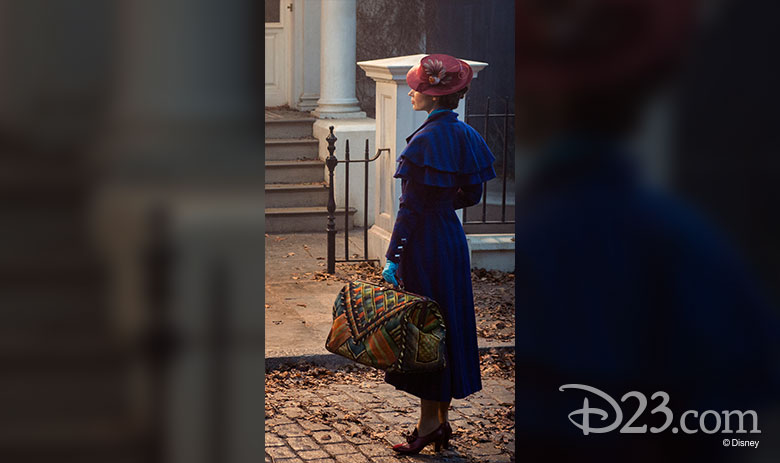 Directed and produced by Rob Marshall, Mary Poppins Returns also stars Lin-Manuel Miranda, Ben Whishaw, Emily Mortimer, and Julie Walters—with special appearances by Colin Firth, Meryl Streep, Dick Van Dyke, and Disney Legend Angela Lansbury. Set in 1930s depression-era London, the film reintroduces us to now-adult Michael (Whishaw) and Jane Banks (Mortimer)… After Michael suffers a personal loss, enigmatic nanny Mary Poppins (Blunt) re-enters the lives of the Banks family, and, along with the street lamplighter Jack (Miranda), uses her unique magical skills to help the family rediscover the joy and wonder missing in their lives. Mary Poppins Returns will feature all-new songs by Marc Shaiman and Scott Wittman (Broadway's Hairspray and Charlie and the Chocolate Factory) and a screenplay by David Magee, based on The Mary Poppins Stories by PL Travers.
Keep your eyes on the horizon… Mary and friends are scheduled to fly into theaters on December 25, 2018.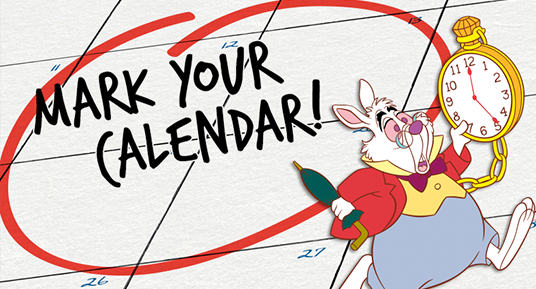 Save the Date!
Be sure to mark these upcoming Disney events on your calendar:
D23 and Walt Disney Archives


March 8, 2017


Exclusive D23 Beauty and the Beast Advanced Screening and Luncheon


April 7, 2017


Lunch with a Disney Legend: Burny Mattinson


April 10, 2017


D23 Members Invited to "Eat Like Walt" at the Disney California Adventure Food & Wine Festival


April 26, 2017


D23's Behind-the-Scenes Experience: Magic in Manhattan & More


July 14-16, 2017


D23 Expo 2017


Studios




March 17, 2017


Beauty and the Beast opens in theaters


April 21, 2017


Born in China opens in theaters


May 5, 2017


Guardians of the Galaxy Vol. 2 opens in theaters


May 26, 2017


Pirates of the Caribbean: Dead Men Tell No Tales
opens in theaters


June 16, 2017


Cars 3 opens in theaters


November 3, 2017


Thor: Ragnarok opens in theaters


November 22, 2017


Coco opens in theaters


December 15, 2017


Star Wars: The Last Jedi opens in theaters
Parks


March 1–May 29, 2017




Epcot International Flower & Garden Festival




March 10–April 16, 2017




Disney California Adventure Food & Wine Festival




May 27, 2017




Pandora—The World of Avatar opening at Disney's Animal Kingdom




May 27, 2017


Guardians of the Galaxy–Mission: BREAKOUT! opening at Disney California Adventure


August 31-November 13, 2017




Epcot Food & Wine Festival




2019




Star Wars-Themed Lands Opening at Disneyland and Walt Disney World




Television




March 10, 2017


Tangled Before Ever After premieres on Disney Channel at 8 p.m. ET


March 24, 2017


Tangled: The Series premieres on Disney Channel at 7:30 p.m. ET
John Legend and Ariana Grande's Dazzling Version of "Beauty and the Beast"
Another amazing version of an already-iconic song? Sign us up! In case you missed it, Freeform hosted the world premiere of the Ariana Grande and John Legend music video for "Beauty and the Beast," the theme song for Walt Disney Studios' upcoming live-action retelling, during a special Harry Potter-themed movie event over the weekend. Check out the beautiful clip, above.
Alan Menken, who won two Academy Awards® (Best Original Score and Best Song) for the 1991 animated film, wrote the score for the new film—which includes brand-new recordings of the original songs written by Menken and the late, great Howard Ashman, plus three new songs written by Menken and Sir Tim Rice.
The Beauty and the Beast original motion picture soundtrack will be released by Walt Disney Records on March 10, 2017—but you can pre-order now. That'll give you a full week to sing along with Belle, the Beast, Gaston, Mrs. Potts, and Lumiere before the film's big premiere on March 17!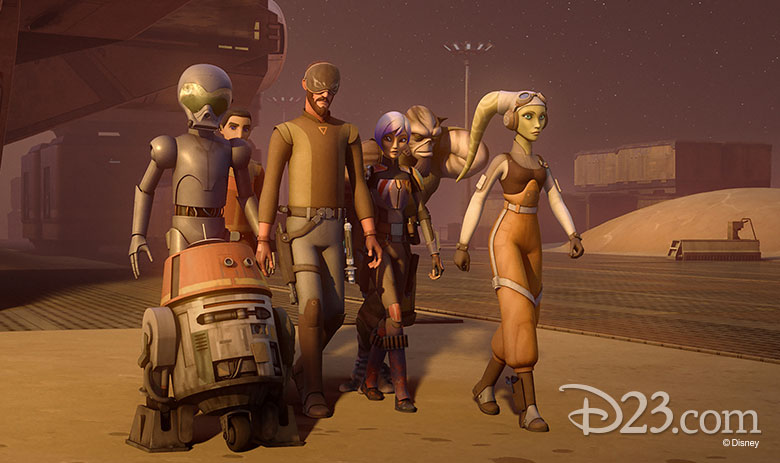 Star Wars Rebels Set to Return for Fourth Season on Disney XD
Good news, fellow rebels of the galaxy! Production is now underway on the fourth season of Disney XD's hit animated series Star Wars Rebels from Lucasfilm. The fourth season is scheduled to premiere later this year, continuing the awesome adventures of the Ghost crew!
Currently in its powerful third season, the series takes the Star Wars saga into cool, unexplored realms of the galaxy—and promises lots of new surprises and action-packed exploits. Plus, fans can look forward to more details and a big announcement about what the fourth season of Star Wars Rebels will include during Star Wars Celebration in Orlando next month! (Seriously, does this year's Celebration sound fantastic or what? We bet it'll be more fun than karaoke night at Mos Eisley Cantina!)
Amazing New Trailer for Pirates of the Caribbean: Dead Men Tell No Tales
Yo ho! This summer, a brand-new, ultra-exciting Pirates of the Caribbean adventure is heading for the high seas of your local Cineplex… and last week, we got a look at what's in store! Check out the new trailer for Pirate of the Caribbean: Dead Men Tell No Tales (first released via Ellen DeGeneres' Ellentube) above.
Johnny Depp—yes, Captain Jack himself—returns to the big screen as the iconic, swashbuckling anti-hero in this new, rip-roaring adventure that finds the down-on-his-luck Cap'n facing the terrifying Captain Salazar (Javier Bardem), who's escaped from the Devil's Triangle bent on killing every pirate at sea… especially Jack!
Look for Pirates of the Caribbean: Dead Men Tell No Tales in 3D, RealD 3D, and IMAX 3D on May 26.
Behind the Scenes at Disney's Animal Kingdom's Rivers of Light
Our pals over at the Disney Parks Blog debuted a very cool video this week—one that explains the truly amazing work that's gone into the new Rivers of Light show at Disney's Animal Kingdom.
Turns out, the spectacular show utilizes footage from several Disneynature films, including Monkey Kingdom, Bears, African Cats, and its latest, Born in China (coming to theaters this Earth Day). Not only did the footage help bring the show's animals to life, but it also afforded the chance for Disneynature producers to see the animals they'd spent years following in a cool, new way. Take a peek at the collaboration between the show's project team and Disneynature in the video above.
If you're heading to Walt Disney World Resort anytime soon, don't miss Rivers of Light—a unique fusion of storytelling with water, sound, and illumination—at Discovery Island inside Disney's Animal Kingdom… now playing on select evenings.
Disney XD's New DuckTales Already Renewed for a Second Season
The first season doesn't even start 'til this summer—but Disney XD is confident that their brand-new DuckTales series is so fantastic (and honestly, it is!), they've already renewed it for a second season. Based on the beloved Emmy® Award-winning series, the Disney Television Animation-produced show stars David Tennant (Doctor Who, Broadchurch) as Scrooge McDuck; Danny Pudi, Ben Schwartz, and Bobby Moynihan as the voices of Huey, Dewey and Louie, respectively; Kate Micucci as Webby Vanderquack; Beck Bennett as Launchpad McQuack; and Toks Olagundoye as Mrs. Beakley.
And there's more news where that quacked from: A "first look" at the series was just released (check it out, above)… we get a sneak peek at how Huey, Dewey, and Louie meet their gregarious uncle. Stay tuned for more info about DuckTales—including a premiere date—as it becomes available…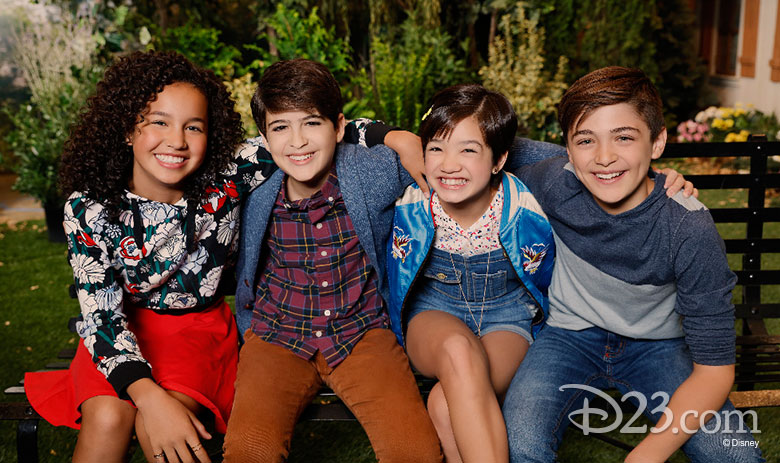 Disney Channel's Andi Mack to Premiere on the Disney Channel App This Friday
Can't wait for the all-new Disney Channel series Andi Mack—brought to you by the creative minds behind Lizzie McGuire—to premiere on the network next month? Well then, you're in luck… because the first episode will be available on demand this Friday, March 10, exclusively on the Disney Channel App, Video-on-Demand, Disney.com, the Disney Channel YouTube channel, iTunes, Amazon, and Google Play. Cool, right? Plus, access to the second episode will also be available on March 10 via Disney Channel VOD and to verified users of the Disney Channel App.
For the uninitiated, Andi Mack stars newcomer Peyton Elizabeth Lee as a girl whose life goes from routine to "roller coaster" virtually overnight. In the serialized story, Andi is contemplative and artistic and… well, totally sheltered by overprotective parents. But on the eve of her 13th birthday, Andi's free-spirited older sister Bex returns home with a revelation that changes everything—and sends Andi on an uncharted course of self-discovery. At least she's in good company; her best friends, Cyrus and Buffy, are also figuring out their places in the world. Along the way, Andi learns that sometimes the unexpected is what makes life great.
Look for the big broadcast premiere of Andi Mack on Friday, April 7, at 8:30 p.m. EDT on Disney Channel.