By Zach Johnson
Hulu is about to introduce audiences to Nine Perfect Strangers.
Based on The New York Times bestselling book by author Liane Moriarty, the streamer's eight-episode series debuts Wednesday, August 18. It's set at a boutique health and wellness resort that promises to heal and transform people's lives. Watching over the 10-day retreat is the resort's director, who's on a mission to reinvigorate their tired minds and bodies. Unfortunately, these nine "perfect" strangers have no idea what's about to hit them.
During the Television Critics Association's Summer Press Tour, stars Nicole Kidman, Melissa McCarthy, Bobby Cannavale, and Regina Hall joined David E. Kelley (executive producer and showrunner), Jonathan Levine (director and executive producer), Bruna Papandrea (executive producer), and Per Saari (executive producer) to discuss the "trippy" series. "When people say, 'Define what it is,' we still can't," said Kidman, who also serves as an executive producer. "I dare you to ask any of us what genre this is. We have no idea!"
What is clear, however, is that the limited series explores suffering: how it's avoided, how it's compounded and how it's overcome. "Doing the show, you think a lot about what you do to cover up your problems," said McCarthy, who also serves as an executive producer. "Masking things doesn't make them better—and at some point, you have to get them out."
The series was filmed in Byron Bay, Australia. "It was extraordinary to shoot there. The magical quality of the environment really helped us," said Kidman, who grew up hours away in Sydney. "It was one of those things where you walk in and you go, 'Is this real?'"
In addition to its dreamlike setting, Nine Perfect Strangers boasts an all-star cast that includes Michael Shannon, Luke Evans, Samara Weaving, Melvin Gregg, Asher Keddie, Grace Van Patten, Tiffany Boone, and Manny Jacinto. The project also marks McCarthy's fourth time starring opposite Cannavale—a welcome reunion for both of the actors. "Bobby is so funny, and he's such an amazing actor. He's so present, and you never quite know which way he's going to go with it," McCarthy said. "It's great when you have that kind of comfort level with somebody. You're not afraid to be embarrassed or to feel dumb."
Said Cannavale, "I feel the same way. It's really serendipitous."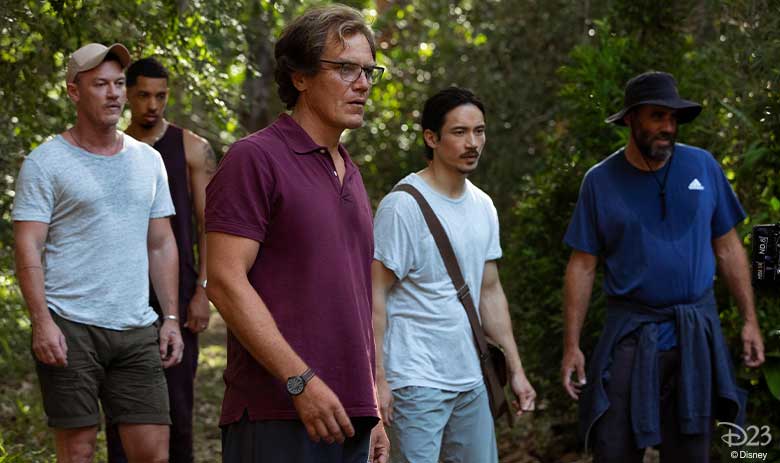 "We usually get through a couple of takes pretty easily, and then we have fun and do a couple of takes just for ourselves," Cannavale continued. "Most of the time, it feels effortless. I think that's a testament to the kind of preparation Melissa does, and to her work ethic and to the depth of her well. So, it's a thrill to work with somebody like that."
Kidman, meanwhile, adopted a method approach to her performance and stayed in character on set. "The first time I met everyone, except for Tiffany and Manny, I walked in as [my character] Masha—and I never related to anybody in any other way. I only related to them as Masha and I stayed in the character," she recalled. "The first thing we shot was the scene where I come in the room and say, 'I am Masha. Welcome to Tranquillum.' And then I was able to stay in that place. I wanted a very calm, healing energy to emanate all of the time. I remember going over to people and sort of putting my hand on their heart and holding their hand. They'd talk to me and use my name, Nicole, and I'd completely ignore it; I'd only respond to 'Masha.'" Admittedly, it was a "weird place to exist," but it was "the only way" in which the Academy Award® and Emmy® winner "could do the performance."
New episodes of Nine Perfect Strangers stream every Wednesday, only on Hulu. Hear more from Nine Perfect Strangers star Luke Evans on our latest episode of the D23 Inside Disney podcast.