By Beth Deitchman
They made it through Hollywood Week and they blew us away with their show-stopping numbers at Aulani, A Disney Resort & Spa, but this week, the American Idol Top 20 delivered captivating performances from a venue they never would have imagined at the beginning of the competition: home. For these 20 young singers, their American Idol journey continued Sunday night—even though, like the rest of America right now, they are staying safe at home. But thanks to an incredibly talented and dedicated team behind the scenes, the Idol hopefuls were able to do what they do best: create memorable musical moments that lifted the spirits of viewers everywhere—not to mention a trio of judges—as part of American Idol's first-ever remote show.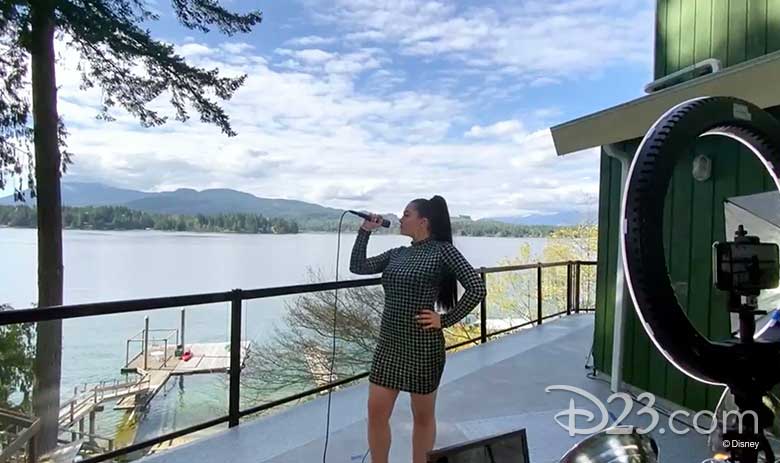 With contestants performing in locales that ranged from Lakeland, Florida, to Port Alberni, British Columbia—with a host of cities in between—the production team made sure that all were on a level playing field by safely delivering the same technology to all 20 singers and teaching them how to set up and use the lighting, audio, and camera equipment ahead of the show. Lauren Spencer-Smith, who performed the Jessie J song "Momma Knows Best" from a beautiful lakeside setting at her family home in Canada, emphasizes that the production team held their hands through the process, virtually. "It wasn't like 'We just sent you a bunch of equipment. Here you go—set it up,'" she explains. "It was like, 'We sent you a bunch of equipment. We're going to get in a meeting and we're all going to do this together. You all can help each other.'"
The contestants enlisted their families as at-home tech crew and also assisted each other via FaceTime. As they became comfortable with the technology, they became more energized by the concept of performing from home and making the remote show something for the TV history books. At that point, Spencer-Smith says, "We kind of looked at it differently and thought, we're going to get through this and we're going to make this the most memorable show they've ever had."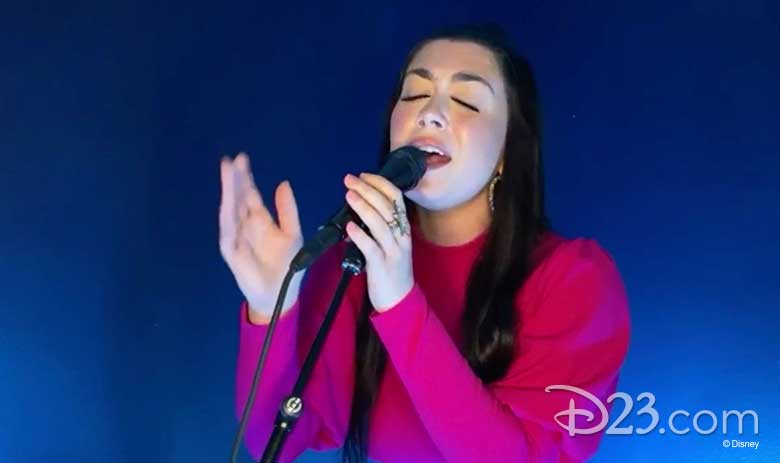 The Idol hopefuls also realized that performing remotely affords them a chance to stretch beyond their vocal cords. "I understood that this is an opportunity for me to really embrace my own creativity and think of things that I wanted to show the world with my video that represented me," Louisiana native Faith Becnel, who sang the Bishop Briggs song "River," explains.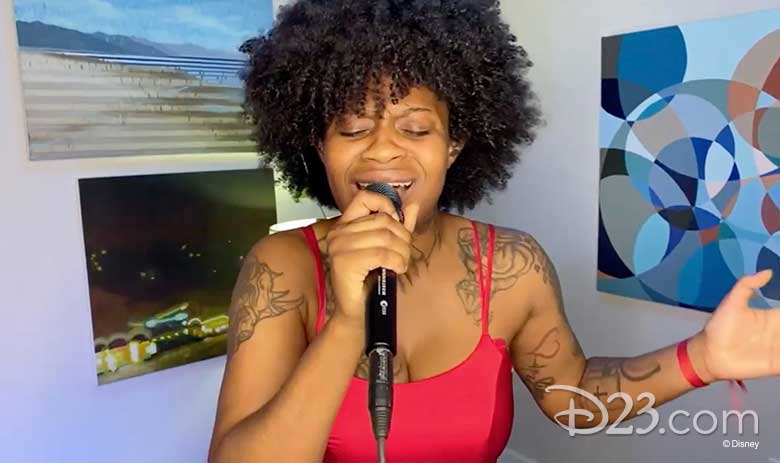 Even as the contestants were getting up to speed from a technical standpoint, music director Kris Pooley and the American Idol band and vocal coaches were in regular contact with them to nail down their arrangements and rehearse the songs they'd be singing. "Just Sam," who sang Fantasia's anthem "I Believe," credits the music team for making the transition from an expansive stage at Aulani to their living rooms as seamless as it could be under the circumstances. "We were still able to have rehearsals with Kris Pooley and the band. We were still able to have the same support that we had in Hawaii," she notes.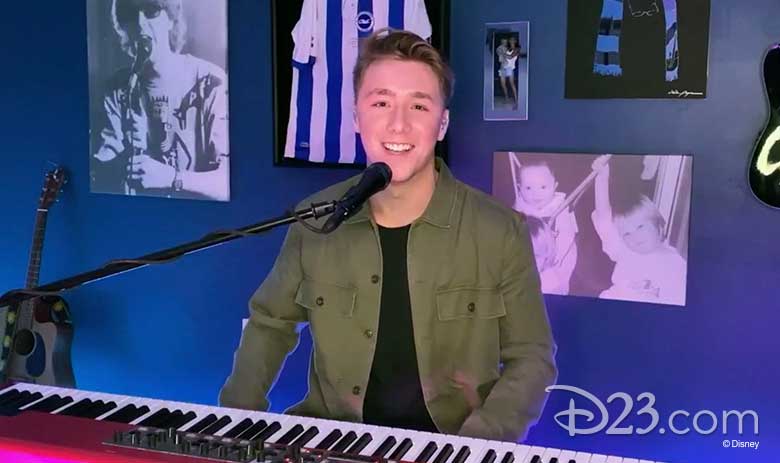 British-born Louis Knight, who now calls Narberth, Pennsylvania home—and who performed "If the World Was Ending" by JP Saxe and Julia Michaels—details how the back-and-forth the singers enjoy with Pooley and the band has had to change since they left the studio. "If we were together it would be very easy to just kind of go on the fly and say, 'OK, let's bring this up, let's take this down a bit. Let's change the guitar melody here.' It was definitely very different, kind of doing that all online," he says of the first remote show, but adds, "They couldn't have done a better job. Hands down, it's just incredible what they were able to do and I'm just grateful to be working with them."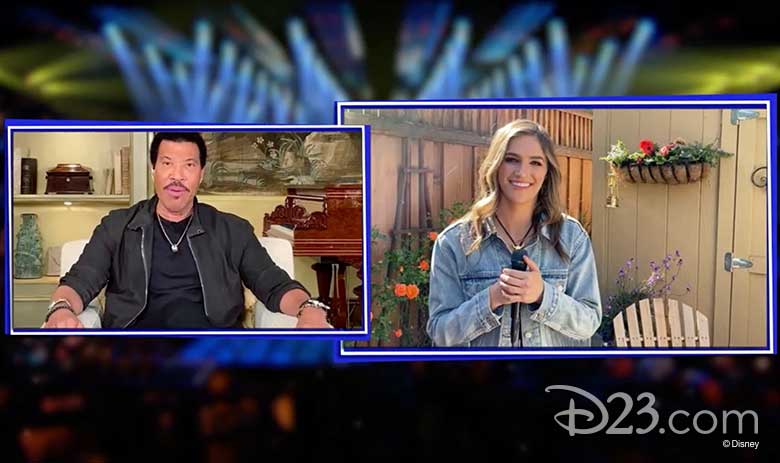 Country vocalist Grace Leer, who sang "Cry" by Faith Hill from her home in San Ramon, California, emphasizes, "In terms of song and voice, they are doing everything they can to make sure that we have the best performances that we can… that we're represented in the best way—from the arrangement, to matching our style, to making sure it sounds good—that we are shining."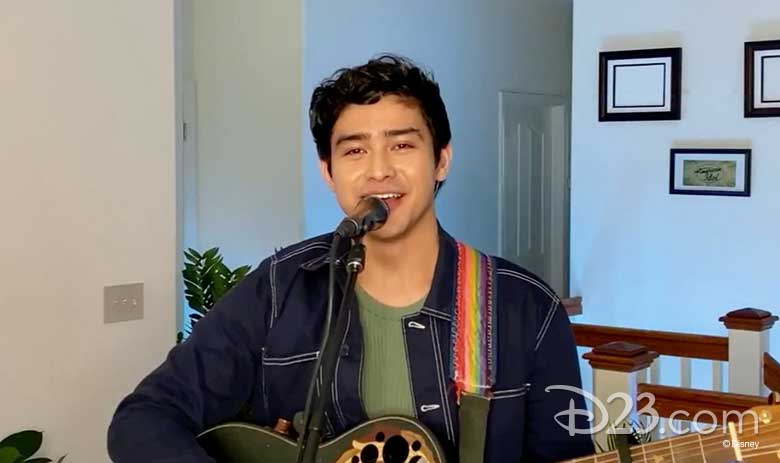 As viewers saw Sunday night, the contestants sang in a variety of settings—from Grace Leer's Northern California backyard; to Louis Knight's bedroom, just outside of Philadelphia; and more. If you looked closely, you may have noticed Francisco Martin's "golden ticket" from his first American Idol audition in Oregon hanging on the wall of his Daly City, California, home; and Olivia Ximines appreciated singing in front of the fireplace in her Menifee, California, living room, where she performed Billie Eilish's hit "Bad Guy." "My family and I spent a lot of our time in the living room," she says. "That is where we play games, we watch TV, we spend most of our time there all together. It just means a lot that I was able to perform there, where I feel the most comfortable and happy."
While the contestants may not have a cheering crowd before them for the remote shows—beyond their enthusiastic families—their desire to connect with the audience hasn't wavered. Singing Maggie Rogers' song "Burning" in her living room, Long Beach, California native Sophia James shares, "You still are still very aware that there are people that you are singing to. There was definitely a mental switch there [going from Aulani to performing at home], but it was a beautiful learning experience."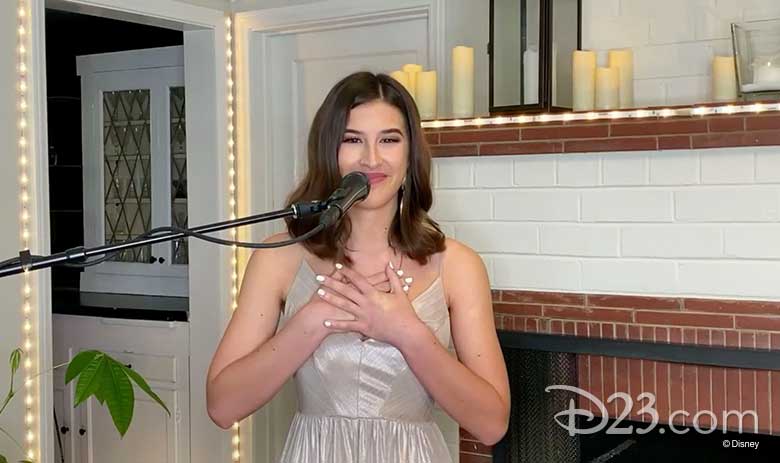 Though next week's show will see the top 20 cut in half, Faith Becnel says that the group feels more like family than rivals for the American Idol mantle. That family dynamic was built during the early rounds, she says, "And then having to go through such a difficult time in the world right now I think has brought us even closer and been a really rare experience… Each and every one of us are so different in what we bring to the stage and our music that it's hard to have a competitive environment. It's more just everyone supporting how unique and amazing each of us are."
While they now find themselves miles apart, the contestants stay in regular contact through video calls and group chats where they encourage each other ahead of their performances. "Even though we're not all together it's crazy to me how much everyone is supporting each other," Spencer-Smith says. "I'm so grateful and I wouldn't want to be in a top 20 with anybody else."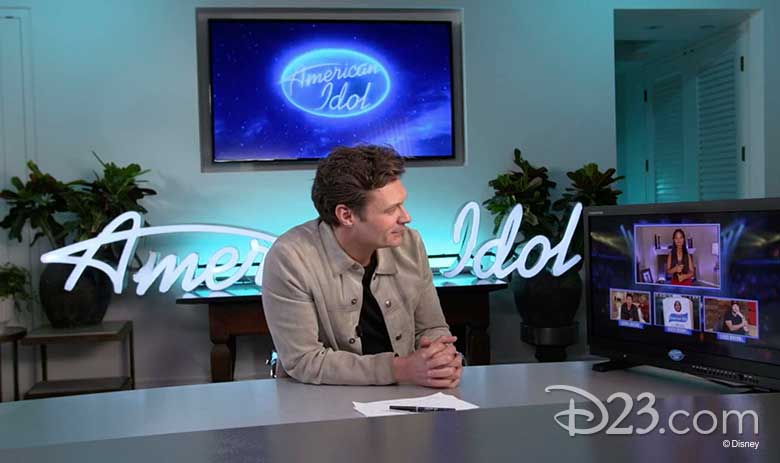 Of course, in just a few weeks, someone will be named this year's American Idol. The celebration will look a little different than in years past, but Spencer-Smith refuses to see that as anything other than positive. "I think it's super important that we send the message that safety is a big concern for us and we want people to be safe and we want people to be home," she says, noting that for whoever wins American Idol, "You're still going to have a huge party in your house, even if it's just with your sister or just with your brother or just with your mom. You're still going to have a huge celebration, and the feeling is going to be the same and you're going to have the same opportunity that you would have before. You're going to get to make an album. You're going to get to live your dream and do that while being safe and being healthy and representing that for everybody else, too."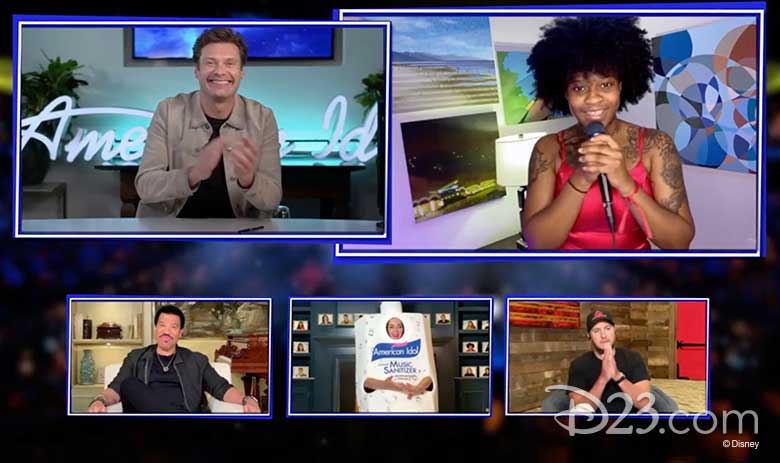 No matter who ultimately wins, all of the 20 finalists are now part of American Idol history. They're grateful for that, and for the opportunity to make a positive impact through their music. "People are going to be able to look back at this and look back on this time—this unique circumstance that we're all in, that we're all experiencing around the world—and they're going to be able to say American Idol's top 20 brought more joy and light to their Sunday during this time. I feel like this show is bringing people together, and seeing us perform from home, it really just brings a sense of unity and peace and eternal love and harmony," Just Sam says, adding, "I'm grateful for this experience. I'm grateful for American Idol, we're working so hard and we're still going. The show must go on!"
If you missed last week's historic episode, ABC will air an encore presentation on Saturday, May 2 (9–11 p.m. ET/PT). And be sure to tune in Sunday, May 3, (8 p.m. ET|7 p.m. CT) to see the Idol hopefuls perform again from home and cast your vote.