By Zach Johnson
It's no secret that making Disney magic is in Leslie Iwerks' DNA. The daughter of Disney Legend Don Iwerks and the granddaughter of Disney Legend Ub Iwerks, the Academy Award®-nominated filmmaker has been telling behind-the-scenes stories about The Walt Disney Company's history for two decades, starting with the 1999 release of her first feature-length documentary, The Hand Behind the Mouse: The Ub Iwerks Story. Next, Leslie will pull back the curtain on Disney Parks with the Disney+ original The Imagineering Story, a six-hour saga premiering at launch on November 12.
With unprecedented access, Leslie's series will highlight Walt Disney Imagineering, the little-known design and development center of The Walt Disney Company, inviting viewers discover what it takes to create, design, and build Disney theme parks around the world. Leslie recently appeared in the IDA Presents: Disney+ Nonfiction Storytelling Showcase in Hollywood, where she shared never-before-seen footage from the highly anticipated docu-series and recalled how it evolved from initially being a 90-minute film.
"This started about six years ago, believe it or not. I had screened my film, The Pixar Story, at Imagineering. [Disney Legend] Marty Sklar, who was the former president of Imagineering, saw the film and said to me afterwards, 'When are you going to do The Imagineering Story?'" Leslie recalled. "I said, 'Well, you tell me!'" After making a formal pitch, the executives at Disney got back to Leslie and made her an offer. "They said, 'Actually, we want to commission you for five years. We want you to travel to all the parks around the world. We want you to document behind the scenes and really capture the spirit of Imagineering and what we consider the golden age of that time.' This was from 2014 to about 2017; it was an amazing experience to kind of relive my childhood."
With the full cooperation of Imagineering, Leslie and her team spent half a decade filming on location across all Disney Parks—to the point where they had an "avalanche of material" to edit. After assembling a six-hour rough cut, Leslie went back to Disney and asked if they would consider a series. Disney liked the idea. There was just one problem: Where to put it? "There was no outlet at the time," Leslie explained. By the time Disney+ was announced, everyone knew that's where it belonged. "It was perfect timing," she said. "They came in and said, 'We would love to have this for our launch.'"
Initially, Leslie said her team had "limited access" to archival materials: "We had to pull a lot of the stuff from the Internet, because we had a limited budget." But after moving under the Disney+ umbrella, her team was able to spend another year "really digging—and doing it properly." Plus, now that she was making a docu-series as opposed to a film, Leslie had even more time to celebrate the Imagineers' countless contributions. "As we got into it, we discovered so much really cool material—and it had never been seen before," she said. "A large percentage of this film is material no one has ever seen, between photographs and archival footage, to transfers from raw negatives in the vault."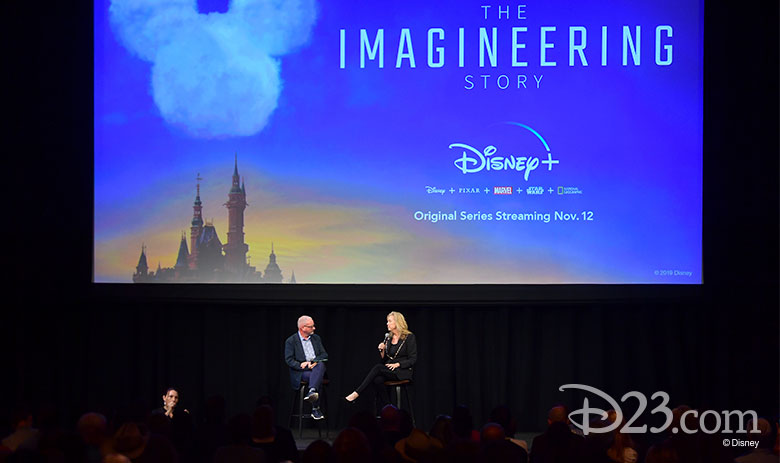 Leslie, who is both the director and the executive producer of The Imagineering Story, also talked to Imagineers past and present about their work in Disney Parks. "Everyone is standing on the shoulders of Walt Disney. Everyone is standing on the shoulders of those who came before them," she explained. "It was fascinating to see that evolution."
The Imagineering Story will be told chronologically, to reflect the idea of Imagineers standing on Walt's shoulders. "That, in essence, is how you build on the emotional thread of that story," Leslie said. "Each episode, ultimately, has its own story arc, its own ups and downs, its own trials and tribulations—and it has a cliffhanger at the end."
Want more Disney+ news? Click here to stay up-to-date with what's streaming!