By Jim Fanning
In the zany tradition of such Disney live-action classics as The Absent-Mind Professor (1961), Honey, I Shrunk The Kids has been earning colossal laughs with its super-sized special effects and anything-but-small thrills for three decades. Released on June 23, 1989, this effects-filled film centers on bumbling inventor Professor Wayne Szalinski (Rick Moranis) who unknowingly shrinks his children, Amy and Nick (Amy O'Neill and Robert Oliveri), and neighbors, Ron and Little Russ Thompson (Jared Rushton and Thomas Brown), down to 1/4-inch high with his electromagnetic shrinking machine. When he accidently throws the mini-kids out with the trash, they must somehow survive the backyard, now an impassable jungle to them. For the 30th anniversary of this Disney movie magic-infused favorite, go big with eight small-but-mighty facts.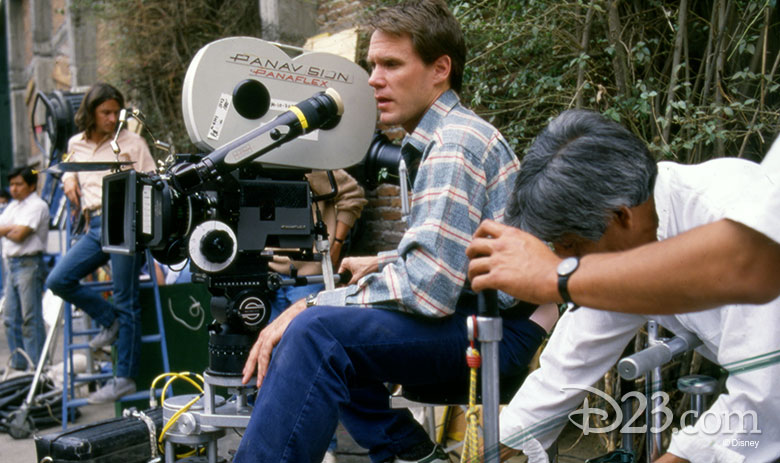 1. The Honey, I Shrunk The Kids director came from a galaxy far, far away.
Honey, I Shrunk The Kids was the directorial debut for Joe Johnston. An Academy Award®-winner for Best Visual Effects for Raiders of the Lost Ark (1981), this special-effects whiz began his career as a concept artist and effects specialist at Industrial Light & Magic on Star Wars (1977) and was an art director on The Empire Strikes Back (1980). Said Rick Moranis: "For me, it was unique to work with a director who came from a technical and visual background. The way we shot the movie, my scenes were filmed separately from those involving the kids. Joe was instrumental in helping me understand how my scenes with the children would be put together in the finished film." Johnston himself was thrilled to helm a movie that invoked "a special kind of Walt Disney film, wonderful excursions that spoke to the adventurous spirit, regardless of age. They were boldly stated films, not afraid to push the envelope of wonder and credibility, yet they had a certain kind of from-the-heart honesty. Through all the unusual perils of moviemaking, the challenge of Honey, I Shrunk the Kids was to capture that same kind of Disney electricity that makes an audience willingly lose itself in an impossible world." Johnston would go on to direct another Disney live-action favorite, The Rocketeer (1991), as well as Captain America: The First Avenger (2011) for Marvel Studios.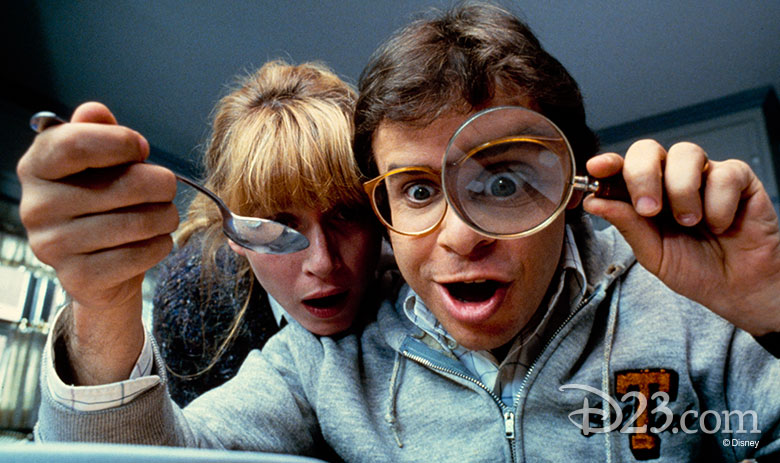 2. Rick Moranis knew his way around movie special effects.
Described as a "cool nerd" by Disney Adventures magazine, Rick Moranis brought his smart and loveable geek persona to Honey's pseudo-scientific proceedings. Well known as a member of the brilliantly comedic ensemble SCTV television series, Moranis was a veteran of two other fantastical special-effects spectaculars, Ghostbusters (1984) and Little Shop of Horrors (1986), by the time he became Disney's latest absent-minded professor. He described physics whiz Wayne Szalinski as "very resourceful and extremely flaky… not unlike myself." The acclaimed comic actor went on to provide the voice of Rutt the moose in Disney's Brother Bear (2003).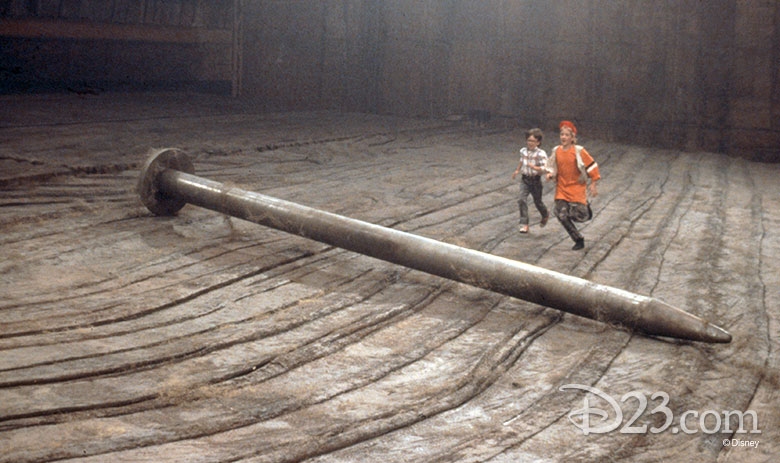 3. Scale was the secret behind the special effects.
That Disney specialty—mind-bending, eye-popping special effects—is the star of Honey, I Shrunk the Kids, and as the title implies, it's all about the shrinking. Executive producer Thomas G. Smith, a six-year veteran of Industrial Light & Magic who guided the effects of such hits as E.T.: The Extra-Terrestrial (1982) and Raiders of the Lost Ark, knew that the secret of making the illusion of miniaturized people believable was scale, primarily through oversized sets and props filmed directly in front of the camera. When some expressed skepticism about these so-called "practical" special effects, Smith filmed tests to tryout the scripted visual concepts. "Nobody knew if we could pull it off, make people look small and make it look realistic," said Smith. "So we did tests of the kids riding an ant and another where they ran up a candy wrapper. They did the trick."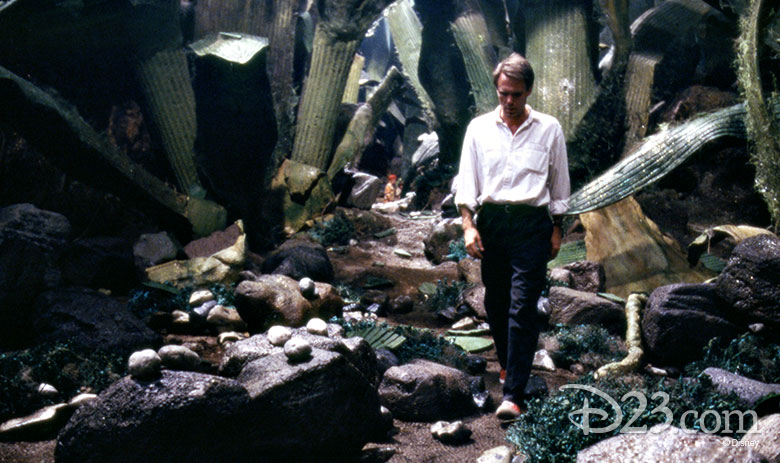 4. To make the troupe of teens and pre-teens look tiny, the filmmakers needed a big space.
Because the sci-fantasy movie would feature an array of special and visual effects on 48 different sets of varying sizes, the producers toured many facilities before deciding on Churubusco Studios in Mexico City. One of the oldest and largest movie studios in Latin America, the facility enabled Disney to set up one of the world's biggest blue screens for some of the more complicated visuals. The art department had ample room to re-create an entire U.S.A. suburban town complete with houses, gardens, and a church, as well as the many oversized sets that were needed. "I was really excited when I saw what had been built," said Johnston, who had used a home in San Diego, California, as a model for the Szalinski house. "It really felt like we were in small-town America and not Mexico City. The neighborhood was important because I wanted to create a typical small town setting against which all these unusual events would occur."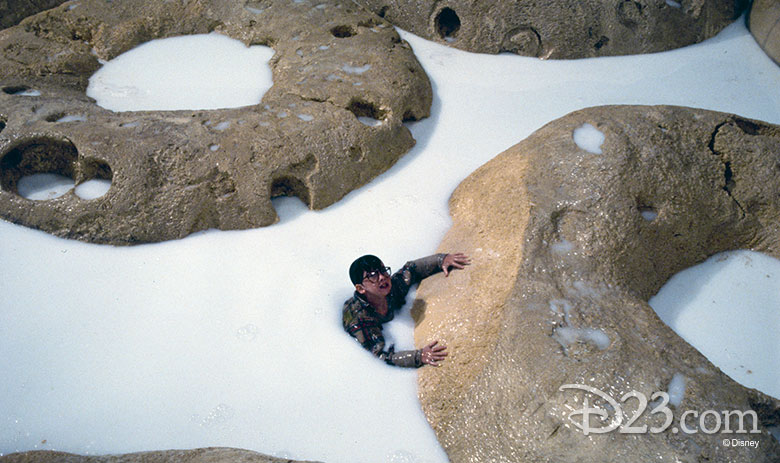 5. The huge props included a cereal bowl the size of a swimming pool.
Production began in a big way in September 1987, and movie craftsmen spent more than nine months constructing the required large-scale props. One of the most unforgettable of these king-sized objects: the swimming pool-size bowl of Cheerios used in the scene in which Nick unwillingly swims in his father's breakfast. Large inner tubes, painted and textured to resemble the o-shaped cereal, were set afloat in 16,000 gallons of artificial milk, made from chlorinated water, pigment, and a food product thickener. Honey, I Shrunk the Kids also boasts a gigantic broom and dustpan—and the world's largest oatmeal cream cookie, a sweet combination of polyurethane foam and real cream filling that the young actors could actually eat.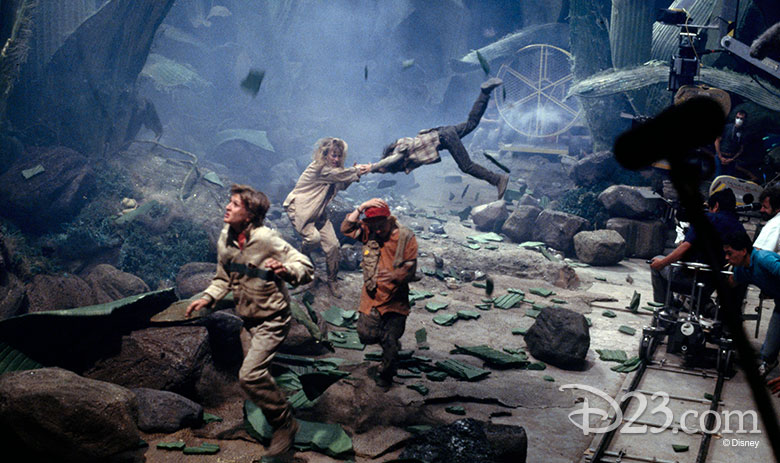 6. Making the movie was child's play for the young actors.
For the young actors, the specially constructed plus-sized objects were key to their performances. "We would look at these enormous props and realize how small we were supposed to be," noted Thomas Brown, who added he particularly liked the huge LEGO® pieces. According to director Johnston, much of the film's believability came from the youthful thespians. "Being kids they have such good imaginations. They're on an oversized attic floor or on a set with 35- or 40-foot blades of grass, they don't think about it. They are just in the environment." Obviously the casting of the youngsters who would play the tiny adventurers was crucial. "We had to find kids who could convey all the different levels of chemistry that goes on between the four characters," explained producer Penney Finkelman Cox. "One element was appearance—the kids had to look as though they could be siblings; they also had to resemble the actors who were playing their parents. Amy O'Neill and Robert Oliveri look like they could be Rick Moranis' and Marcia Strassman's kids."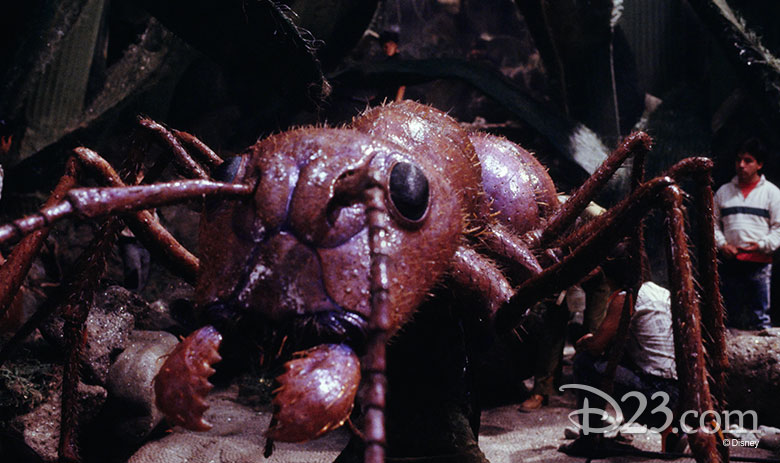 7. It took a big crew to bring Anty to life.
There are no small parts in a film, especially if you're an ant—and the ant in this film is plenty big anyhow. It was important to the filmmakers that "Anty," the affectionate insect that befriends the miniaturized group, had his own personality, even if an elaborately constructed model was portraying him. "We wanted audiences to think of the ant as they would a character, so we designed its antennae to move in certain ways that communicate its feelings and emotions," explained miniatures technician Peter Anthony Zamora. Made from a latex foam core covered with horsehair, the ant took five months to complete, and required seven to twelve technicians to operate. In addition to photographing the model, shots of Anty in action were also created during post-production by stop motion animator David Allen, who developed a special-effects process to make it appear that the real actors were riding atop the stop-motion ant.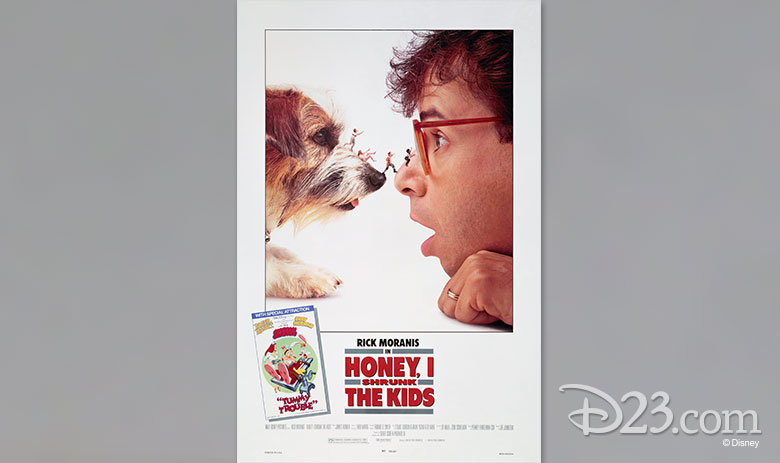 8. This smash hit inspired more shrunk-down fun.
Audiences were anything but miniature when this fun-filled comedy-adventure zapped into theatres in 1989, for Honey, I Shrunk The Kids was a runaway hit. This new Disney classic was so popular, it inspired a theatrically released sequel, a direct-to-video follow-up, and a television series. In Future World at Epcot® at Walt Disney World® Resort, Professor Wayne Szalinski's Imagination Institute was introduced in the Honey, I Shrunk the Audience attraction, which debuted, on November 21, 1994, followed by other versions of this guest-immersive show at Tokyo Disneyland® Park, Disneyland® Park and Disneyland® Paris Park.