By Courtney Potter
Catch Hocus Pocus on Freeform during their "31 Nights of Halloween," October 1-31.
"Come little children, the time's come to play!" Disney's Hocus Pocus, starring Bette Midler, Kathy Najimy and Sarah Jessica Parker, has attained near-mythic pop culture status since its big screen debut in July 1993. Directed by Kenny Ortega (High School Musical), the film introduced the world to the spooky, kooky Sanderson Sisters—three resurrected witches who wreak hilarious havoc on present-day Salem, Massachusetts. Four years ago, Walt Disney World Resort joined the frightful fun by making Winifred, Mary, and Sarah Sanderson the stars of the "Hocus Pocus Villain Spelltacular"—a spine-tingling, funny-bone-tickling, live musical show presented during Mickey's Not-So-Scary Halloween Party at Magic Kingdom Park!
The "Spelltacular" not only brought the sisters to a Disney park for the very first time, but it also gives them a chance to interact with some classic Disney characters. And this year is especially memorable, considering the film is celebrating its 25th anniversary—a fact Winifred herself mentions during this year's installment of the show! There's more Hocus Pocus merchandise available (at both Disneyland and Walt Disney World Resorts) than ever before, and even D23 is getting into the action with our upcoming Spooktacular Fanniversary events!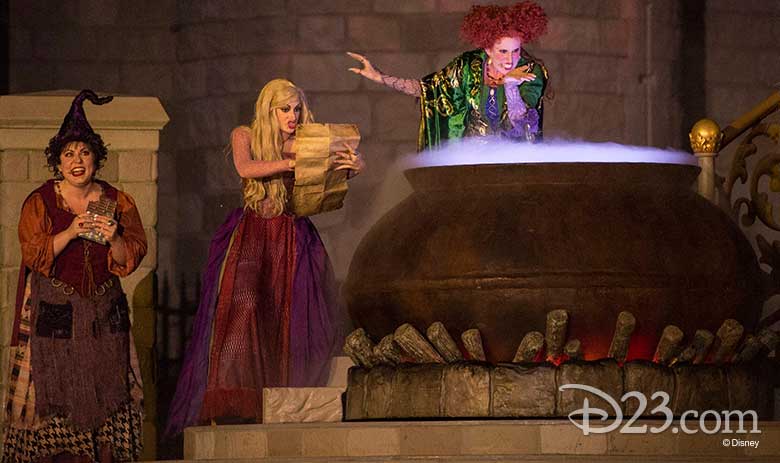 D23: Were you familiar with Hocus Pocus before taking on this (very cool) job?
Denise Case: Oh, yes! I have two daughters, one is a teenager, one is a young adult now, and she's in college. My kids grew up watching Hocus Pocus every Halloween. That was always on Freeform or Disney Channel—it was Hocus Pocus, Halloween Town; that whole generation grew up with those movies. It was a holiday classic so I was well aware of the witches.
D23: How does it feel now that the show has become a "staple" for the Halloween season at the Magic Kingdom?
Denise: Four years in, "Hocus Pocus Villain Spelltacular" is still wildly popular. Our fans really love it and are so happy we call forth our favorite sisters every year. We're so proud it's become one of the true highlights of Mickey's Not-So-Scary Halloween Party!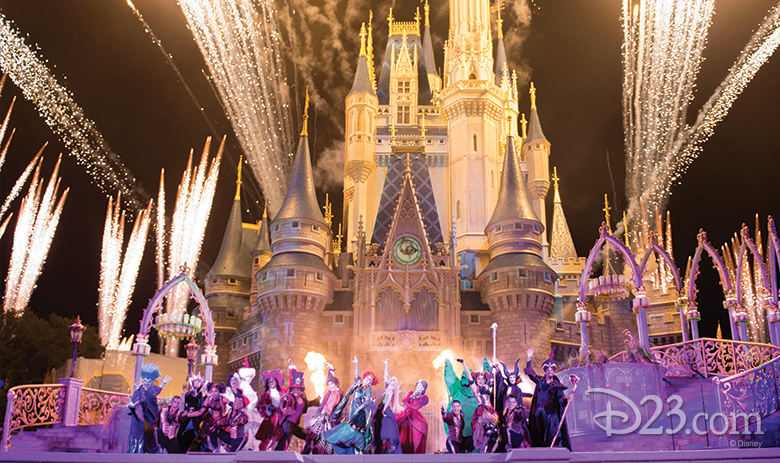 D23: Did you have a hand in writing the script for the show, or choosing which other villains would be appearing alongside the Sandersons?
Denise: Yes, yes. Actually, Reed Jones—who is our creative director—and Allison Hirsch, our show writer, the three of us brainstormed together and came up with what you now see as the current stage show. We knew that we wanted to incorporate the villains, and we knew we wanted to do a new "castle" show. We loved the Sanderson Sisters. The movie came out when Allison, our writer was a child, so she became a huge fan of the film—and she bought in right away to using the Sanderson Sisters. She loved the idea.
We also love the fact that the sisters are so funny and they play nicely against this sometimes serious, dark side of the classic villains. We thought, "How great, these are our own witches!" These are Disney witches, because of course it's a Disney film. We have our Disney witches, it's Halloween—we need to get them in this event! By pairing them with the villains, we just thought, "How fun!" We definitely wanted them to be in a new story; we didn't want to try and retell the movie at all. We wanted them in a new way, telling a new story, out there with a new mission. No eating children; no sucking the life-force out of children like they do in the film. [laughs] We decided to throw a party instead! That's "not so scary!"
D23: From the clips we've seen online, it looks like a lot of amazing costumes were created for this show. Can you speak a little bit about that?
Denise: Well, the witches had to be perfect, so we were able to procure the original costumes from the Walt Disney Archives [for inspiration]. I know they've been on display at the D23 EXPO before… We were able to get the clothes, and our costuming partners did an amazing job recreating the sisters' dresses. They had to be perfect, and they are! I always tell everyone I talk to, "If I could give an award to our costuming department, I think I would," because their attention to detail and how they created the sisters' clothes has just been remarkable. They're really beautiful. Even down to Winifred's shoes, which are all hand-embroidered. There's a tremendous amount of detail that was given to the sisters, as well as the other costumes. The dancers' costumes, and the villains…
I've wanted to bring the Sanderson Sisters to the event for quite some time and it just so happened that we finally had the perfect opportunity.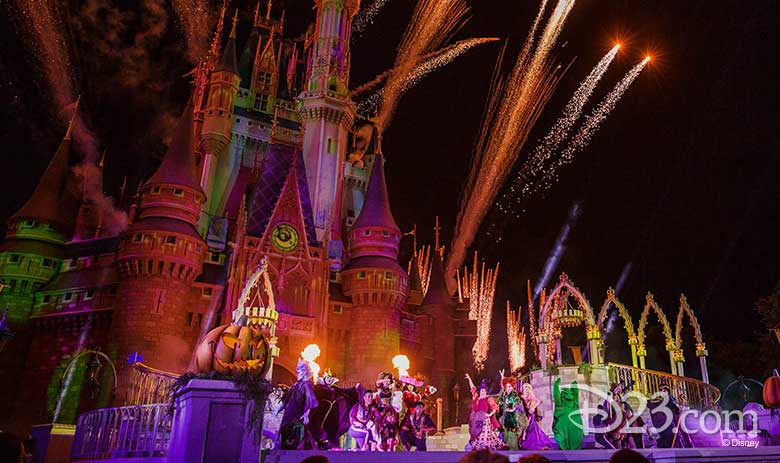 D23: What about the projections and other special effects?
Denise: I love projection; I'm a huge advocate of projection. It really changes the environment that you're in. Luckily at Walt Disney World Resort, we already have projections that appear on Cinderella's Castle, so the technology was already in place. What I love about it is, it really creates a new environment. With the scenic elements that we've put in the show—between that and using projection on the castle—you really feel like you're in Doctor Facilier's lair from The Princess and the Frog. You know? And with Oogie Boogie from The Nightmare Before Christmas, we're able to really use the castle as a set piece, if you will, and help it tell our story. And of course, it's at night. That's the great thing. Especially here in Florida, because it's so hot, it's great that the Mickey's Not-So-Scary Halloween Party is at night, so we're able to capitalize on some of the technology—lighting and projection—that works so well in the dark.
D23: Are there any fun stories you recall from putting this whole show together, and getting it ready for the public to see?
Denise: I always tell everybody, the greatest challenge was [initially] keeping the whole thing under wraps! Keeping a big secret, that really wasn't a secret, has always got its challenges. Also, the day the Sanderson Sisters' dresses arrived. Everybody was just in awe. "Ahh! Bette Midler wore that, that's so incredibly cool!"
We were also able to connect with Jason Marsden, the voice of Binx the cat [in the film]. We utilize his talents to do some show voiceovers, which was great fun. That's one of those little hidden "easter eggs"; if you're a Hocus Pocus fan, you'll hear his voice and you may recognize that it's him.
D23: We saw that Hocus Pocus director Kenny Ortega himself posted a picture from the first year of the "Spelltacular" on his Instagram account!
Denise: He did, he "Instagrammed" about it! Kathy Najimy (Mary Sanderson) also commented because he tagged her… It was really crazy. The [very] first show happened and social media just blew up. It was really quite phenomenal!
D23: Ultimately, what do you hope audiences take away from the show?
Denise: Obviously, we want guests to have fun—and we want them to take away the feeling that they have truly experienced the Sanderson Sisters live. I think the cast [does] a great job of capturing the relationship the Sandersons have with each other. They're an incredibly funny dysfunctional family. I think our writer Allison did a great job capturing the comedy. I hope guests just really feel like they've had their Sanderson fix!
The "Hocus Pocus Villain Spelltacular" appears exclusively during Mickey's Not-So-Scary Halloween Party inside Magic Kingdom Park at Walt Disney World Resort—now through October 31! Don't miss all the "tricks and treats" they have in store…