The brand new Sideshow Carnival Extraordinaire has rolled into Adventureland with a group of glamorous and extraordinary beings.
What's New at Disney Parks for Halloween 2014 ►
Featuring an all-new show, Horrors of the Amazon, Sideshow Carnival Extraordinaire, and more ominous entertainment offerings, the Haunted Halloween footprint will spread from Adventureland and seep into many other themed lands.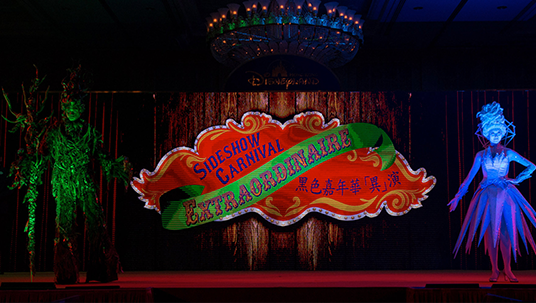 Available from October 2, on every Friday to Sunday in October, guests will see a different Hong Kong Disneyland at night time as they journey through many new eerie and mysterious stories.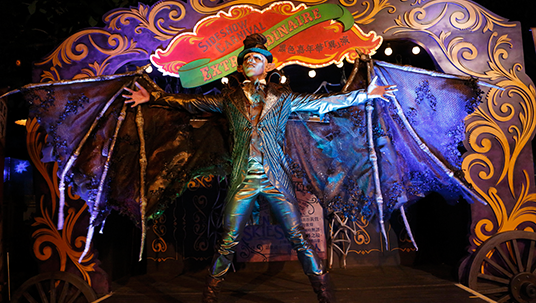 The all-new Horrors of the Amazon show will be staged at the Theatre in the Wild. The show will feature local celebrity Power Chan Kwok-pong who will act as the adventurer Jonas Brisbane and narrate his thrilling tale of his adventures in the Amazon. His illustrious adventures and foreboding encounters will capture and enthrall guests. This is the very first time Hong Kong Disneyland is engaging a local celebrity as a performer in a show.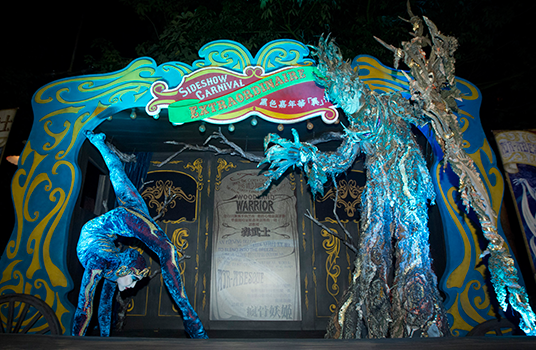 The mysterious world of lights seeps across the Park and presents a different nighttime atmosphere. In Fantasyland's Fantasy Garden, Mickey and his friends are hosting a masquerade ball this Halloween. The popular Sideshow Extraordinaire in Adventureland, Grizzly Gulch Halloween Fair, Graves Academy and Revenge of the Headless Horseman will return this year for more haunting fun.