Star Wars, Shanghai, Avatar, and Marvel were just some of the magic words that set the imaginations of D23 EXPO 2015 guests soarin' as Walt Disney Parks and Resorts Chairman Bob Chapek presented an exclusive look at in-the-works global excitement. A capacity crowd of passionate Disney park fans at Hall D23 wildly greeted surprise announcements, exclusive insider art and video, and unexpected appearances. A spectacular highlight to the entire D23 EXPO 2015 experience, Chapek promised at the outset that he would take D23 EXPO attendees on a soarin' round-the-world tour of park and resort pixie dust.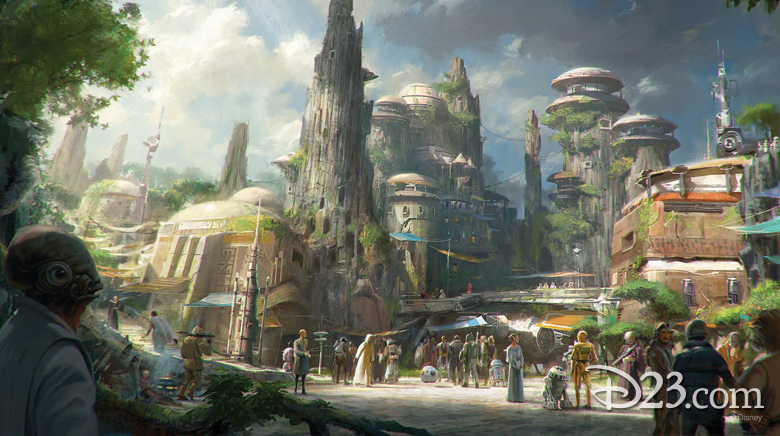 First up was "a galaxy far, far away" that just got a whole lot closer with the freshly announced Star Wars Land coming to the Disney resorts in both California and Florida. Giving guests an exclusive look at projected plans, Chapek revealed that Star Wars Land would center on the incredibly immersive environment of an entirely new planet, while also offering experiences of favorite Star Wars characters and worlds, including, for example, the ability to fly a thrilling mission aboard Han Solo's iconic Millennium Falcon. Jumping to hyperspace, Chapek announced that new Star Wars experiences would actually be debuting within the next few months, including Star Wars Launch Bay, an interactive experience that will take guests at Disney's Hollywood Studios in Florida and Disneyland park in California into the upcoming film, Star Wars: The Force Awakens, as well as the first six films in the Star Wars saga. This new seasonal event, beginning early 2016, will feature at Disneyland (in a crowd-pleasing announcement) Hyperspace Mountain, a reimagining of the classic Space Mountain attraction, in which guests will join an X-wing Starfighter battle thanks to projection technology and other state-of-the-art effects. Later this year, Star Tours – The Adventures Continue at Disney's Hollywood Studios in Florida and Disneyland in California will incorporate a new destination planet from the upcoming film Star Wars: The Force Awakens.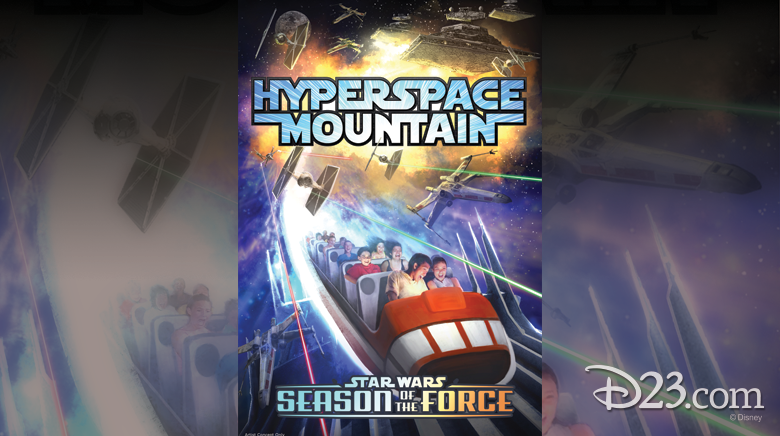 new plans to take you to infinity and beyond
Citing a galaxy of a more playful stripe, Chapek announced that Disney's Hollywood Studios will be taken to a whole new level with "new plans to take you to infinity and beyond" with the new, 11-acre Toy Story Land. Imagineer Kathy Mangum revealed the Imagineers were "building a more immersive experience," much like the level of detail and guest engagement experience with Cars Land in Disney California Adventure. "You'll be shrunk to the size of Woody and his toy friends," promised Mangum, "to enter the world of Andy's backyard." An exclusive look at a new animatic gave D23 EXPO guests a sense of riding on an elaborate family coaster on the back of Slinky Dog.
Involved with Disney's Animal Kingdom in Florida since its inception, Imagineer Joe Rohde was introduced to reveal a thrilling expansion of Sunset Kilimanjaro Safaris, which is being extended for a new nighttime adventure next spring. Guests will travel through the African savanna amid the magically extended orange glow of the setting sun and two fascinating species new to the attraction: African wild dogs and hyenas. Then Rohde shared detailed plans for Pandora – The World of AVATAR, which he described as "a perfect fit at Animal Kingdom." For this mind-blowingly new realm of groundbreaking special effects and magnificent environments, Lightstorm (Avatar creator James Cameron's organization) joined creative forces with Walt Disney Imagineering to make "a mega-team." To the surprise and excitement of the audience, James Cameron and Jon Landau, the director and producer of the Avatar film, walked on stage. Cameron emphasized the overwhelming imaginations of the Disney team, explaining that when he first met the Imagineers his reaction was, "These guys are crazy!" as they exceeded even his most creative expectations. Emphasizing that the Avatar world offers "a sense of beauty that people want to be part of" Cameron, Landau, and Rohde screened an exclusive behind-the-scenes video revealing some of the craftsmanship, technical expertise, groundbreaking events, and passion that would create a world that would, in the words of Rohde, "not be just fantastic" but also "meaningful to people." The centerpiece attraction of this new land will be The Flight of Passage, a personalized experience that will take the illusion of flying to a whole new cutting-edge level. In Pandora – The World of AVATAR, Rohde emphasized, "The adventure is yours."
"not be just fantastic" but also "meaningful to people."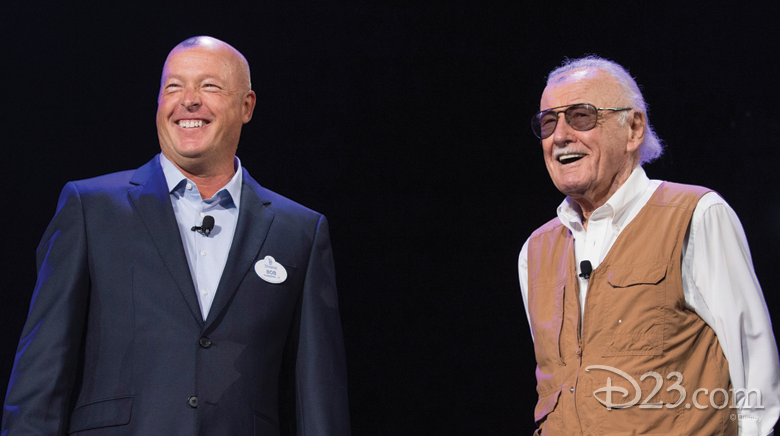 Disney Imagineer Ted Robledo then offered a never-before-seen look exclusively for D23 EXPO guests at the in-progress Hong Kong Disneyland attraction, Iron Man Experience. This adventure, the first Marvel attraction at any Disney park, is being created with the combined talents of Walt Disney Imagineering and Industrial Light & Magic. Thanks to insider's art and never-before-seen video, the D23 EXPO audience saw how a flight aboard the Iron Wing becomes a battle with evil forces of Hydra. The audience went wild with a surprise appearance from the audience by Stan "the Man" Lee himself. The creator of the Marvel universe even stole the show from Iron Man himself, who made a delayed appearance to celebrate this "Marvel"-ous new attraction.
All the way from China, Imagineer Bob Weis treated guests to closest public look to date of progress at Shanghai Disneyland, including the ultra-innovative Tron Light Cycle attraction, simulating what it's like to ride an individual light cycle "through the digital world of Tron."
"We've soared today," was the way Weis wrapped up this thrilling presentation, at the same time amping up the excitement with one more headline-making announcement: Guests in Florida and Disney in California will fly above some of the world's most unique landscapes and soar over man-made wonders when the new Soarin' Around the World—made possible by cutting-edge Imagineering magic—makes its debut next year. Following was a stunning "kiss goodnight" performed by a chorus of cast members—complete with the Disneyland Herald Trumpeters—with a magical medley of theme park melodies exclusively for D23 EXPO attendees, bringing this "soarin'" experience to a truly magical end.