By Karina Schink
October is encroaching upon us, and that means that something delightfully wicked this way comes. It's time for Halloween, so we've put together your guide to every spook-tacular event happening at Disney Parks all across the globe in celebration of All Hallows' Eve.
Disneyland Resort
A spell has been cast… a transformation is underway. Using a wickedly wonderful blend of pixie dust, the Disneyland Resort in Anaheim, California, will become the happiest, haunted-est place on Earth, starting September 7.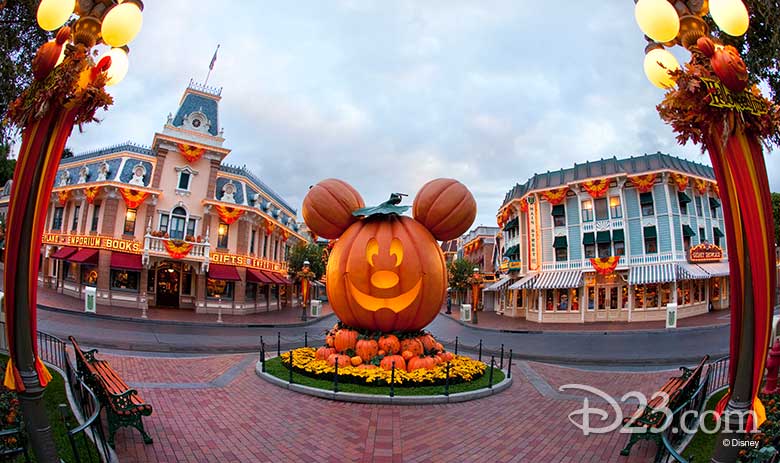 Fiendishly Fun Fan Favorites…
There's no need to wait for October to get your spook on, because Halloween Time is almost here at the Disneyland Resort! From fan favorites like Mickey's Halloween Party*, to the haunting transformation of attractions, and the park itself, it's time to see what a little bit of hocus-pocus does to the most magical place on Earth.
*on select nights only; separate purchase required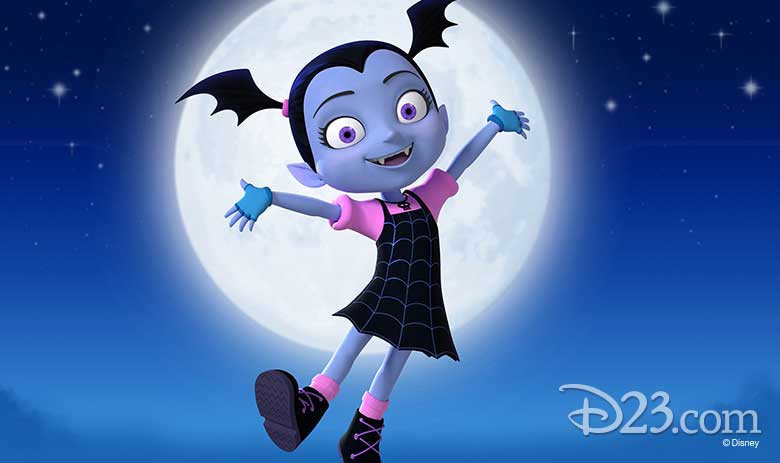 Some New Spooks Prowling By….
We know there are 999 happy haunts in the Haunted Mansion, but there's an adorable addition coming to the Disneyland Resort this year. Disney Junior's Vampirina is making her first-ever appearance at the Resort! You can stop by to meet Vee over at Disney California Adventure park.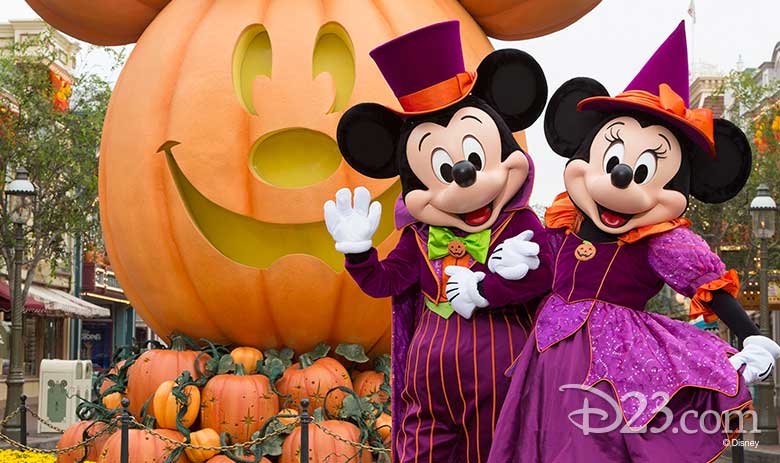 Faith, Trust, and a Little Bit of Ghoulish Dust…
Eerie encounters lurk in every corner of the park, which dons its bewitching best for the holiday. Not only will the décor be droll, but even the characters around Disneyland park and Disney California Adventure park will be clad in their costumes.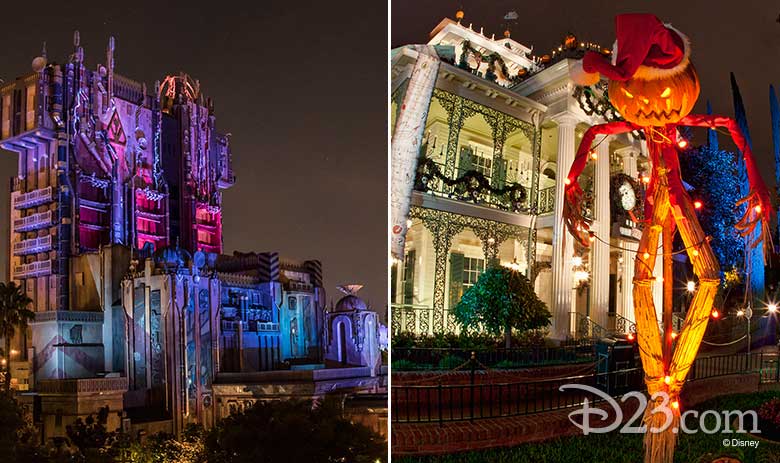 Welcome, Foolish Mortals!
We once again ask you to drag your bodies to the dead center of the room to see what happens when two holidays collide in Haunted Mansion Holiday. But that's not all: Get ready for the spookiest space trip yet as Space Mountain Ghost Galaxy returns to Disneyland park!
In Disney California Adventure park, a daring Halloween adventure is returning to Guardians of the Galaxy – Mission: BREAKOUT!… Guardians of the Galaxy – Monsters After Dark. Join Rocket in his race to rescue a fellow Guardian this Halloween Time, that is, if you've got what it takes.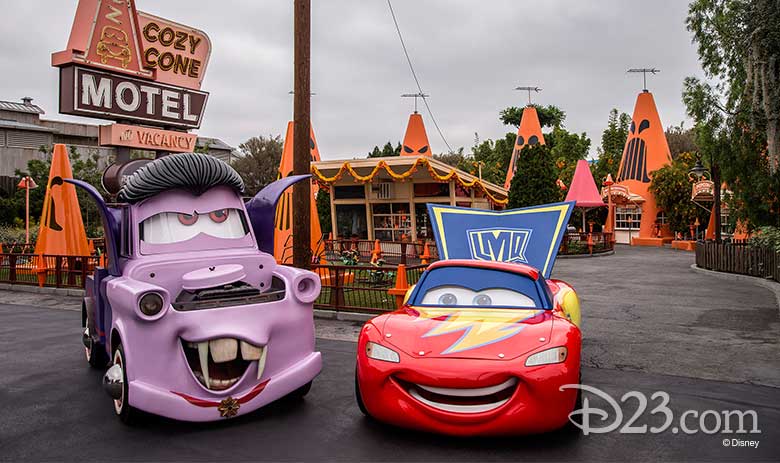 Wickedly Wonderful…
Make sure you're in drive and buckle up to head over to "Radiator Screams" where you'll be able to partake in a truckload of spook-tacular fun. Show off your monster mash-worthy moves at Cars Land during Luigi's Honkin' Haul-O-Ween. If you forgot your dancing shoes, you can take a spin at Mater's Graveyard JamBOOree, but steer clear of the cobwebs!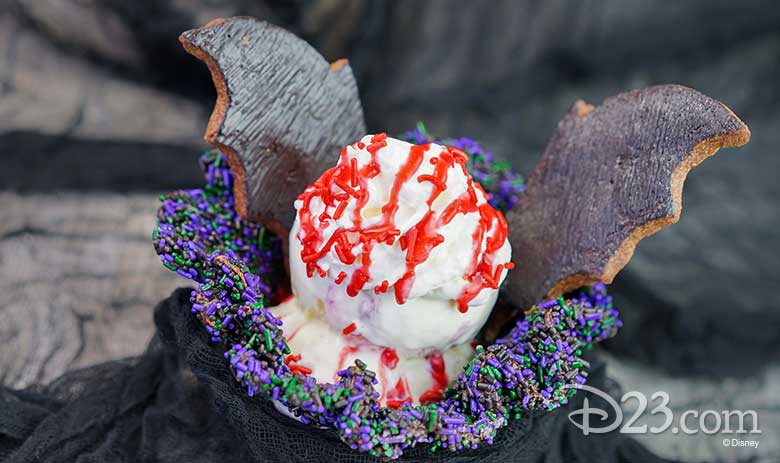 Even More Dreadful Delights…
It wouldn't be Halloween without some tricks—but mostly treats. Starting on September 7, indulge in special treats and eats. At Clarabelle's Hand Scooped Ice Cream, tantalize your taste buds with the Bat Wing Raspberry Sundae, or oogie-boogie your way into the Jolly Holiday to grab a Mickey-Shaped Mummy Macaroon (tasty enough to wake you from the dead!).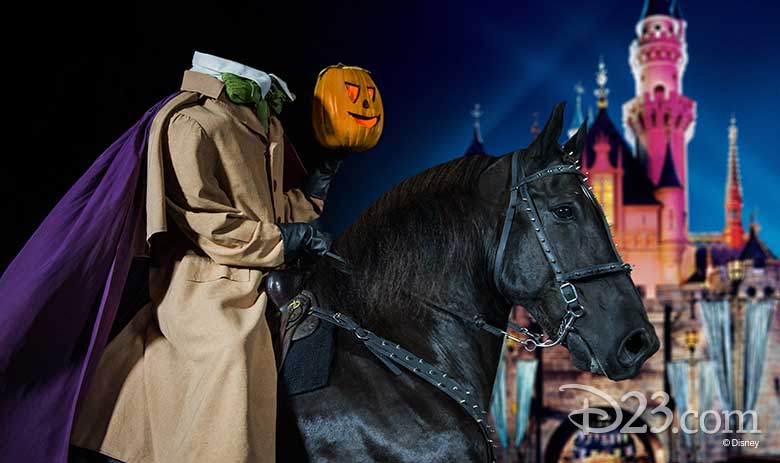 Happy Haunts…
On select nights from September 19 through October 31, 2018, you can join Mickey's Halloween Party* for a fun and friendly celebration of Halloween—and it's everything you're hoping for, with character greetings, trick-or-treatings, the Halloween Screams fireworks, and even the Headless Horseman, who rides once again down Main Street, U.S.A. as part of the Frightfully Fun Parade.
*on select nights, separate tickets required
Double, Double, Toil, and Trouble…
Want to have one of your favorite ghouls with you, supplying spectacularly spooky snacks as you traipse around the resort? Oogie Boogie Premium Popcorn Bucket is back to do just that! But, that's not all! A new version of this bucket will also be available exclusively at Mickey's Not-So-Scary Halloween Party at Walt Disney World Resort and later in the spooky season at Disneyland Resort. And a Cauldron Premium Popcorn Bucket must have some magical properties because that popcorn just seems to disappear without a trace!
Walt Disney World Resort
Are you ready for Halloween—Disney-style? Well, you don't have to wait all the way until October to start celebrating, because that special holiday is already here, and we're already having a hauntingly good time!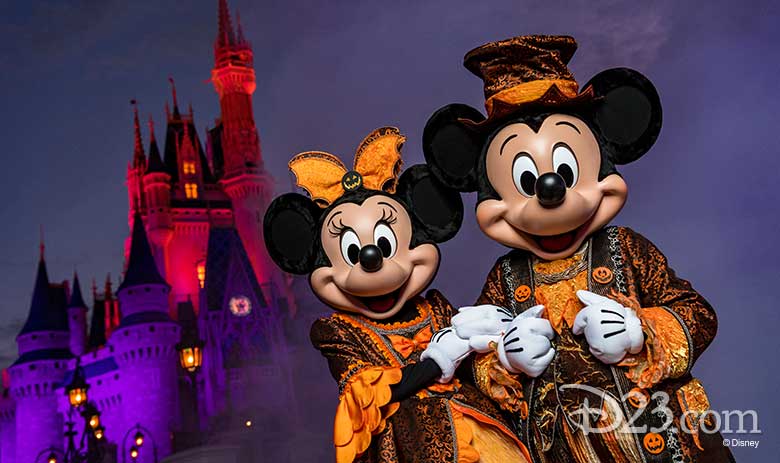 The Witching Hour Is Here…
Halloween fun lurks just beyond the sunset at Walt Disney World Resort. This year, take part in Mickey's Not-So-Scary Halloween Party after dark, featuring villainous entertainment, tricks, treats, and more. The best part? It's already begun!
Mickey's Not-So-Scary Halloween Party* is happening right now and goes all the way until the night itself, October 31. This after-dark special event in Magic Kingdom Park will bring all kinds of tricks and treats!
*Requires separate admission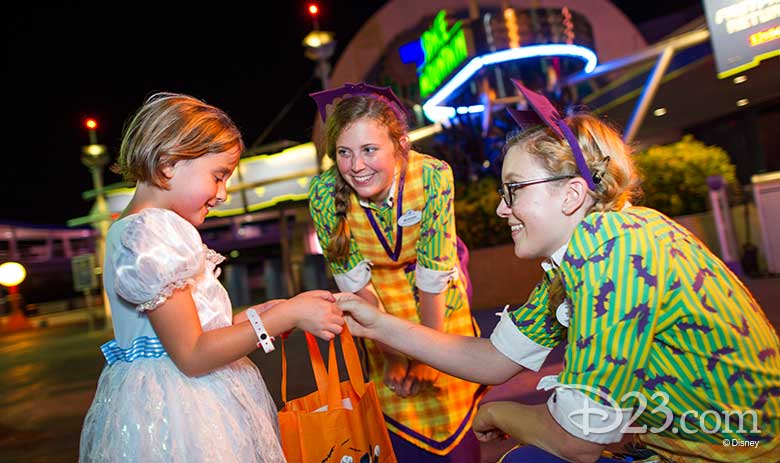 Dressed for The Occasion…
Not only will you be able to trick-or-treat around the parks, but you can come dressed up for the event! Wear your best ghoulish get-ups and disguises, because you will not be alone! Your favorite iconic Disney characters will be in their Hallows' Eve best, as well, and ready to snap a photo (or two) with you and yours!
Snack Like a Fiend….
These gummy worms have been laid to rest. No mourning, please, at their request. Grab the Worms & Dirt at Pecos Bill Tall Tale Inn and Café on party nights only, or daily starting October 1. If you've got a hankering for buttercream within those bones of yours, Jack Skellington Cake Push Pops will be available (on party nights only) at Sleepy Hollow.
Bite into a Not-So-Poison Apple Cupcake (made with pecan crunch and buttercream), or take delight in the delectable Halloween Cinnamon Roll, which strikes an eerie resemblance to a famous mouse and is topped with a chocolate spider web (there are no tricks here, we promise!).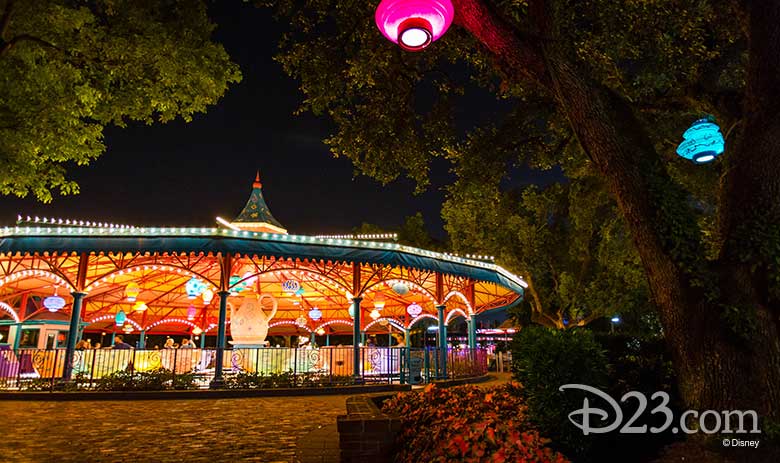 A Spooky Spin…
This year, Walt Disney World is taking the haunted night to another level; not only will the park be transformed, but so will some of the attractions! Discover a fresh new spin on the Mad Tea Party, Pirates of the Caribbean, and Space Mountain!
A Night Filled with Villainy…
The Sanderson sisters, joined by some other iconic Disney villains, will be in attendance at the party at Hocus Pocus Villain Spelltacular*! The night sky will also light up, and you'll get a chance to sing along with the best of the bads and their evil ballads during the Happy HalloWishes fireworks extravaganza!
*Only available at Mickey's Not-So-Scary Halloween Party, separate admission required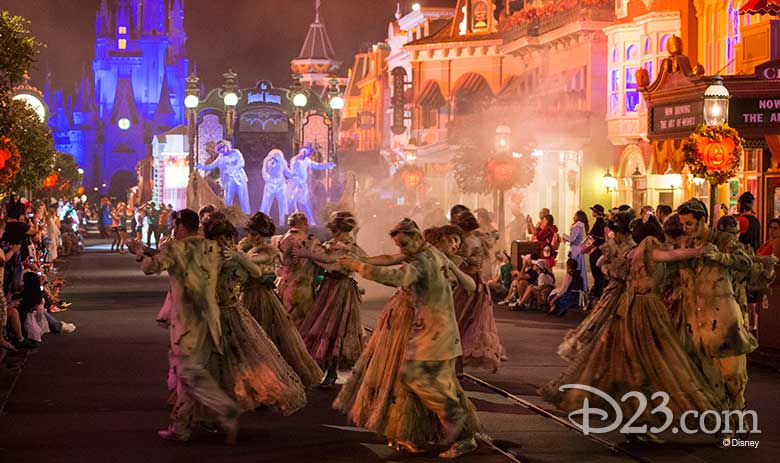 Don't Lose Your Head…
The grim grandmaster is back to usher in Mickey's Boo-to-You Halloween Parade* (give or take a head). Disney characters will masquerade in Magic Kingdom Park joined by none other than the caretakers of the Haunted Mansion themselves! It'll be a paranormal processional that you don't want to miss!
*Only available at Mickey's Not-So-Scary Halloween Party, separate admission required
Tokyo Disney Resort
Tokyo Disneyland will transform into a "ghost version" where guests can experience an eerie atmosphere of chills and thrills. This transformation will go from corner to corner of the park, all the way from the decorations and the eats to the Spooky "Boo" Parade and the merchandise available in the shops. Disney's Halloween happily haunts guests at Tokyo Disneyland from September 11 through Halloween.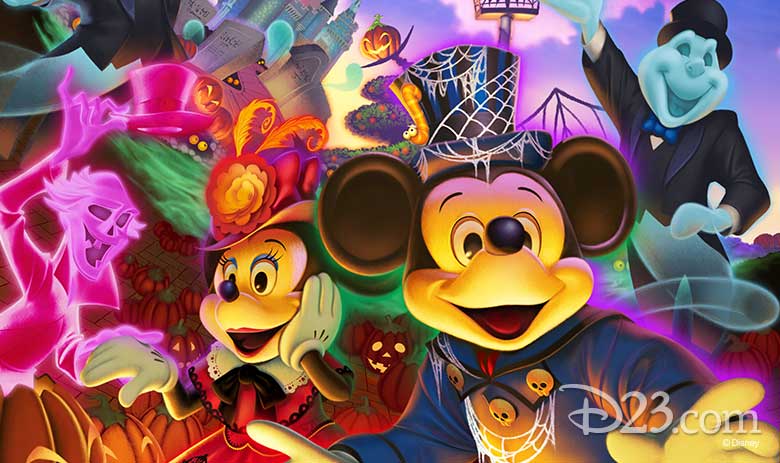 Ghosts, Ghouls, and More…
If you've got a keen eye and you believe, you might just be lucky enough to catch a glimpse of a ghost or two along the parade route at Tokyo Disneyland during Spooky "Boo!" Parade. Mickey, Minnie, and the gang will be dressed to profess their love for Halloween as six floats snake down the path twice daily.
However, they won't be the only ones who have changed for the occasion. The park itself will be covered in a ghostly glow, with hauntings around every corner. This transformation will not be limited to just the buildings—cast members will take part, as well, so from corner to corner, there will be Halloween as far as the eye can see.
Mischievous Merchandise and Eerie Eats…
Beginning September 3, special merchandise will be available featuring Mickey Mouse and Minnie Mouse in their wicked and ghostly best. You'll be able to take home your favorite character dressed in their Spooky 'Boo!' Parade ensembles.
Did you think that the park's supernatural transformation wouldn't include the food? At Huey, Dewey & Louie's Good Time Café, you'll find that the bun atop your sandwich bears an eerie resemblance to a jack-o'-lantern. Additionally, one of your favorite park snacks is undergoing a bit of a makeover, too! Not only will the churros at Parkside Wagon and Pecos Bill Café turn pink on the outside, on the inside they'll taste like your favorite Halloween flavor. Now, that's pumpkin to talk about!
Disneyland Paris
For one night only, Disneyland Paris will be bigger, better, and badder than ever! Disney Halloween Party will take place on October 31 from 8:30 p.m. to 2 a.m. Guests and ghouls of all kinds can partake in meeting Disney villains, view the Disney Villain's Halloween Celebration parade, and show their love for the holiday with a Halloween-themed costume.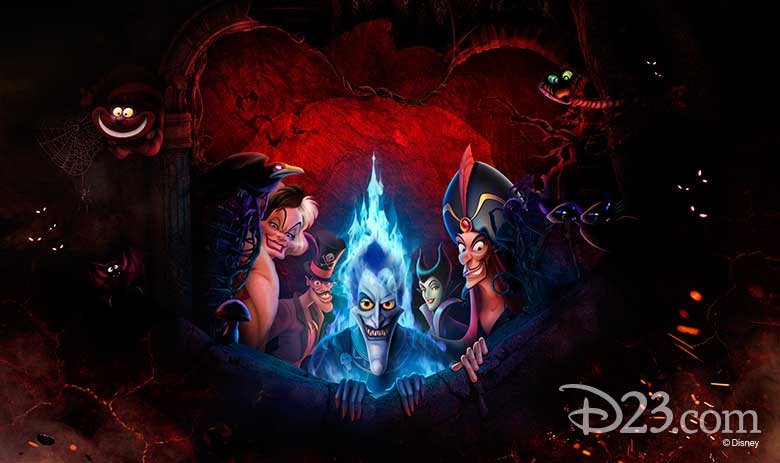 A Whole New Dimension…
Disneyland Paris will be spellbound for one night only, where you can experience all of the Halloween musts. It's going to be a monster-sized party. As your devilish dreams come to life in the park, you can delight in interactions with Mickey and Disney Villains throughout the night and into the early hours of the a.m.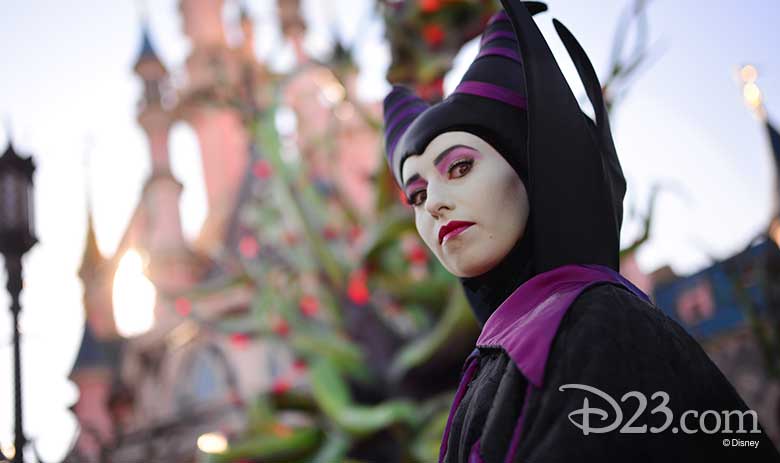 Chilling, Costumed Celebrations…
At the Disney Halloween Party, you are encouraged to come in costume, especially as Disney Villains lurk around each corner, ready to pose for a snapshot or two—if you dare to meet them! Not only will they be creeping around every corner, determined to make you scream (with joy, that is), they will also take part in the Disney Villain's Halloween Celebration parade, which promises to be a wickedly good time.
Hong Kong Disneyland
Halloween takes over Hong Kong Disneyland this year from September 13 to October 31, bringing many opportunities to meet your favorite characters, visit Halloween Town, and spend the night on the town during Villains Night Out!
Something Wicked This Way Comes…
Some of your favorite characters will be in attendance at Halloween Time, too, but it's up to you to face them! Conjure the courage to face the mayhem with Jack Skellington in Halloween Town, muster up the gall to step foot in Dr. Finkelstein's Lab and meet with Sally—who desperately needs your help—and no matter what, keep an eye out for Oogie Boogie during the celebration!
Mickey and Minnie will also be fully decked out in all-new, exclusive Halloween costumes, but what else would you expect? They're always trying to look their best for all of their friends. Speaking of spook-tacular attire, all of Duffy's friends will be in theirs, including Cookie, who debuts her first-ever Halloween costume!
Moonlit Malevolence
Not even villains can stay in the shadows for too long! When the sun goes down, the fiendish fun begins! Villains Night Out! Chapter 3 is coming to Hong Kong Disneyland, and Maleficent leads a posse of do-no-gooders, including the Evil Queen, Ursula, Captain Hook, Cruella De Vil, and Jack Skellington. Revel in the chance to strut into the night with your favorite baddies!
Trembling Taste Buds…
Now that your eyes have gotten their fill on all of the spectacular sights, it's time to satisfy your stomach with some devilish bites. Sink your fangs into one (or many!) of the specially themed treats. For that sweet fang, try Jack's Night, Wizard Pumpkin Cup or a Halloween Mickey Ring (and that's just a sample of all of the treats out there!).