By D23 Team
Next week, The Wonderful World of Disney presents The Little Mermaid Live! will take us to the magical fathoms below with a new tail, weaving the original film with live musical performances by a star-studded cast of comprised of Auli'i Cravalho as Ariel; Queen Latifah as the menacing sea witch Ursula; John Stamos as an eccentric French cook, Chef Louis; Shaggy as Sebastian; Graham Phillips as Prince Eric and Amber Riley as the emcee, presenting the Daughters of Triton with a special performance for King Triton and his subjects.
D23 recently sat down with Phillips to talk all things The Little Mermaid Live! before the premiere of the ABC live production on November 5.
D23: How does it feel to be cast as Prince Eric in The Little Mermaid Live!
Graham Phillips (GP): Well, it's been about 15 years since I was cast as a prince [in The Little Prince], so it's exciting for me to go back to my roots. The Little Mermaid was the first Disney film I remember watching. I was about 5 years old, and I have a really distinct recollection of watching that film with my family, so it was kind of surreal to even just audition for that role. Because at that age you don't think they're just characters, you see them as real people. So to breathe life back into that character—that I loved at an early age—was pretty awesome.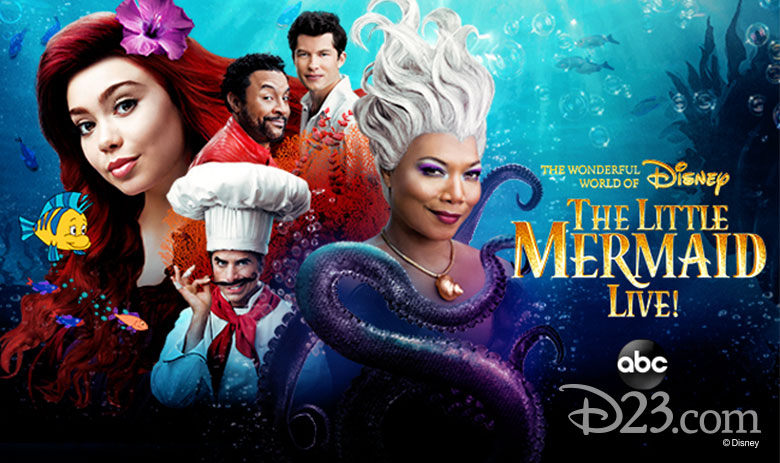 D23: How have you prepared to be Prince Eric?
GP: The preparation has been quite rigorous. I've been swimming a lot and am basically trying to get in touch with my aquatic self. Prince Eric is obsessed with the water, and I think that's pretty telling. He's on a search for the unknown. He's looking for adventure and something new. He's happy to be free from the castle walls. I grew up in Laguna Beach so I've always been around the ocean, but I figured why not take some sailing lessons? I've always wanted to do that. But also, most of this role is vocal because we're not just doing the scenes—we're also doing the songs, so the singing is very important. I read the original Hans Christian Andersen story and that gave a little more insight to the prince, but honestly there's so much in the lyrics that were written, too. Just listening to Howard Ashman's lyrics tells you everything you need to know about what's rattling around the prince's head with his memory of Ariel and his search to be reunited with her. There's a lot more material in the songs that we're going to be performing than maybe there is in the original film. In the original, there's not too much to [help] deduce what's going on in Prince Eric's head, so I'm really thankful that we're getting to also do the songs that were written after the fact, because they shed more light on Prince Eric.
D23: With this unique experience using both screens and stage, how are all of you preparing for the live musical performances?
GP: What's interesting is that there are certain transitions where we really have to match our body language to the frames of the film that we're using from the original film. For instance, there's one moment where we transition from Prince Eric and Max on the beach, when he's playing his flute and saying something along the lines of 'her voice, I just can't get it out of my mind' and that's what we've taken as the cue to insert a song that wasn't in the original film, "Her Voice [from the Broadway musical]." We're matching that little tableau with him and Max. But really, it's just the same preparation for anything that's live—making sure you know it backwards and forwards.
D23: Who is your favorite character from The Little Mermaid?
GP: My favorite character has got to be Ursula. Although it does shift from day to day, but today it's Ursula. I think she's one of the best Disney villains that there are, and I just love her powerful, sultry, conniving manner, and Queen Latifah is nailing that.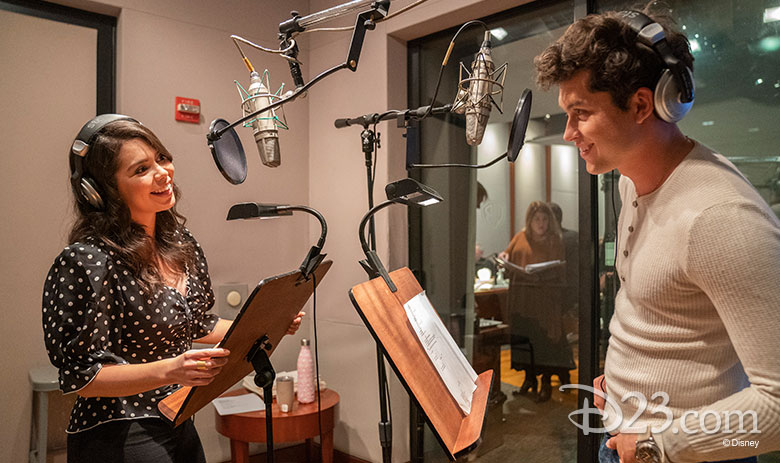 D23: Speaking of your other cast members, who are you most excited to be working with?
GP: Obviously, most of my interactions are with Ariel, so getting to work with Auli'i has been a delight. She's incredible. She's got this amazing voice and brings so much of her emotion to that voice. She's such a giving actress. We're doing "Kiss the Girl," which is a big number for Sebastian, but for us, we're just sitting in a boat for two minutes looking at each other. I'm sure you can imagine how that can be either awkward or boring or any combination, but with her, it's dynamic and interesting. It has an arc, which is something I was initially a little worried about, but not now.
D23: She's now a two-time Disney princess, so she has some experience.
GP: Yeah! I have some big shoes to fill.
D23: Is there something you're most excited for audiences to see in The Little Mermaid Live!
GP: For anyone who has fallen in love with the film but hasn't seen the Broadway musical, there are a few songs that I think they're really going to like. Perhaps I'm biased, but I love "Her Voice." I think that song is such an interesting part of the story. It's the other side of the coin, in the sense that you hear a lot about what Ariel is going through, but you don't really explore what Prince Eric is going through. Getting a sense for what he feels about Ariel, I think, makes the romance more powerful and the magnetism between the two characters more powerful. I think it helps the story out, so I think that's something people will really enjoy.
D23: Would you say that's your favorite song from The Little Mermaid Live! ?
GP: It's definitely my favorite new song, but I mean, "Part of Your World" has got to be my favorite song. It's so iconic. And it resonates with me in a way that I'm sure resonates with a lot of people because there will be these moments where you think you've got it all figured out, yet you still feel like there's something that you're missing. Just getting in touch with the idea that the things that you need the most are the things you can't necessarily see is a really powerful message. I mentioned playing a prince before; that was when I was 12 years old and played the Little Prince. That book by Antoine de Saint-Exupéry has a saying, "anything essential is invisible to the eye," and I think "Part of Your World" encapsulates the yearning for that essence.