By Courtney Potter
The Internet. A vast, mysterious, ever-evolving world—a place where hilariously weird cat memes can coexist with the most up-to-date research on space exploration. Who better to explore such an incredible realm than two video-game virtuosos? Walt Disney Animation Studios' Ralph Breaks the Internet, unleashing its gif-tastic fun on moviegoers beginning November 21, follows everyone's favorite video-game "bad guy" Ralph (voice of John C. Reilly) and best friend Vanellope von Schweetz (voice of Sarah Silverman)—the stars of 2012's Wreck-It Ralph—as they leave the comfy confines of Litwak's arcade in an attempt to save her game, Sugar Rush. Their quest takes them straight into the world wide web, an über-quirky locale Vanellope wholeheartedly embraces—so much so that Ralph worries he may lose the only friend he's ever had…
D23 recently swiped our proverbial mouse toward the chance to hear some fantastic behind-the-scenes anecdotes from the film's filmmakers and stars—including director Rich Moore and director/co-writer Phil Johnston; producer Clark Spencer; co-writer (and voice of Snow White) Pamela Ribon; and voice cast members Reilly, Silverman, Taraji P. Henson (voice of "BuzzzTube" head algorithm Yesss), and Jack McBrayer (voice of Fix-It Felix Jr.). Read on for a few of their most "shareable" stories!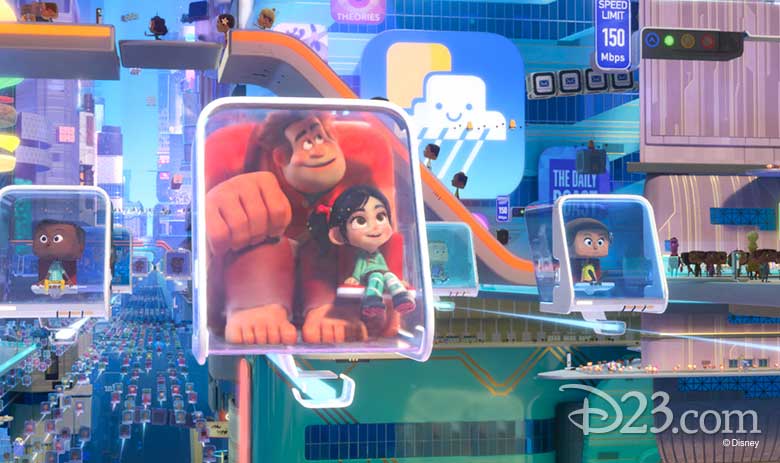 John C. Reilly on taking the beloved Wreck-It Ralph characters from the safe confines of their video games to the weird and wild world of the Internet:
"Wreck-It Ralph was initially even conceived as fish-out-of-water kind of character," says Reilly. "And that was a lot of what we played with in the first film—how does Ralph behave, or how does any video-game character behave in a game that's not his own? And then [in this film] the Internet is this literally infinite landscape… So there's a lot of really fun metaphors that we were also playing with in the film. And this idea that the arcade is like a 'childhood' area for [Ralph and Vanellope's] friendship, and the Internet represents this larger world beyond that—as they grow and mature… Ralph really works so hard to get a friend in that first movie. He's like, 'Got it! Rest of life, solved!' And then Vanellope starts to grow and mature and realize that she wants to feel like she belongs somewhere that is not her candy game. So, I think a lot of kids and adults are finding a lot of stuff in the film that they can really [connect] to, in terms of the way relationships evolve… "
Members of the voice cast on the opportunity to record together:
"We do get to record together," shares the voice behind Vanellope, Sarah Silverman. "[And] we get to improvise. [Directors Moore and Johnston] give us a lot of freedom—we collaborate a lot, and the script itself is so fantastic. It's really fun. And I think they always book about an extra hour of time because we get real chatty!"
And Reilly, laughing, continues, "It was a real treat to get into the studio again with Sarah. In a way, our friendship has aged five years since the last film, so it tracks in a way with Ralph and Vanellope. Sarah's not my only friend, but it was a real treat to be able to start at a place of intimacy with [her]—and with [directors] Phil and Rich and [co-writer] Pam… We learned how to work together in the first film. We built these characters and this story together so that when it came time to start this one, we could start from a very advanced place in terms of the kind of conversations we would have about the relationships and all that. And you can really see that in the film."
"I think I was one of the first people to insist that we try to be in the room together as much as possible," Reilly recalls, "because I know the way improv works—it works best in 'real time.' So yeah, there's a ton of improvised stuff which Phil and Rich were very kind to just let us explore things every day. And one of the great joys of doing audio work is that there's never the pressure of the sun going down."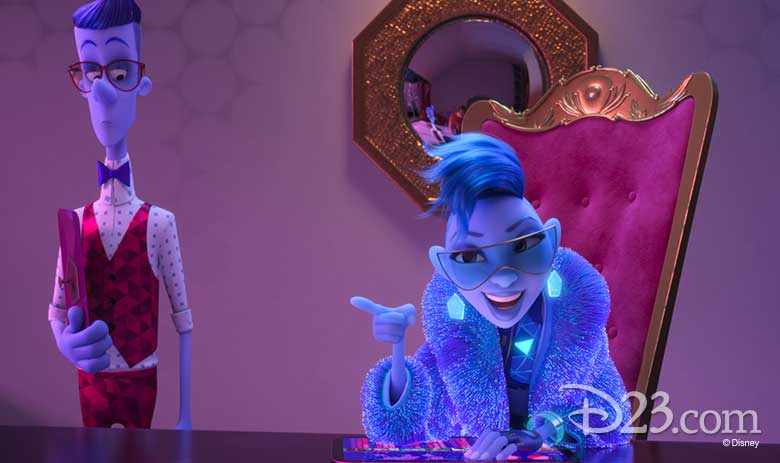 Taraji P. Henson on fulfilling a life-long dream—and what makes Yesss such a fun character to portray:
"First of all, voicing a character in a Disney animated film…check! Thank you!", Henson exclaimed. "I just thought Yesss was incredible. When Rich and Phil brought her to me and explained her, I was like 'This is a no-brainer.' I mean, she's a go-getter, she's the head of a company. She's no-nonsense, she has heart. My favorite scene is when Ralph finds himself in the comment section, in the comment room, and she comes in and she tells him, 'That's not you, that's them. They're mean. They're hurt, so they're hurting you.' It grounded the film for me, and it grounded the character for me—made her multi-dimensional… And then getting to [record my scenes] with these amazing other actors? I mean, it was just a no-brainer for me."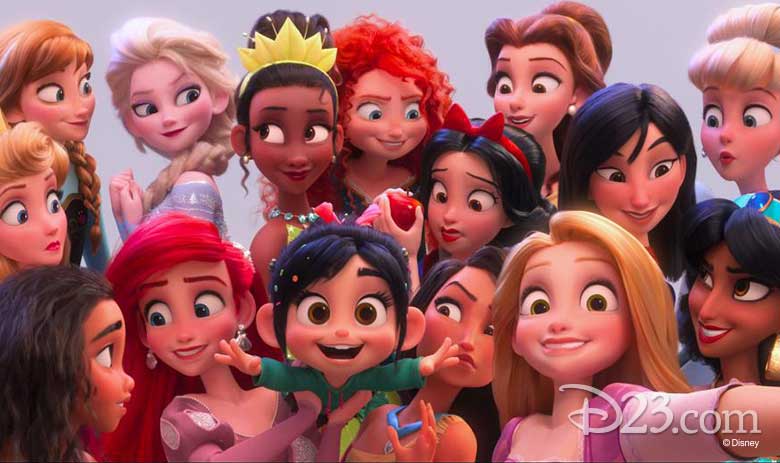 Silverman on Vanellope von Schweetz joining the "canon" of Disney Princesses, complete with an original song co-written by Disney Legend Alan Menken:
"It's a thrill," Silverman says. "The idea of Disney princesses, what makes them good is that they've grown and changed—that Disney has taken on progress and inclusivity and has grown and changed in positive ways… [And having a song in the film] was a dream come true. I couldn't believe it. When Phil and Rich told me—we had already been recording for a while, and I couldn't believe it. The music was written by Alan Menken and I got to meet him and work with him and rehearse with him… He wrote Little Shop of Horrors, one of my favorite musicals—and of course he's this Disney icon… It was incredible. We recorded with a whole orchestra, like you see in old-timey movies. It was crazy! It was really a thrill of a lifetime."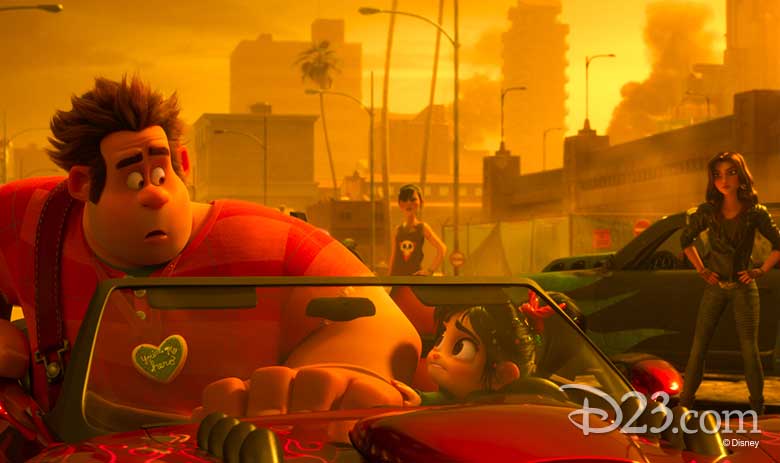 Director Rich Moore, and Reilly, on what they hope audiences—especially kids—take away from the film:
"I always liked, when I was a kid, films that made me realize 'I'm not the only one that does these kinds of things, or feels this way,'" says Moore. "Because… with a lot of these issues, even bullying, there's a component of—it's shameful, that we shouldn't talk about it, that I've got to keep it to myself. And as a kid, when I would see a movie where a character was going through the same things that I was, it made me feel like 'OK, I'm not alone. I'm not crazy, I'm not a freak—or the only person on Earth feeling these things."
And Reilly agrees, adding, "I hope kids are entertained, [but that] they also feel like this story relates to them—and that they recognize themselves in these characters."
Don't miss Walt Disney Animation Studios' Ralph Breaks the Internet, in U.S. theaters November 21!