By Beth Deitchman
He's fearless… unflappable… has the ability to travel through time—and have we mentioned his titanium-enforced abs?! This, Disney fans, is your new favorite animated hero: Future Worm. Yes, "Fyootch," as he is known to his friends, is of the worm species, but don't let his size or proximity to the ground fool you. Future Worm is a hero like you've never seen before.
Future-Worm!, the brand-new series debuting Monday, August 1 (11–11:30 a.m. EDT), on Disney XD, is an animated comedy adventure about an optimistic 12-year-old named Danny, who creates a lunchbox that doubles as a time machine. While in the future, he becomes fast friends with the aforementioned Future Worm, and returns home with his new friend to embark on new adventures—big and small.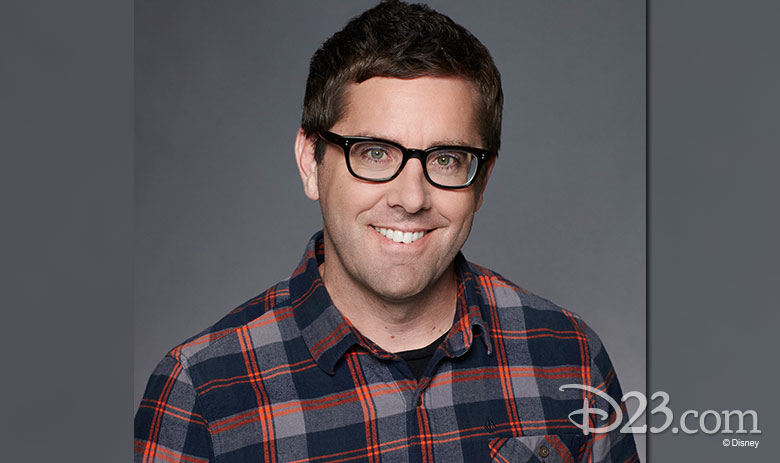 The series was created by Emmy® Award-winning director Ryan Quincy—who also serves as executive producer. The name "Future Worm" came to Quincy soon after he began sketching the slithery creatures, sometimes trying out different hairstyles and visors. "But then I landed on that beard with that shape, and I was a big fan of pro wrestling as a kid," Quincy told D23. "Hulk Hogan, Macho Man, Mr. T, and Chuck Norris—all those types of characters are sort of blended in to Future Worm."
Danny, on the other hand, was inspired by something closer to home: Quincy's own childhood, growing up in Nebraska. "As a kid I wore a captain's hat for… a couple of years," Quincy sheepishly admitted. "For this character, I wanted a very simple sort of kid who was comfortable in his skin, who had this strong confidence." Above all, Quincy wanted "optimism" to be Danny's defining quality, as well as the basis for his friendship with "Fyootch." "Fyootch could have hung out with anyone in time or space anywhere, and he decides to hang out with Danny. That says a lot about Danny's character," Quincy observed.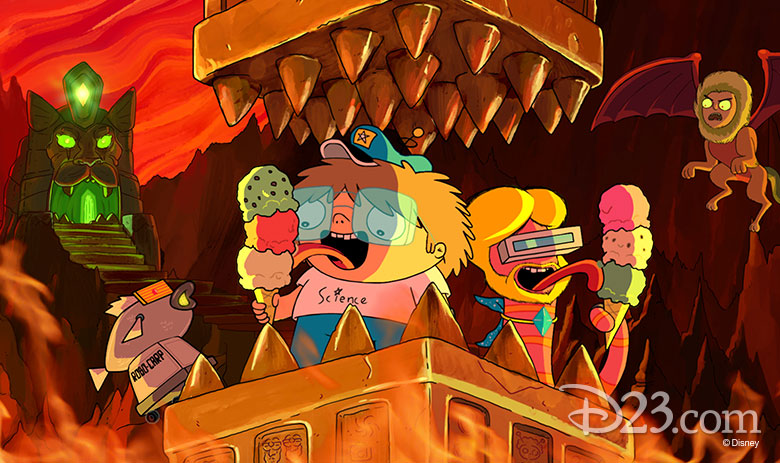 One of the fun challenges that comes with "grounding" a show around a character that's a worm, Quincy mentioned, is dealing with the animal's physical limitations: "He doesn't have any arms. He doesn't have any eyes to emote with." Quincy relies on Future Worm's tongue and tail to convey some emotion, but he was also quick to sing the praises of James Adomian, who voices Fyootch. "He brings so much charisma and energy to this character," Quincy said. "It's fun to see that kind of big, gravelly voice come out of that pink worm with blonde hair and a beard and a BeeGees hairstyle."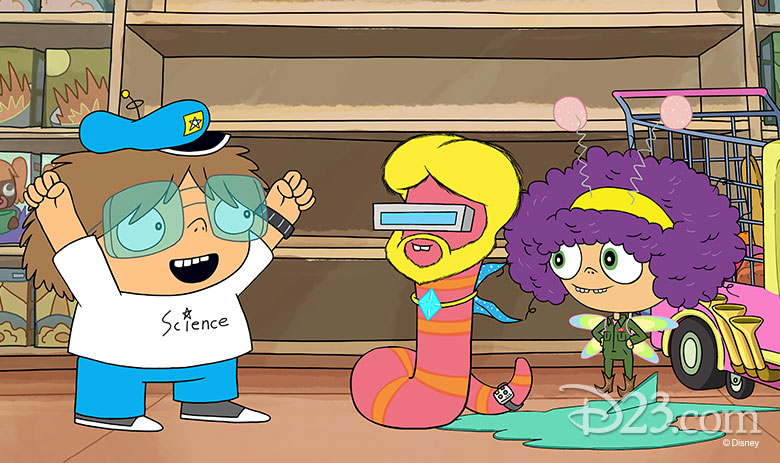 Though Danny and Future Worm can—and do—travel through time, Quincy said sometimes the duo will just stay put, at Danny's house. There is an intentional lack of rules surrounding the jumps forward and back in history. "Rules like paradoxes, the butterfly effect, running into your past self… that seemed like such a burden to deal with," Quincy explained, and he also wanted to avoid running into famous historical figures. The question Quincy instead tried to answer is, "What would a kid, if he had a time machine, want to do?" And, Quincy concluded, a young boy would likely use his invention for something a little more self-serving than trying to figure out "Who knocked the nose off the Sphinx?"
Each episode of Future Worm! is divided into three segments—11 minutes, seven minutes, and three minutes—an unorthodox structure for most animated series. "The 11-minute segment is like our 'mini-movie, with an A story and a B story," Quincy said, while the seven-minute stories focus on one problem, like Danny and Fyootch wanting to play with a chemistry set from the future—only to be interrupted by Danny's parents, who want to "cash in" a coupon for a home-cooked dinner from their son. At three minutes, the shortest sequences in Future-Worm! might not even feature the two protagonists, Quincy revealed. Fans can look forward to movie trailers featuring Danny's favorite on-screen character, Steak Starbolt, or game shows from the future. "We wanted to build a world that was so rich in characters who could carry stories on their own," he added.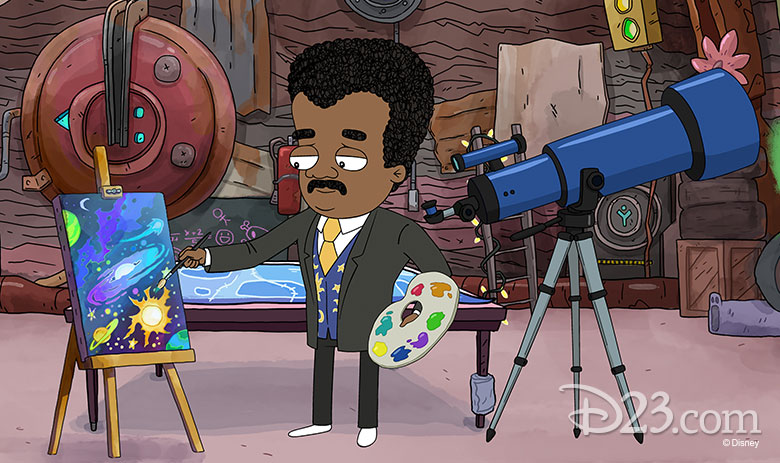 Some of those characters are part of Danny's present, like his parents—stay-at-home dad Doug Douglas and his toy inventor mom, Megan Douglas. And some are from the future, like Dr. D.—an imposing dinosaur with a "healing touch." And some might even be familiar to viewers, who will see noted astrophysicist Neil deGrasse Tyson (Cosmos) playing… noted astrophysicist Neil deGrasse Tyson. The science authority was thrilled to participate in the show and, Quincy said, had just one caveat: "He would like just a little bit more science education 'sprinkled' into the show. He's excited that Danny has 'Science' on his shirt, because that becomes an entry point for kids [to science]." Tyson also serves as an unofficial scientific adviser to the show. According to Quincy, when a script referred to a location being "3 million light years away," Tyson implored them to "add a couple of zeroes" to that figure, pointing out that "Three million light years is actually pretty close!"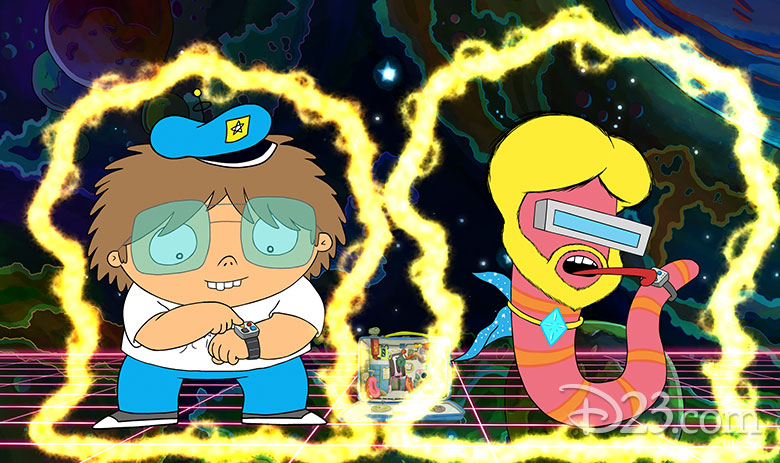 Thanks to his friendship with Future Worm—who Quincy refers to as Danny's Jiminy Cricket-like sidekick—it's guaranteed that Danny is never going to have a dull day. And thanks to Quincy's unique sensibilities, which inspired him to create a show that parents can watch with their kids—it's guaranteed that Future-Worm! viewers will always be thrilled!