If the air feels crisp this September, it's not just the cool fall breeze. Walt Disney Animation Studios and ABC are giving viewers unprecedented behind-the-scenes access to the making of Frozen. The Story of Frozen: Making a Disney Animated Classic premieres Tuesday, September 2 at 8 p.m. ET on ABC. The special will also offer a glimpse toward the next chapter for Anna, Elsa, and friends, as well as an exclusive sneak peek at Big Hero 6 which hits theaters this November.
The Story of Frozen: Making a Disney Animated Classic offers a look at the origins and evolution of the Academy Award®-winning blockbuster—now the biggest animated feature of all time.
The special tells the real story of making a modern movie based on a timeless tale that nearly overnight became a cultural touchstone for legions of fans.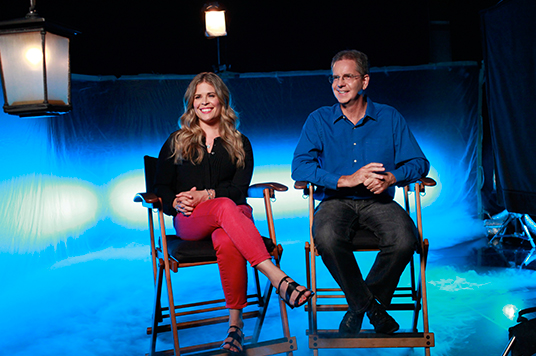 Viewers will get a rare look inside Walt Disney Animation Studios and unprecedented access to the creative team that brought Frozen to life. Throughout the one-hour special, the audience will hear from Frozen stars Kristen Bell and Idina Menzel, the directors, songwriters, producer, and artists, as well as Walt Disney and Pixar Animation Studios Chief Creative Officer John Lasseter—the team who dreamed of making a cherished Hans Christian Andersen story into a spectacular big-screen animated musical.
Viewers will journey to the breathtaking Norwegian villages and landscapes that inspired the look of Arendelle, Frozen's fictional kingdom, and see images and footage from the research trips to Norway, Quebec, and points beyond that helped create the film's unforgettable look and feel.
This special will also include some exciting announcements about the next chapter of Frozen and a never-before-seen preview of the Frozen characters, who are set to appear on the ABC hit series Once Upon a Time when the show returns Sunday, September 28. Members of D23 will get a special peek at what's to come on Once Upon a Time in the Fall 2014 issue of Disney twenty-three.
The program will culminate with an exclusive sneak peek at the action-packed comedy-adventure Big Hero 6, currently in production at Walt Disney Animation Studios—under wraps until now—as the team prepares for their next big-screen epic. Sounds like September 2 will be the perfect night to "chill out" at home.