By Nicole Nalty
"It's tool time!" On September 17, 1991, Tim "The Tool Man" Taylor and his family made their small-screen debut when the new comedy Home Improvement joined ABC's primetime lineup. Celebrating 25 years of tools, Tim, and "euuuh!", D23 has rounded up a few fun facts about the classic sitcom.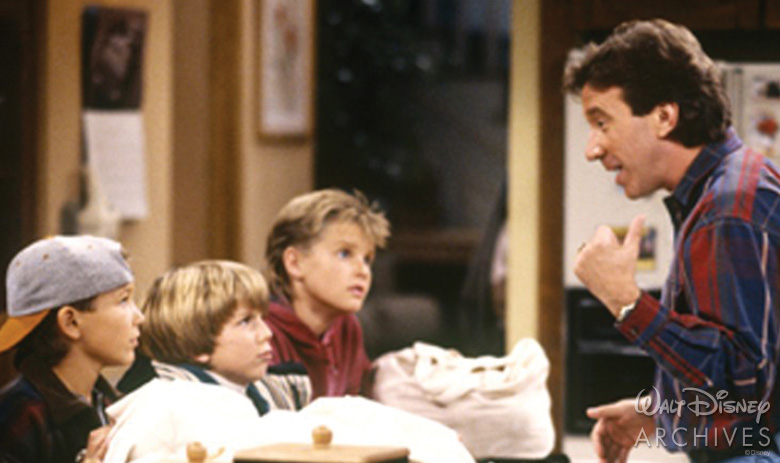 A Historic Home
If you've toured the Walt Disney Studios lot with D23, you might know this one! While Home Improvement was filmed on both Stage 3 and Stage 4, Stage 4 is the official "Home Improvement Stage," denoted by a plaque on its exterior.
Disney History in the Making—Literally!
Speaking of the Walt Disney Studios lot, one of the construction sites featured on Season 3 of Home Improvement ("Dollars and Sense") was actually the Feature Animation Building, now known as the Roy E. Disney Animation Building, while it was being built in 1993. The construction site of Season 4's "Don't Tell Mamma" was construction on the Walt Disney Studios backlot.
Sid's Tool Box
Tim Taylor's show sponsor gets Buzz Lightyear in a bit of trouble in Toy Story. Take a close look at Sid's tool box and you'll see the logo of Binford, Tool Time's sponsor—a fun Home Improvement nod and Pixar Easter egg in the 1995 film.
All in the Family
The cast of Home Improvement went on to star in a variety of different projects for The Walt Disney Company: Tim Allen traded his tools for toys as Scott Calvin in The Santa Clause series and as the voice of Buzz Lightyear in the Toy Story. Now, you can see Tim Allen as the father of three daughters on Last Man Standing (Jonathan Taylor Thomas, Patricia Richardson, and Richard Karn have guest starred on the show as well!). Jonathan Taylor Thomas voiced young Simba in The Lion King, and starred in his own holiday film, I'll Be Home for Christmas.
Double Duty
Members of Home Improvement's live studio audience had the unique opportunity to be a part of the show—as Tool Time's live studio audience!