By Courtney Potter
 Disney+ Reveals First Look at National Geographic's Growing Up Animal
Earlier this week, Disney+ shared a breathtaking first look at National Geographic's Growing Up Animal, an original series premiering exclusively on the streaming service next Wednesday, August 18.
Narrated by Tracee Ellis Ross, the Emmy® Award-nominated star of ABC's black-ish, Growing Up Animal captures the intimate and extraordinary adventures of baby animals—from the safety of the womb to the uncertainty of birth and their tentative first steps. Each episode follows the incredible transformation of a different iconic animal: baby chimps, sea lions, elephants, African wild dogs, lions, and grizzlies… all of whom are full of wonder and emotion. This is the magical, heart-warming story of a mother's instinct to nurture and her infant's drive to survive.
The six-episode series is truly an in-depth examination—using unique technology to allow viewers to experience first-hand what these mothers and babies endure during the path to new life. As each episode follows the pregnant mother's journey, scientifically accurate in-utero baby animal silicone models are used to portray the miracles happening within the womb; these scenes depict a realistic view of the animals at various stages in fetal development. World-renowned scientists and animal researchers gathered the data and scans to make the models as accurate and life-like as possible, all especially for the series. Sounds epic and educational—one of our fave combos.
5 Fantastic Things to Watch This Weekend
This weekend kicks off with a Friday the 13th… but don't fret: It's looking to be a truly fun-lucky 72 hours filled with great new stuff to watch from around the worlds of Disney—including the big Disney Channel premieres of Spin, Descendants: The Royal Wedding, and Disney's Magic Bake-Off. And there's more where that came from; check out our full rundown.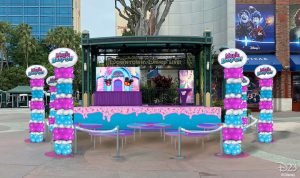 Fun at Downtown Disney District and Disney Springs with Disney's Magic Bake-Off
Speaking of Disney's Magic Bake-Off, if you find yourself at Downtown Disney District at Disneyland Resort the weekend of August 20-22, you'll be able to delight in some delectable series-related fun. During this unique event—with showings at 5 p.m., 6 p.m., and 7 p.m.—kids ages 7-12 can put their skills to the test decorating cupcakes with Disneyland Resort pastry chef (and Magic Bake-Off judge) Graciela "Gracie" Gomez while a DJ spins some fabulous beats! Space is limited for cupcake decorating and this event is free, so calling all parents: Make sure to sign up starting at 4 p.m. each day at Downtown Disney District to secure a spot for your kidlet(s). It's easy peasy—just visit the Downtown Disney District stage where an Events cast member will be able to assist with signing up for a time slot at 5 p.m., 6 p.m., or 7 p.m. on the day of your visit. And after you have finished decorating up a storm with Chef Gracie, make sure to head over to the Downtown Disney District courtyard adjacent to the stage for two deliciously colorful photo walls (which are already up and ready for selfies).
But that's not all: Bakers on the East Coast can whip up their best pose at the all-new photo wall at Disney Springs at the Walt Disney World Resort. Only available this August, the magical Magic Bake-Off poster is located on the wall next to the Disney's Days of Christmas store. And as a reminder from our friends at the Disney Parks Blog, don't forget to tag these photos with #DisneyMagicBakeOff and #DisneySprings… and make sure to scan the QR code for a special surprise!
New and Returning Cast Announced for The Lion King and Aladdin on Broadway
With Broadway coming alive in New York City once again, Disney Theatrical Productions announced a plethora of casting news related to not only The Lion King and Aladdin and their Big Apple-based productions, but also to their North American tours of Frozen and The Lion King. Read up on all the triple-threat talents you can expect to see gracing these various stages by clicking here.
Global Rendition of "Starting Now" for the Ultimate Princess Celebration
Fifteen different performers from across the world were recently tasked with recording a brand-new version of original song, "Starting Now," as part of the Ultimate Princess Celebration initiative. The song—inspired by Disney Princesses and Queens and celebrating the heroines who fill our world with courage and kindness—was initially recorded by superstar and Grammy Award®-winning artist Brandy. Produced by Grammy Award nominee Oak Felder and written by Jason Mater, Jordan Powers, and Darren Criss (yes, that Darren Criss), "Starting Now" was initially released on Walt Disney Records on May 21. Artists across the world have also released local versions of "Starting Now" since then.
Among the artists (and their languages) are Brandy (English); Leslie Clio (German); Cerise Calixte (French); Noemi (Italian); Nerea Rodríguez (Spanish—Spain); Karol Sevilla (Spanish—Latin America); Agnes Nunes (Portuguese); Mimi Korg (Russian); Alicja Szemplińska (Polish); Krisiya (Bulgarian); Feli (Romanian); Gioia Parijs (Dutch); Ailee (Korean); Eden Alene (Hebrew); and Stefania (Greek).
The Ultimate Princess Celebration, launched in April 2021, is a year-long event spotlighting the courage and kindness Disney heroines inspire in fans around the world. Families can visit DisneyPrincessStories.com (or DisneyPrincessStories.co.uk, for those of you "across the pond") to download the 14 inspiring stories from the "Tales of Courage and Kindness Story Collection"; available for free, these stories will inspire fans of all ages to carry out their own small acts of kindness and help to create a kinder world.
ICYMI: Exclusive Q&A with Free Guy Director Shawn Levy
It's an extremely anticipated film, and it's coming to theaters this very weekend. Ready yourself for the mirth and raucous merriment of Free Guy—starring Ryan Reynolds and Jodie Comer (among a slew of hilarious others)—by reading D23's exclusive Q&A with the film's director, Shawn Levy. Click here and be thoroughly entertained.