By Nicole Nalty
Disney California Adventure Food & Wine Festival is in full swing, and there's a lot to see, do, and, of course, eat! We ate our way through the festival (in every job that must be done, there is an element of fun!) and rounded up some of our favorites for every appetite.
Don't forget––Disney California Adventure Food & Wine Festival features more than just marvelous marketplaces! You can experience culinary demonstrations, brewmaster and winemaker's dinners, hang out with Goofy at Jr. Chef and Chip 'n' Dale at Jammin' Chef, and catch live performances from local bands. The festival continues through April 16!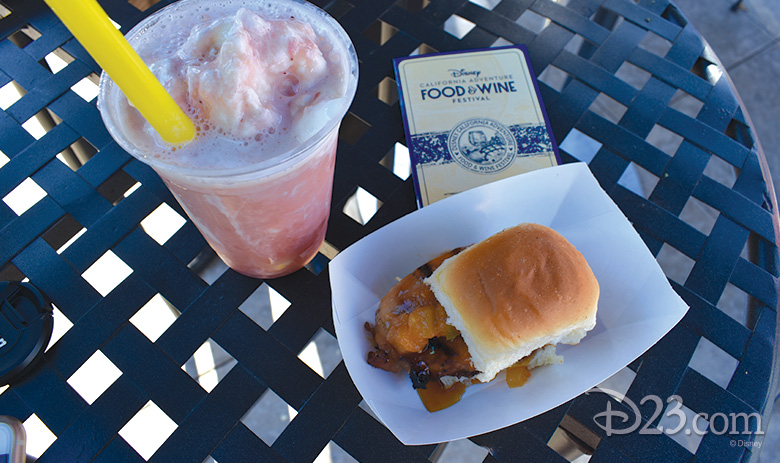 If you're looking for something sweet…
LA Style––This marketplace is located in Hollywood Land, near Monsters, Inc. Mike and Sulley to the Rescue! You can find sweet eats like the Chicken Teriyaki Slider with Spicy Dole® Pineapple Jam, and an indulgent (but refreshing) Dole® Pineapple-Strawberry Float with vanilla ice cream and strawberry pearls. Pair these two festival favorites together for a super sweet meal.
Sweet & Sourdough––A piece of Boudin sourdough bread is already a treat, but when combined with milk chocolate in a decadent bread pudding, it's even sweeter. This was our favorite eat of the festival!
Lemon Grove––A tangy lemonade turns sweet with a cherry twist and cherry pearls.
If you're looking for something hearty…
Bacon Twist––This meaty marketplace is a hearty heaven! Enjoy mac and cheese piled with smoked bacon and barbecue-seasoned onions, and pair it with a baby iceberg and heirloom tomato wedge with peppered bacon and creamy blue cheese dressing. Still hungry? Try the Maple-Bacon whoopie pie.
The Onion Lair––Try the French Onion mac and cheese at The Onion Lair for a hearty vegetarian option. For meat lovers, the Braised wagyu beef falls apart on the fork and is complemented by creamy polenta and haricot verts.
Garlic Kissed––We loved everything at this marketplace highlighting Gilroy Garlic, but the grilled beef tenderloin slider with garlic chimichurri sauce will delight a bigger appetite.
If you're feeling adventurous…
Garlic Kissed––Savory ice cream may seem out of the ordinary, but this Garlic-Rosemary and Avocado Oil Ice Cream Pop is a must-try for any foodie.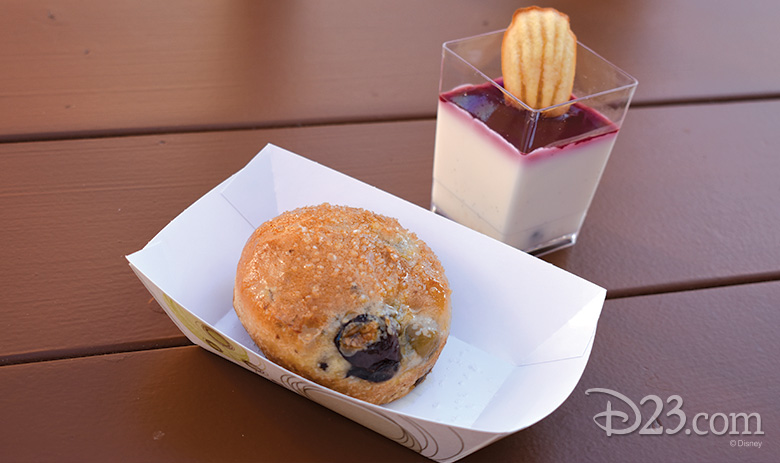 If you're looking for a snack…
Nuts about Cheese––Three different cheese and nut dishes are available at this marketplace, but our favorite was the Brie Toast: topped with fig, mint, and roasted almond crumble, it's a buttery-sweet snack.
Olive Us––There are few things more comforting than a warm piece of good bread, which you can find at the Olive Us marketplace. Baked with California olives, this roll is topped with olive oil and sea salt.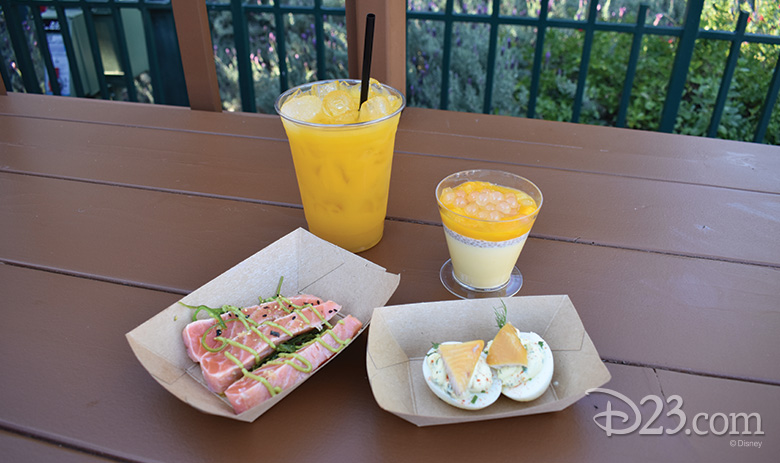 If you love seafood…
Seafood…Sustained––This marketplace has you covered. Try the sustainable salmon tataki and a fresh twist on deviled eggs—filled with cream cheese and topped with smoked trout.
Sweet & Sourdough––Two classics combine when a Bay Shrimp Louie Salad is served in a Mini Boudin boule.
Olive Us––Perfect for warm spring California days, a classic cioppino is served chilled (order the olive focaccia on the side!).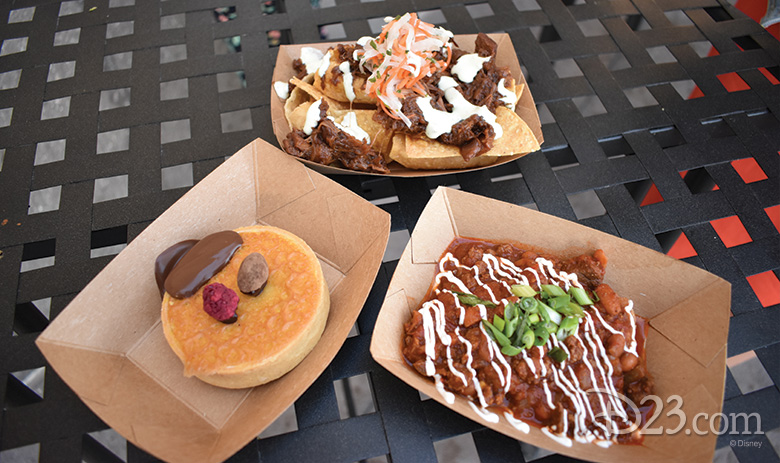 If you're a vegetarian…
I ♡ Artichokes––Each offering at this marketplace is vegetarian, but our favorite was the grilled and chilled artichoke hearts with a tangy romesco sauce.
Lemon Grove––Roasted cauliflower is served with a Meyer lemon-infused yogurt.
Off the Cob––Meatless nachos are taken to the next level with Jackfruit Banh Mi Nachos––this dish can be made vegan if you omit the sauce!