By Zach Johnson
Your own adventure awaits in Star Wars: Galaxy's Edge—but in Delilah S. Dawson's new novel Black Spire, it's all about Vi Moradi's exploits on the planet Batuu. The story explains how the Resistance and the First Order came to inhabit the remote outpost planet and reveals why the First Order is keen to track down the plucky Resistance spy.
"They've heard Vi Moradi is there and might be trying to make a Resistance Base," Dawson teases. "They got their intel correct. They're hunting for her." A prequel to the Disney Parks experience, Black Spire bridges the gap between Star Wars: The Last Jedi and Star Wars: The Rise of Skywalker (in theaters December 20, 2019), and Moradi's mission is central to the story. General Organa has tasked her with setting up a hidden camp and recruiting potential allies to rebuild the Resistance—no easy feat, seeing as they're still licking their wounds after back-to-back losses at D'Qar and Crait.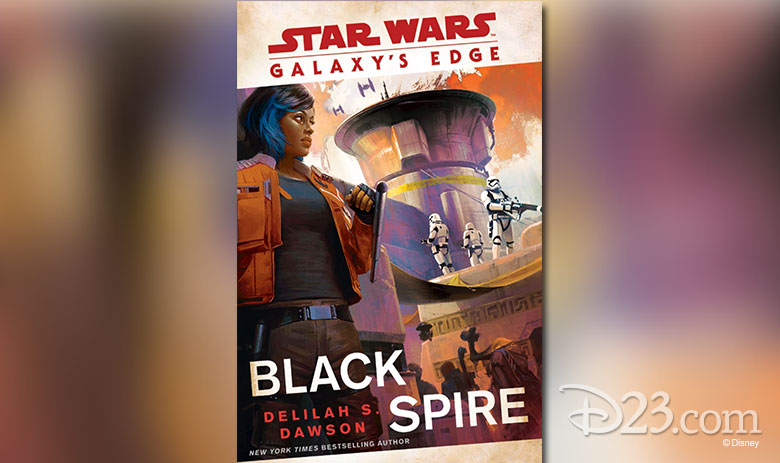 Guests at Disneyland park and Disney's Hollywood Studios at Walt Disney World Resort can mimic Moradi's escapades when they visit Star Wars: Galaxy's Edge—and they might even see her roaming the land! "We'll start with the forest surrounding Batuu. We'll see the ancient ruins, we'll visit Oga's Cantina, we'll go to Mubo's Droid Depot, we'll have a brief time in Dok-Ondar's Den of Antiquities, we'll drink the Blue Milk, and we'll enjoy Ronto Roasters," Dawson promises. "We'll see a little bit of everything, because Vi and her people are all over the world." Readers will also learn about the Black Spire itself, which is steeped in lore. "Everybody tells a different legend about the Black Spire," she says. "In the book, depending on whether you've talked to someone who lives in the heart of the city or someone who has just gotten on planet, they all have different perspectives. No one knows for sure, so it'll be fun to make up different legends and let the readers and visitors consider which one they think might be true."
A version of this story also appears in the Summer 2019 issue of Disney twenty-three magazine, which is sent to D23 Gold Members. Star Wars: Galaxy's Edge – Black Spire is available now. Dawson will go on tour on the East Coast in early October.