By Beth Deitchman
During the Tangled: The Series panel at D23 Expo 2017, the series' cast and creative team shared a preview of an upcoming special episode that was, both literally and figuratively, music to our ears. The tentpole episode, "Queen for a Day,"—which airs this Sunday, November 19 (7–8 p.m. ET)—finds Rapunzel in charge of Corona while the King and Queen are away. But when a blizzard strikes, Rapunzel must confront the tough decisions that come with leading a kingdom. Disney fans will enjoy all of the comedy, adventure and heart we've come to expect from the series, but the special episode also features something else—two songs by the team of Oscar®-winning composer and Disney Legend Alan Menken and lyricist Glenn Slater. And D23 has an exclusive clip from one of the songs:
"We knew from early on that music was going to be special in the show, and I wanted to keep it special by not using songs in every single episode," says Executive Producer and Supervising Director Chris Sonnenburg. A lifelong student of animated and Broadway musicals, Sonnenburg notes that large music pieces often trigger a change in a character. This tentpole episode is a pivotal one for Rapunzel—and for Varian, the young alchemist, who moves further along his own "rocky" road in "Queen for a Day." It's emotional for both, and the characters' feelings come through in Menken and Slater's new songs.
The songs are a true collaboration, Sonnenburg emphasizes. Menken and Slater have been involved from the start and as lyricist, Slater works very closely with the other writers on the show. The song demos the team first receives from Menken may be starting points for what fans will hear in Sunday night's episode, but, Sonnenburg notes, "Even though it's pared down and a little more simplified, Alan communicates the emotion he would like to come through in the song. You can often hear his intent in the demos."
Many years ago, Sonnenburg remembers watching Disney Legend Howard Ashman work with Jodi Benson (also a Disney Legend) during the recording of "Part of Your World" in a behind-the-scenes video from The Little Mermaid DVD. "He talked her through the moment and the space she was in, and kind of painted a picture for Jodi of what was going to be happening. Watching them interact just communicated to me at that time, 'These are two amazing artists coming together to tell a single story,'" Sonnenburg recalls. Now, to be able to have that experience with Mandy Moore, Zachary Levi, Jeremy Jordan, Eden Espinoza, and the rest of the talented voice cast, is a dream come true. "I don't want to undersell how magical that is," he says.
Recording new songs by Menken and Slater is a highlight for the actors, as well. Before recording "Make You Proud," the song that Jeremy Jordan sings in "Queen for a Day," the actor would record verses and snippets of the song and send them to Sonnenburg by phone. "Jeremy is such a talented performer. Having him trust my notes, and knowing that when he performs the song it's going to be the right tone, is part of the Disney magic," Sonnenburg emphasizes.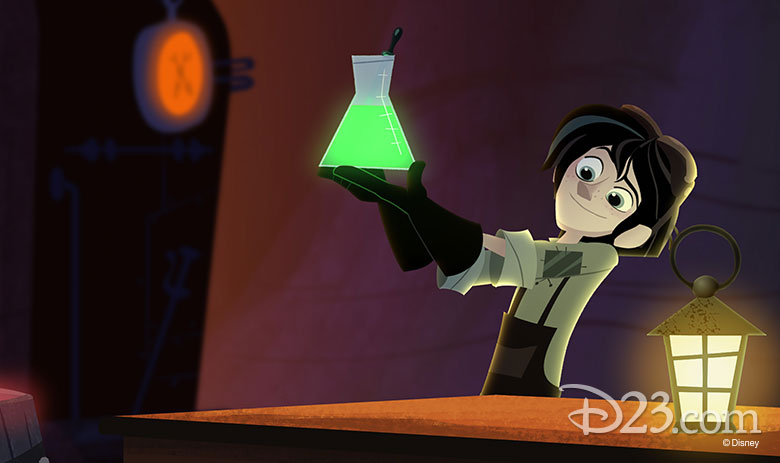 Over the course of Tangled: The Series' first season, Rapunzel has been learning a lot about herself and her role in Corona, and that will continue, Sonnenburg shares—as will the mystery of how Corona's strange rocks come into play. "It's very important to me that we respect the content [of the 2010 feature film Tangled]," he says, "and fans have been very supportive as we've built upon that mythology." He's also been excited to see fans rally around some of the new characters, such as Cassandra, Varian, and Lance Strongbow. "Eden Espinoza, Jeremy Jordan, and James Monroe Iglehart are all phenomenal performers and have such a great presence on Broadway," Sonnenburg stresses. "So being able to have them be part of the family fits with the DNA of Tangled. I think the fans in the audience agree with that and they cue in to how naturally this cast fits together."
So untangle your schedule for Sunday night and set a date to watch "Queen for a Day" on Disney Channel from 7–8 p.m. EST. "This tentpole episode is going to shake a lot of people," says Sonnenburg, who promises, "And it's going to be a lot of fun!"