By Karina Schink
It's a hot summer day at a Disney park. With a Dole Whip in hand and three refreshing descents down Splash Mountain, you don't even feel the sweat. You're walking around the park when suddenly, an unexpected blend of pixie dust wafts over your day.
The sun catches a glimmer of water. It's not a puddle you have to avoid, but precise lines, curved with care. You take a few steps back and you're greeted by the familiar face of Mickey Mouse, drawn in nothing more than water on the ground before you.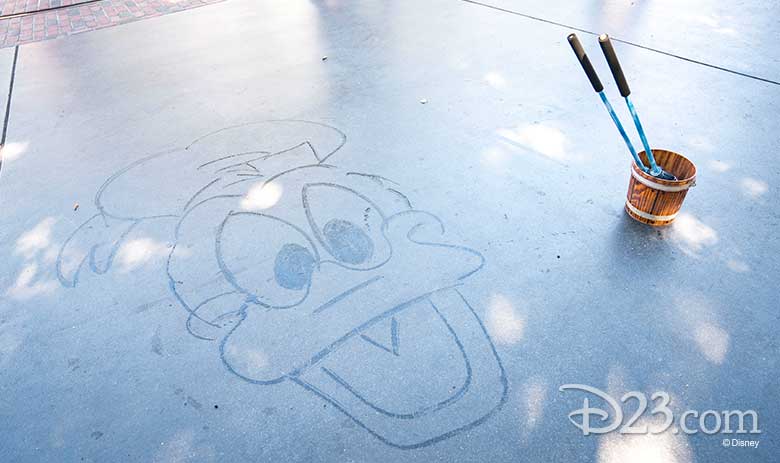 That is the kind of experience that water artists like Melody Anderson deliver to guests every day at Disneyland. "It's definitely a special magic," Anderson says of water art at Disney.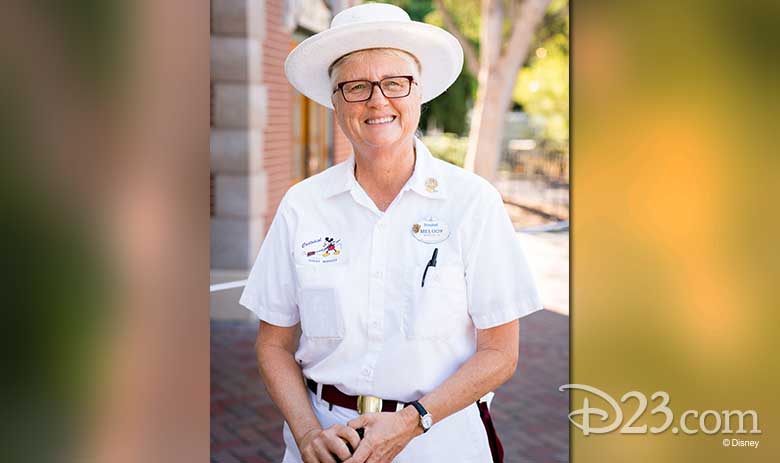 So, what exactly is water art? Well, it's just that, a special kind of magic. Water art is created in the Happiest Place on Earth by members of the Custodial team, who use just a broom and a bucket of water to draw favorite Disney and Pixar characters on the ground, often when you least expect it!
With humble tools reminiscent of Walt's pencil and paper, these custodial artists "draw an exact set of lines that result in the precise view of the character," as Anderson explains it. Mickey Mouse and Minnie Mouse, Donald Duck, Goofy, and a couple of new Pixar favorites are some of the likely suspects to appear out of these lines.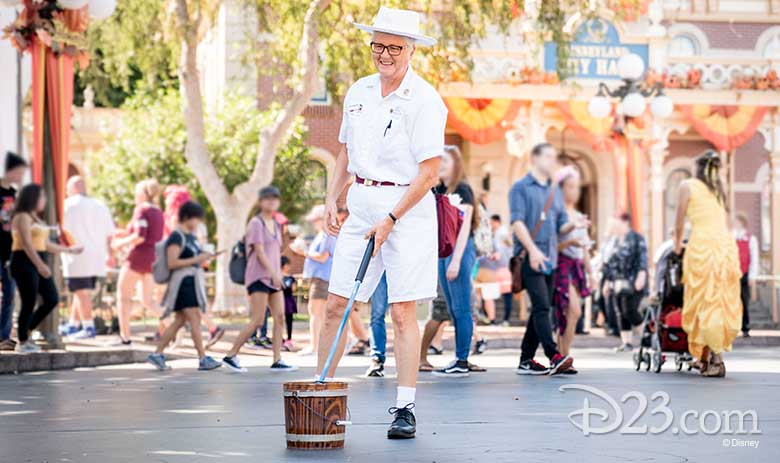 How does water art fit into the Disney picture? Anderson draws a parallel to Walt Disney himself. "Disneyland, and everything Disney, started in the heart of that 7-year-old boy who wanted to create something out of nothing." Her sentiment could not be more true, because these magical 15-minute sets (before the water artists return to their daily duties) are soaked in that idea of creating something out of nothing. Guests frequently ask Anderson what is in her bucket, what is she using to create these mini-masterpieces? Her answer is always the same and always quite simple: water.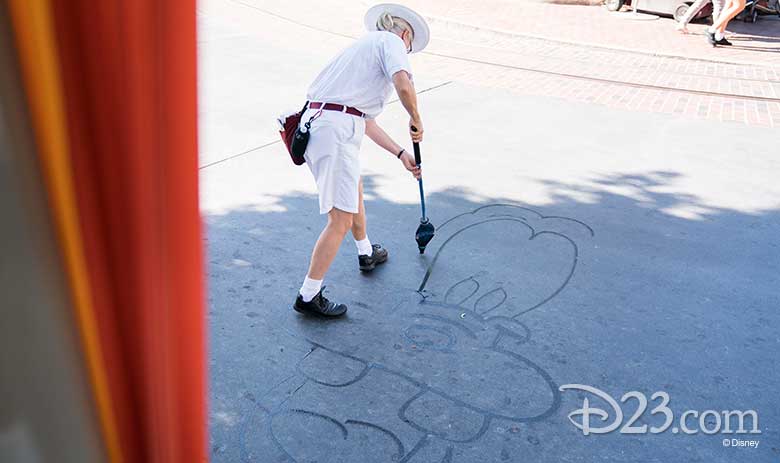 Anderson cannot remember a time guests weren't delighted to encounter her or her colleagues' creations. Water artists have normal custodial duties that take up the majority of their day, but a select few have been trained to take their painting chops to the streets of Disney to paint these temporary treasures. If you happen to catch Anderson in the process, you might find her drawing Donald Duck, one of her favorites to create, or maybe Winnie-the-Pooh, the next character she plans to master. Specific characters are chosen to be the stars of the show through a partnership with Walt Disney Imagineering and the Animation Academy.
But, as is frequently the case in the wonderful worlds of Disney, every magical moment is endowed with something that makes it even more magical. For Anderson, that extra boost comes when she can bring a guest into the process. Custodial artists will often ask guests—both young and young-at-heart—to get involved by contributing to the artwork or following directions to paint their own Pluto or Goofy. But for Anderson, a recent interaction made an impression that has endured long after the artwork faded away.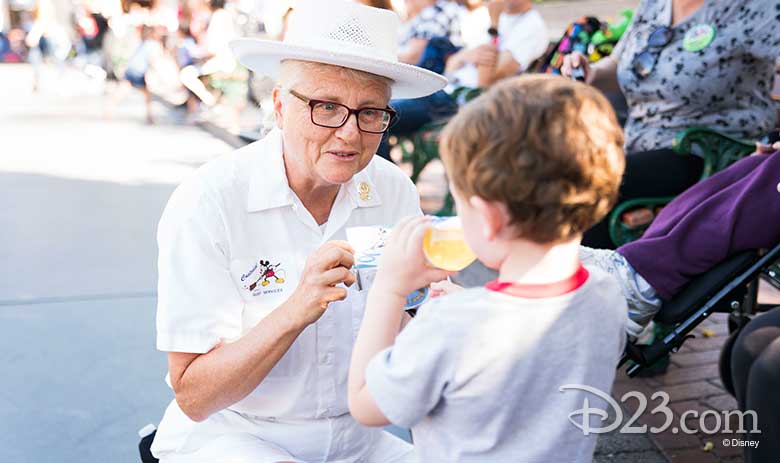 When she saw a young boy waiting for the parade with his mother, caught in a "grumpy cloud," Anderson knew she had to try to do something to turn his day around. While Anderson has created water art for three years, drawing the iconic duo—Mickey Mouse and Minnie Mouse—has always intimidated her, but when she learned that little boy's favorite character is the latter, she knew what had to happen next.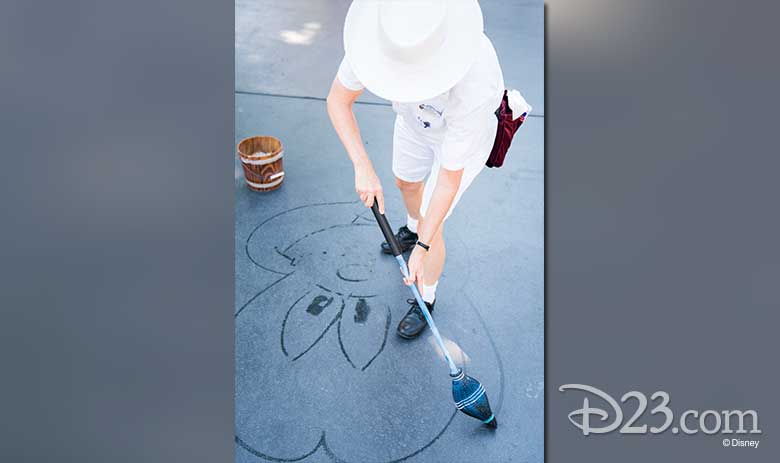 "It was on. I was going to draw Minnie Mouse for that boy," Anderson states. "So, I went and got [my tools], I drew Minnie for him, and that boy smiled. That guest came out from under his sad cloud… and with the tools that Disney gave me, I was able to help that guest find his way back to happy. And to me, that's one of the biggest victories you can have as a cast member."
This is only one of the examples that Anderson had to offer about the many times she has produced water art and the memorable reactions she's gotten from onlookers. Whether it's a child who gets involved and claims their own title of "Junior Character Water Artist," or an adult who tries his or her own hand at a painting, every guest interaction has been meaningful to her.
"I appreciated that water art built the bridge between me and that little boy's heart," Anderson shares.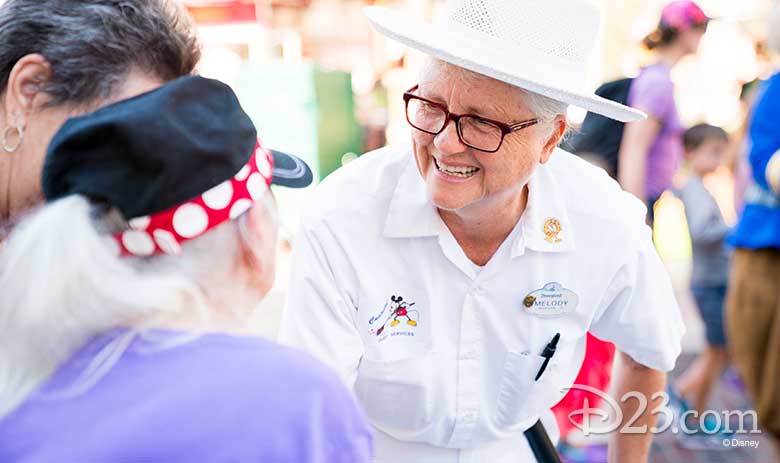 Since the '90s, artistic moments such as these have taken many different forms, in a variety of media that ranges from leaves and traffic cones, to now, the most common form: water—specifically water that has melted off of the outdoor vending carts, so no water goes to waste.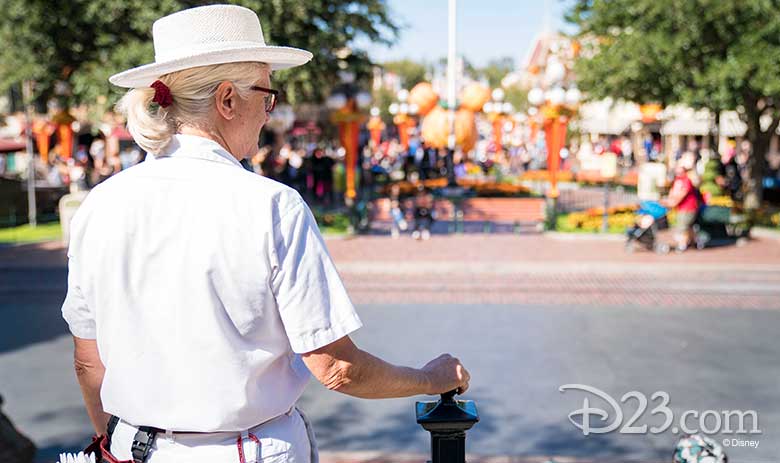 Many guests may know of these magical moments, but have yet to catch one. Anderson suggests checking shaded spots when it's in the summer, and paying extra attention at night. Water artists will look for the best locations, depending on the level of heat of the pavement and how long they think their art will last. But, ultimately, it's just the magic of Disney that will allow you to stumble across these delightful works of art, and hopefully meet the artist, as well (even though some practice what Anderson calls "stealth water art" and choose to watch guests discover their art from afar).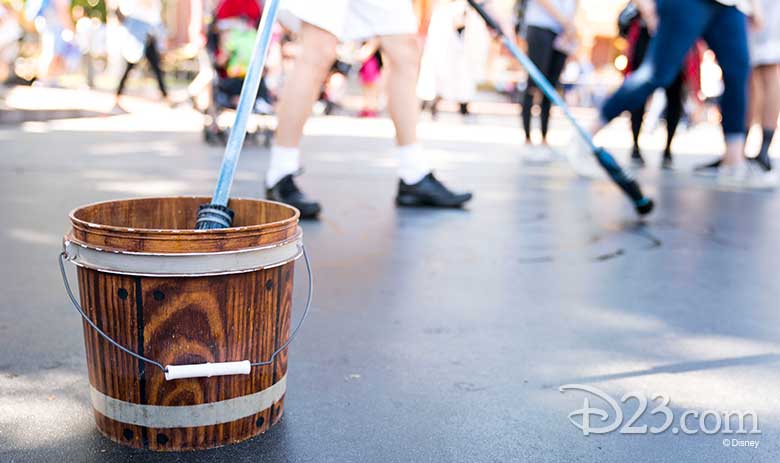 So, what it all really comes down to are expectations… and expecting the unexpected. The 7-year-old with a pencil and paper, a Disneyland cast member with a broom and a bucket. Magical somethings truly can come out of nothing, and can make for the best surprises of all.