By The D23 Team
Downtown Disney
Entertainment
Downtown Disney District will feature nightly entertainment throughout the holiday season. From a cappella to carolers—and even a few magicians—there is something for everyone in Downtown Disney. You never know what magical moment you might see while you're strolling through this winter wonderland.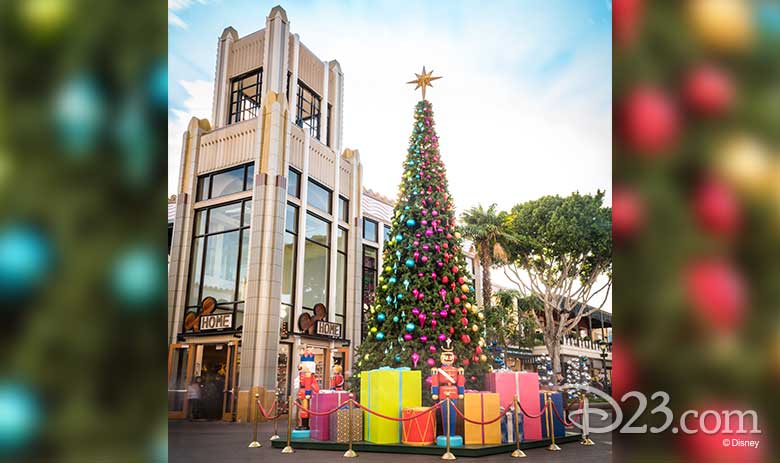 Seasonal Overlay
Even with a wintery chill in the air, your heart will melt as you take in the new seasonal overlay, featuring an artificial 30-foot-tall tree positioned near Uva Bar. A tree that tall takes a lot to decorate it—6,200 ornaments in total! You can take in 800 ornaments glimmering on the tree and 900 in each of the six planters.
Holiday Eats and Treats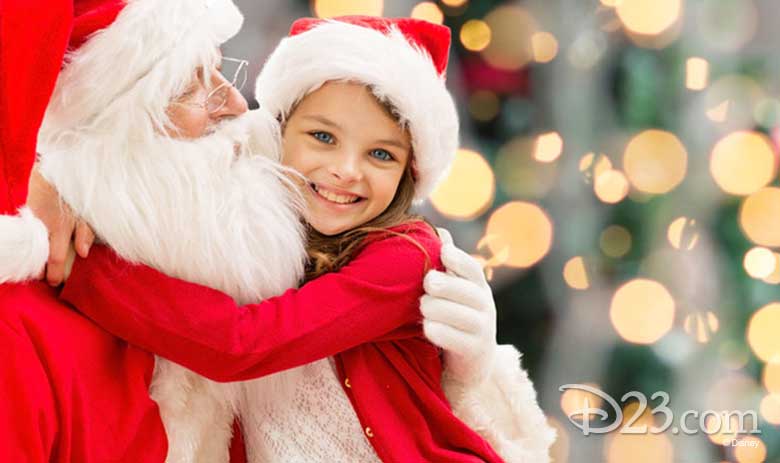 Catal Restaurant
Breakfast with Santa (Dec 1, 2, 8, 9, 15, 16, 21, 22, and 23): Santa Claus is coming to town and he's paying a very special visit to Catal Restaurant. Join jolly old Saint Nick and his merry band of elves throughout the holiday season at Catal Restaurant's classic Breakfast with Santa experience. Guests are invited to feast on a decadent family-style spread of menu offerings such as buttermilk pancakes, crispy bacon, and farm-fresh eggs while Charles Dickens carolers serenade them with their favorite festive tunes. Adults are welcome to sip on bottomless mimosas while little ones are treated to a cookies-and-milk station and steaming cups of hot chocolate from the cocoa cart. After they share their Christmas wishes with Santa, he will gift every child with a pre-stuffed Build-a-Bear™ Workshop teddy bear in addition to a personalized stocking and a complimentary photo print of their magical time with him. Make your reservation today to enjoy this beloved yuletide tradition that is sure to put a smile on every child's face and make memories that will last a lifetime.
Ralph Brennan's Jazz Kitchen
Christmas Day Menu: Offering specialty menu items such as Gulf Shrimp Ravigote and Fried Green Tomatoes, Blackened Filet Mignon, and a Cappuccino Pot De Crème for dessert
New Year's Eve Menu:

Live entertainment on both floors performing until 12:30 a.m.
Party hats and noisemakers available for dine-in guests
Offering specialty menu items such as a Cauliflower Goat Cheese Bisque, Seafood Jambalaya Risotto, and Rib Eye Steak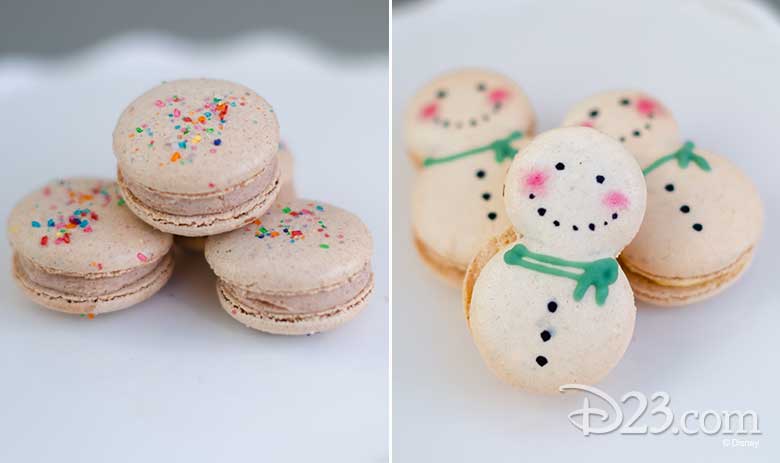 Kayla's Cake Kiosk
Christmas Snowman Macaron: Classic vanilla custard cream with milk chocolate ganache
Gingerbread Macaron: Gingerbread buttercream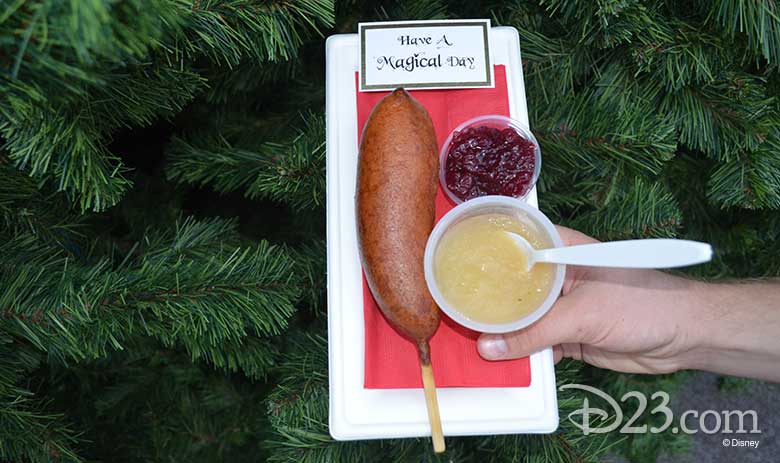 Blue Ribbon Corn Dog
Holiday Corn Dog (Now through January 6): Our Holiday Feast is a 1/4-pound Chicken Apple Sausage Corn Dog served with cranberry sauce and a side of applesauce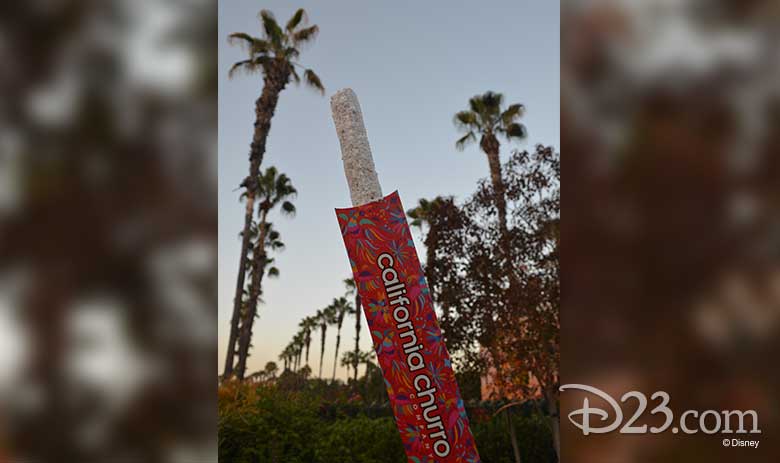 California Churro
White Christmas Churro (Now through January 6): Our White Christmas Churro is coated in powdered sugar with a minty flavor
Cotton Candy Creations
Ornament Cotton Candy (Now through January 6): Guests can create their own cotton candy ornament by choosing a holiday stencil that will be placed onto the ornament-shaped cotton candy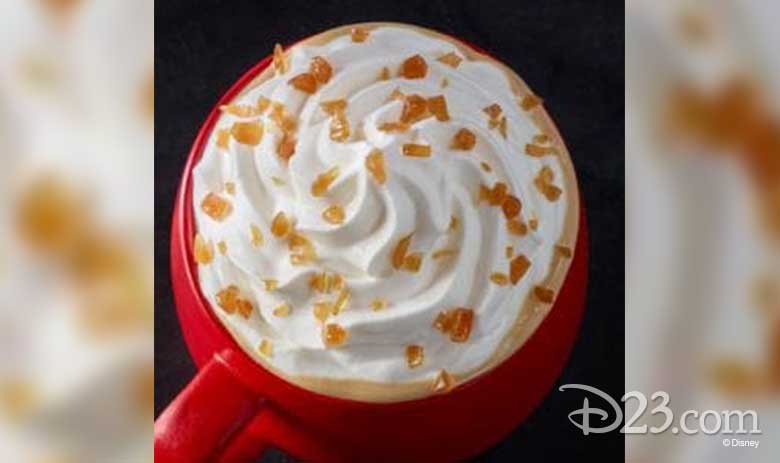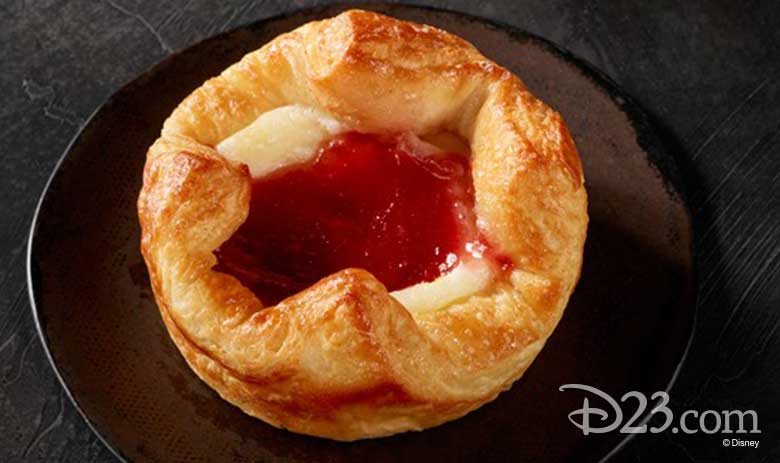 Starbucks
Sugar Plum Cheese Danish (Now until early January): A croissant pastry topped with a tangy cream cheese filling and a plum jam (pictured above)
Caramel Brulée Latte (Now until early January): Espresso, steamed milk, and rich Caramel Brulée sauce, topped with whipped cream and Caramel Brulée topping (pictured above)
Gingerbread Latte (Now until early January): Sweet and spicy Gingerbread syrup with espresso and steamed milk, topped with whipped cream and ground nutmeg
Christmas Blend Espresso Roast (Now until early January): Cedary and herbal spiciness with an intense caramelly sweetness
Earl of Sandwich
Holiday Ham (Now through December 31): Ham, cheddar, yams, and cranberry sauce on freshly toasted artisan bread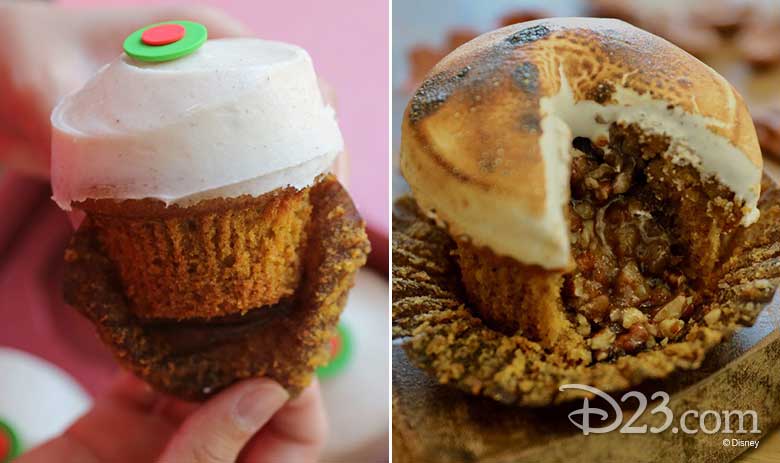 Sprinkles
Bakeries will be giving out Surprise SPRINKLE JOY Favor Boxes to guests at random all month. The favor boxes will include a Red Velvet cupcake and a $10 Sprinkles Gift Card
Seasonal Cupcakes:
Pumpkin (November 1–30): Fragrant ginger, clove, nutmeg, and cinnamon cake, topped with sweet cinnamon cream cheese frosting (pictured above left)
Pumpkin Pecan Pie (November 1–30): Spiced pumpkin cake with a rich candied pecan filling and finished with toasted marshmallow frosting (pictured above right)
White Chocolate Raspberry (November 1–11): White chocolate chip-studded raspberry cake, frosted with white chocolate frosting marbled with raspberry compote
Double Stuffed Oreo® (November 12–30): Chocolate cake with an Oreo® cookie crust, vanilla buttercream filling, finished with a vanilla buttercream frosting and Oreo® crumb rim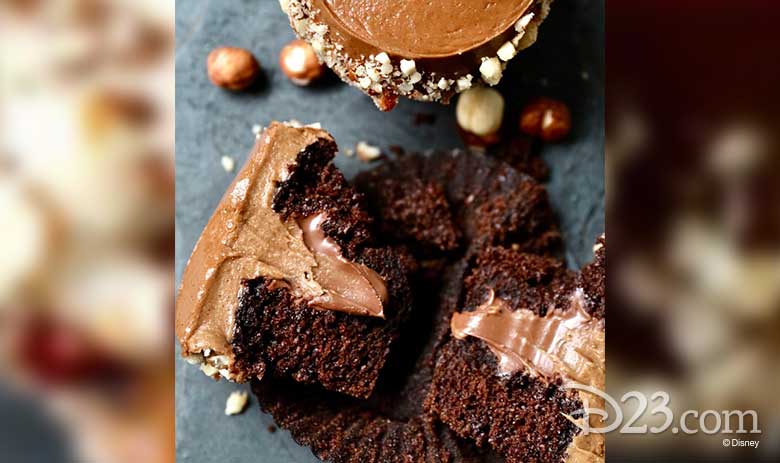 Saturday Late-Night Exclusive (Available at ATM Bakeries only, after 8 p.m., in-bakery and in ATM)—Nutella® Hazelnut Mocha (November 3, 10, 17, 24): Rich coffee chocolate cake filled with whipped Nutella®, frosted with mocha buttercream, and finished with a rim of chopped and toasted hazelnuts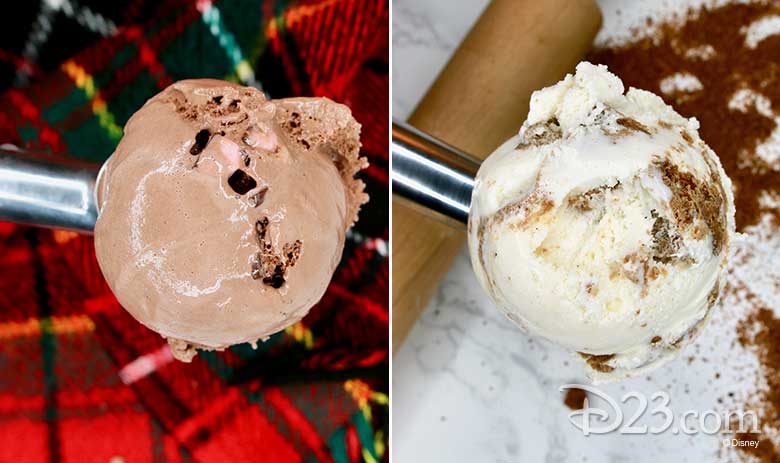 Salt & Straw
Gingerbread Cookie Dough: Rum royal ice cream swirled with cookie butter and bits and pieces of gingerbread. (pictured above left)
Peppermint Bark Cocoa: Rich cocoa ice cream with a dash of peppermint oil and handfuls of mint dark chocolate bark, white chocolate and handmade peppermint candy bits. (pictured above left)
Cinnamon Coconut Eggnog: Rum-infused almond milk churned with coconut ice cream and laced with cinnamon and nutmeg.
Disney Springs
Entertainment
The elves have been hard at work all across Walt Disney World Resort, and Disney Springs is no exception. From a whole forest of Christmas trees at the Disney Springs Christmas Tree Trail and a special visit from Santa Claus, to seasonal sights and sounds along the waterside promenade, there are boughs of cheer decked across every pathway as far as the eye can see.
While the holidays are a time of joy and gift-giving, sometimes our plans get foiled! It's a special season's greetings to sleuths everywhere as you embark on a merry mission to help Stitch recover his lost gift list at Stitch's Holiday Gift Hunt.
Holiday Eats and Treats
The Ganachery
Hot Ganache—hot drinking chocolate topped with whipped cream and chocolate crispies (alcoholic and non-alcoholic)
Santa Mickey Piñata—dark chocolate Mickey sphere filled with marshmallow treats
Mickey and Minnie Christmas Cottage—chocolate cottage filled with peppermint bark
Peppermint Bark—layers of milk chocolate and dark chocolate swirled with peppermint pieces
Eggnog Ganache Square
Candy Cane Ganache Square
Planet Hollywood
Sticky Toffee Pudding
Naughty (alcoholic) and Nice (non-alcoholic) Frozen Cocktails—mint chocolate frozen beverage garnished with brownie and candy cane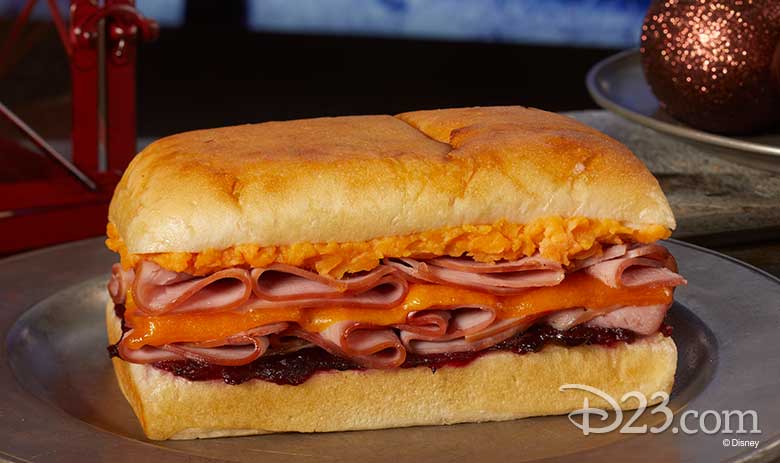 Earl of Sandwich
Holiday Ham Sandwich—ham, cheddar, yams, and cranberry sauce on freshly-toasted artisan bread
Holiday Turkey Sandwich—turkey, cornbread stuffing, gravy, cranberry sauce, and mayonnaise on freshly-toasted artisan bread
Vivoli il Gelato
Candy Cane Sundae—cheesecake, vanilla, mint chocolate chip, ginger, and salted caramel gelatos with caramel sauce, graham cracker, and whipped cream
Splitsville Dining Room
Gobble Gobble Sliders (available now through December 26)—three sliders stacked with hand-carved roasted turkey, cornbread stuffing, and crispy fried onions dressed with rich turkey gravy and sweet-sour cranberry sauce
Getting Figgy With It (available now through December 26)—fig-infused vodka, fig jam, ginger liqueur, allspice, and rhubarb bitters
4 Rivers Cantina Barbacoa Food Truck
Gingerbread Churro Balls—bite-sized gingerbread tossed in spiced sugar and served with cream cheese frosting for dipping
D-Luxe Burger
Peppermint Cookies and Cream Shake
Turkey Burger—signature turkey burger with fried butternut squash risotto, fresh mozzarella, bacon-cranberry jam, lettuce, and tomato
Jock Lindsey's Hangar Bar
Jock Frost—a Floridian tropical treat with cinnamon cream liqueur, coconut rum, blue liqueur, pineapple, and lemon juice garnished with an orange
Jock's Holiday Nog—a simple holiday eggnog with vodka, cinnamon cream liqueur, vanilla syrup, and mint candies
Amorette's Patisserie
Gingerbread Hat Cookie Ornaments

Goofy Hat Cookie—November 25–December 1
Donald Hat Cookie—December 2–9
Pluto Hat Cookie—December 10–17
Minnie Hat Cookie—December 18–24
Mickey Hat Cookie—December 25–30

Orange Cranberry Chardonnay Wine Slushy
Peppermint Chocolate Milkshake—topped with whipped cream and served with a paper straw coated in crushed peppermint
Pear Mousse—with poached pear wine reduction and fresh pears
Santa Mickey Macaron Lollipop—filled with eggnog ganache
Snowman Macaron Lollipop—hot-chocolate-flavored macarons filled with milk chocolate ganache and a marshmallow cream center
Spiced Plum Petite Cake—five-spice chiffon cake with plum pâté de fruit and honey mousse
Winter Wonderland Petite Cake—cinnamon nutmeg chiffon cake with cranberry cherry pâté de fruit and salted caramel calvados mousse
Gingerbread Mickey Dome Cake
Santa Mickey Dome Cake
The Daily Poutine
Turkey Poutine with Cranberry Chutney
Goofy's Candy Company and Disney's Candy Cauldron
Assorted Holiday Crispy Treats
Holiday Mickey and Minnie Candy Apples
Sandy Claws Candy Apples
Snowflake Candy Apples
Assorted Holiday Cake Pops
Select Outdoor Vending Carts
Mickey Pretzels topped with Holiday Sprinkles
Tree Trail
Frozen Eggnog (alcoholic and non-alcoholic)
Frozen Hot Chocolate (alcoholic and non-alcoholic)
Gingerbread Cookies
Holiday Sugar Cookies
Holiday Crispy Treat
Holiday Cotton Candy—available in gingerbread, eggnog, or peppermint flavors